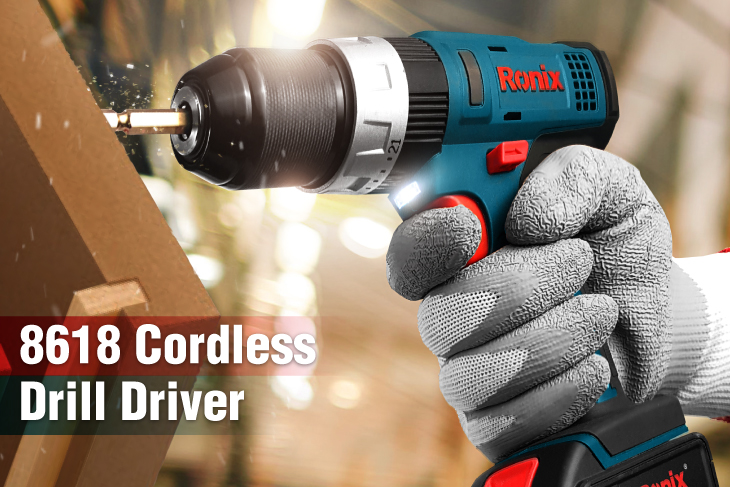 The use of electricity in different fields has changed our lives dramatically. And it has revolutionized the field of tools as well. Tools that are powered by electricity have offered a lot of strength and have enabled us to do the impossible. However, the increased power is not without consequences. We are limited by the length of our tools' cords and whenever we want to work with a power tool, we always have to look for a source of electricity.
With the appearance of powerful batteries, total freedom is now possible. Ronix 8618 Cordless Drill Driver is a great assistant in a wide range of applications. This cordless tool has the ability to perform 3 different functions: drilling, screwing and with the help of its hammering mechanism, hammer drilling.
Visit this page: power tools company
Waterproof, powerful and resistant; what do you want more?
The high-performance motor of the Ronix 8618 Cordless Drill Driver is highly resistant. Have you ever though about working with a power tool under rain or in a wet situation? Say you have a tight deadline and have to finish a project on time. Suddenly it starts raining and everything (from the workpiece itself to the work bench) gets wet! Well, with the Ronix 8618 Cordless Drill Driver you do not need to worry about damaging your tool in wet conditions. The highly resistant motor of this cordless tool is designed to be waterproof. Therefore, you can take care of numerous projects!
Outstanding performance and amazing numbers are the result of the state-of-the-art technology of Ronix. The Ronix 8618 Cordless Drill Drivers is equipped with a 2-speed function, enabling it to be operated in both high-speed and high-power modes. The maximum no-load speed of the high-speed mode is 0-1500 RPM and for the high-power mode, it becomes 0-400 RPM. To adjust the rotation speed to your desired pace, there is also 21-clutch setting that results in efficiency and accuracy.
Visit this page: power tools company
Drop it and don't worry!
Drilling at height and working in really tight corners, what do you think make it possible? The answer is obviously compact and light body design! With only 1.86kg in weight, Ronix has made an effort to design the Ronix 8618 Cordless Drill Driver as light as possible. Ronix has also considered the ergonomic principles in the design of this cordless tool to create the most comfortable drilling and screwing experience for its users.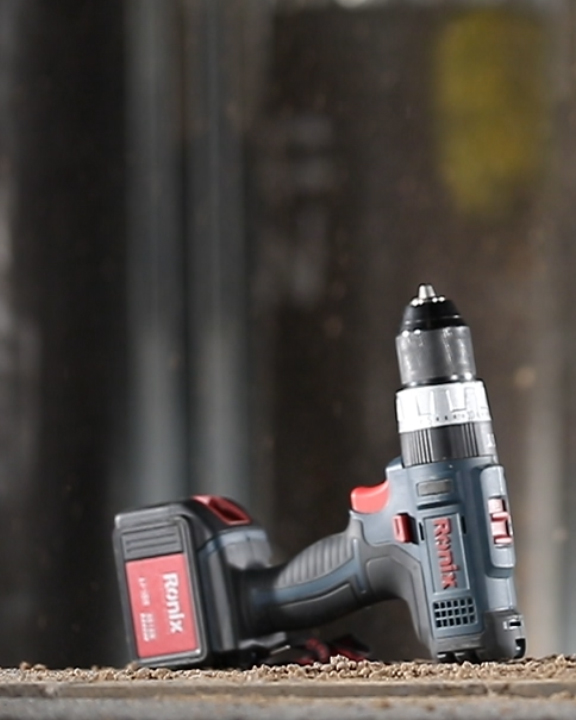 RONIX aims to manufacture products that are durable and have a long service life. This is why despite its lightness, this drill driver has a high-resistant body which is produced with a rubber grip to be anti-shock in order to withstand falling or any kind of stroke. Providing the users with all of the equipment and necessary features has been the basic mission of Ronix from the start. To illuminate the dark zone and bring optimal brightness to the working area, the Ronix 8618 Cordless Drill Driver is equipped with a LED light.
The powerhouse
Batteries are the source of power in cordless tools and they determine how long a tool can be operated. This is why Ronix has equipped its cordless tools with 2 high-quality and durable Lithium batteries. The advanced technology of Ronix is behind the high performance and long life of these batteries. 18V, 1.5Ah; these specifications provide the users with a powerful and long performance which is what most users look for in a cordless drill driver. The batteries of 8618 Cordless Drill Driver have also the ability to be fast-charged. With the state-of-the-art fast charging system in the charger, optimum functionality in tight working situations is provided. Ronix always care about the simplicity of operations. This is why there is a battery charging indicator to inform the users about the battery level quickly and with ease.