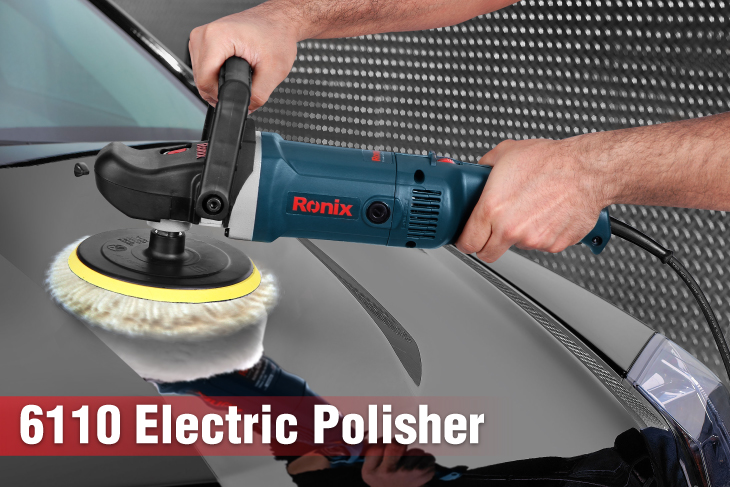 The invention of electric and power tools has revolutionized the world we are living in. It has made various jobs and tasks progress quickly and with less effort. Two hundred years ago you had to work for hours to make a hole in a stone, but nowadays with a push of a button, you can drill into resistant and difficult to penetrate materials in just a few seconds. And let us talk about making things shiny. That was something that could take days, even weeks. And now with the help of electric polishers, that is also can be done in considerably less time.
Ronix produces a large variety of power tools to support a wide rang of users around the world. With its premium production standards and the most modern and advanced technologies, Ronix provides its users with high-quality tools that are exclusively designed for their particular kind of task. The Ronix 6110 Electric Polisher is one of those tools that is specifically engineered and properly manufactured for the unique needs of polishing metal surfaces like the body of cars.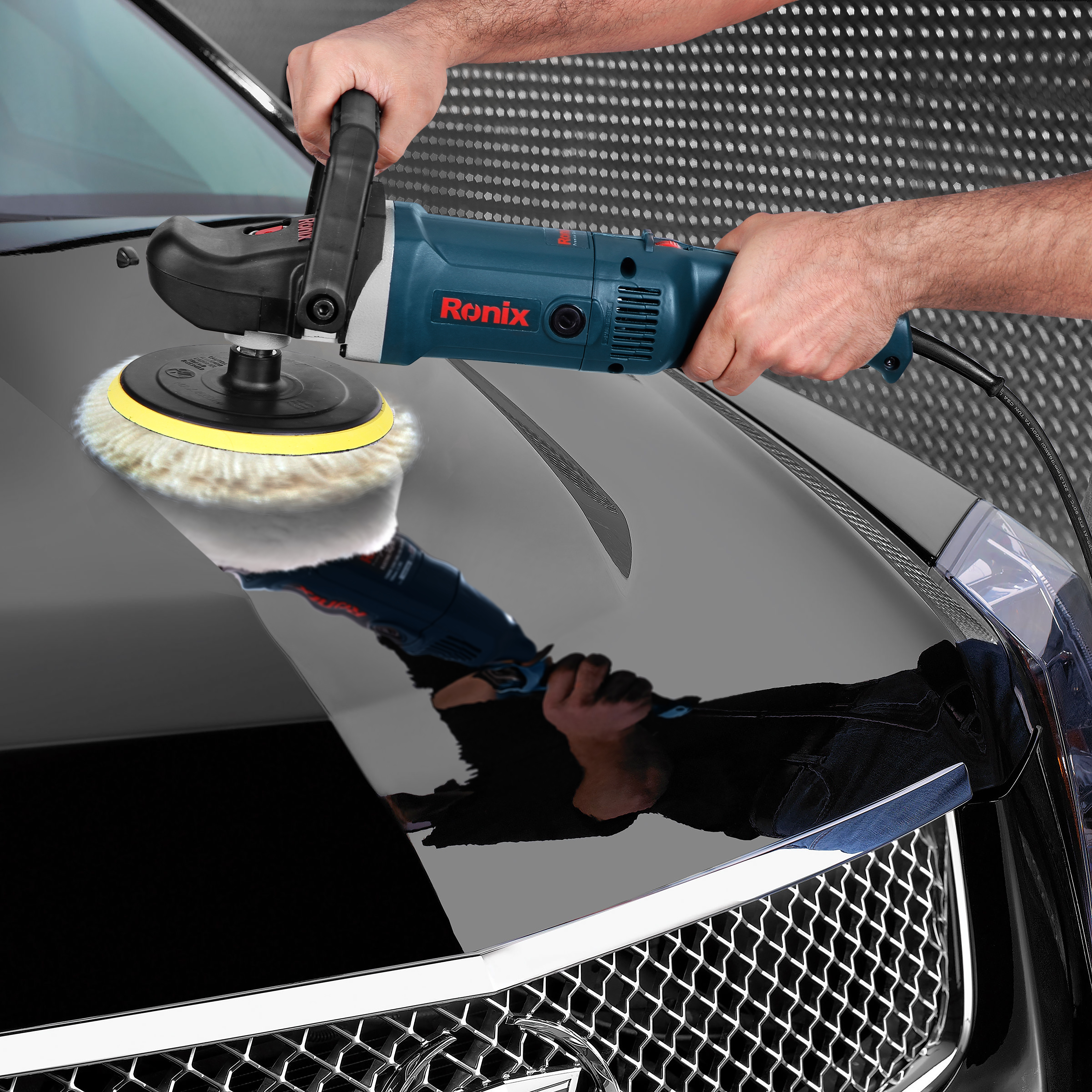 How does a polisher work?
The process of buffing or polishing removes the small flaws and inconsistencies on the body of a car. These flaws and defects might include small scratches, etching and even oxidation. When you polish a surface, you remove a tiny layer of paint to reach a flawless and shiny surface. This process is then completed with waxing which includes applying a thin layer of wax to a shiny finish to protect it from the future scratches and damages.
Like all electric polishers, the Ronix 6110 Electric Polisher has a motor that turns electricity to rotary motion. The motor of this power tool in 1200W and is manufactured to be highly efficient and robust. Maximum productivity is ensured by this motor. It also brings top performance in different functions. As there are different surfaces to be polished and each, has a different combination of elements, the motor is able to produce a no-load speed between 600 to 3000 RPM. Therefore, you can easily adjust the speed to your desired pace to be able to work on various materials and applications.
What is the innovation in the Ronix 6110 Electric Polisher?
To transfer the power generated in the motor to the polishing pad and then to the surface that needs to be polished, the Ronix 6110 Electric Polisher is equipped with NSK anti-dust ball bearings. These ball bearings ensure the durability of the motor. They also result in a smoother and more efficient performance.
Ronix 6110 Electric Polisher has a plastic cover in the gear box which is considered a great innovation. This is because it allows retreatment in the gear box and lessens the heat created in the process to prevent and even reduce damages to the users when they hold this power tool in their hands. The anti-heat gear box cover facilitates all of the polishing operations. It also provides the users with a safe and convenient grip accompanied by an optimal guidance.
Visit this page: power tools company
How convenient it is to use this polisher?
The Ronix 6110 Electric Polisher is perfect for a wide range of applications such as finishing, compounding, waxing, polishing, shining and deoxidizing. With its ergonomic and D shaped handle, this power tool can greatly reduce optimal fatigue. This auxiliary handle also promotes machine control. In order to allow the users work with this electric polisher easier and with simplicity, the Ronix 6110 Electric Polisher is equipped with a rubber cable with superior quality. This cable brings more durability and provides a higher level of efficiency. To make the users needless of buying additional accessories, the 6110 comes with a wool polishing pad. Therefore, you can start your polishing projects right away!