Wood carving is the art of softening the hard texture of wood to create beautiful and eye-catching designs on it. In the past centuries, practitioners of this craft have combined art, creativity, and innovation to make the magic happen. Keep reading to learn about all the essential wood carving tools and the history behind this popular craft.
What is Woodcarving?
Wood carving is one of the oldest handicrafts in the world. As wood is more vulnerable than stone and metal and can easily get damaged by moisture, fire, or insects, it is not possible to define the exact date for the advent of woodcarving. Having said that, this enjoyable, fun, entertaining, and elegant art/hobby was first born when men began to carve and engrave pictures on cave walls, stone, and wood to connect with each other or narrate stories.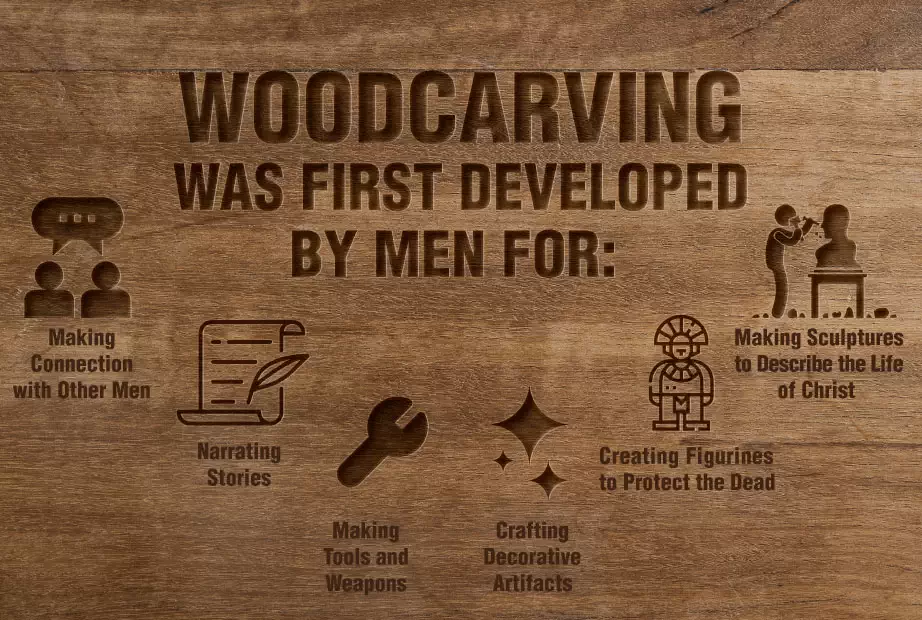 In the past, people relied on carving wood to make tools, weapons, decorative items, and other tools. In ancient Egypt, religious figures were inlaid with wood and placed in cemeteries to protect the dead. Moreover, sculptures and woodcarvings in early Christian churches described the life of Christ to worshipers.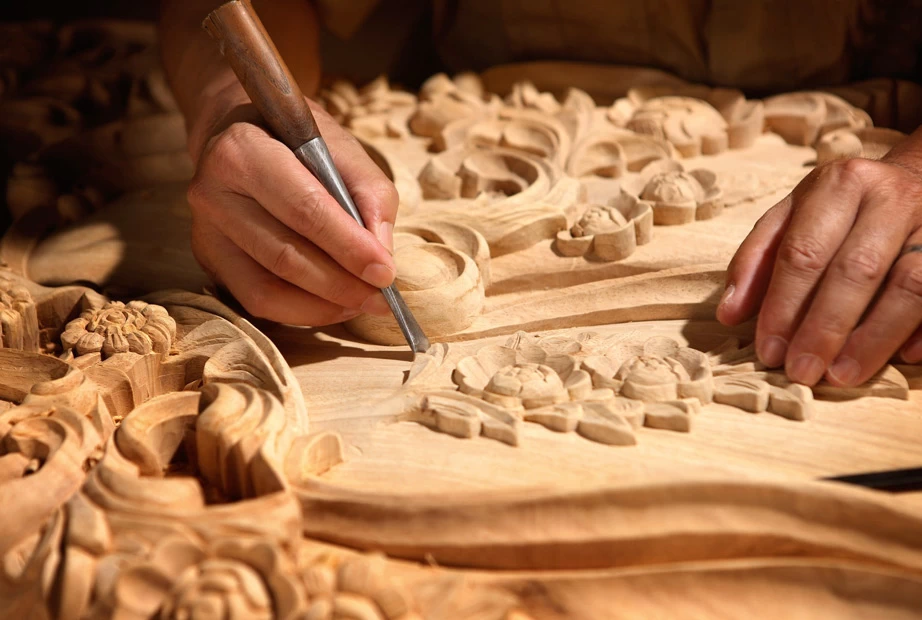 Many sculptures and carvings from China, Japan, Africa, and Oceania were made on wood, and the reason was that the wood was light, and could be engraved with precise detail. Many artists worldwide still practice wood carving today. due to the advancement of modern science and wood protection technologies, modern sculptors and woodcarvers have managed to create attractive, sensual, and entertaining masterpieces.
Professional Wood Carving Tools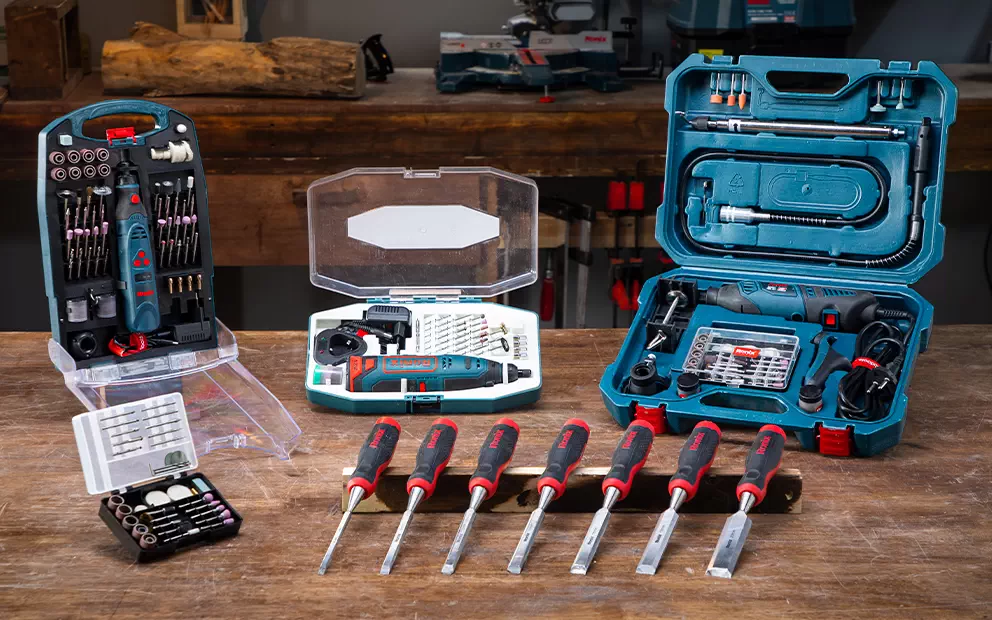 When it comes to carving wood as a profession or a hobby, choosing the right equipment is the first step to achieving the desired results. Users should pick their fighters based on the intricacy level of their design, their ability and skill, and the workpiece's texture. 
Generally speaking, a woodcarver's tools fall under two general categories: Hand and power tools.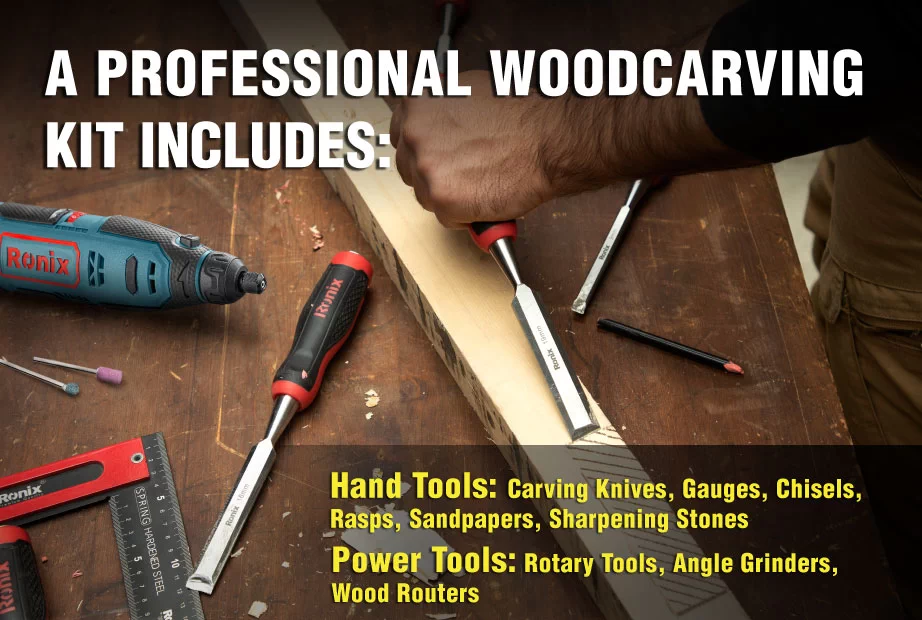 The first category includes a variety of carving knives, sandpapers, gouges, rasps, and sharpening stones. Let's dive deeper:
Carving Knives
Knives are one of the best wood carving tools for both beginners and professional carvers. If sharp enough they can be used to carve out intricate designs in wood with precision or shape the wood in the form of anything from spoons and bowls to statues.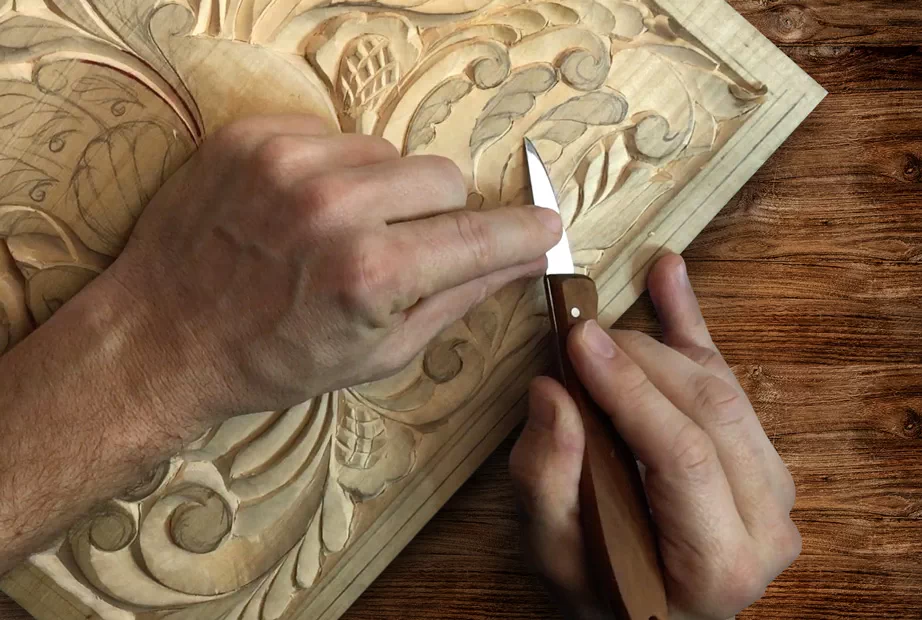 As lightweight, ergonomic, and easy to control as they are, carving knives are essential hand tools in any wood carving kit.
Gouges
No wood carving set is complete without gauges. With their curved and sharp blade, they are the best choice for making fast and efficient rounded cuts to add intricate details to a pattern or hollowing the wood to make bowls.
Chisels
Carvers rely on chisels for a wide range of tasks, from shaping the wood to refining the details.
Sandpapers
Sandpapers are used for putting the finishing touches on a carved workpiece.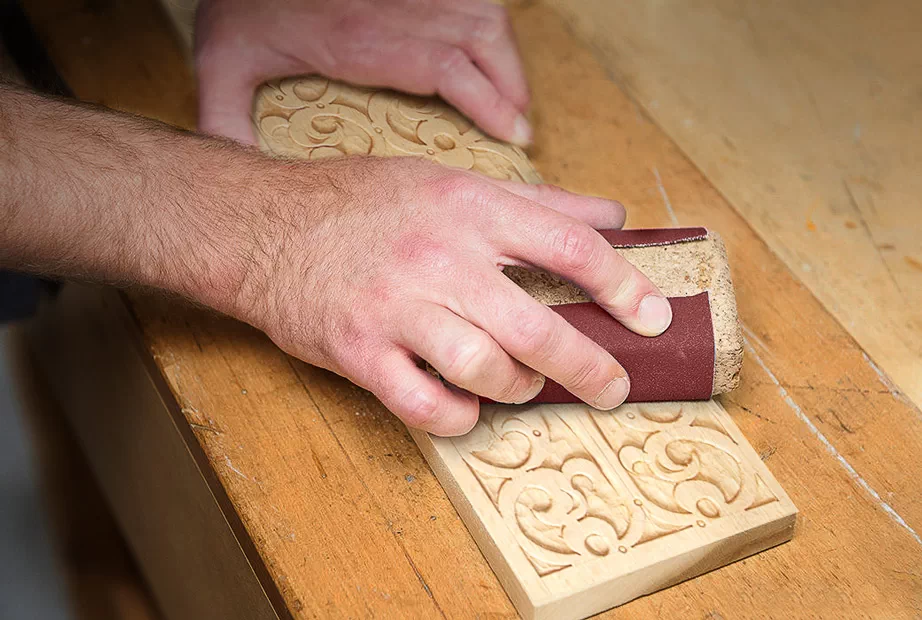 These essential woodcarving tools come in all different sizes, shapes, and grits to fit different needs and serve different purposes in various stages of the carving. For instance, coarse-grit sandpapers are used to remove larger amounts of wood and fine-grit ones are preferred to do the finishing work.
Rasps
As one of the best woodcarving tools, rasps are very much like files but with larger teeth and are used for making coarse cuts in the wood.
Sharpening Stones
Sharping stones are needed to ensure a woodcarver's tools stay sharp for a fast and more efficient wood carving process.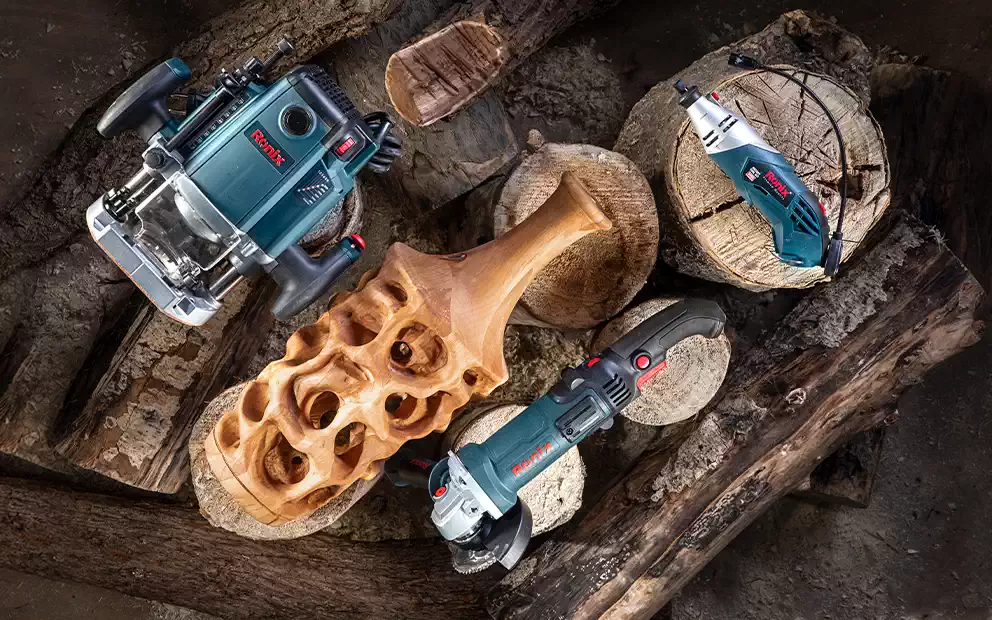 If you don't want to settle for a small wood carving tool set that only contains the basic equipment and are looking for something more professional, go for power tools to speed up the process of carving wood and maximize efficiency.
Here's the list of power tools every professional user needs in their woodcarving kit:
Rotary Tools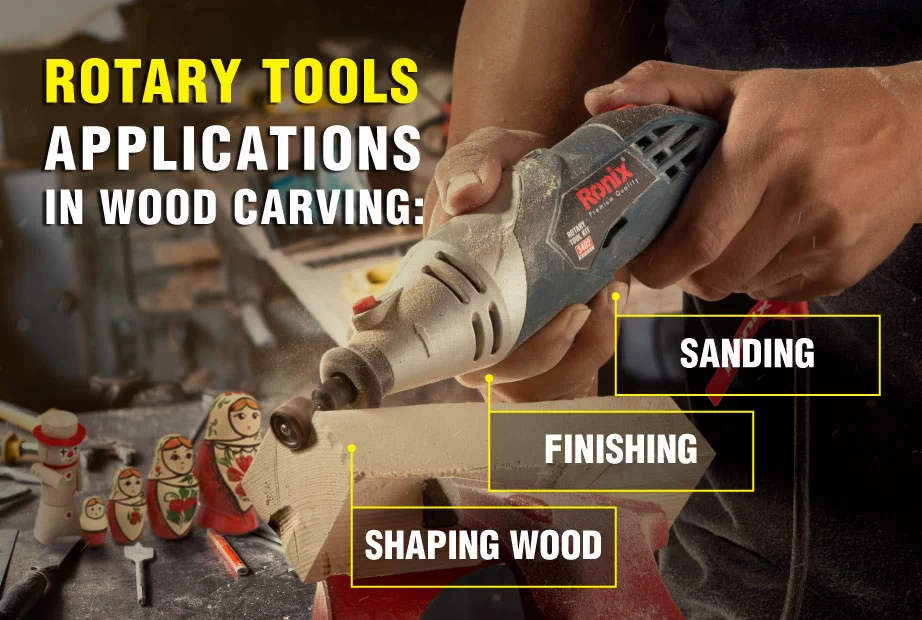 As versatile as they are, rotary tools can be used for various wood carving tasks such as shaping wood, sanding, and finishing. All you need to do is to choose the right attachment and let the tool take care of everything!
Angle Grinders
In addition to metalwork, angle grinders can be used in other fields such as wood carving. Professional carvers can use these power tools for cutting, rough shaping, or hollowing out a wooden workpiece.
Wood Routers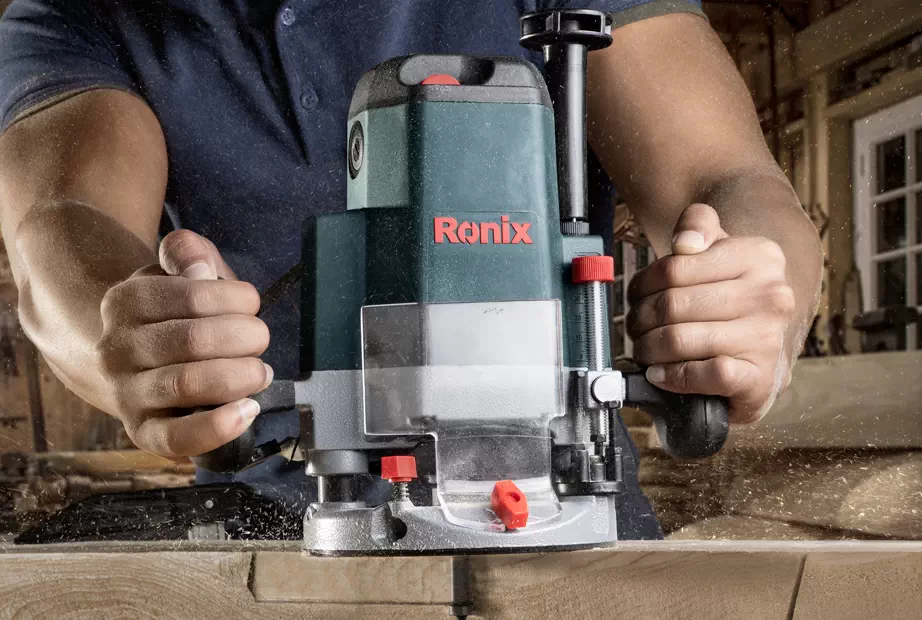 Wood routers can be a useful addition to your wood carving set. By attaching specialized router bits, you can use these versatile power tools for shaping wood, routing grooves on it, and making joints.
Whether you are planning to build your own small wood carving tool set by purchasing high-quality hand tools like chisels and gouges or you are looking for power carvers for more heavy-duty tasks, choosing the right brand is the first and most important step. When it comes to adding the best carving tool brands to your toolbox, you can't do better than Schaaf, Dremel and Ronix!
FAQ:
What is the best tool for wood carving?
Knives, gouges, and chisels are the best hand tools for wood carving and rotary kits are the best power tools for this craft.