Wood carving is a popular craft among carpenters, cabinet makers, hobbyist woodworkers, and artists. It takes a bit of talent and anything sharp like a knife, a chisel, or a gouge to pour your creativity into the shape of patterned cuts on a wooden workpiece.
When it comes to this traditional craft, usually, hand tools like knives, chisels, or gouges come to mind but by relying on power tools for wood carving, you can perform the whole process faster and in a more controlled manner.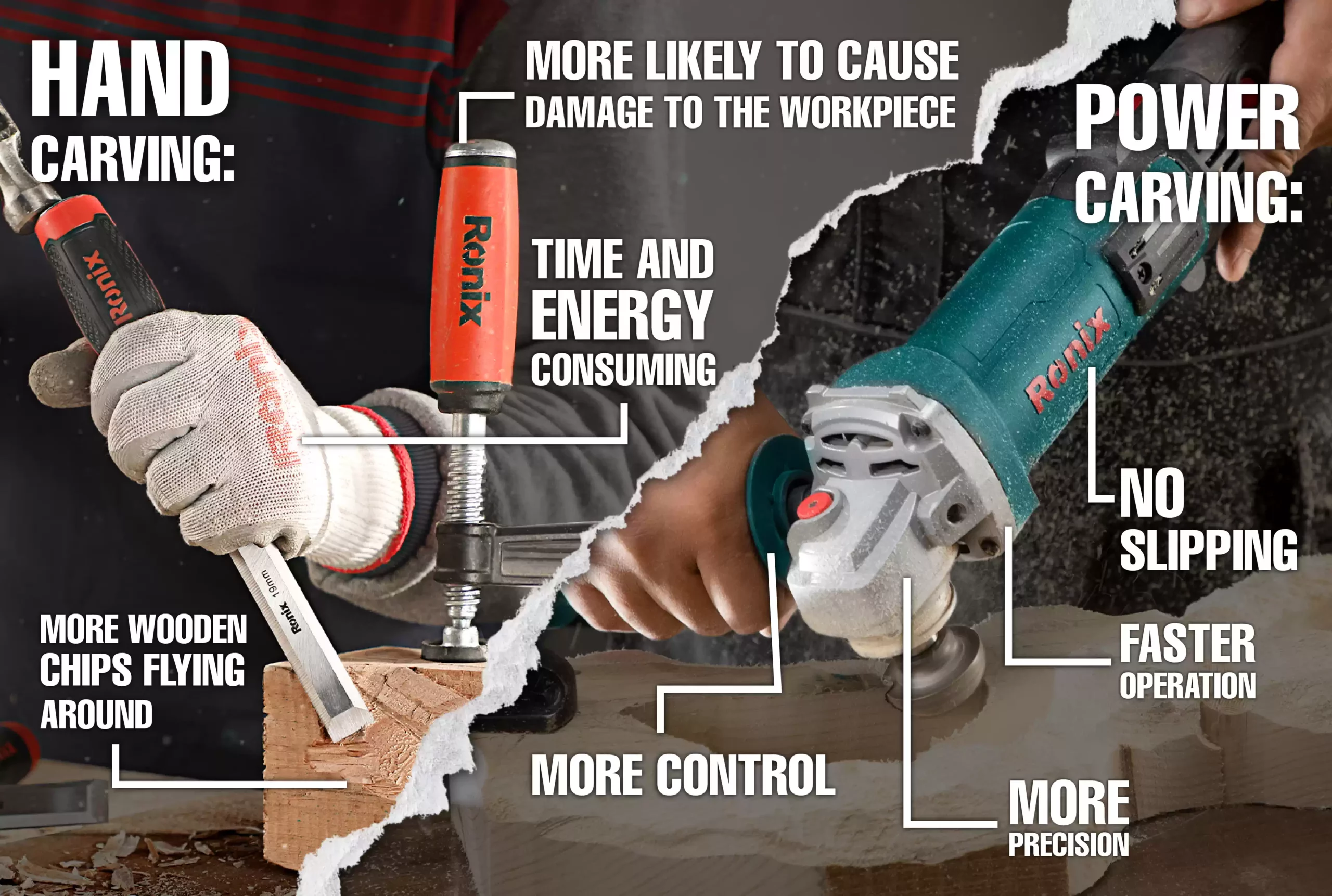 Using electric tools like angle grinders and rotary tools to carve intricate patterns on the wood, you can also minimize the flying of wood chips and increase the precision of the operation.
Using electric wood carving tools, also, saves your time and energy and reduces the risk of damaging the workpiece due to slipping.
Since there are a wide variety of tools produced by different brands, choosing the best wood carving power tools can eat into your time. This article is a complete guide for both professional users and beginners on different types of such tools that can help you out with making the right choice for the task at hand.
Best Wood Carving Power Tools
From angle grinders to wood routers and rotary kits, there are different types of electric tools you can use to facilitate your carving projects and improve their result. Are you ready to start our journey to the world of the best power woodcarving tools? It's SHOWTIME!
Angle Grinders and Wood Carving
If you believe that angle grinders are exclusively made to be used on iron and steel, think again!
Yes, these versatile power tools are primarily made for cutting and grinding metals but if you choose the right one, you can also sculpt the unwanted amount of wood while carving a workpiece.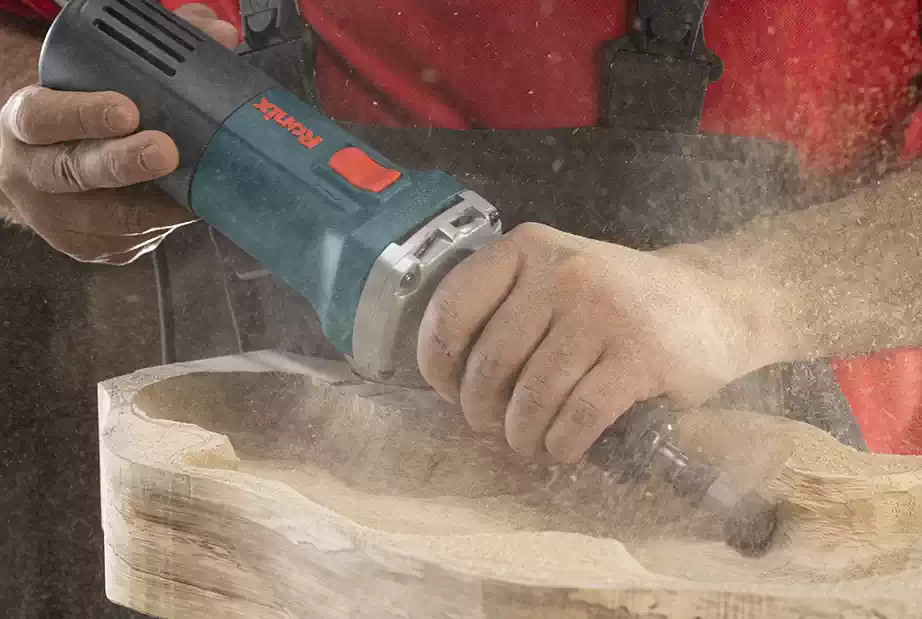 The angle grinder you choose for wood carving should be lightweight, easy to handle, and durable. As one of the best electric tools for wood carving, this power tool should come with all the right blades and attachments to effectively cut out the intricate carves and should be equipped with essential safety features to prevent potential damage to your precious handicraft!
When it comes to power carving tools for wood, cordless models are the best choice as they are not bounded by wires and can be used everywhere, even when there is no electric outlet available.
With a powerful EC motor and a no-load speed that can go up to 19500 revolutions per minute, Bosch's GWS 12V-76 angle grinder can be your best bet.
Here you can read more about Best Power Tools Ultimate Guide.
This cordless power tool weighs around 0.5kg (excluding its li-ion battery) and enjoys a compact and ergonomic design which makes it easy to use for demanding and intricate tasks such as carving. Moreover, you can easily replace discs on this angle grinder thanks to its new spindle lock.
Wood Routers in Wood Carving
Wood routers can also fit into the list of handy wood carving electric tools. In addition to shaping, wood, routing grooves on it, and making joints, you can use these power tools for carving patterns on a workpiece by setting the cutting depth.
As wood carving is an intricate process in which every detail counts, having adjustable cutting depth is a must for the router you want to use. A variable speed setting will also effectively improve the result as it gives you more control over the operation.
Dust and wood chips that fly around during the carving process are both damaging to your health and hard to clean up afterward, so it is wise to choose a router that comes with a dust collector system.
Last but not least, the router you choose is better to be lightweight and ergonomic to save you from hand fatigue and have soft grips to ensure a safe and sound operation.
Rotary Kits in Wood Carving
The most common item on the list of professional wood carving tools is the rotary tool kit. Replace the attachments and BOOM you now have a solution for almost any DIY project!
Everything about DIY power tools completely
In addition to cutting, grinding, and sanding, Rotary tools also have carving capabilities on their resume! Attach a Router and carbide rotary bit to your tool and you'd be ready to take care of all the fine details
However, achieving a smooth outcome depends on the brand and the model you choose! If you are looking for the best rotary tool kit for wood carving look no further than Dremel 4300.
As one of the best electric tools for wood carving, this versatile product has a 1.8AMP motor and its carbon brushes are replaceable which prevents performance issues due to their wearing down over time. Thanks to a keyless 3-jaw chuck, this rotary tool is compatible with a wide range of accessories that can be changed seamlessly based on the task at hand.
The 4300 rotary tool kit comes with an innovative airflow system for maximum efficiency and a pivot light that guarantee accuracy while engraving a detailed pattern where there is not bright enough.
This tool sounds perfect, right? But what if you could lay your hands on a tool with comparable quality yet a much more affordable price tag? In that case, Ronix 8102K is worth checking out:
This cordless rotary tool kit has a powerful and durable 12V motor that delivers up to 25000 revolutions per minute for the best performance. It comes with 50 sets of accessories and a locking pin system for easy and fast bit-changing.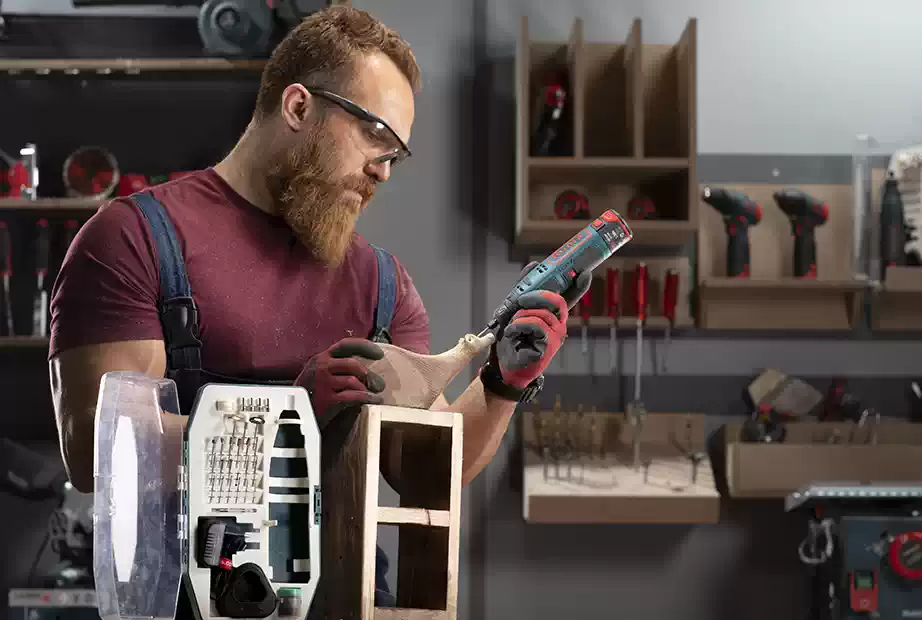 As one of the best power tools for wood carving, Ronix 8102K has an ergonomic compact design and is equipped with LED light. To make things even better, this power kit includes 2 Batteries (1.3A) and a Fast charger to let you save time.
Electric Sanders for Wood Carvers
No matter what hand or power wood carving tools you use, the looks of your project very much depend on the finishing stage. That is where electric sanders and their skill of adding finishing touches to a project, come in handy.
The electric sander you choose for your wood carving project should have a high-power motor to let you get rid of the unwanted parts of the wood fast and easily. A compact and ergonomic design will provide you with all the control you need to create detailed artwork.
When it comes to adding the finishing touches to a carved workpiece, Black+Decker BDEMS600 electric detail sander won't disappoint you.
It weighs around 1 pound and has a compact design. This sander enjoys a 3-position grip for added control and ease of use and comes with a HOOK-AND-LOOP SYSTEM for a fast and easy sand pad replacement.
BDENS600 is corded and thus provides you with a power source that never runs out and also has a specially designed DUST COLLECTION CANISTER that saves you the trouble of cleaning up the workplace.
After taking a look at all the best power tools for wood carvingon a general level, let's delve into details and introduce professional and amateur users to their best match!
Best Power Carving Tool for Professionals
Professional wood carvers must go for a tool that delivers a combination of power and accuracy. That is why they cannot do better than Ronix 7113 electric wood router. As one of the best professional wood carving tools, this router feeds on a heavy-duty 2100W motor that delivers up to 22000 revolutions per minute that even the hardwoods cannot resist.
A combination of variable speed setting mode, a three-level routing depth stop, variable collet chuck capacity, and rubberized soft-grip handles give the user enough freedom and control over the tool for the most precise results.
As one of the best electric wood carving tools, 7113 also comes with a spindle lock for an easy, fast, and safe bit change essential for professional users and includes a dust plastic shield that prevents wood chips and dust from flying around and making a mess in the workshop.
Wood Carving Power Tools for Beginners
Those new to wood carving craft need a tool that is safe and easy to operate. As these users are not yet skilled at maneuvering their tool on the wood, they should go with something beginner friendly with which there is less chance of things going wrong.
As rotary tools can be used very much like a pen and using them requires not much skill, they are considered the best wood carving power tools for beginners.
If you are looking for the best rotary tool kit to begin your wood carving journey, Dremel Stylo+ is the answer. Although this rotary tool is not particularly powerful, it excels at precision but power is not of your concern when you still do not know your way around engraving yet, is it?
150g in weight, Stylo+ is particularly light and compact and comes with a variable speed setting which is all you need to keep things under control and carve the pattern on the wood like you are painting it with a pen on the paper!
The low levels of vibration while using this tool also mean fewer mistakes while working on intricate designs.
Best Rechargeable Wood Carving Tool
Wherethere is no power outlet available,thebest power carving toolsare cordless ones. In addition to power and speed, these rechargeable power tools are evaluated based on the batteries they feed on.
The best cordless carving tools are powered by lithium-ion batteries because they are more lightweight and efficient than their nickel-cadmium counterparts. they charge fast, have no memory effect, have a lower self-discharge rate, and leave the user with less downtime.
If you are looking for an instance of the best rechargeable power wood carving tools, look no further than Ronix 3420 Rotary Tool Kit!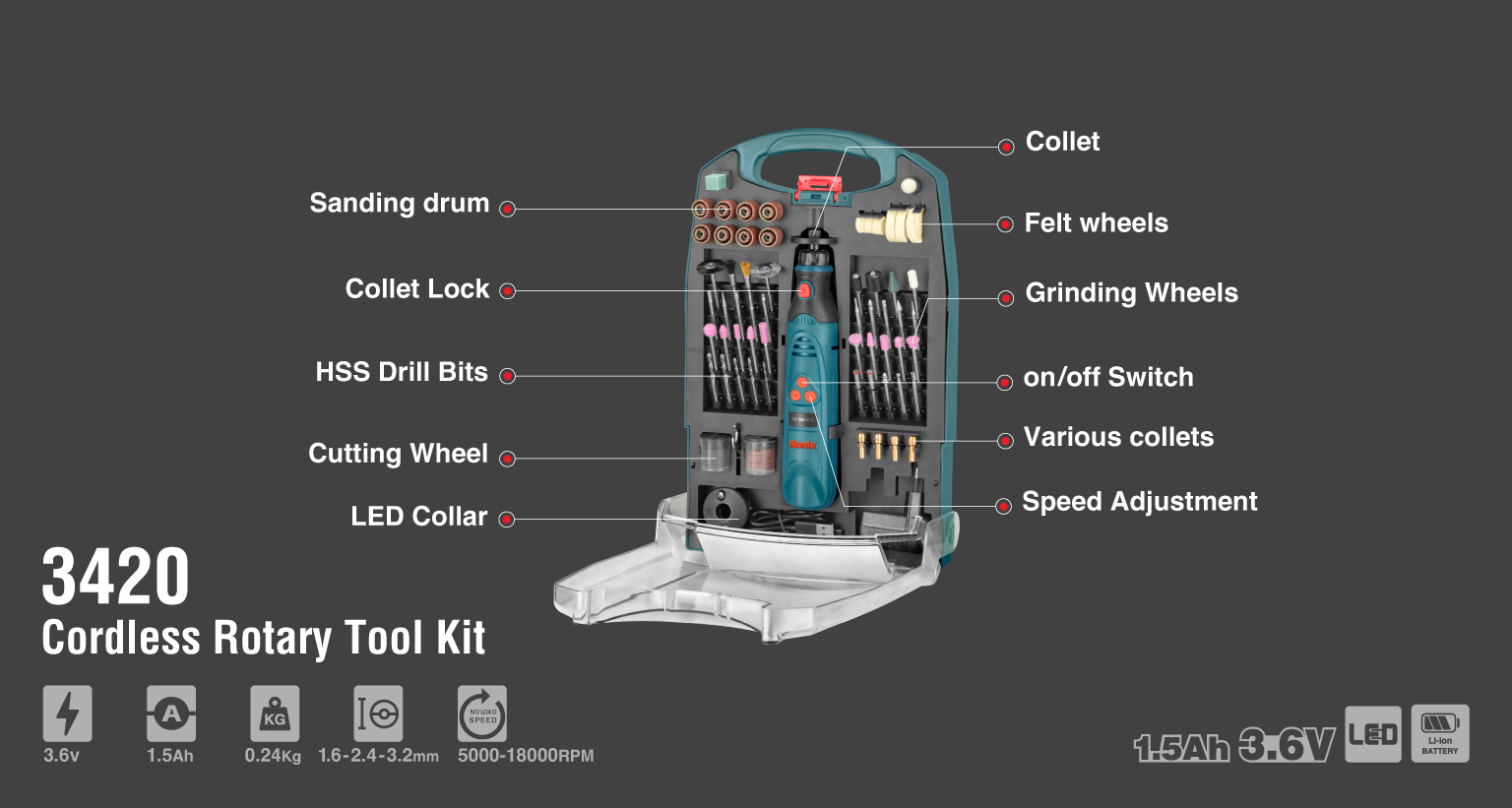 3420 has a highly efficient DC motor that delivers 5000-18000 RPM of no-load speed. It weighs less than 1kg and is easy on the arms thanks to its ergonomic and streamlined design.
This rotary tool's 1.5A.h li-ion battery gives you a significant amount of runtime and it takes only between 3 to 5 hours for it to be fully charged. As one of the best electric carving tools for wood, it is equipped with an LED light to let you work on detailed patterns with utmost precision and its kit includes 40 Accessories to enable infinite possibilities for creativity.
FAQ❓
What is the best power tool for wood carving?
The best power tool for the intricate art of wood carving is the Ronix 8102K cordless rotary tool kit that is lightweight, ergonomic, and portable and comes with a powerful and durable motor, a locking pin system for easy and fast bit-changing, an LED light to take care of detailed carves and a li-ion battery that charges fast and leave the user with less downtime.
What tools do I need to start carving wood?
To start carving wood you'd better go for rotary tools like Ronix 3404 which is lightweight and easy to control thanks to its soft grip and comes with a speed control wheel to put you in control of the operation and reduce the likelihood of making mistakes.