Details come first when it comes to pieces of art. Every little pattern counts because beauty and elegance are born out of tiny features. Over time, people have used different tools to present such delicacy; from primitive ones to the most cutting-edge, complicated equipment.
Nowadays, you can find Rotary Tools in the hands of many artists, from sculptors and woodworkers to the most professional and best-known jewelers.
They are among the most trendy, functional power tools that can handle many jobs such as engraving, polishing, sanding, cutting, and drilling.
That's why they are vastly used for a wide range of intricate works which being elaborate is their distinctive quality. They do all the jobs with different accessories such as wheels, points, brushes, discs, and pads. In fact, they are versatile tools that can be a great substitute for a collection of tools.
The Best Rotary Tool, by the way, is the one that can handle all the mentioned jobs most effectively. But what features provide perfect performance? That's where we need to take a closer look at these highly practical, accurate gadgets.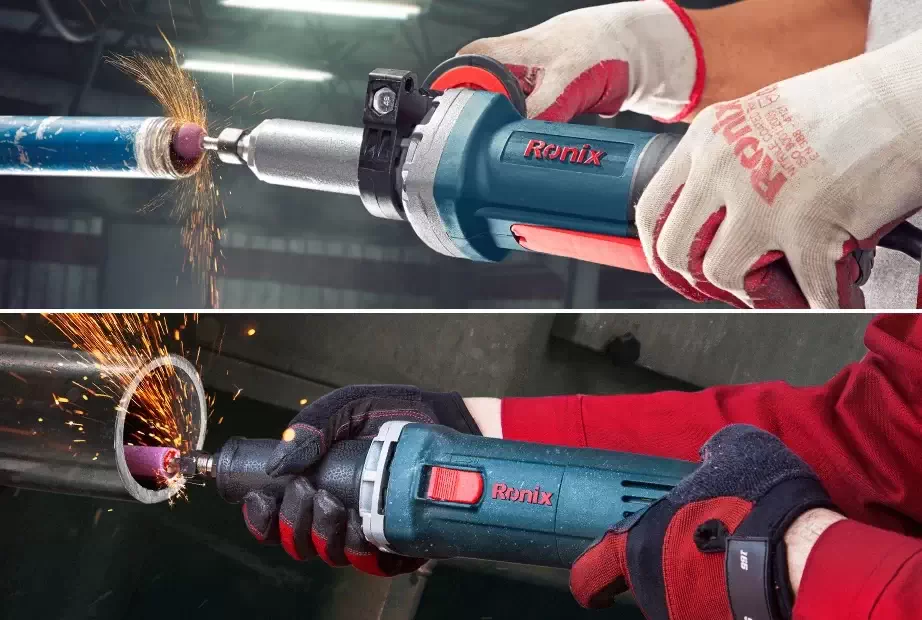 The Best Rotary Tools Overall
As they are meant to be versatile, the best rotary tools need to have a collection of specific qualities, each supporting an aspect of your job. Here are some of the most important ones:
A Wide Range of RPM
Rotation speed (indicated with RPM- Revolution Per Minute) is a key factor in rotary tools and they function with their fast spinning bits. But as their work with different types of bits and tips, each used for a job, they need to perform various ranges of rotational speed. So, the best rotary tool is the one with A Wide Range of RPM.
Anti-dust Bearings
As they are usually used in dusty environments, they should be equipped with anti-dust parts, among which, bearings are the most crucial ones. Because they are installed to reduce rotational friction in the tool. So, they need to be completely protected against any harm. So, if you are seeking the best professional rotary tool, you should consider it in the first place.
Proper Accessories
The best rotary tool kits are the ones with proper accessories. Based on the tasks need to do with your device, you need to have matching attachments, including collets, bits, and tips for jobs such as grinding, sanding, polishing, and engraving.
Suitable Bit Holder
There are many tips and bits for them, so you should not overlook the bit holder quality and practicality. It should be capable of supporting different bits and with each of them, work efficiently.
Ergonomic Body
Rotary Tools are usually compact ones, but that's not enough they should be ergonomically designed. They are to create delicate details, so they need to be easy to work with and provide a comfortable experience.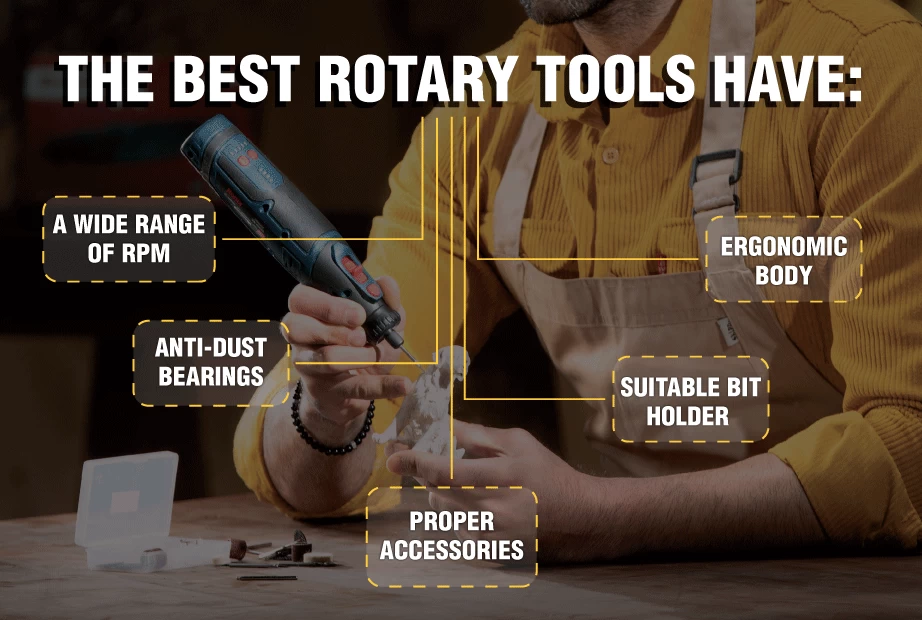 Best Rotary Tool for Wood Carving
You cannot imagine a wood carving desk without rotary tools. They are inseparable assistants to every artist working with wooden material. But what features you should put on your priority list as a wood carver? Definitely, all the points mentioned above are important, but when it comes to woodworking, you should consider anti-dust parts and the precision and power it provides as a preference.
While you should not forget to choose the proper bits for your job. Here are some tips for choosing the best attachments which are usually included in the best rotary tool kit:
For making linear grooves use Router bits.
To make holes in hardwoods carbide rotary is a great option.
For carving large pieces of wood, a sabretooth bit is a great attachment to your rotary tool.
A fluted carbide bit is an ideal pick for defining your design.
You can create a textured surface with ball-shaped fluted bits.
Diamond bits are the best options for sanding the workpiece.
A sanding drum also can handle the sanding job as well.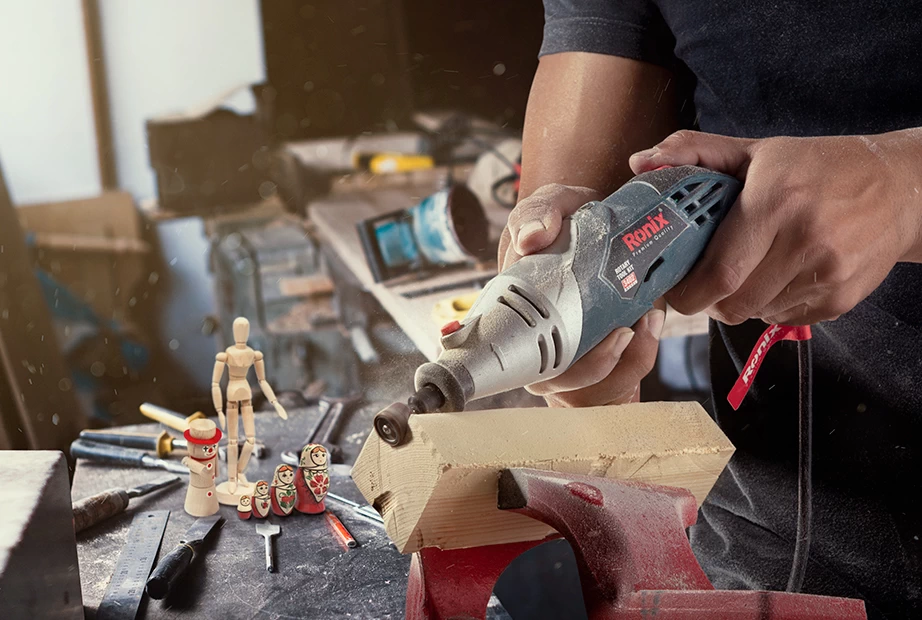 Best Rotary Tools for Cutting
When it comes to cutting with a rotary tool, you need a tool that is powerful, precise, and versatile. The best rotary tool used for cutting is equipped with a great range of cutting accessories, including cutting discs, saw blades, and grinding wheels.
Then, as cutting can be tiring and hazardous, notice that the tool that you choose be compact and ergonomic enough that provides a comfortable grip and good balance.
Best Cordless Rotary Tool
They are powered by batteries, so the best rotary tool working with batteries is the one that has the most efficient energy source, but let's get into more details and see what they offer as an ideal tool. Here are some features:
Brushless Motor
The brushless motors are the ones with more efficiency and less energy loss. They also have a longer lifespan and deliver more power than the brushed versions. By the way, as they don't have brushes that wear out, they need less maintenance than their brushed counterparts. Their smooth operation is another benefit that makes them a great option for cordless rotary tools. They cause less noise and vibration which leads to a more comfortable experience of work.
Proper Battery
The most perfect batteries for cordless rotary tools are the ones with high capacities, providing more runtime. They should also be fast-charging, with a long lifetime, and compatible with different cordless tools. Lithium-ion batteries are the ones that deliver all such features in the best way.
Portability
Since cordless rotary tools are meant to be used on the go, it's important that they are lightweight, compact, ergonomic, and easy to carry with you wherever you go.
Dremel 8220-N/30H, Milwaukee 2460-20, and Ronix 8102K are the ones that deliver most/all of the features mentioned above. So, if you are planning to buy a cordless rotary tool, you can put them on your list.
The Best Rotary Tool on Budget
Who refuses a first-rate tool at a reasonable price? Definitely, NO ONE! There are many tools in the market that tempt buyers with their inexpensive prices, but usually choosing them will end up in regret. Because their quality is not acceptable.
But not every affordable tool is the same. The competitive market of tools nowadays is providing Very Good Prices for Value! There are brands in the tools world that provide the best rotary tools offering a good balance of value and performance.
If you are seeking one, Ronix is a great option. Ronix is dedicated to providing first-rate products including rotary tools at fair prices.
In case you are looking for a premium rotary tool kit at an affordable price, Ronix 3421 would be a wise choice. It can cover a wide variety of operations with its variable speed (5000-18000 RPM), and 1.6 to 3.2 mm bit holder for different kinds of accessories.
Best Lightweight Rotary Tool
As they are used for artistic, intricate jobs, one of the features of the best rotary tool is being Lightweight and ergonomic. For those who need the lightest ones to make it a breeze, here we have a list of them. There are
Tacklife Rotary Tool Kit is a versatile set including a 1.82 kg rotary tool.
The Black+Decker RTX-B is one other member of the team, weighing 726g.
Dremel 8050 Micro goes further in the list with a weight of 250g.
Ronix 3420 Rotary Tool, however, weighing 240g, is the lightest one on the list.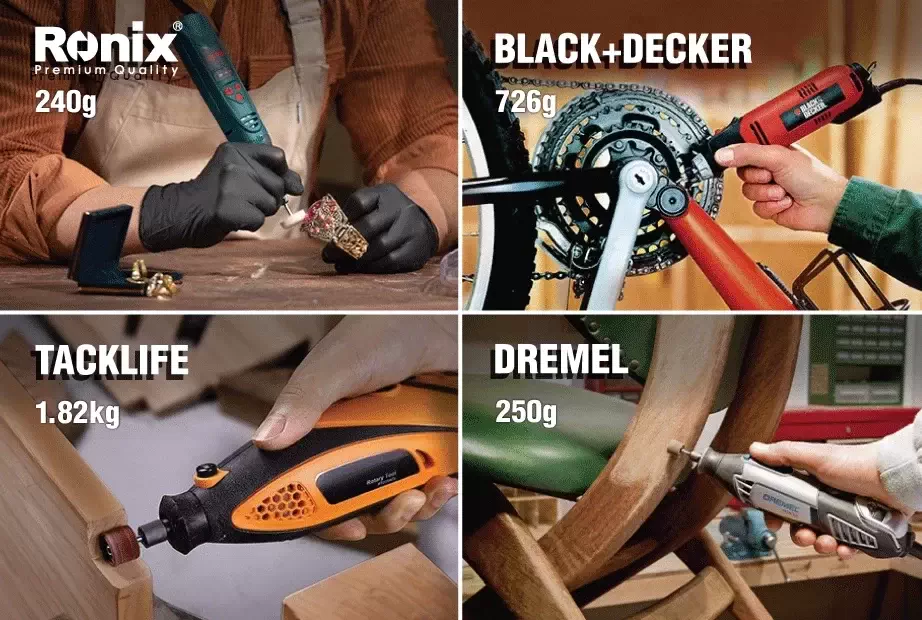 Best Rotary Tool for Home Use
No doubt, the best rotary tool for home use is the one that has all the features I talked about before. But as home application has its own requirements, for finding the best pick, you need to seek more features, including:
Locking Pin System
As home users may not be as professional as the industrial users, a locking pin system can help them change the accessories easily and safely. Then they can release the spindle and let the tool keep working.
Proper Packaging
As usually home users have little place for storing tools, the packaging becomes an important factor for them. The Rotary tools which are encased in BMC cases are the best options for them. Because they can easily place them anywhere they want with no worry about possible damages, the case will take care of everything!
Enough Accessories
Having a collection of accessories to support all your needs for engraving, polishing, sanding, cutting, and drilling at once is a great benefit for every home user. So, if you want a rotary kit for domestic use, check if its accessories match your field of work or not. This means that you don't need to go to a tool shop every now and then, looking for a bit of a specific tip.
Buying Guide for The Best Rotary Tool
Regarding all the tips, features, and hints I talked about in this article, now let's wrap the data up to compose an all-inclusive buying guide.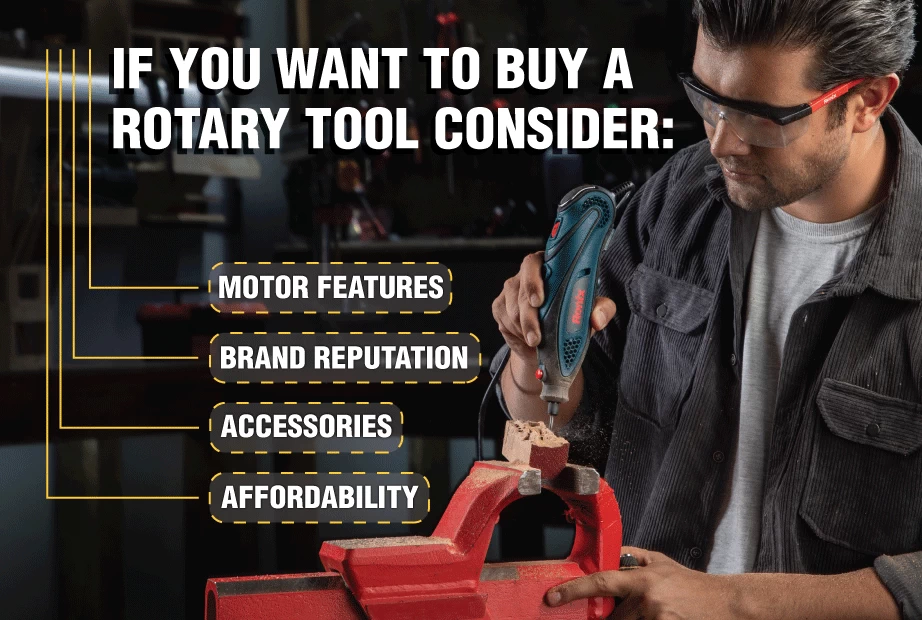 Consider Motor Features
Notice the motor wattage in the first step. The power output range should suit your use and kind of job. If you want a professional device for heavy-duty jobs, consider the ones with higher power spans. But if you are a beginner and want to use your tools occasionally, you don't need to look for high wattage. The motor speed is the other point that you should notice. Just as power, notice the Rotation Per Minute (RPM rate) matches your job level.
Accessories
Buy a Rotary tool that is compatible with the accessories you need, or choose a kit that includes all the accessories which suit your job.
Brand Reputation
Despite all the features, if you find a reliable brand that has a good reputation in the tools market, you don't need to check every single aspect to make sure. Brands with high standards provide the proper qualities you need for your work. Ronix, from Germany, is one of them that can play as a shortcut for you reach the solutions you need.
Budget
Last but not least, affordability is a point that you should take notice of. Try to find a brand that bridges between fair prices and quality and offering you top-notch quality and reasonable prices at once.
FAQ❓
How do I choose the best rotary tool for my specific needs and projects?
Consider features like motor power and RPM, collet size, and ergonomics, then consider the brand you choose to be reliable and affordable.
What are the key features to look for in a high-quality rotary tool?
High-quality rotary tools deliver a wide range of RPM, anti-dust bearings, proper accessories, proper bit holders, and an ergonomic body.