They say: "If you think it's that simple, then DO IT YOURSELF" But, in order to make the things you wish existed, you need a passion for DIY crafts and, of course, tools. Humans have always had a desire to create. Whether it's a little home décor effort like installing shelves or a large-scale home improvement project, it should be done with the best proper tools that make the job perfectly done. the tools usage also developed over the passage of time and now DIY enthusiasts are using more advanced DIY power tools to create their artworks.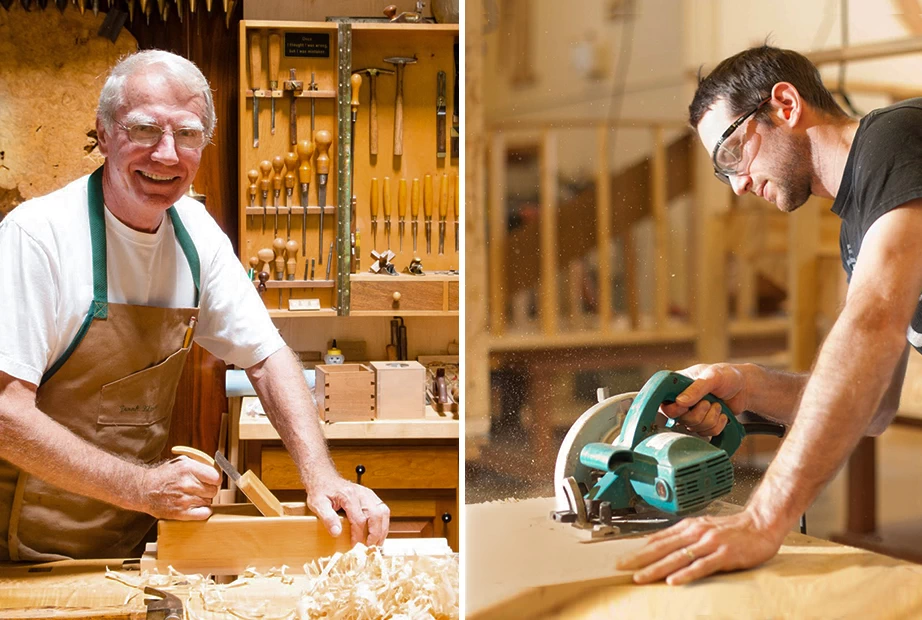 Over time, the Do-it-Yourself journey experienced numerous shifts and revolutions. Initially, people were only undertaking simple house repairs such as mending a faucet, mounting a photo to the wall, tightening door handle nuts, and so on. The tools for such tasks were also simple hand tools that can be found in practically every home. For example, a small hammer, pliers, and possibly two different types of slot and Philips screwdrivers.
Today, the DIY world is far behind what you might think of as minor home repair and improvement projects. In the modern DIY industry, you can find special DIY power tools for each stage of creation that working with each one of these tools requires a specific skill.
Therefore, to have a pleasant experience and breathe life into your DIY masterpiece in the best possible way, you must have a thorough understanding of the most useful DIY power tools, as well as the best DIY power tool brands. This article will serve as your comprehensive guide for future handcrafted projects.
And if you are a newcomer to the DIY zone, there is no need to be concerned. we have kept an eye on you and will introduce the best power tools for beginners, as well.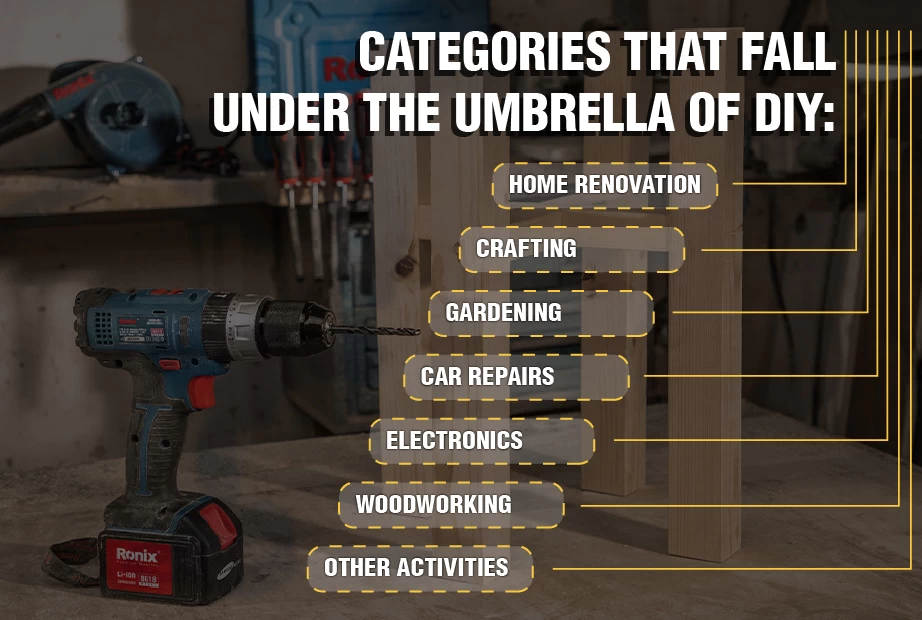 Best DIY Power Tools for a Professional DIYer
As we previously stated, the DIY community encompasses a wide range of professions and activities, from car and auto repair to making woodcrafts. Due to this, the power tools we utilize for each DIY project may vary.
For instance, all you might need to re-decorate your home simply is an electric drill to make a hole in the wall or a Brad nailer to put together some Ikea shelves. Therefore, you must first decide what kind of DIY project you want to do before investing in the most essential power tools for DIY.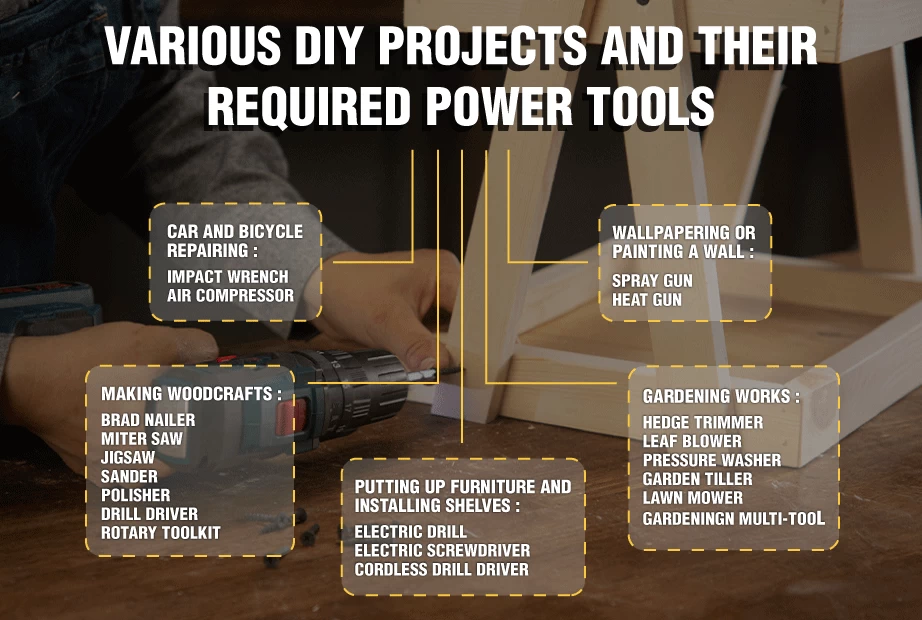 Wallpapering or Painting a Wall
To paint or wallpaper a wall by yourself, there are various hand tools that you need to have. But there is one power tool that accelerates your painting operations and it's a paint spray gun.
This power tool is available both corded and cordless and you can choose the proper one based on your location and type of painting task. However, try to go for the best cordless power tools for DIY since you're not going to do any heavy-duty project and they give you more freedom and portability across the job site.
Removing old wallpaper is also a part of a home renovation project and some people do it using a simple scraper or putty knife. However, if your old wallpaper is stubborn enough and doesn't remove easily, using an electric heat gun can make the process easier.
Being said, if you're going to paint your house's wall or renovate it using a new fresh wallpaper, an electric heat gun, and a cordless paint sprayer can be two basic power tools for DIY that make your project easy as pie.
Gardening works
Many homeowners find gardening maintenance to be a calming and fulfilling activity, and they enjoy taking care of their yard tasks on their own. Fortunately, a variety of equipment and machines have been created to simplify the operators' gardening responsibilities. The following are some of the best DIY power tools for gardening tasks: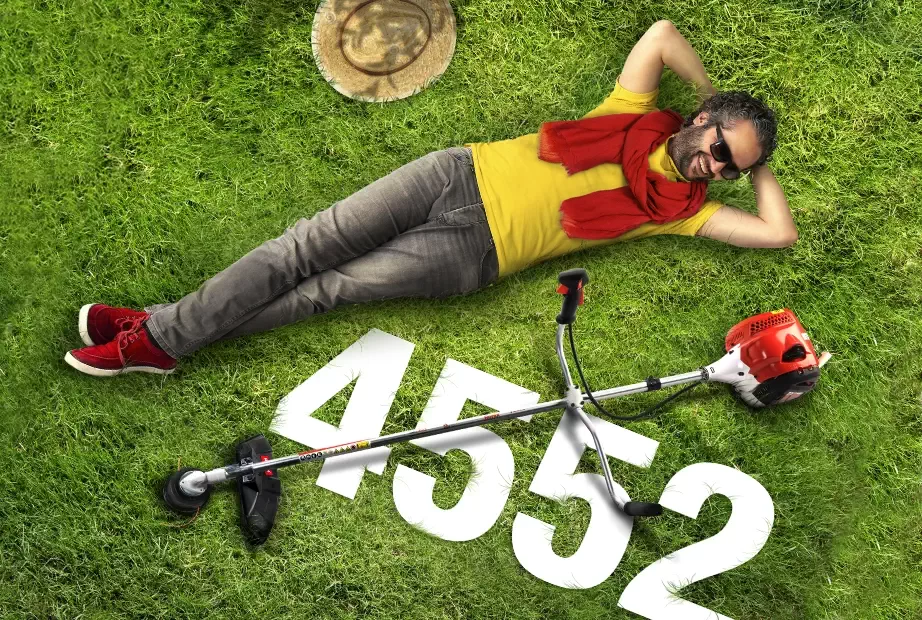 For shaping and pruning hedges, bushes, and shrubs, a hedge trimmer is ideal. Because gardening is an outdoor pastime, choose a cordless or gasoline-powered hedge trimmer for greater flexibility and agility when beautifying your garden.
A leaf blower is useful in many seasons and for a variety of tasks. It can be used to clean up leaves, debris, and grass clippings in your garden or driveway. If you want to perform all of your lawn cleanings by yourself, consider investing in a cordless mini-blower for greater portability.
If you're a man of cleaning and dirt removing, a pressure washer should be a must in your outdoor DIY tasks. This tool is a great help for cleaning outdoor surfaces, such as patios, decks, driveways, and garden furniture. Even it can be your home carwash and make your electric or hybrid car, bicycle, and motorcycle shine bright.
A large garden with a vast planting area requires a lot of energy and time to prepare. A garden tiller or cultivator is also useful for preparing the soil for planting or aerating and mixing in compost.
While not a power tool in the traditional sense, a lawn mower is an essential tool for maintaining a healthy and neat lawn. Choose a lawn mower that suits the size of your lawn and your preferred method of mowing (electric, cordless, or petrol).
Stihl is one of the German tool brands among several tools and equipment companies that only manufactures gardening tools. This power tool brand is an expert in manufacturing heavy-duty chainsaws, trimmers, lawnmowers, tillers, and blowers.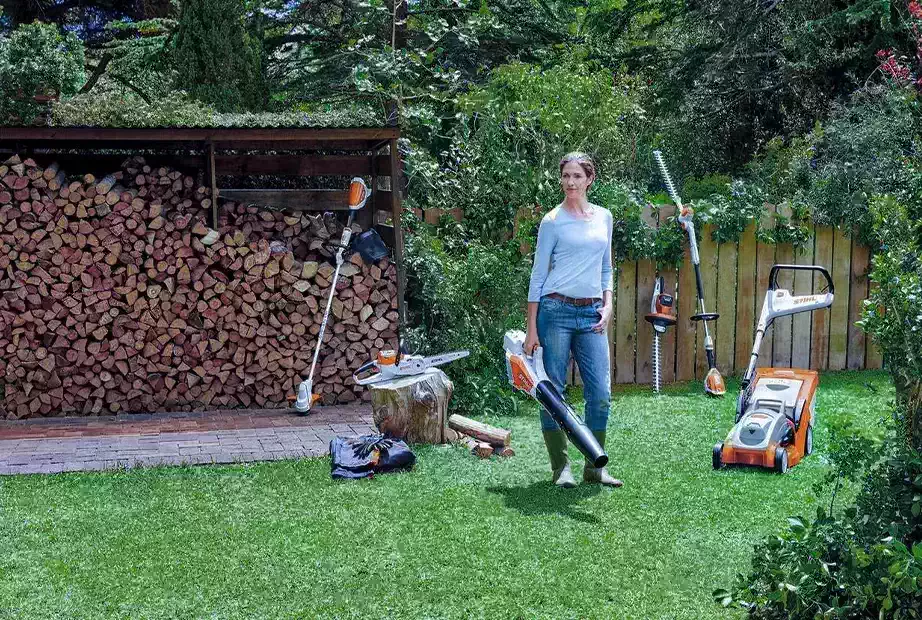 Some people prefer to buy one tool and do more tasks, instead of buying one tool for every operation. If you are in this category, consider a garden multi-tool that combines several functions in one, such as a hedge trimmer, chainsaw, and string trimmer. These tools are often powered by a single-engine unit with interchangeable attachments.
Ronix 4805 is a gasoline multi-functional gardening tool that allows you to spend many hours gardening without the use of electricity. The Ronix 4805 gas-powered multi-tool lets the users have a chainsaw, hedge trimmer, brush cutter, and pole saw all in one.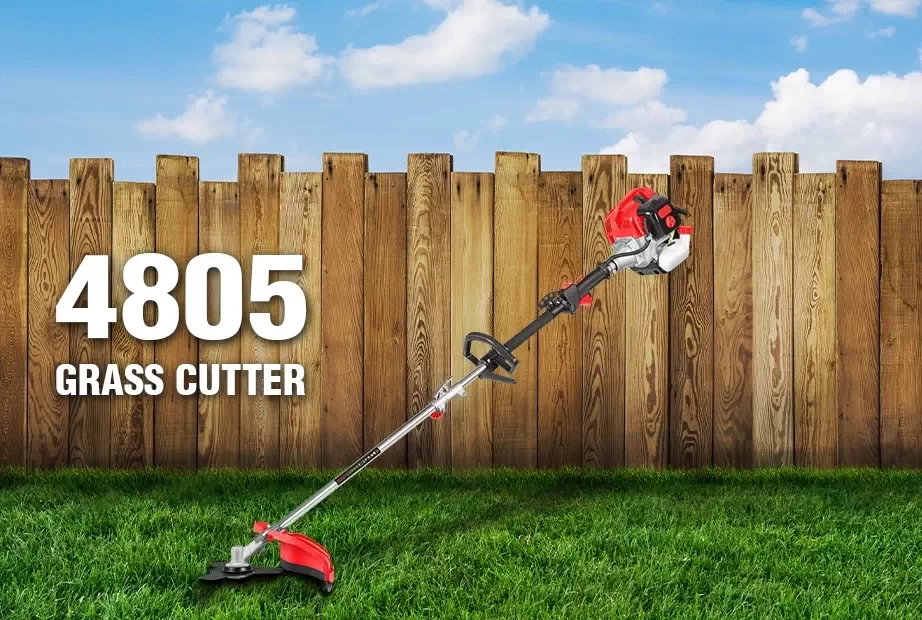 Putting up furniture and Installing shelves
The idea of putting up your furniture and home accessories has been trending since IKEA appliances and ready-to-assemble furniture. Whether you're assembling a new bookshelf, a sleek TV stand, or a cozy bed frame, or you're making a wooden candlestick, the process allows you to create a personalized space while showcasing your craftsmanship.
However, whether you want to just assemble your newly purchased furniture or make a new one from A to Z, you need different power and hand tools to get the job done perfectly. A list of the best power tools for home DIY and furniture assembly consists of these two important components and will make almost all of your everyday home tasks easier.
Electric or Cordless Drill
Electric or Cordless screwdriver
Making woodcrafts
A step further in assembling furniture is making it by yourself. In this way, you need more specialized power tools to make a delicate and precise work of art. For example, you need a miter saw to make precise crosscuts and a sander to smoothen the surface of your workpiece. Let's check all the most useful DIY power tools for a home woodworking DIYer:
In most do-it-yourself woodworking projects, a nail gun is a crucial power tool for joinery, fixing materials, framing, and manufacturing furniture. At first, you might not see the value in having one, but as soon as you add one to your toolkit, you'll appreciate the speed and force it gives your projects.
Miter saws are one of the essential tools in a DIY woodworker's toolkit among the many different types of saws used in the woodworking industry. When cutting wood for your projects, this machine embodies power and precision at its best.
Jigsaws give you more freedom in making curved and rounded cuts, compared to miter saws. Plus, you can handle a jigsaw across the job site. If you're on a small budget, you can count on buying a jigsaw to do your cutting tasks.
Sander and polisher are two different power tools that come to your help to do the surface's sanding and polishing tasks. They're best to make a smooth and even finish on the surface of your workpiece.
The very basis of every DIY task is a drill and a screwdriver; better to have a cordless drill driver to tackle both jobs. It comes to your help in most of the drilling, and bolts and nuts loosening and tightening tasks. A cordless drill driver gives you the freedom to move around the workspace and to work in tight spaces.
A rotary tool is a compact and versatile tool that can handle detailed and precise work. It's perfect for tasks like carving, polishing, cutting, or grinding in various materials.
Replacing faucets and shower heads
Changing the faucets and shower heads is an appealing and cost-effective way to refresh and renovate your bathroom. You can start by choosing high-quality plumbing tools such as wrenches, pliers, and adjustable spanners. With the help of these versatile tools, you can confidently disassemble old fixtures, disconnect water lines, and remove old tough nuts and bolts.
Use thread seal tape and your go-to tool to securely fasten the new faucets, ensuring a leak-free connection, and feel the greatness of your DIY work, as the water streams through your new, modern faucets and shower heads.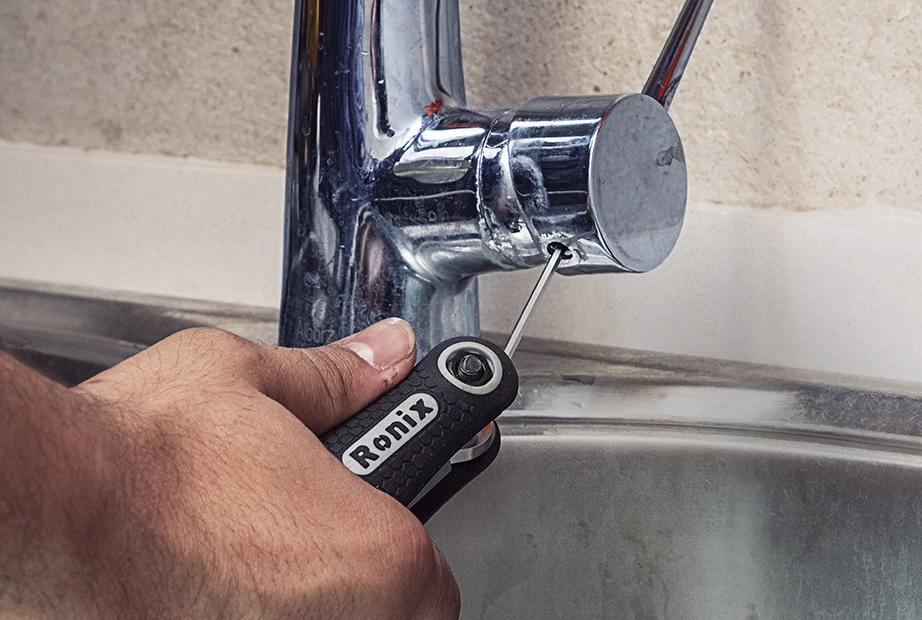 Car and bicycle maintenance
You may confidently take on a variety of maintenance and repair activities if you have the proper tools. Having a complete collection of tools is necessary for car repairs. This might comprise, among other things, a socket set, a power impact wrench, pliers, and screwdrivers. You may complete tasks like changing the oil, replacing the brake pads, or repairing electrical problems with the help of this equipment. Similarly, to this, a variety of hand tools are essential for fixing bicycles.
Remember that for working with an air impact wrench, you also need an air compressor by your side.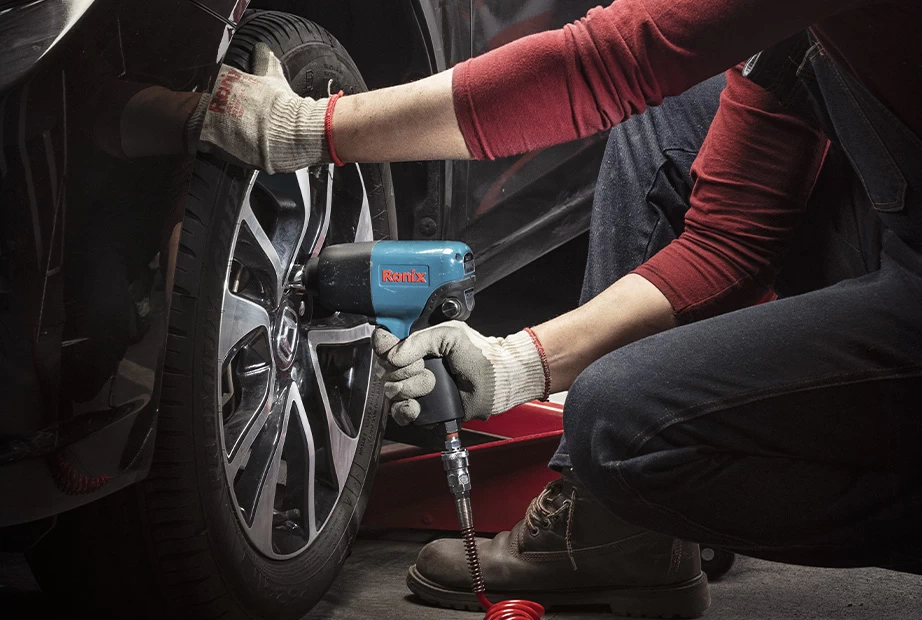 You can confidently tackle activities like adjusting brakes, changing tires, or fixing a broken chain with these tools in your possession. When working on your car or bike, always put safety first and refer to maintenance manuals or internet resources for help.
Keeping a car clean is a key element of car maintenance. and since power tools are once again at your disposal, you don't need to worry. To clean the interior of your car, including the dashboard, beneath the seats, and any other area that cannot easily be cleaned with your hands, you can use a vacuum cleaner.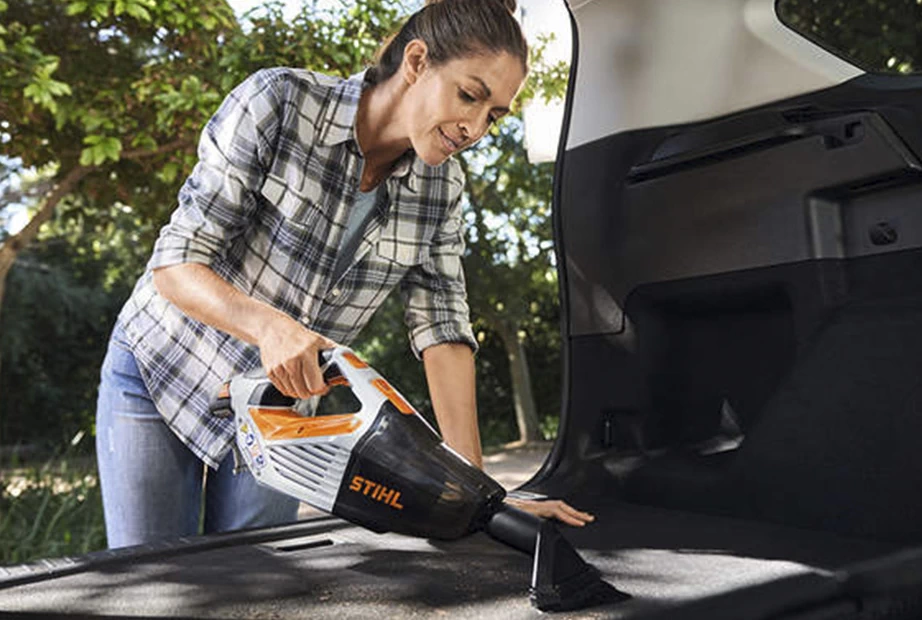 And, when it comes to the outside of the automobile, you definitely hit the nail on the head if the pressure washer is the first thing that comes to mind. Having a portable, cordless, and lightweight pressure washer will let you to take it with you everywhere you go and keep your car shining brightly.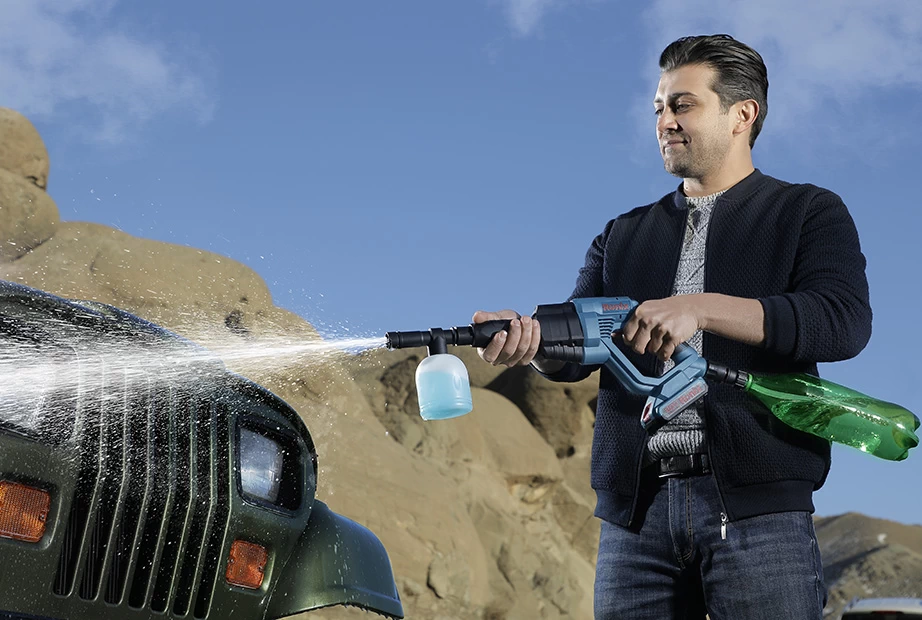 Find the Best Power Tools for DIY Beginners
The DIY community is one of those rapidly expanding fields that is always developing for a variety of causes, the most important of which is the Covid-19 pandemic. Because, throughout the quarantine period, people attempted to learn to do their household chores on their own. Among the main reasons that casual users have turned to DIY projects are cost-effectiveness against employing professionals, boosting learning and skill development, creating a sense of accomplishment and self-reliance, and so on.
Even though DIY home projects can require a significant investment of time, money, and energy, it's still more affordable to do it yourself than hire a professional (as long as you don't break anything in the meantime).
From: foxbusiness.com
All the power tools we introduced so far for the different DIY projects can also be helpful for a DIY beginner, too. However, the good news is that as a beginner, you don't need to spend money on expensive expert tools. Instead, several basic power tools for DIY and some simple hand tools will handle nearly all of your tasks. A new DIYer's toolkit of the best power tools for beginners can include the following tools:
Cordless Drill Driver
Air compressor
A Combo Kit
Hand and power tools kit
Jigsaw
Pressure Washer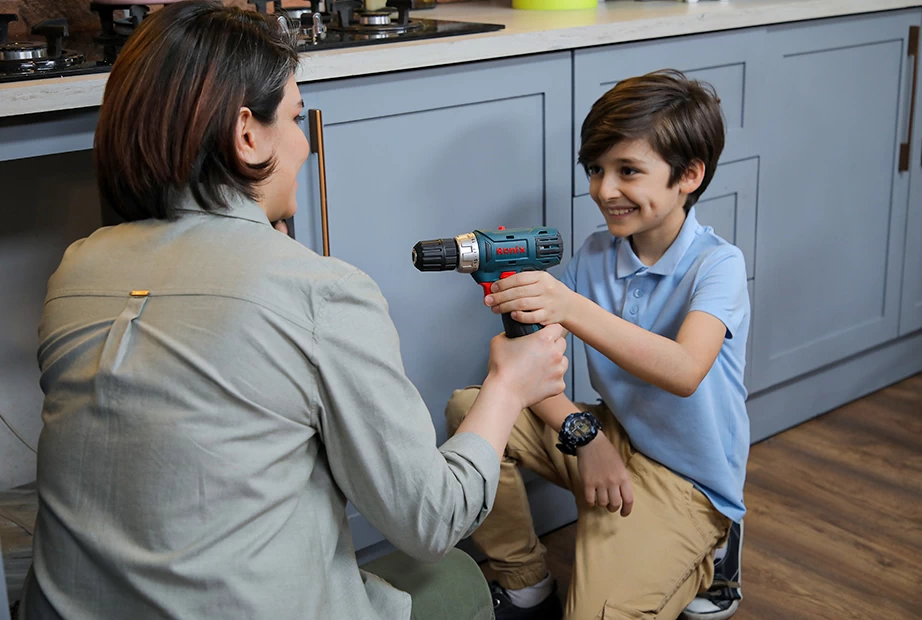 Safety is an issue for DIY beginners
It's crucial to start with beginner power tools that are simple to use, adaptable, and appropriate for a variety of projects. Even though many DIY projects are generally safe, it is crucial to put safety first and adopt the appropriate safety measures. This includes using safety equipment, using tools correctly, paying close attention to instructions, and being aware of one's limitations.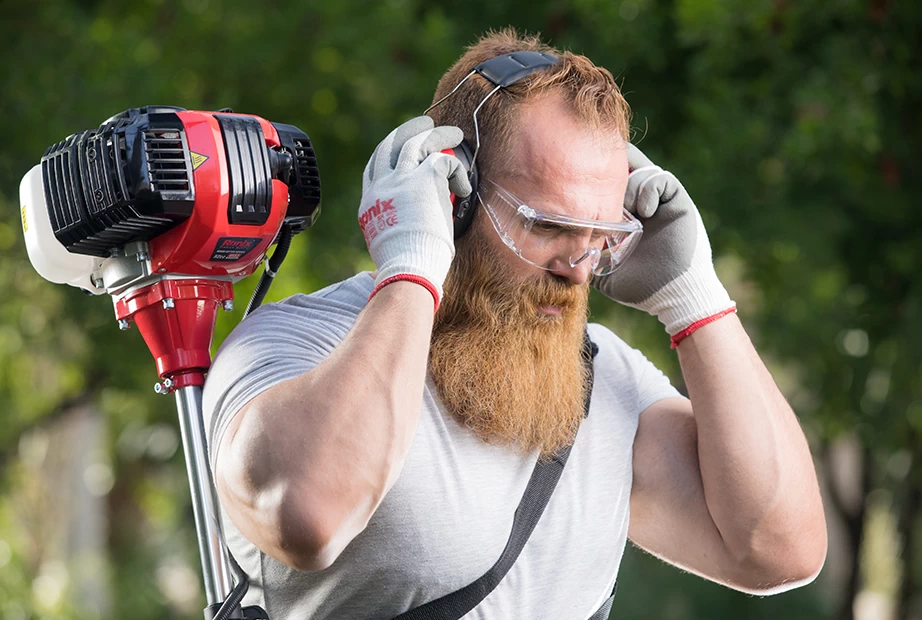 If you're new to the DIY community, you might not be familiar with the best power tool brand for DIY or you could be unsure of which one best meets your needs. Tool brands like Milwaukee, Makita, Festool, Metabo, DeWalt, Bosch, Ingco, AEG, and Evolution are examples of well-known tool manufacturers.
However, the lack of balance between the quality and price of every tool brand's products presents a significant barrier for DIY beginners. Usually, the high-end brands exceed your budget, while the reasonably priced options fall short of your standards for quality.
Ronix has bridged the quality-affordability gap, becoming one of the greatest choices for DIY professionals and newcomers by manufacturing a selection of 2000 types of high-quality tools at cost-effective prices. In comparison to the world's super brands, Ronix manufactures affordable tools and equipment without sacrificing quality and is regarded as one of the best DIY power tools brands in the market.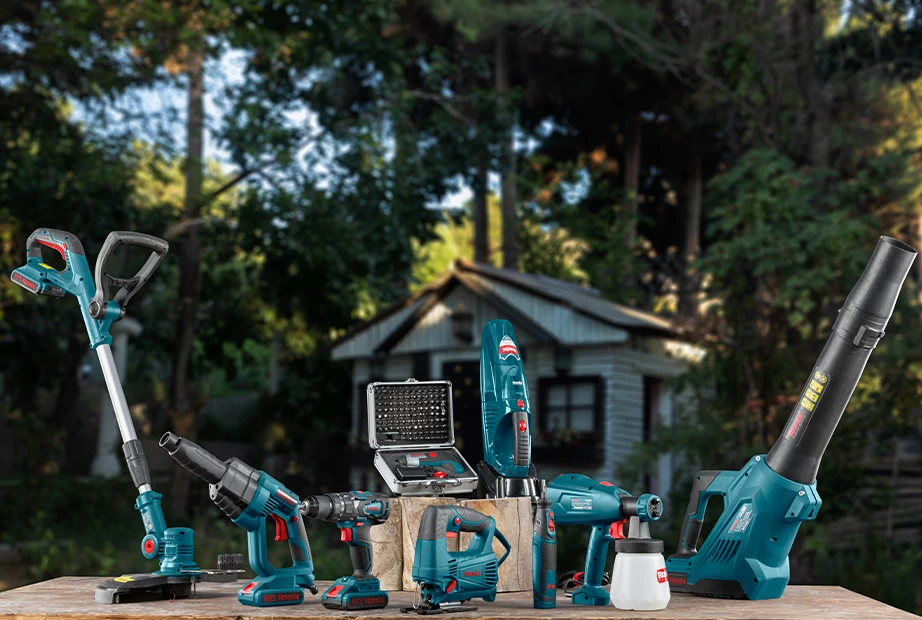 FAQ❓
Which DIY power tool is best?
There is no single "best" because the ideal tool will depend on the project or activity at hand. So, before choosing the best DIY power tool, consider your needs and preferences. A drill, for example, is a flexible power tool used for several jobs; a jigsaw is perfect for creating curved cuts; and a circular saw is better suited for making straight cuts in thicker materials.
What power tools do I need as a DIY beginner?
As a DIY beginner, you may not need a comprehensive collection of power tools. However, having a power drill, an electric screwdriver, an air compressor, a jigsaw, a sander, and a polisher will help you get started with a wide range of DIY projects.