Using Angle Grinders to Cut Metal is one the most convenient ways of metal fabrication as angle grinders are a metalworker's right hand; You can tackle a wide range of metalworking operations with the right angle grinder equipment and accessories while staying safe on the job. An angle grinder is a versatile tool that may be used to work with a number of materials and applications.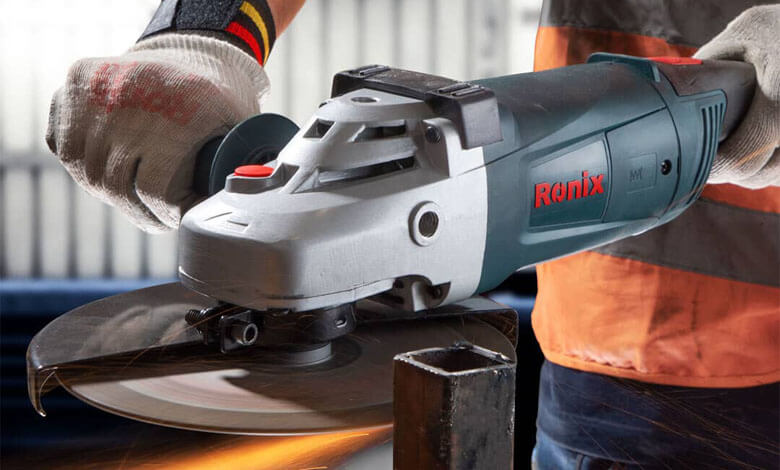 Can You Use Angle Grinder to Cut Metal?
"Can you use an angleAngle Grinders to Cut Metal?" is a question that pops up frequently on the appropriate message boards. What's the quick and easy answer? Absolutely! Indeed, among the many hand-held equipment available, the angle grinder appears to be the most flexible of metalworking power tools. That's why it's no surprise that this specific item is utilized by a variety of crafts, including those in the automotive sector, HVAC, plumbing, and a variety of others.
Grinders are often used for refurbishing and polishing metal materials, so it shouldn't come as a surprise that you can use them on stainless steel surfaces if you have the correct disc.
You shouldn't, however, go into the process without taking any safeguards. That's why, throughout the post, we've included a few safety guidelines to assist you learn how to use angle grinder to cut metal in the most efficient and effective way possible.
How to Use an Angle Grinder to Cut Metal
Now that we've established the notion of using an Angle Grinders to Cut Metal, let's examine what the optimum way of operating an angle grinder to cut metal. We must point out that the method is not always the same because different angle grinder models work in different ways. Even yet, the safety measures you must follow while cutting metal or steel are very similar.
What is the maximum thickness of steel when operating an angle grinder to cut metal?
It truly relies on the angle grinder's cutting capacity as well as the size and type of disc you're using. Apart from that, the thickness of the material you'll be cutting is a determinant in determining the steel's possible cutting depth.
Not only that, but cutting discs come in a variety of thicknesses, so you'll need to pick the proper one.
But let's pretend you're using a 4-1/2-inch grinder with a flat diamond cutoff blade to cut stainless or mild steel, as most people do. A 1mm or 1.6mm iron-free disc should be used to cut the stainless steel.
When cutting thin metal materials like sheet metal, a 1.0mm or 0.8mm cutting disc is recommended. Due to the reduced blade thickness that results in less heat transmission, any of these discs will provide a cleaner appearing cut and minimize any potential discoloration.
When cutting or buffing metal or aluminum with an angle grinder, using a type saw lubrication will extend the disc's life and prevent the risk of chipping.
If you're going to chop thicker, heavier steel like rebar or structural steel like angle iron, you'll need a cutting disc with a thickness of 1.6mm or 2.5mm. Using a bigger blade, such as a 2.5mm cutting disc, to cut through dense steel has certain disadvantages.
Due to the slower blade speed of the bigger disc-equipped, the completed cut of your steel workpiece may show evidence of discoloration. What is the reason behind this? Because of the increase in friction, essentially.
You could always use another power tool to cut metal, depending on how thick the material is and how clean of a cut you want.
While accuracy and elegance are required when cutting thick, dense steel, a metal cutting circular saw or a metal chop saw are two of the most common suspects. Break out the trusty grinder if all you want to do is make short cuts when accuracy and overall aesthetics are secondary concerns. Simply use the suggested CDs whenever possible.
The Best Angle Grinder for Metal Work
If you're looking for a high-quality, easy-to-useAngle Grinders to Cut Metal with, here we present you some of the best tools in the market today.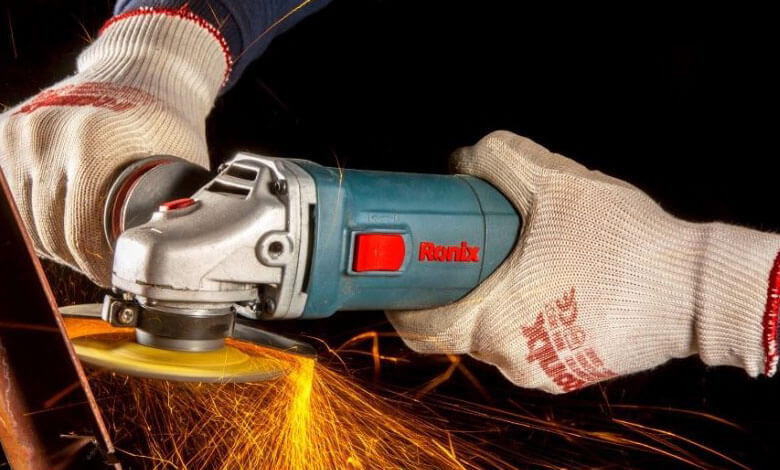 Bosch 4-1/2-Inch Angle Grinder
The Bosch 4-1/2-inch angle grinder has a powerful 6.0amp motor that produces 11,000 no load rpm for professional cutting and grinding. Its Efficient motor has a very tiny field diameter, allowing the operator to grind or cut with minimal effort. This item is lightweight, with a small size and shape that makes it suitable for metal craftsmen. Vehicle fabricators, plumbers, and other professions who utilize grinders on a regular basis, such as home builders, are among those who employ them.
Ronix 3212 Angle Grinder, 2350W, 230mm
Having a strong an Angle Grinders to Cut Metal and other difficult materials is a huge benefit for a professional metal worker who conducts a lot of grinding and metal fabrication operations. The Ronix 3212 Angle Grinder is a powerful power tool that can tackle a wide range of industrial and heavy-duty tasks. You can confidently operate this angle grinder to cut metal any time.
Makita 9557PBX1 4-1/2″ Cut-Off/Angle Grinder
Makita's angle grinder is a high-quality tool for metalworkers. A powerful 7.5 AMP motor provides high output power in a smaller, lighter tool. You may carry this device anyplace and cut metal with ease by using both hands to control it.
The 'tool-less wheel guard adjustment allows effortless clamping, and it also offers a grinder with an AC/DC switch for use with various power sources, which is a nice feature of this Makita angle grinder.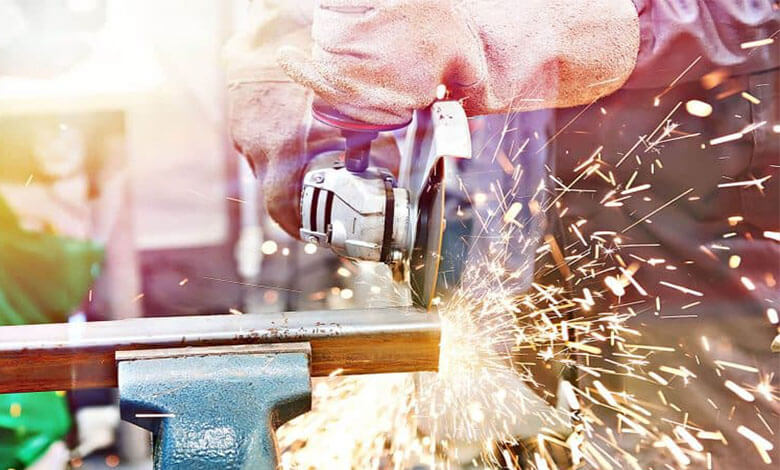 Safety Tips When Operating an Angle Grinder to Cut Metal
When you use Angle Grinders to Cut Metal or grind it, small chips or shards of metal fly all over the place. They can also be fiery and abrasive. Follow these guidelines to avoid eye injuries, wounds, burns, and other problems when cutting metal: • Read and follow all safety warnings on metal-cutting discs and blades. • Protect your eyes and ears with safety glasses, a face shield, and hearing protection. • Wear gloves, a long-sleeve shirt, and slacks to protect any exposed skin.
• Let newly cut metal cool completely before handling it.
• When working with metal that may have sharp edges, use gloves.
• Before cutting metal, secure it with a clamp. • If you're use angle grinder to cut metal, don't let anyone close you unless they're wearing hearing and eye protection.
Suggested disc types.
You can use angle grinder to cut metal and all types of it, including bolts, angle iron, rebar, and even sheet metal, when it's equipped with an abrasive metal-cutting disc. However, as you use the discs, they wear down fast, cut slowly, and reduce in diameter. Instead, we recommend utilizing a diamond blade with a ferrous metal cutting rating. These will last far longer than abrasive discs, cut quicker and cleaner, and wear down much slower.
| | | |
| --- | --- | --- |
| The Disc Type | Application | Consideration |
| Metal cutting disc / cut off disc | Most metals can be cut. It can't be used to grind anything. Present at a 90-degree angle to the workpiece | Aluminium Oxide is used to make the cutting edge |
| Grinding disc | Metals, both ferrous and non-ferrous, are ground. Present at a 45-degree angle to the workpiece. | Aluminium Oxide is used to make the cutting edge. |
| Multi-cut cutting disc | Metals, both ferrous and non-ferrous, are cut through (including stainless steel). For more sophisticated cutting needs, it will also cut through brick, stone, contemporary composites, and tiles. | |
| Stainless steel cutting disc | Steel and stainless steel are cut through. It's especially handy for cross-sections with tiny cross-sections. | |
| All cut diamond blade | Cast iron, various ferrous and non-ferrous metals, and most building materials are all cuttable. | Cutting edge with diamond grains attached to it. |
| Abrasive grit mop disc | Metal grinding in general, especially for edge grinding jobs like deburring, sharpening, and surface finishing. | Grinding flaps in a fan-shaped radial pattern. |
| Slitting disc / thin cutting disc | Pipes and profiles with thin walls are cut. This tool creates a fine cut line. Use on ferrous and non-ferrous metals, as well as stainless steel. | Thin cutting discs produce less heat during operation, cause less tool vibration, finish cuts faster, and waste less metal in each cut, saving up to 2 mm each cut. |
---

FAQ
1. What tools do I need to cut metal with an angle grinder?
the necessary tools when it comes to metal cutting with angle grinder are: angle grinder, metal disc, c-clamp, power outlet/source, earmuff and the metal material you plan to use.

2. What's the difference between a cut-off tool and an angle grinder?
A cut off tool is used to cut surfaces, as its name implies. The angle grinder, on the other hand, is a more flexible tool that can be used for a variety of activities such as sharpening and grinding.

3. Is it possible to cut steel with an angle grinder?
Yes, if you have the appropriate disc. However, due to the steel's hardness, they will wear out more quickly.
Conclusion
Is it possible to useAngle Grinders to Cut Metal , even a thick steel piece? Yes, it surely can. At the end of the day, cutting metal with an angle grinder may be very effective and incredibly safe if you have the proper equipment and safety gear.
If you've never used a grinder before, you won't need much practice to learn the skill of slicing and dicing materials properly. That is, as long as you use the suitable cutting disc with this powerful hand-held equipment.
Because an angle grinder is designed to cut through stronger metals, as well as bricks and concrete, you won't have to worry about its durability. In time, a decent grinder will become a need rather than a luxury.
While the ordinary DIYer is unlikely to be hacking at dense steel on a regular basis, a good grinder is the one equipment you'll want in the back of your truck or tool shop if you need to make rapid cuts in metal.
Finally, when using a grinder, make sure you are in complete control of the equipment and that you are wearing the proper protective safety eyewear. All that's left to do now is select the appropriate cutting disc and material, and begin cutting metal with ease.