It's one thing to know how to use an angle grinder. Knowing about Parts of an Angle Grinder and how to put things together is another. While the first is necessary for getting things done, the second is necessary when things go wrong. After all, if your angle grinder breaks, you'll need to know which part failed before attempting to repair it or ordering a replacement part.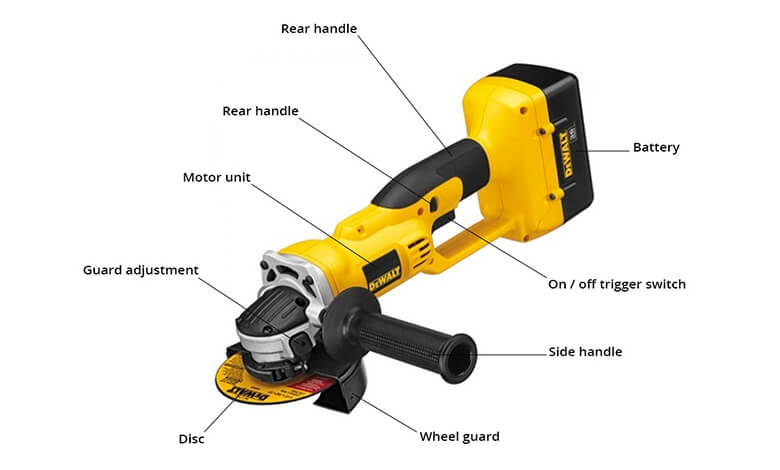 11 Key Parts of an Angle Grinder
As it was mentioned before knowing about different Parts of an Angle Grinder not only helps the operators to do their best when performing but also enables them to fix the tool in case of malfunction or so. Here is a list of 11 key parts of angle grinder and their functions.
1. The Power Lever
The first Parts of an Angle Grinder you must be aware of is the power switch or power lever. The primary handle has a button, lever, or trigger connected to it. This component's purpose is to allow you to turn on and off the angle grinder as needed.
2. Lock Button
The second part of an angle grinder that you need to know about is the Lock Button. The primary handle has a button, lever, or trigger connected to it. This component's purpose is to allow you to turn on and off the angle grinder as needed.
3. Dial for Speed Control
Another important Parts of an Angle Grinder, which is not necessarily on every one of them is the speed control dial. This part of angle grinder is a feature, usually a normal-looking dial or lever, positioned anywhere on the angle grinder's main handle. This is a component that allows you to adjust the speed at which the disc rotates.
4. Main Handle
The central handle is the fourth part of angle grinder that you should be familiar with. The major component of the angle grinder that you hold in your dominant hand is this. The bulk of the controls, such as the power trigger, the lock button, and others, are placed on that long and round portion that comes out of the angle grinder's head.
5. Side Handle
A side (or secondary) handle is included as another optional Parts of an Angle Grinder with the great majority of them. This seems to be a metal or plastic protrusion, similar to a stick, with a textured rubber or plastic grip and a high pommel at the end for a non-slip hold.
6. Body
The angle grinder's body is sometimes referred to as the head. This is the part of angle grinder that holds the engine, as well as the spindle and blade, as well as the main and side handles. Because, almost everything else is connected to it in some manner, it is one of the most crucial parts of angle grinder.
7. Engine
The motor is another crucial part of an angle grinder. The motor, of course, is responsible for all of the power and movement in your angle grinder. Angle grinder motors come in a variety of power ratings, which are determined by the kind, quality, and price.
8. Spindle
The spindle and its elements involved are other important parts of angle grinder. The spindle is the circular protrusion on the bottom section of the head or main body that holds the grinder head and blade. As previously stated, the spindle is connected to the motor via a belt, resulting in a fast, circular motion.
9. Blade Guard
The blade guard is another essential but detachable Parts of an Angle Grinder. This is a semi-circular attachment that attaches to the underside of the angle grinder's main body or head and faces the operator. The portion of the blade that faces the operator is shut off, leaving the front half free to contact the workpiece.
10. Attachments
Then there are the different sorts of blades and discs that may be attached to an angle grinder, which is the component that rotates and cuts or grinds. Angle grinders can be used with a variety of blades and discs, including cutting discs, sanding discs, grinding discs, wire brushes, and flap discs. They may not be considered as parts of angle grinder but knowing them and having a general information will help you using the tool.
11. Battery or power cord
The power cable or battery pack is the last part of an angle grinder to be discussed. That motor, of course, requires electricity, which it may obtain either directly from an outlet or via a battery pack. On the end of the main handle will be the battery back or power wire.
Parts of Angle Grinder You Should Be Aware Of
Angle grinders are used in a variety of circumstances. While their customization is frequently attributed to their dynamic design, it is not incorrect to attribute many parts of angle grinder as major contributors. The number of attachments that come with a grinder determines how well it cuts, shapes, cleans, and grinds. They provide grinder functions a competitive edge, allowing delicate operations to be completed with delicacy. So, here is a list of the most important grinder accessories that every user should be aware of in order to get the most out of their grinders:
Cutting Discs
Sanding Discs
Grinding Discs
Wire Brushes
Synthetic Non-Woven Flap Discs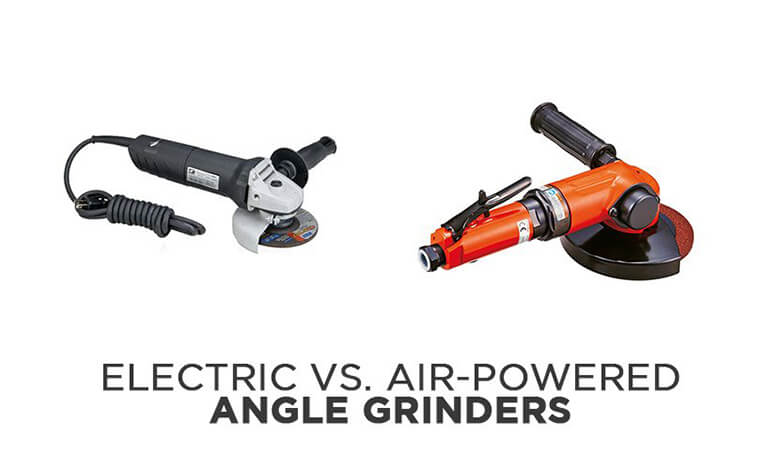 Electric vs. Pneumatic Angle Grinders
Angle grinders using air power operate grinding wheels or cut-off wheels to remove surface material or cut through material. Because their heads, one key part of angle grinder in general, are placed at a right angle to the tool body, they are more compact than vertical grinders and provide greater sight of the wheel and work area. Grinders with side handles enable for a two-handed hold, which improves control and stability. Angle grinders are widely used to polish concrete, stone, and metal, grind welds, prepare metal and concrete surfaces, bevel cutting tools and material edges, cut metal plates and pipe, and grind welds. These air-powered grinders are generally lighter than corded or cordless grinders, reducing operator fatigue over long periods of usage. Because they have few moving components, they run cool and have a long lifespan.
What is the difference between an electric and a cordless grinder?
Angle grinders, like virtually other major power equipment, are cutting the cord. Of course, there's a trade-off in terms of runtime: fabricators and oil/gas pipeline professionals must have several batteries charged and ready to go all day. Despite all these there are not that much of difference in the main Parts of an Angle Grinder whether corded or cordless. It's great not to have to drag a cable behind you, but you still need the runtime to finish the task
| | | | | |
| --- | --- | --- | --- | --- |
| Type | Speed | Run time | Power | Performance |
| Electric grinder | 12,000 RPM* | Unlimited | Up to 1.9 KW* | An electric grinder will provide you constant and continuous usage, depending on your abrasive choice and application, and is especially suitable for heavy-duty tasks. |
| Cordless grinder | 9,000 RPM* | Depending on the machine model, disc selection, and application, up to 30 minutes may be required. | 18V 4Ah* | To get the most out of your cordless grinder, use the correct abrasive and high-quality batteries. Using carefully recommended abrasive materials can help you obtain the greatest results in your application while also extending battery life. |
Battery Life of a Cordless Angle Grinder
As a matter of fact, the most basic and smallest battery packs combined with the most powerful grinder will only last 1-2 hours. Some angle grinders, come with batteries that can last for a whole day of work.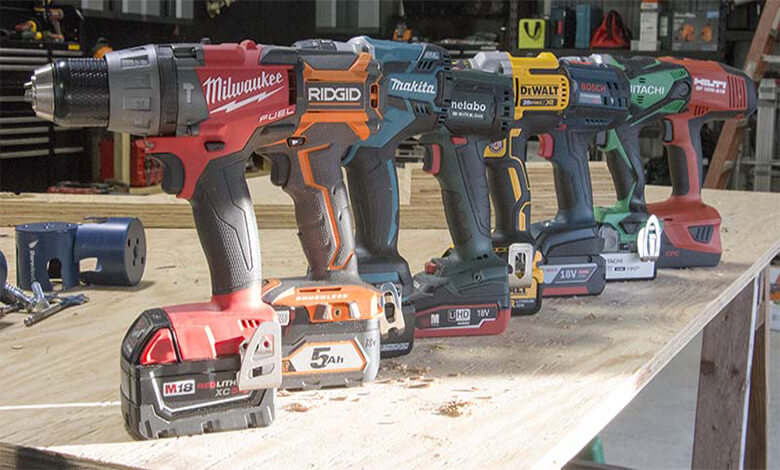 Related Article: The Best Angle Grinders
What's Next for Angle Grinders?
Knowing more about the Parts of an Angle Grinder and gaining more general knowledge about them may had you excited what is in the horizon for these simple yet important tools. Big tool brands anticipate cordless grinder usage to continue its upward trend, and they're betting on it with new items including a 6-inch grinder to complement existing small and big versions. Their creative teams are dedicated to learning the full grinder operator workflow and procedure across all size classes. Their objective is to keep improving their grinders and other cordless equipment so you may be more productive from beginning to end. It is also discussed how These brands other tools may be used with grinders. For the time being, tool tracking and inventory are the only features available. Most grinders who use variable speed desire a real dial on the tool rather than controls via an app.
3 Top Choices, 3 Different Types
Now that you have enough knowledge about Parts of an Angle Grinder, their types and functionality you, here we would introduce 3 angle grinders that you can choose from according to your needs and tasks.
Our suggestion for Pneumatic Angle grinder: Chicago Pneumatic CP860 Heavy Duty Air Die Grinder with 1/4″ Collet, 24,000 RPM
Die grinder for general maintenance, productivity, and control. Cleaning tires, moldings, porting, relieving engines, and general high-speed polishing and grinding are all possible with this tool.
1/4″ collet, lock-off throttle, square handle design for increased comfort
Our suggestion for Cordless Angle grinder:DEWALT 20V MAX Die Grinder, Variable Speed, 1-1/2-Inch, Tool Only (DCG426B)
This brushless 20V MAX* Cordless Die Grinder has a longer motor life and eliminates the need for brush replacement. Its variable-speed rocker switch allows you to dial in the exact speed you want for the job. You may also pick from a variety of grip options thanks to the dual-position rocker switch.
Our suggestion for Corded Angle grinder: Ronix 3231 Angle Grinder, 2400W, 220V
When it comes to stocking your house with equipment and tools, the angle grinder is one instrument that should not be overlooked. All of your cutting, polishing, and grinding will be done with the angle grinder. The Ronix 3231 180mm Angle Grinder has a strong 2400W, 220V, 50HZ engine that ensures optimum efficiency in heavy-duty operations. With a weight of about 5.2kg, this angle grinder is extensively utilized in construction. Workshops, service garages, and car body repair businesses are all typical places to find it.
FAQ:
Is it worthwhile to invest in a brushless angle grinder?
Yes, to put it plainly. Brushless motors in cordless power tools are far more efficient and need no maintenance than brushed

2- motors.What is the purpose of a pneumatic angle grinder?
The air compressor's pipe is connected to the air inlet connector on the grinder. The air compressor is switched on, and the grinder's control lever is steadily pressed

3- .Is it possible to swap out angle grinder guards?
Angle grinder discs are replaceable, which means you can choose the right size for your grinder and the right type of disc for the material you're cutting or grinding

4- Is it feasible to grind a regular nut using a grinder?
Almost all angle grinder shafts, including those from Ryobi and DeWalt, as well as other electric and pneumatic angle grinder brands, are compatible with the Universal Nut.
Conclusion:
As you can see, despite the fact that an angle grinder appears to be a basic instrument, the key Parts of an Angle Grinder is numerous and you should be familiar with. Buying a new angle grinder, diagnosing flaws in your present one, and making repairs should be lot easier now that you know what each component is.