A good angle grinder can easily cut through metal, masonry, and even concrete. But is a good idea to use an Angle Grinder for Cutting Wood? Before you bring out your trusty angle grinder to maul that would-be piece of lumber, consider the following factors.
Angle Grinder for Wood Cutting, Yay or Nay?
Yes, is the quick and idiotic response. However, it isn't ideal, and most professionals advise against cutting wood with a metal cutting disc. You must understand how to utilize Angle Grinder for Cutting Wood and which blades to apply. However, there are also significant dangers associated with using an angle grinder for woodcutting, so understanding what to expect can help you stay safe. What is the reason behind this? Because cutting a flammable material like wood with an abrasive blade on a grinder might result in disaster. Aside from the obvious one, there is also another potential hazard associated with using Angle Grinder for Cutting Wood
Because of the density of the material, there is more resistance when using a high-speed power instrument like a grinder to create a cut on a piece of metal, or even when attempting to cut concrete with a diamond saw blade. With wood, however, this is not the case. When utilizing Angle Grinder for Cutting Wood, a lightweight material, a tiny change in posture, such as simply bending your wrist, might cause the grinder to dramatically shift direction. When this happens, your response time may be insufficient to reverse the virtually immediate change, and you may find yourself with an out-of-control grinder running at 15,000 RPM. Plus, most grinders don't have an electronic brake and are sluggish to stop spinning, and I'm guessing you don't want to get in the way of an enraged grinder flying through space and time.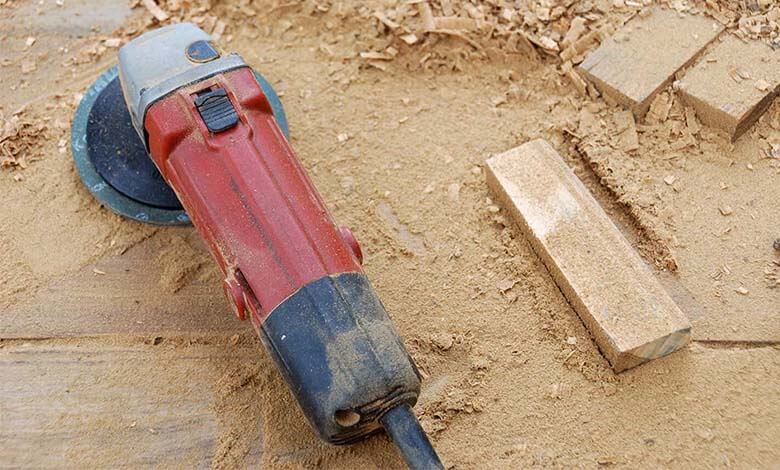 Injuries Caused by Inappropriate Use of Angle Grinder for Cutting Wood
In a study conducted by a group of hand surgeons in Japan based on the records of 15 patients treated for angle grinder injury between 2017 and 2018, it was proven that the lack of knowledge about the machine's capacity was the main reason of these injuries. Not knowing about the potential hazards of using an angle grinder for cutting wood may result in untreatable and permeant damages.
Therefore, if we get back to the question here, can angle grinders also be used to cut wood?
The best answer would be: Yes, of course. An angle grinder can cut wood because it has the strength and capability to do so. That does not mean, however, that using an angle grinder for cutting wood would be the optimum of the situations. Although an angle grinder is useful for little projects, you should think hard before using it on a major project.
Relared Article: Best Angle Grinders
What Angle Grinder Blades Are Best for Cutting Wood?
An angle grinder has its purpose if you're simply seeking to cut little woodcuts (like the edges of trim) or carve portions of wood. However, either a three-tooth wood cutting disc or a wood carving disc should be used. When it comes to using an angle grinder for cutting wood, the correct kind of blade is required. So, let's look at a few alternatives for the greatest wood-cutting blades.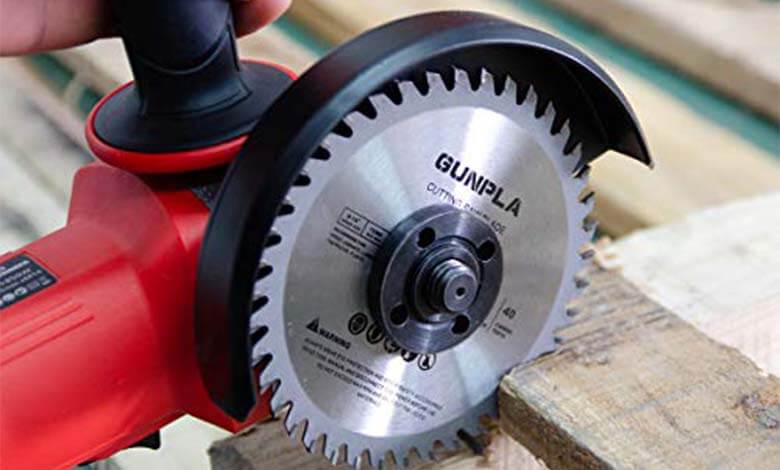 Let's start with the question of whether a normal blade can be used to cut wood. This is a common mistake made by novice users, and it is something you should avoid. Cutting with a normal blade is possible, but the safety is inadequate. The grinder might rise and fly off the table you're working on if something goes wrong. You might be badly injured if you rotate at high speeds. Instead of attempting to use a regular blade, you should seek for one of the woodcutting blades listed below to assist reduce the chance of an accident while maintaining the smooth and accurate appearance of your project. Rotating at high speeds might cause serious injury. Instead of attempting to use a standard blade, go for one of the woodcutting blades mentioned below to help decrease the risk of an accident while keeping the smooth and precise aesthetic of your project. Choose a wood carving disc for an angle grinder that will operate on both soft and hard woods. A disc with the strength required for woodworking, as well as the proper form and design to undertake woodcutting operations with ease.
Angle Grinder for Cutting Wood: 3 Top Picks
GRAFF SPEEDCUTTER 4 1/2 Wood Carving Disc for Angle Grinder
A wood carving disc made specifically for an angle grinder is available (flex). Wood, laminated flooring, parquet (hardwood), aerated concrete, plasterboard, and plastic are all safe to operate on because to the unique form. If you require a woodworking tool for an angle grinder (flex), you'll need a Speed-cutter disc. The GRAFF Speed-cutter woodworking disc features only three teeth, allowing the angle grinder to achieve an acceptable level of radial resistance at a rapid rotation rate.
All-In-One Carving Tool
No Overheating
CERTIFICATED
PROVEN MATERIAL
T TOVIA 5 Wood Carving Disc for Angle Grinder
People have been utilizing circular saw blades with angle grinding machines for woodworking for many years, which is dangerous! An angle grinder's large number of teeth paired with its rapid RPM rate frequently results in finger amputations and other serious accidents!
All-In-One Carving Tool
No Overheating
Certificated
Proven Material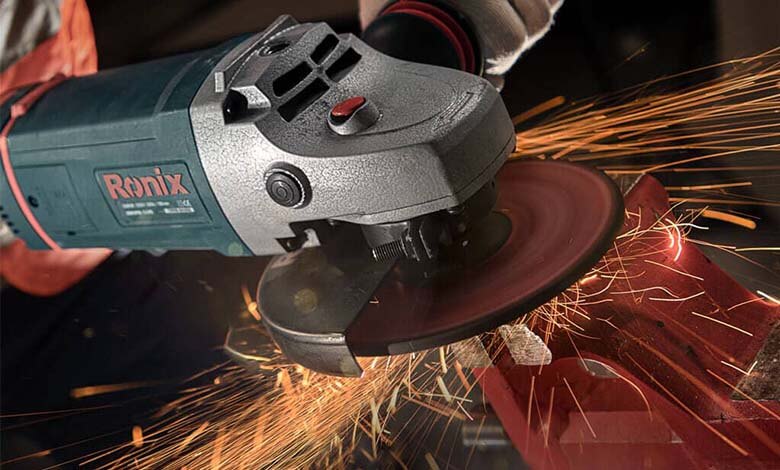 Ronix 3210 Mini Angle Grinder
No one can refute Ronix 3210's capability. Our clients love this power tool because of its strong 2400W motor, 8000RPM no-load speed, 180mm wheel diameter, and ergonomic features. To turn it on, all you have to do is plug it in and press the anti-dust button. Because of its air-flow cooling mechanism, working long hours will not be a problem for the 3210. Working with an angle grinder has become so simple and comfortable thanks to the development of various ergonomically designed features in such a power instrument. Three-position anti-vibration side handle, rotating main handle, quick-change disc guard, and locking pin system are among the features.
Professional heavy-duty 2400W powerful motor that enables high performances
3 positions anti-shock ergonomic side handle, minimizes vibration and reduces fatigue during long time working
Rotary main handle which accelerate working in different angles and improves user comfort and control
Soft start switch system that ensures the safety of operation
Direct airflow system which cools the motor for more reliable performance and higher overload capabilities
NSK anti-dust ball bearings which ensure long lifetime of the motor and make it work more smoothly
Quick change of disc guard that allows the user to place the guard in different working positions
Easy and fast carbon brush changing mechanism
New locking pin system for easy and fast disc changing and safety mechanism
Anti-dust switch which reduces dust penetration, especially in masonry working conditions
Read more about grinder disc
Is Using an Angle Grinder to Cut Wood Effective?
Using an angle grinder for cutting wood raises a number of obvious safety hazards. However, if you take the proper precautions, use the proper three-tooth cutting disc, and just need to trim a few corners here and there, an angle grinder is a feasible alternative.
Carving, sanding, and shaping are all operations that angle grinders excel at. You can shape wooden materials like a master craftsman with a wood carving disc attached to your angle grinder.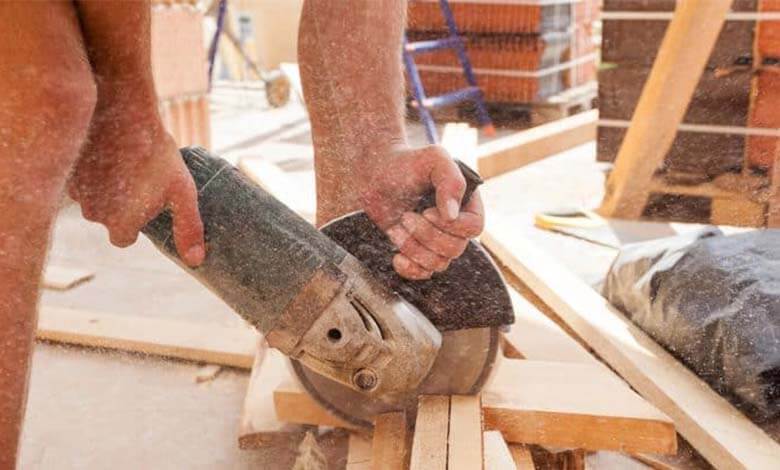 Tips and Tricks to Avoid Mistakes
While using an angle grinder for cutting wood, however, the least you can do is to always wear the proper PPE, such as safety goggles, ear protection, and cut resistant gloves, which are the absolute least minimum when working with a grinder. Keep in mind that the guard should never be removed unless the power supply is disconnected. When cutting any material with a grinder without a protection, you might end up in the hospital.
The first mistake to avoid is driving too quickly. When performing something potentially harmful, it's natural to want to get it over with as soon as possible. In this case, you could wind yourself paying a high price for it.
One of the most crucial aspects of using an angler grinder to cut wood is to go slow and careful with your motions. As a result, take your time. If you hurry the job, you risk receiving a kickback from the grinder, which might result in serious injury.
Keep in mind that you'll almost certainly need to become used to cutting at an angle. Your inclination will be to cut straight down, but this will increase your risk of harm. Instead, try making each cut at a small slant. The angle will perform better and cut more accurately because this tool is designed to carve wood rather than cut it.
FAQ ❓
What blades should I use when using an angle grinder for cutting wood?
If you intend to use an angle grinder for small trimming or little jobs as such, select a proper three-tooth cutting disc.
Should you use an angle grinder for cutting wood?
No, it's a last-ditch attempt that should only be used if you don't have any other options.
How to use an angle grinder in woodworking?
This handheld power tool can be used for grinding, sanding, abrasive cutting and polishing wood.
Conclusion:
As you can see, the debate over whether or not angle grinders should be used to cut wood is not simple. The reason for this is because this tool may be too strong for most wood products, increasing the risk of harm from backlash. However, you do have options when it comes to cutting wood with a grinder, as you can simply replace the disc to a three-tooth disc for minor projects. While we believe there are certain advantages to utilizing an angle grinder for carving, shaping, and sanding, you must be completely focused and aware of the grinder's limitations in contrast to other instruments. When attempting to create accurate miter cuts or ripping boards of wood, if you have access to a circle saw, table saw, or even a miter saw, you'd be better off going that route.