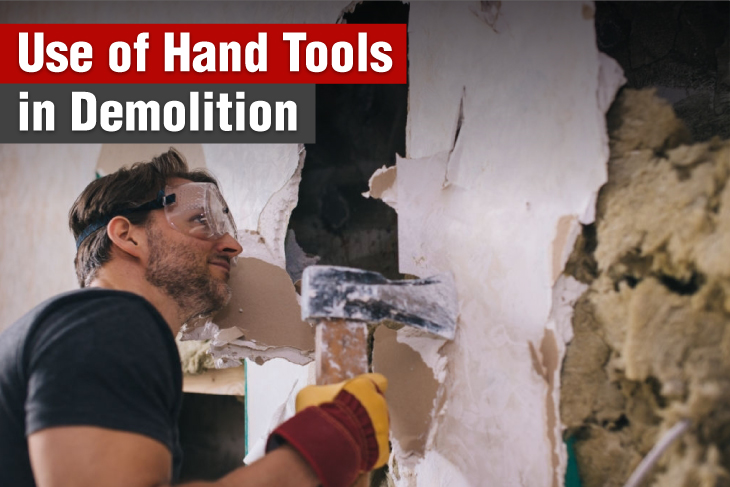 Today, with the increasing Use of Hand Tools in Demolition, it has caused the diversity of this type of tool to increase.You may have seen demolition and wreckage tools in a couple of home building and renovation documentaries, in which the old buildings will be transformed into dream houses. But taking down a wall and removing old flooring or roof shingles, are not that easy, that they meet your eyes. To get demo jobs done as soon as possible with the highest quality, some hand tools are essential. In this article, we take a glance at the Use of Hand Tools in Demolition. Let's cut to the chase and through.
Related Article : Use of Hand Tools
Crowbar
Crowbars, also prybars, are a staple of every demolition and wreckage. A well-made crowbar can help you prying on every single thing. They bring a ton of leverage; therefore, they come to hand in taking up sub-flooring, wood flooring, and outdoor decking, as well as ceramic and tile removal. In case of removing underlayment, the fasteners, like stubborn nails, are still embedded, they can be easily removed with a nail puller integrated into the tool's face. Crowbars come in different shapes and sizes. The smaller ones, used with a hammer to remove interior trim, such as wall baseboard and door/ window casing, without damaging either, while the longer ones can grab and rip out ledger boards and wall studs.
Hammers
Hammers are the symbols of demolition. Depending on the demo task we're doing we can choose the proper type of hammer. Claw hammers are best for prying and finishing. For heavier duties, you can apply to frame hammers. They are a bit longer and have a straight claw, which makes this tool great for framing and small demolition. If you aim for drywall demolition, the most proper tool will be lightweight drywall hammers. Except for demolition function, these hammers can be used for cutting boards thanks to their hatchet-shaped end. In case you're working with slate shingles while roofing, you have to get a roofing hammer. They have one flat end and one end with a long pick, which is used for piercing holes in slate before driving into the rooftop. For a bit more intensive duties like brick and stone breaking, you have to get a brick hammer. This hammer is more of a masonry hammer and facilitates contractors in dealing with the demolition of hard materials and general masonry. For the most intensive and stubborn tasks, whether you're taking out a wall to achieve a desirable open floor plan or busting concrete, you have to grab a sledgehammer.
Related Article : Safe use of hand tools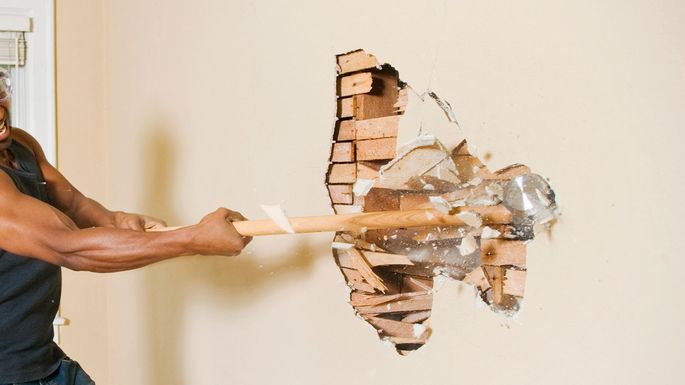 Screwdrivers
There's no limitation to the demolition world, and you also need more delicate tools for less heavy-duty tasks. Since you need screwdrivers all around the house, it's a good bet that you own several screwdrivers for specific uses. Aside from the flathead, Philips head, and Allen screwdrivers, which have a breeding population and are basics of every toolbox, there are some other less common types of screwdrivers with specialized uses. The electrical screwdriver is one of them, which is used to take electrical outlets and switches out before any wall demolition you need. In case you need to pry, the chisel end of flathead screwdrivers can provide enough leverage power to remove small wall tiles or wall baseboards.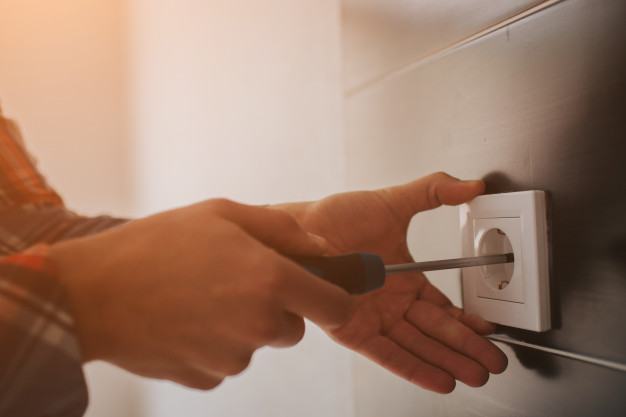 Related Article : History of Screwdrivers Hand Tools
If you're a tool enthusiast, you may have seen demo tools, which are manufactured by the combination of different hand tools, such as wonder bars and demo dwags. These tools gather a scope of each tools' functionality and can help the contractors to get over their demos within the possible shortest time.