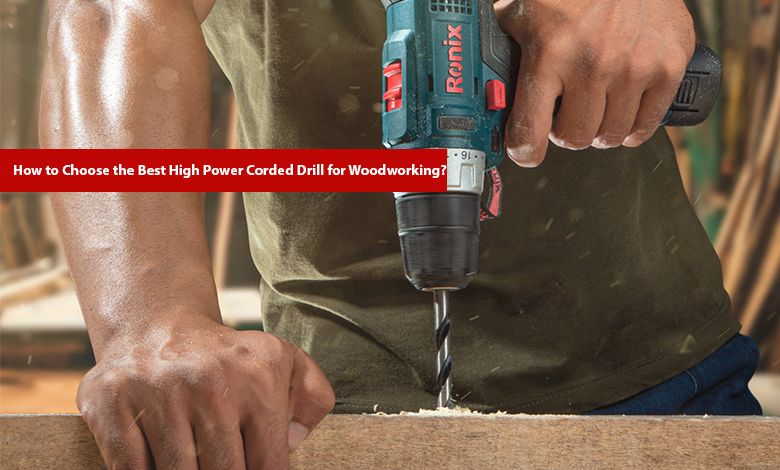 Every woodworker's toolkit should include a high power corded drill and a driver power drill. You can use a corded drill to do the essentials like drilling holes and driving screws, which will save you money while still providing plenty of power. Buying the proper high power corded drill can become an investment for anyone interested in woodworking and carpentry or a professional as it would become handy power tool in countless occasions.
What should you know about high power corded drill?
Power drills are available in both corded and cordless models. High power Corded Drills provide dependability and robustness at the cost of being permanently connected to an electric cable. Choose a power drill based on your needs and your abilities. Most of us hold the misconception that corded drills have restricted applicability in comparison to cordless drills. However, this is not the case. High power corded drills, according to the inventors, offer the highest work production capacity since they have a continuous power source. The cordless ones, on the other hand, have a limited battery supply and may run out of power in the middle of a work. In addition, compared to wireless drills, high power corded drills have a greater speed range and last longer. A decent woodworking high power corded drills should have adequate power to drill through any type of wood.
What to Look for in a High Power corded Drills When Wood Working?
There is no finer sensation for a woodworker than drilling into dense timbers with a powerful drill as drilling in wood requires a lot of force, and no one wants to buy a high power corded drill that isn't powerful enough, especially if it'll be used on hardwoods. However, you should also keep in mind that it's not all about the power when it comes to high power corded drill. There are some other important features when choosing a drill for your woodworking projects:
Weight: when working for long hours considering the hand fatigue and Comfortability is essential as feeling tired and uncomfortable not only affects your job but also increase the safety risks and hazards. The weight of a high power corded drill plays an important role in making the operator feeling comfortable and at ease.
Locking Soft-Grip Handle: A 360-degree locking soft-grip handleon a high power xorded drill is what makes drilling lot more convenient for you, especially while working on complicated projects.
High Power Corded Drill's Chuck: The maximum drill bit diameter allowed for particular drill is determined by the chuck size. The chuck can be either keyed or keyless, Quick bit changes are possible with keyless chucks. Keyed chucks, on the other hand, retain a little greater bit grip for a bigger drill. The keyless chuck of high power corded drill also makes the drill bit much more stable for drilling.
Variable Speed: The variable speed of a high power corded drill makes the tool very easy to operate with, variable speed motors allow you to increase or decrease the torque.
Reverse Mechanism:It will be a plus if you can find a drill with a reversing mechanism. Depending on the work, it may become stuck or you may need to drill it in the opposite direction. As a result, a drill with a reverse mechanism function will enable you to appropriately manage any scenario and assure full job.
RPM: RPM is the number of times your drill chuck revolves in a minute. It regulates the drill's speed and efficiency. Furthermore, it allows the drill to penetrate into tougher materials.
Torque: It has something to do with the tightening force. On tough materials, torque has a big influence on how well your high power corded drill When compared to cordless drills, corded drills have more torque.
Extra handle: It is critical to maintain more control while working under duress. Furthermore, it will assist you in keeping the high power corded drill in the correct location of the material for an extended period of time. The function will allow you to drill drywall mud, rock, or concrete more effectively by boosting precision.
7 Best High Power Corded Drill for Woodworking
For woodworking, a high power corded drill is a better option, as corded drills are more powerful than cordless drills. Some woodworkers may consider corded drills to be cumbersome and unnecessary. Professionals, on the other hand, found it more useful while working with wood. Because wood is softer than metal, it requires less torque to drill it. A corded drill provides continuous power and allows for precise and quick carpentry.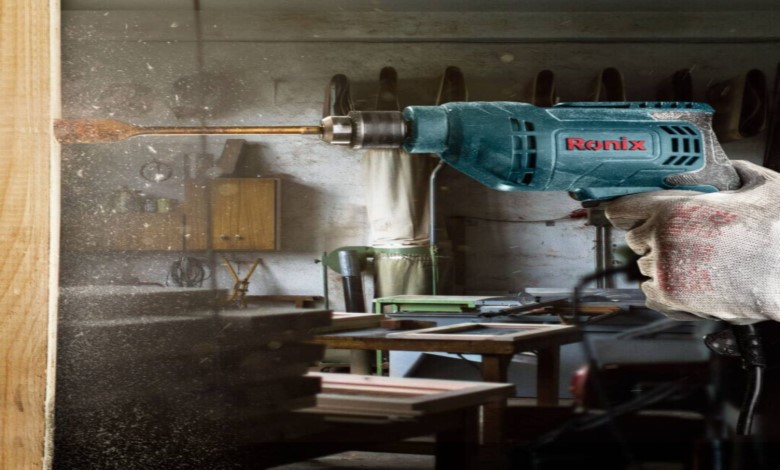 DEWALT: 8.0-Amp, 3/8-Inch, (DWD115K )
The high power corded drill will give flexible drilling and driving experience thanks to its strong engine and greater RPM range.
To ensure long-term use, design with a robust product.
It comes with easy-to-use handling that ensures precise results.
Comfort and control will be increased thanks to the soft grip and well-balanced design.
Milwaukee 0299-20 Magnum 8 Amp 1/2-Inch Drill:
Its strong 8.0 amp motor will generate a faster pace.
The variable speed control option will significantly assist you in changing the speed based on the scenario.
A heavy-duty keyed chuck is available from the manufacturer, which securely secures the bit.
To guarantee balance and comfort, it has an ergonomic textured grip and a two-finger trigger.
Ronix 2107 Corded Electric Drill, 400W, 220V
Efficient 400W motor delivers maximum 4300 RPM for great performances in wood and metal industries
Efficient handy drill for the best functionality in drilling and screwing
5mm keyed chuck for higher efficiency
Ergonomic small body design enables maximum power at minimum weight
Variable speed control enables working at customized speeds in order to adapt to various materials and applications
Anti-dust switch to reduce dust penetration
Forward and reverse rotation function
CRAFTSMAN Drill / Driver, 7-Amp, 1/2-Inch (CMED741)
The versa-track wall organization system is compatible with the high power corded drill.
It features a lock-on trigger that allows it to run for extended periods of time.
A keyed chuck was included in the design to enhance bit retention.
The corded drill's 7.0 amp motor and 100 RPM range will offer adequate power to drill hardwood.
Metabo HPT D10VH2 Corded Drill
It features a strong 7 amp motor that can handle even the most difficult chores.
For better ease of use and to avoid fatigue, the design is lightweight.
A variable speed trigger with a dial is included, allowing users to operate with precision.
Provide a metal keyless chuck for increased stability and bit holding capacity.
Ronix 2106B Corded Electric Drill, 400W, 220V, Keyed Chuck
Efficient 400W motor delivers maximum 3500 RPM for great performances in wood and metal industries
Efficient handy high power corded drill for the best functionality in drilling and screwing
5mm keyed chuck for higher efficiency
Ergonomic small body design enables maximum power at minimum weight
Compact and handy structure for more comfort in long hours of working
Variable speed control enables working at customized speeds in order to adapt to various materials and applications
Anti-dust switch to reduce dust penetration
Forward and reverse rotation functions.
BLACK+DECKER Corded Drill, 5.5-Amp, 3/8-Inch (DR260C)
The high power corded drill motor's power is equivalent to that of professional drilling.
Its adaptable controls will allow you to do the work quickly.
It has a lot of temperature control and has a lot of torque.
To provide optimum safety and convenience, the design includes a variable speed mode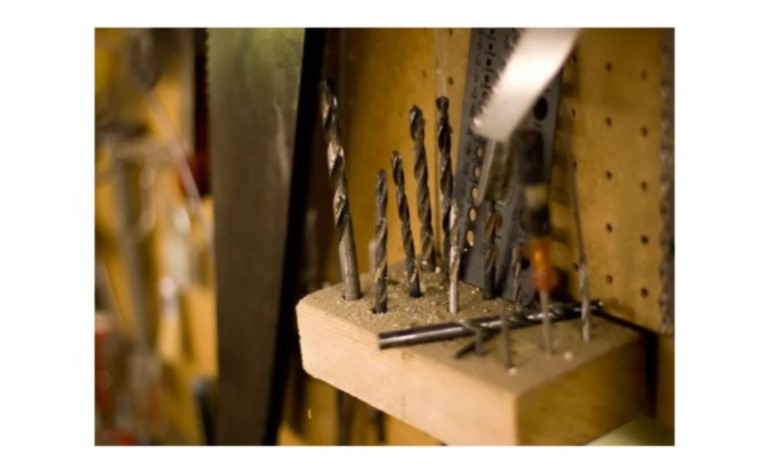 5 Types of Drill Bits for Woodworking
Drill bits are an important part of every woodworker's toolkit. Each kind serves a distinct function. Wooden drill bits come in a variety of forms and sizes. Then we sort them into categories based on how they're sliced and what they're used for. If you know enough about different types of bits and their compatibility with your high power corded drill, you'll be able to turn your woodworking toolbox into a well-equipped and useful component of your woodworking experience.
Flat (Spur) Drill Bits: These pieces feature a lip and a "spur" (also known as a "brad"). The drill bit has a distinct form that makes it easy to distinguish. Spade bits are used to drill bigger holes in wood that are larger than the drill bit diameter that can fit into the chuck of a power drill.
Forstner Drill Bits: A forstner drill bit can be used to create broad, flat-bottomed holes. The bit features a tiny central point that keeps the tool centered while the cutting blades make a large-diameter hole. This bit should be used with a drill press since it requires a lot of pressure to operate.
2-in-1 & 3-in-1 Drill Bits
Augers: A wood screw with a simple shank is what an auger is. The auger's duty is to gouge out the wood as it goes inwards, resulting in a clean hole. Augers create cleaner holes than traditional drill bits, and they're also more energy-efficient. If they can create the torque needed to drive cordless drill machines, they're a suitable fit.
Twist Drill Bits: These are all-purpose drills that may be used to drill plastic, steel, or wood. A twist drill's angle makes it ideal for cutting steel, but it may also be used to drill holes in wood. To get the most out of it, though, you must carefully pick the material, degree of hardness, and kind of drill bit.
Dowel Drill Bits: These wood bits, also known as lip and spur wood bits, feature a pointed center and cutting blades that curve in the opposite way. The purpose of the pointed center is to maintain the drill focused while drilling so that it does not wander off.
FAQ
1-What is the best high power corded drill for wood?
There is no one answer, but you should choose with considering the quality, design, features, abilities you are looking for.
2-How to reduce the risk of working with corded drill?
Drills that include an extra handle for bracing the instrument are very useful. Hold the bottom of the drill's pistol handle with your free hand it would also help.
3-why should I choose a corded drill for woodworking?
You can be ensured working with them as they won't run out of and are usually lighter on the weight in comparison to the cordless models.
Conclusion
High Power Corded Drills are strong and so if your woodworking job requires a punchy drill, a corded drill should be your first choice. Another advantage of a corded drill is its strength. It never loses power, so you won't have to worry about leaving a work undone. When purchasing a corded drill, you must consider a few key features to ensure that you are the winner and that your woodworking job is completed flawlessly. Selecting a proper drill bit is also a considerable element when starting a project as there are so many bits out there for woodworking and similar tasks, make sure you have looked into what you want to do and decide in advance, so you end up with the best possible tools required for what you aimed for. Keep all the instructions in mind and find out the most desirable ones.