Who needs a screwdriver?
After the invention of the drill and the ability to exchange drill bits for screwdriver bits, the converted drill screwdriver was created. Powered drill drivers and powered screwdrivers reduce much of the time it takes to tighten or loosen screws, which are gradually replacing nails in a lot of woodworking projects thanks to the strong hold in wood that ribbed sides of the screws provide. Nowadays that electric screwdrivers are produced in many different types with various powers, sizes and prices, using which you can fasten lots of screws on a product at a rapid pace, why do we need hand screwdrivers anymore? Well in some cases you may need one, like if you only produce a few items per day or you have a limited space in which an electric screw driver won't fit or you don't want to spend too much for a screwdriver or even to complete your toolbox set. If so, you need hand screwdrivers. Now any screw driver may get the job done for you but the best screw drivers are the ones which stay in your toolbox forever. That's why professionals are strict in choosing their screwdriver set. Some knowledge can be useful before you buy any kind of tool but in terms of screw drives options are huge on the market which makes picking even harder. Now if you want to start your first DIY project, we are here to give you some tips on how to choose the best screwdriver set.
Different tips of screwdrivers
As you know there is no single universal screw to use in all framing, decking, or woodworking, therefor it's essential to have different kinds of screwdrivers and screwdriver bits ready to insert or remove any type of screw you come across. It's also important to match the screwdriver tip to the screw head but it's even more important to use the proper type of screwdriver so let's get to know some of them. The main 4 types of screwdriver tips are:
Flat Head: Other than tightening and loosening slotted screws in furniture construction, small cabinetmaking projects, and on some electrical applications, flat head screw drivers are used for prying lids off paint cans. Yes, flat head screws aren't used widely in residential construction anymore. where it's important not to over-tighten a screw. Ronix 7-piece Screwdriver CRV RH-2701 Set comes with four flat head screw drivers in varying sizes that will fit the most common slotted screws a diyer is likely to encounter. the screwdrivers feature both short and long shanks, so you'll be able to reach screws in even tight spots.
Related Article : history of hand tools
2. Phillips: Phillips screws, recognizable by a flared "+" on their tip, are vastly used for construction and woodworking, remodeling, and especially drywall installation purposes. The screwdrivers and bits that fit Phillips screws are marked "Ph," but there is no way to match the driver tip to the specific screw other than physically testing it. A hand screwdriver works fine for when you have just few screws to install, on the contrary construction projects obviously use a considerable number of screws. In such projects a power drill or a power screwdriver with interchangeable Phillips bits could be the most efficient choice. But if you plan on hanging a lot of drywall, check out Ronix Hammering Screwdriver Set – Rh-2906.
3. Torx: Favorite screw driver of builders and serious DIYers, the Torx screw has a 6-point recessed star tip and are marked by "T" numbers (from T1 to T100). Torx screw drivers are ideal for multiple DIY and building purposes.
4. Hex: Hex-head screws are usually found in doorknobs, towel bars,etc. some mechanical installations also require a hex key screwdriver (also called an Allen screwdriver) to tighten or loosen. Screwdrivers and bits range in size to fit hex-head screw recesses from around 0.03" to 3/8". Hex-head screws are ideal for Installing small fixtures, such as towel bars.
Price wise
One of the most essential types of hand tools are Screwdrivers. They are essential hand tools for the household and a wide range of professions. many of them are mass produced on a grand scale. We've all probably got a handful of cheap unbranded examples lying around and you can probably pick up a new one when you do your weekly food shop. Worn, badly fitting screwdrivers can't turn fasteners effectively and need to be applied with much more force, at which point they are likely to slip out of the screw and potentially cause damage or injury in the process.  At the other end of the spectrum you could alternatively substitute your weekly food shopping for a premium set of top-quality screwdrivers from a specialist retailer which will cost you considerably more. But there is also another choice which is Ronix Screw drivers set. With Ronix you can have both premium quality and affordable price. Ronix is a great manufacturer of tools that seems to be having the vision and ambition to lead the market.
Type
Most probably you will have to choose between two main types: either a screwdriver handle with interchangeable bits, or a set of complete screwdrivers, each with their own handles. There are pros and cons to each, and the most obvious one is space – a bit holder takes up far less room and will be a no-brainer if you're looking for something compact to carry in a tool pouch or clip to a belt. On the other hand, if you're looking to fit out a workshop or tool box and have a bit more room, you can mount a set of individual screwdrivers to a wall or fill a cabinet drawer up with them for quick and easy access whenever you need them.
Insulated or Standard
When shopping around for a screwdriver set, you're likely to come across some which are described as "insulated" – if you're unsure what this means, these sets are designed for electricians, and the insulation guards against electric shock. The handle is certified non-conductive and the insulation forms a sleeve over the metal shaft, which would otherwise pose an electrocution risk if contacting a live component. These screwdrivers are usually a bright red and yellow colour for identification purposes. Aside from this, there is no difference between an insulated screwdriver and a standard screwdriver and no reason why you can't use them for everyday applications – in fact, many people will say that even if you're not an electrician the fairly small increase in price is worth it just for the added security and you should always opt for insulated versions if you have a choice. However, it is worth noting the protective sleeve can sometimes impede access into tight spaces, and some screwdriver types are more or less impossible to find in insulated variants. If you're fitting out a workshop, a selection of individual screwdrivers will be perfect for everyday use, and ideally you'll want somewhere to store them too.
If you're poking a screwdriver anywhere around cables, plugs and electrical machinery then an insulated set is probably a wise choice. But what if you need to check whether there is electricity in a cable or not? Then you can check out what follows.
Relatedd Article : History of Screwdrivers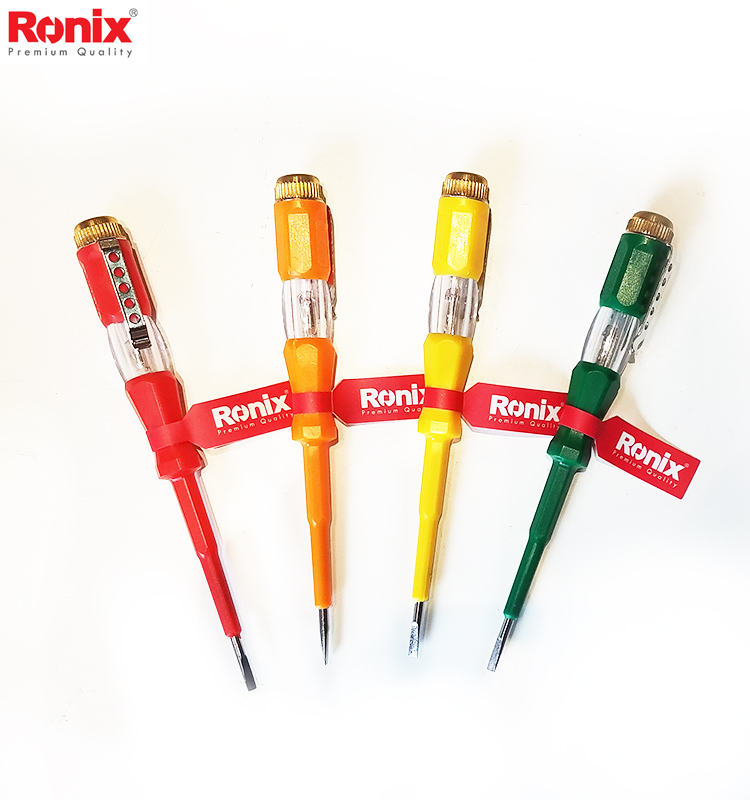 Hammering
If you're looking for a professional Chrome set of hammering screwdriver set, the Ronix RH-2906 is worlds apart from the cheap generic types and these top quality tools deliver accurate fitment to smaller fasteners for smooth, reliable driving without stripped screws – something that can be a real headache with small (and usually expensive) electronic components. what happens if you come across an old screw stocked in its place? You can then use hammer with the Ronix RH-2906 hammering screwdriver set. The big grip and the chrome back helps you deal with problems like this.
The main advantage of the Ronix Rh-2701-7 Pcs Screwdriver Set Crv is that they can get into spaces which you'd never fit a standard screwdriver handle into, and they're usually compact enough that you can easily find space for them in your toolbox and forget about them until you need them. The bit set makes a useful power tool accessory too.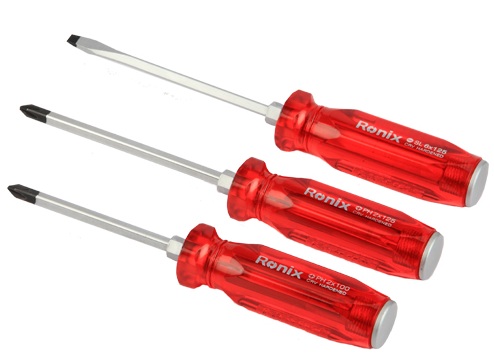 Now that you know about various types of hand screwdrivers, it may not be a bad idea to check out another article about how power screw drivers help decrease installation projects time. Also, not bad to read another article about test pens from Ronix, made with premium quality.
Finally, to give you an idea of some of the best different screwdrivers sets on the market, we recommend checking Ronix Tools website, in which you can find all premium tools you need from Power tools and Cordless tools to Hand tools and Safety tools.