More possibilities
Are you one those who think they're not making the most out of their garage tools? If so, reading this article may open the gate to the land of imagination for you!
Recently I've been thinking about this great, powerful, fast-spinning portable tool, which can make round holes or drive fasteners using only the power obtained from a battery, the fantastic cordless drill driver. In my opinion though its capable of performing much more than what it's meant to do. That was why I decided to make an experiment and see if I can do more with less using a cordless drill driver
So, I asked my neighbors to lend me their drills for this article and they gave me two drills from different manufacturers. One them is a DeWalt cordless drill and the other one is a Ronix cordless drill. I thought I would give the Ronix a chance, since it was new to me and I wanted to see how it performs on different situations. I made a list of 7 crazy ways of using your drill to make the most out of it. Now let's get to know some.
1.Drill Brush
This little idea turns your life into half if you spend too much time cleaning the kitchen. when it comes to is to scrubbing grease or dealing with baked-on food, using a dish scrubber on a drill can make things unbelievably easy. If you're a DIYer the only thing you need to do in order to have the most practical cleaning kit is to buy a bolt and hex nut plus a dish scrubber and attach them on your cordless drill driver. If you're not into DIY stuff, you can easily find a specific brush for your drill. You can see how I did it with Ronix cordless drill.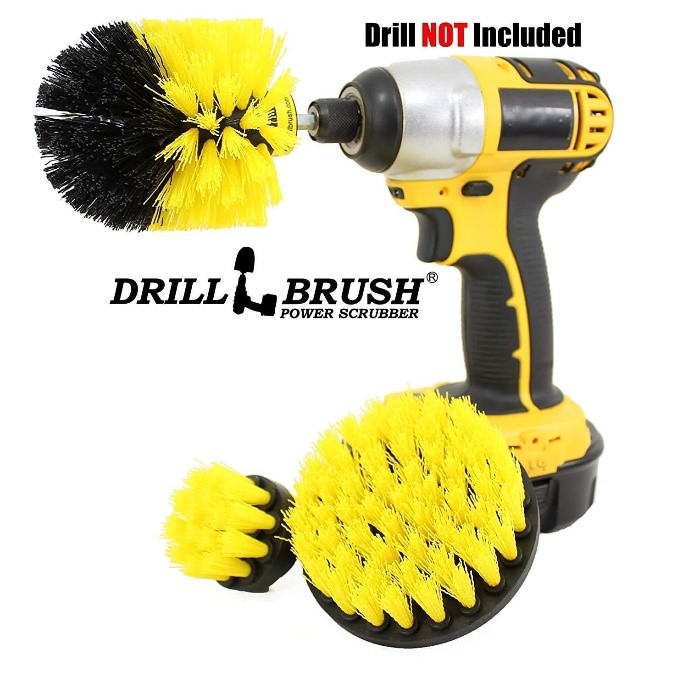 2.Mix Paint
In order to make a great looking aqua blue you need to mix a light shade of blue and green or a lot of blue with a little yellow. Using a cordless drill, you can make a perfect mixture and a satisfying result. Find an old skinny-handled mixing spoon or a broken plastic cloth hanger, and attach it to the DRILL , and that's it. Now you have your paint stirrer, using which you can stir paint or anything else that needs to be mixed quickly. You could just purchase a paint mixer drill attachment too but since I'm a fan of DIYs, I rather doing it with unused stuff in the house. This Ronix 18v cordless drill did a really fine job in this experiment.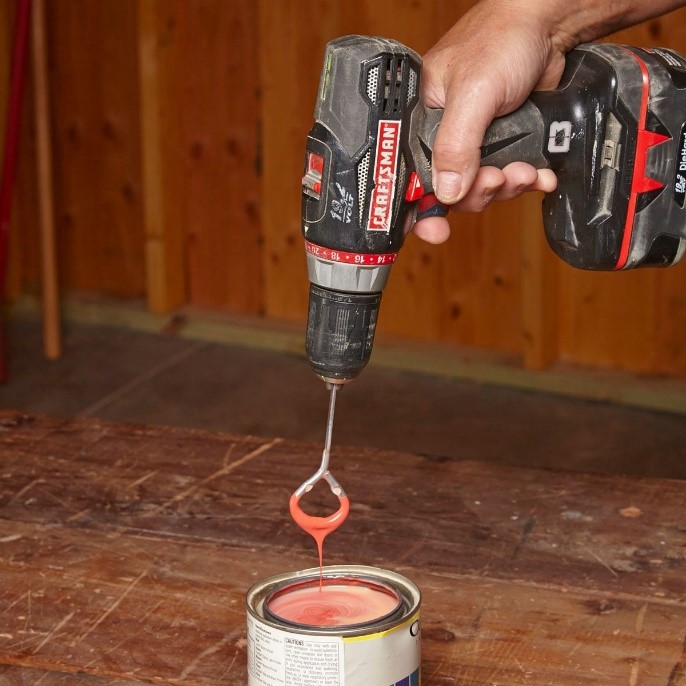 3.Potato Peeler
Need to peel lots of potatoes for a big dinner party? Well you can save a huge amount of time by running the bit of a power drill directly through the center of a potato. Then hold a vegetable peeler close to the potato and move the peeler only slightly to peel off all potatoes in a jiffy. This wild way peeling potato not only saves time, it's really fun to do too. I used a Flat Wood Drill Bit and attached it to the Ronix drill for this experiment.
related Article : Brushless vs Brushed motors in Cordless tools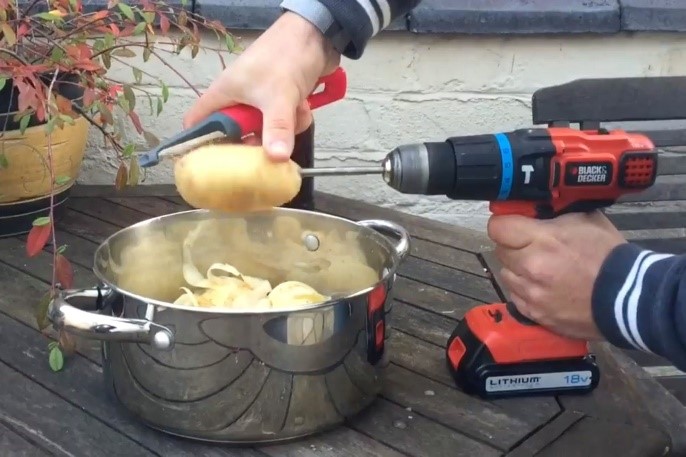 4.Shoe Shiner
Shining a pair of dress shoes is going to feel even nicer, if you use a cordless drill doing it. Believe me the result will surprise you. No matter what kind of shoes you wear, whether they're men's or women's shoes, just use a cotton polisher to have an outstanding look on your shoe. Ronix coredless drill with a powerful motor did a great job shining my shoes.

5.Spin Art
Can you create Art with drill? Sure. you can use your cordless drill to create spin arts like a piece of cake. The kids will love trying it with you and its very enjoyable. Use a thicker piece of paper, put it on the bit of the drill and push the key. Now you have to try different markers to create beautiful circles on the paper. You will have some tiny imperfections which aren't a big deal. The process is the best part about a spin art project. I had so much fun creating spin atrs with this Ronix cordless drill. The key lock was a real big help.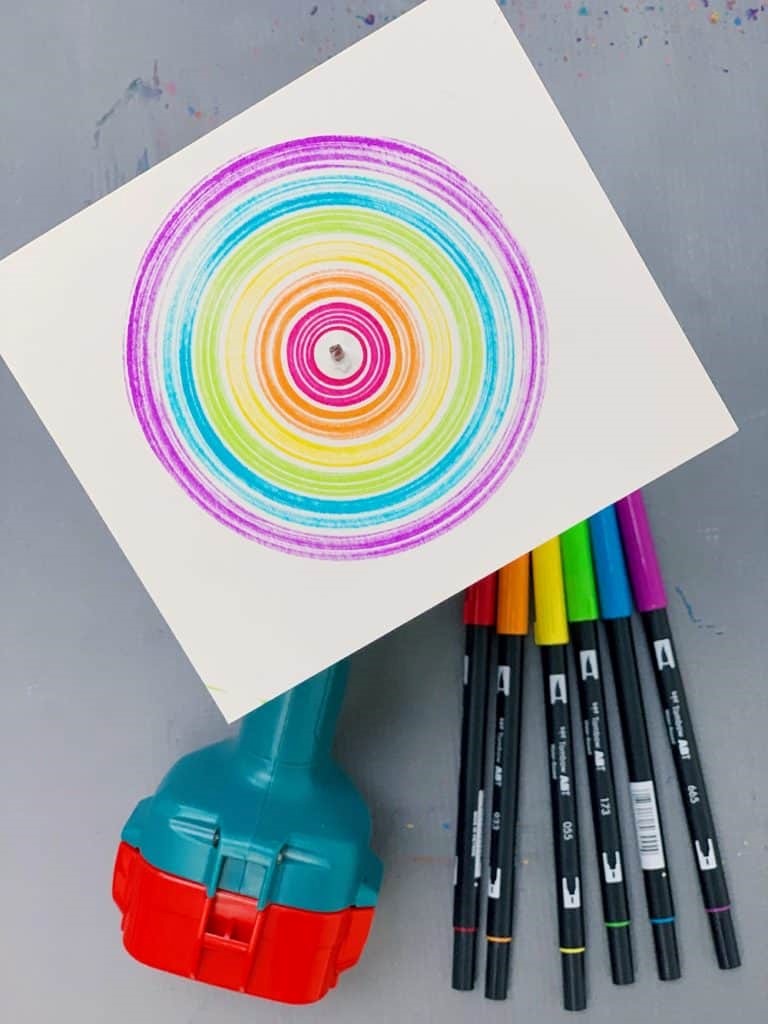 6.Make water melon Juice
Imagine a hot summer day. You can make water melon juice with cordless drill if you want to have some fun. Just cut a small hole at the top of the watermelon and bend the hanger to make a whisk, insert the whisk hanger into the drill chuck, and insert the whisk into the watermelon. Drill everything inside to the watermelon. Place a plastic glass in the hole and tear the bottom of it. Then pour the contents of the watermelon into the filter. serve it with ice and enjoy the evening breeze.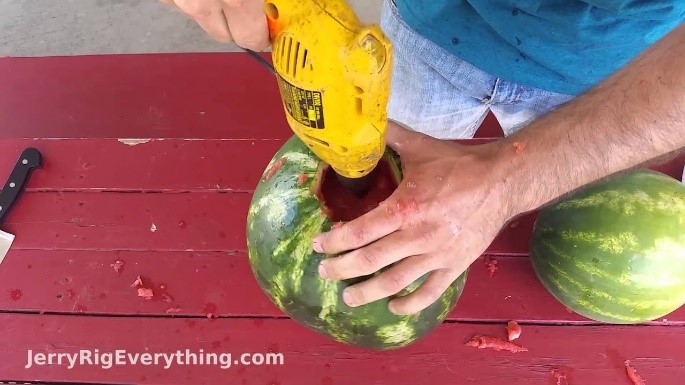 7.Entertain the Cats
Finally, you can use your drill to entertain your cat. Tie some rope on the drill and turn it on. Although This was a no brainer since the cat kept attacking me, it was really fun because my cat went crazy for it. You may have a hard time cleaning though but its worth the experience. I used my Ronix cordless drill to spin the rope and it was great because it was light and didn't make me frustrated.
That's it! You can now go find other fun and clever uses for your codeless drill driver in the garage.
Visit this page: power tools company