A heavy-duty switch-hitter, a corded hammer drill can blast a hole into concrete or bore into wood with equal ease. It functions similarly to ordinary drills, but with the addition of a hammering function that pushes the bit into the material as it rotates. This impact allows the bit to drill through strong materials like concrete, brick, and block with far less effort – both on the bit and on the user. Hammer drills are available in corded and cordless versions. Corded drills have more power and a faster drilling speed (measured in revolutions per minute, or RPM), and they don't slow down as quickly as cordless drills do as the batteries run out. Cordless drills are more convenient and work similarly to conventional drills.
How does a corded hammer drill function?
The operation of a hammer drill is obvious from the name: it combines a hammer with a drill. A gear-driven cam introduces a linear hitting action along the path of the drill bit as it revolves. In fact, it is a chiseling and drilling instrument in one. It's a technique that's very useful for drilling brick, cinder block, concrete, and other comparable materials. While heavy-duty slotted drive system (SDS) versions can drill through walls up to six feet thick, they are not suitable for drilling wood, plastic, or metal. The hammer motion must be disengaged in order to do this. Although certain SDS versions do not, many corded hammer drills do.
A corded hammer drill features a unique clutch that allows it to not only spin but also punch the drill bit in and out (along the axis of the bit). The bit's actual travel distance and the force of its blow are both very tiny, and the hammering motion is extremely fast—thousands of "BPM" (blows per minute) or "IPM" (inches per minute) (impacts per minute). Despite the modest energy of each stroke, the thousands of blows per minute are more than enough to break up concrete or brick, with the carbide wedge of the masonry drill bit pulverizing it for the spiral flutes to whisk away. For this reason, a hammer drill drills through concrete or brick quicker than a conventional drill. Cordless technology is increasingly being used to power hammer drills.
Selecting the Most proper Drilling Features for Your Project
The proper corded hammer drill, like other power tools, should be well balanced and feel nice in your hands, so test out a few different types before making decision. Look for a few important criteria when it comes to features to discover the ideal match for the tasks you perform most often. Some of the most important features that should be looked into are choosing between the corded type and cordless ones, the Dual Drilling Modes, the Variable Speed and the power.
Drills with cords are more powerful and are often meant for more intensive use. A corded tool is a better alternative if you need to drill a number of holes in brickwork. Cordless drills are smaller and more portable, making them a better match for all-purpose drilling, even applications that require the hammer function on occasion.
As for the dual drilling modes, Drills with cords are more powerful and are frequently used in more demanding applications. If you need to drill several holes in masonry, a corded tool is a better option. Cordless drills are smaller and more portable, making them a better fit for all-purpose drilling, including applications that occasionally require the hammer function. For drilling in masonry (and many other hammer-drill operations), speed control is less crucial, but it's critical when drilling wood and metal. This implies that if you want to use the drill in regular (non-hammer) mode, you'll need variable speed.
And lastly, Drills that are larger, heavier, quicker, and more powerful are far more effective at tackling difficult projects than smaller, slower, and weaker equipment. Smaller tools, on the other hand, are more portable and adaptable. To summarize, if you require the power and heft of a heavy-duty hammer drill, seek for one with a lot of amps, a high RPM, and a fast pounding speed. If you want a multipurpose tool, don't get one that is more powerful than you require because it will be excessively hefty and perhaps difficult to manage with finer work.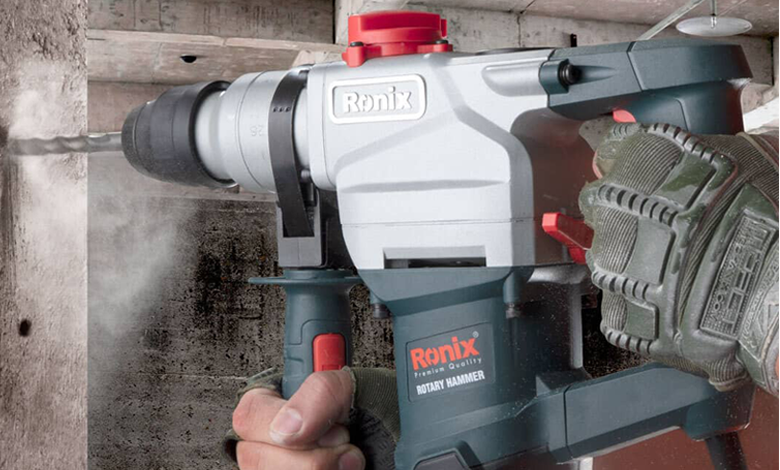 Top 5 Corded Hammer Drills To Choose From
Bosch 1191 VSR Hammer Drill
The Bosch 1191 VSR hammer drill is a lightweight, single-speed drill that's ideal for minor projects that don't require huge holes to be drilled. This corded hammer drill has one of the best performance-to-weight ratios in its class, with a 7-amp motor and a maximum 3,000 RPM. Its grip rotates 360 degrees, however it may be awkward for big hands. It can be converted from rotary to hammer drill mode, and it works well on wood but is a little sluggish on poured concrete.
Milwaukee 5376-20 8.0-amp Hammer Drill
One of the most powerful hammer drills in its class is the Milwaukee 5376-20 8.0-amp hammer drill. This hammer drill is a small instrument with a metal gear housing that may be used efficiently in concrete, wood, and metal. The 360-degree handle may be removed to help set the depth rod for pre-set hole drilling. The trigger lock is sturdy, simple to operate, and inconspicuous. The metal tool casing's over-molding provides a secure, pleasant grip while reducing vibration and strain.
Ronix 2702 Rotary Hammer Drill
The Ronix 2702 Rotary Hammer Drill is a powerful power tool featuring an automated bit locking mechanism and an SDS Plus tool-free bit system. Drilling, hammer drilling, chiseling, and the unique chisel rotation mechanism for changing hammering locations are all possible with the strong 1100W motor. Its low weight and excellent heat dissipation are made possible by its die-cast aluminum housing. The double anti-vibration technology lowers operator fatigue and increases efficiency while the high capacity cylinder provides greater 5J impact energy. With a 360° anti-shock auxiliary, the Ronix design handle provides a broad range of movement as well as operator comfort. The Lock button switch and ergonomic grip design allow for more comfortable working and handling. The high-torque safety clutch mechanism on this corded Hammer Drill protects the armature and assures safety.
Makita HP1641 Hammer Drill
The Makita HP1641 hammer drill is a lightweight tool with a high drilling capacity and a 6-amp motor that is reasonably powerful. It has two drilling modes: normal drilling and hammer drilling. The chuck of the drill is unusual in two respects. For starters, it lacks a key, which is uncommon for corded hammer drills. Second, it's 5/8-inch in diameter, which is bigger than the majority of hammer drills in this category. The keyless chuck is more convenient, but it may not grasp bits as tightly as a keyed chuck. If you happen to have a big bit, the greater chuck capacity can be useful, but it doesn't make sense given the tool's low power.
Dewalt DW511 Hammer Drill
With a 7.8-amp motor, the Dewalt DW511 hammer drill is one of the most powerful pistol-grip hammer drills available. On concrete and wood, this hammer drill has outstanding drilling capabilities and a quick response time. It has a variable-speed trigger for fine control, as well as two drilling modes (standard and hammer), so it may be used on wood, steel, and other materials besides brick. Its 360-degree side handle allows for a variety of hand positions for maximum control.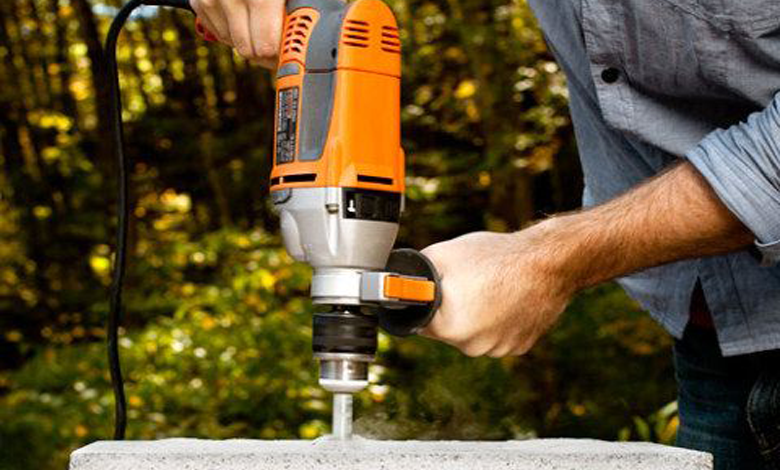 FAQ ❓
Is it possible to utilize a hammer drill as an impact driver?
It would be wonderful if there was a clear yes or no response, but sadly that is not the case. A hammer drill may be equipped with a screwdriver bit and used to drive screws and other fasteners with the hammer motion turned off. Most hammer drills, on the other hand, are large, two-handed instruments. As a result, they're not well suited to dealing with fasteners, where you frequently want to start things off with your free hand.


Is it possible to use a hammer drill as a normal drill?
The majority of people can, but it's vital to remember to switch off the hammer action. This function is for drilling holes in concrete, brick, masonry, and other hard surfaces, and it punches a specific drill bit into the surface. Standard high-speed steel drill bits would certainly shatter if subjected to the same force.


Can an impact driver drill holes?
Yes, in many materials, however since impact drivers lack the percussive force of hammer drills, they cannot drill holes in brick, cinder block, or other porous materials..Either buy a keyless three-jaw chuck with a 14-inch shank or buy a pair of drill bits with 14-inch hexagonal shanks. You may use hexagonal bits or conventional drill bits with circular shanks with the latter
Conclusion
A hammer drill utilizes a specific sort of drill bit that is suited for these difficult materials. A hammer drill is the tool of choice for a variety of tasks ranging from the relatively light-duty—such as hanging shelving on an interior brick wall or installing new house numbers on a stone-veneered exterior wall—to drilling holes through brick or block walls for the installation of electric conduit or water pipes. While Drills that are cordless are fantastic. When drilling large holes in concrete, however, only corded equipment will suffice. The corded hammer drill comes in handy here. It's a heavy-duty switch-hitter that switches from hammer to non-hammer mode with the flick of a lever, letting you to easily blast a hole into concrete or bore through wood. Hammer drills, on the other hand, aren't simply for boring holes in masonry. Most enable you to switch off the hammer, so you may use conventional drill bits for the same purposes as drills. However, caution must be exercised. They nevertheless have a lot of power and can easily destroy drill bits with tiny diameters. Furthermore, even when the hammer function is disabled, most individuals do not use. them as their primary drill/driver since they are heavy and frequently require two hands to use correctly.