Hardware Store Hits: Top Selling Items in a Hardware Store
Several aisles stuffed with tools can be a true paradise for builders, DIYers, and everybody who is into handicrafts. Few things are as satisfying as discovering everything you require, whether it is power tools, hand tools, measuring devices, fasteners, or any other item you might need, all conveniently gathered in one location. This is precisely what makes hardware stores such an exhilarating experience for customers. As a hardware store owner or the ones who tend to have one, you can make it more exciting for them, by providing them with top-selling items in a hardware store.
To find out what are the most popular, you can go for different sources. You can conduct comprehensive market research or simply pay attention to your customer's behavior. But before any attempts, you need a brief guide of the top-selling hardware shop products.
To get the required data, let's check the list of the tools that had the most fans during the last few years.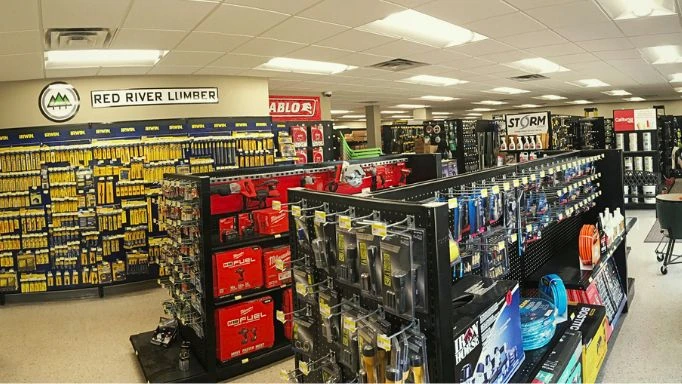 Top-Selling Hardware Store Items: Meet the Hot Apt Aides
The tool market needs and tastes change now and then based on different factors such as trends, economic conditions, and technological advancements. So, you may witness different tools becoming popular in certain periods.
If you are a tool storekeeper or a distributor, and you want to know about the market preferences, we have come up with a list of items that have been among the favorites during the last year. Here is the list: Top of Form
Power Tools
They are not just best-selling items in a hardware store, but popular in-demand tools in every business that have something to do with tools. Nearly every handy person has at least one of those in their toolbox. Power tools such as drills, circular saws, sanders, and angle grinders specifically the cordless ones are among the top choices for both professionals and DIYers.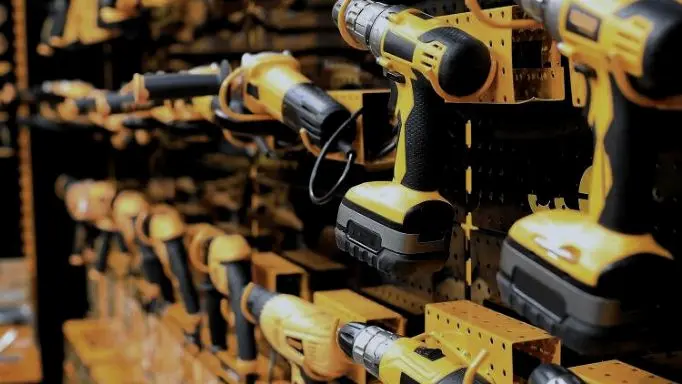 But if you want to consider it more professionally here is a list of some mostly sought-after power tools in hardware stores:
Electric Blowers
Corded Impact Drills
Corded Rotary Hammers
Demolition Hammers
Mini Angle Grinders
Electric Circular Saws
Dual Electric Polishers
Electric Orbital Sanders
Cordless Drill Drivers
Cordless Impact Drill Kits
Brushless impact wrenches
DC Arc Welding Inverters
Laser distance meters
High-Pressure Washers with Induction Motor
Universal Pressure Washers
Hand Tools
To know why Hand tools are on the list of top-selling items in hardware stores, you don't need to look for statistics, just take a look at every family's garage or shelves, and you will find at least one hand tool. can generalize this to any other space that has something to do with fixing things and making crafts. They are great for everyday use, easy to use, and do not need outer sources. Then if they are of high quality, and resistant and are offered at reasonable prices, can attract a wide number of customers.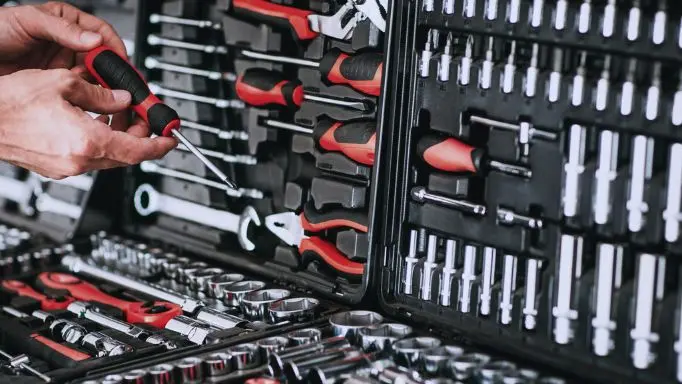 Bottom of Form
Nails and Screws
Nails and screws are needed everywhere: when building securing structural elements or framing in construction, assembling wooden stuff in woodworking, or setting up electric devices you definitely need a set of nails or screws. That's why they rank among the top-selling hardware shop products.
But adding them to your collection is not the entire thing you need to do to raise sales. You should be picky in choosing the best ones. So, go for the corrosion-resistant ones, and made of durable materials such as hardened steel. Consider that you should provide your customers with different sizes and types of them to match every certain needs of different projects. Besides, find screws and nails with finishes or coatings that add to their longevity.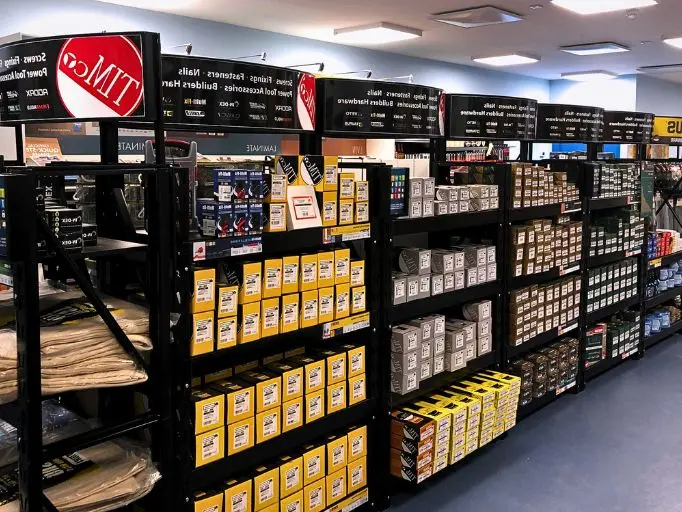 Paint and Painting Supplies
Whether you are redecorating your home or touching up a project, you'll find an array of paints, brushes, rollers, drop cloths, and painter's tape to transform any space. This wide application has put painting supplies on the list of top-selling items in hardware stores.
One of the most popular items in this field is the spray guns. They offer numerous advantages in various industries and applications and provide efficient and uniform coverage of paint, coatings, or other substances, resulting in a smooth and professional finish.
Additionally, they can save time and reduce material waste compared to traditional brush or roller application methods. In the automotive and manufacturing sectors, spray guns enhance precision and consistency, improving the overall quality of products.
In addition, the market for spray guns is substantial, with continued growth expected due to the expansion of industries like automotive, construction, and furniture manufacturing, where spray guns find extensive use. Due to the increasing demand for them, they are one of the best picks for hardware store owners.
Electrical Supplies
Among the people exploring the corridors of your shop, a significant number are undoubtedly on the hunt for essential electrical supplies. Wiring, outlets, switches, circuit breakers, and lighting fixtures consistently rank as the most sought-after items in a hardware store, catching the attention of both professionals and DIY enthusiasts alike.
What's even more promising is the current boost in the electrical supplies market. The statistics demonstrate a growing market share. In 2022, it was estimated to be valued at $1,315.8 billion, showing the increasing demand for these crucial components. And the future looks even brighter. Because the anticipations indicate that this market is going reach $3,393.5 billion by 2029. This robust growth trend suggests a great opportunity for your store to tap into this expanding market and answer to the evolving needs of your customers. So, there is no surprise that they are among the top-selling items in hardware shops.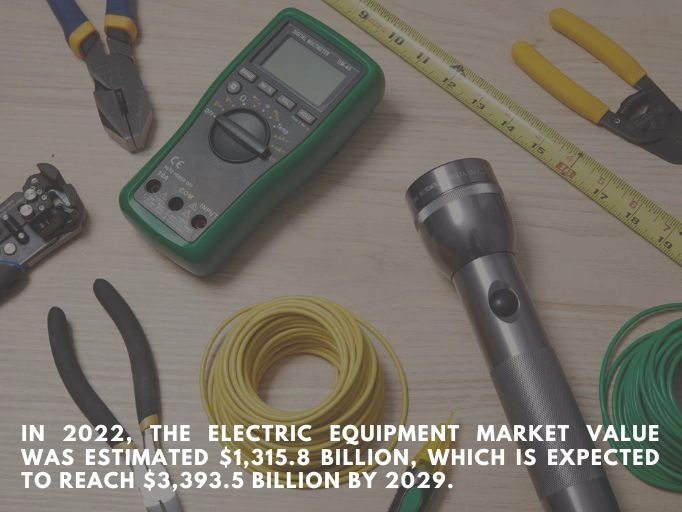 Garden and Outdoor Equipment
The do-it-yourself (DIY) gardening culture has become popular in recent years, while the interest in sustainable, eco-friendly gardening is growing as well. So, more people are taking on outdoor projects themselves to fulfill their social responsibility and add a personal touch to their spaces. So, the tools related to this field, such as Lawnmowers, gardening tools, hoses, seeds, and fertilizers have become one of the top-selling hardware shop products.
But you should consider that there might be fluctuations in their sales. Because garden and outdoor activities are often highly seasonal: the demand will rise during spring and summer months when customers turn to hardware stores to purchase the tools and equipment needed for gardening, landscaping, lawn maintenance, and outdoor projects.
Last Words…
Hardware stores have long been a haven for tool enthusiasts and DIY aficionados. However, what truly sets them apart and makes them a customer's paradise is their knack for product selection. The most successful among them, like Home Depot, Lowe's, and Bunnings Warehouse, excel at understanding market needs and offering the tools that are in the highest demand.
But that's not all they do. They are also highly careful about the quality of their products. That's why they choose reputable brands. If you are one of the hardware store owners and want to increase your sales, you can find the tools in the list of top-selling items in the hardware stores, in Ronix. Ronix offers all you need with the best quality and at highly reasonable prices, which makes them the best options for those who are seeking quality at fair prices.
Ronix provides great services too, as fast delivery (preparation for load and shipping in less than 15 days) and free advertisement services are just a part of it!
FAQ
What are the most popular categories of products that tend to be top sellers in a hardware store?
Different types of hand tools and power tools, as well as painting equipment, electrical supplies, and gardening tools, are among the most popular.
How do I determine which top-selling items to prioritize stocking in my hardware store?
To determine which top-selling items to prioritize stocking in your hardware store, analyze local demand, consider customer feedback, monitor industry trends, and focus on versatile products that appeal to a broad range of customers.