Before getting to a point of selecting one small angle grinder as the best one for your projects, it would be beneficial to learn what an angle grinder is in more general terms. Angle grinders, also known as side or disc grinders, are portable power equipment used for grinding and polishing. They're utilized in a wide range of sectors and vocations, including metallurgy, construction, and emergency rescue.

An electric motor, a gasoline engine, or compressed air can all be used to power the angle grinder – or in this case the small angle grinder. For practical purposes, the portable angle grinder is the most widely used and recognized type. Cutting discs having a diameter of up to 115 mm are used in small angle grinders. They're great for cutting metal, but they rapidly run out of steam when it comes to concrete.

When purchasing a small angle grinder, or bigger kinds, keep the following aspects in mind:
Motor powe
Power source
RPM
Arbor size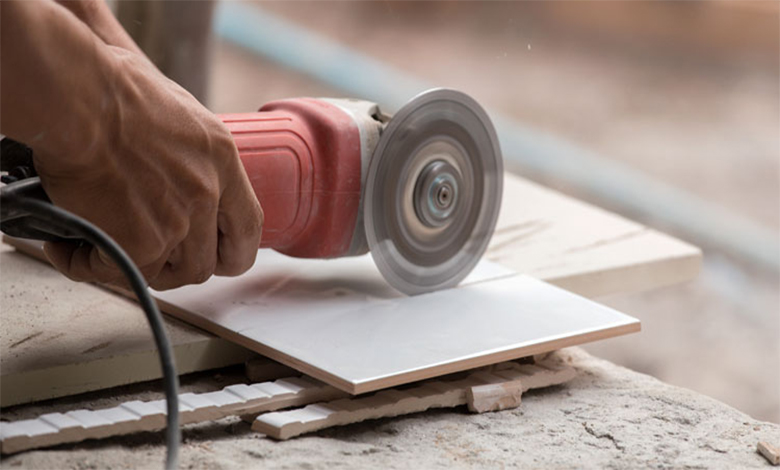 Angle Grinders of Various Types
Angle grinders are divided into three main categories, each with its own set of applications. To make an informed purchasing selection, it's critical to grasp the distinctions between each variety.
Cordless Angle Grinders
Angle grinders with cordless power are utilized in a wide range of applications. These grinders may be moved from one location to another without needing to be connected to a power source. When it comes to doing ladder and scaffold-based grinding jobs, cordless grinders are especially useful because there are no trailing wires to provide a trip hazard. To eliminate the worry of a regular mains power connection, it is recommended to pick models with large capacity batteries.
Corded Angle Grinders
In some cases, the guarantee of a dependable power outlet will be necessary, as corded angle grinders can be used as long as they are linked to the power source. Small angle grinders that are corded are generally less in weight than cordless versions. If you're planning to use your grinder for modest cutting chores on a regular basis, get one with a tiny disc. You should also consider the ergonomics and vibration level of the grinder you've picked.
Pneumatic Angle Grinders
Pneumatic angle grinders are suitable for cutting and shaping metal workpieces because they combine performance and durability. This type of small angle grinders is mostly utilized for light-duty operations that need a lot of accuracy. Pneumatic grinders need the use of an air compressor, but they are well-suited to high-precision applications and are far lighter than conventional angle grinder models. Furthermore, some come equipped with throttle levers, allowing for precise control while doing specialized chores like feather edging and speed grinding.
Depending on the discs attached, here's a summary of the most typical uses for air angle grinders:
Grinding: Using moderate pressure at an angle, the material will be smoothed to perfection. Surface preparation and material removal are among the activities included.
Cutting: For precise pipe or metal cutting, smaller wheels are utilized.
Angle grinders are excellent for sanding woodwork.
Deburring: Air grinders can quickly remove pestilent burrs or material remnants.
Chamfering: wheels may be used to create bevels and grooves as well.
Angle grinders are also used to remove welded connections and smooth them out.
Related Article: The Best Angle Grinders to Cut Metal in 2023
Angle Grinder Sizes
The size of the angle grinder is defined by the size of the disc, not the tool's length. Smaller discs spin more quicker and produce a clean incision in the surface.
Grinder discs with a diameter of 12 cm are the most frequent. It may be used for modest projects such as cutting wood or metal up to 2-3 cm thick. It is not advised to use a small angle grinder to cut stones or concrete.
Small pieces of wood, thin metal, and aluminum that are 4-5cm thick can be utilized with the 18cm discs. Larger chunks of any material up to 7-8cm thick can be cut with the 23 cm discs.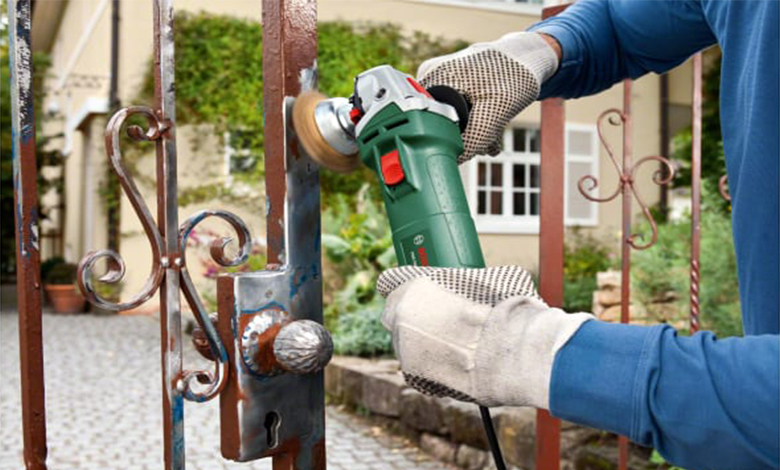 What to Look for in a Small Angle Grinder
small angle grinders can usually hold a disc that are seven inches in diameter or smaller. They're found on a number of angle grinders and may be utilized for a variety of cutting and grinding tasks. The 4″ and 4 12″ sizes are the most popular. These grinders can generally handle wheels up to 7 inches in diameter, with smaller models able to handle 3 inches discs.
The small angle grinders should ideally feature a brushless motor, which eliminates the need to change brushes on a regular basis. The cordless model's brushless motor will also allow for efficient operation, reducing heat build-up and ensuring that the tool lasts for a longer length of time.
The kick back brake is an important safety element that ensures the wheel of any small angle grinder stops immediately if it becomes stuck. This will keep the instrument from falling loose and inflicting significant harm. Some angle grinders also have two-stage triggers, which need the safety switch to be turned off before the trigger may activate the tool. This reduces the possibility of unintentional starts while changing CDs.
Small Angle Grinders ; Our 3 Suggestions
A 115mm angle grinder is a more versatile power tool since it is smaller. A smaller cutting disc allows for more precision while operating, therefore we recommend a 115mm small angle grinder if you wish to trim tiles to form, sharpen blades, or cut and grind more complicated stone and metals tasks.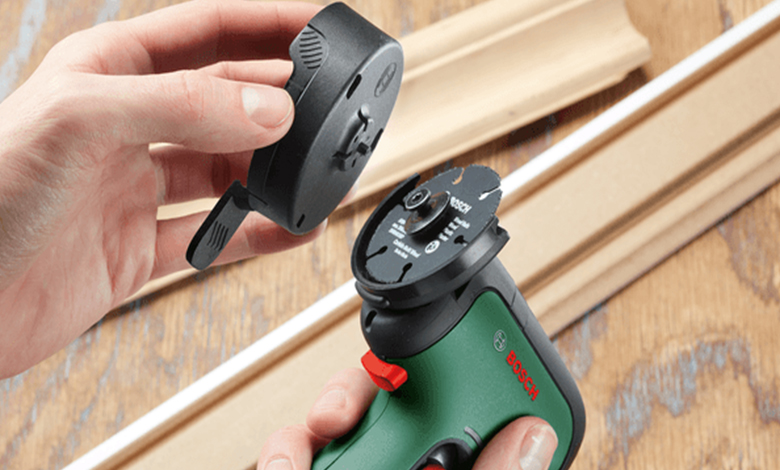 EasyCut&Grind from Bosch
On the DIY market, the EasyCut&Grind is the smallest and lightest of small angle grinders. Metal and carbide multi-material cutting discs are included with the EasyCut&Grind, and are suited for metal, carton, wood, laminated, and plastic materials. A free hand cutting adaptor, which is also included in the delivery, makes it simple to cut off tiny workpieces. The offered accessories are completed by a grinding disc with three sanding sheets, which allows for grinding and deburring operations.
Cuts a variety of materials, including circular wood, plastic, cardboard, and even metal. Small grinding jobs or edge deburring can be done using the additional grinding disc.
DIY, adjustment, and repair work are all made easier with this multifunctional cordless cutting grinder, which has a cutting depth of up to 14 mm.
Simple and secure to use: Automatic shut-off, 2-step activation, and ready-to-use in seconds.
DEWALT Angle Grinder Tool, 4-1/2-Inch, 11-Amp (DWE402K)
The Dust Ejection System prevents harmful dust from entering the tool, One-Touch GuardTM for 360-degree rotation, and Quick-ChangeTM Wheel Release for simple wheel removal are just a few of the features included in the DWE402K 4-1/2″ (115mm) Small Angle Grinder Kit.
The angle grinder's 11amp AC/DC 11,000 RPM engine is intended for quicker material removal and better overload protection.
The Dust Ejection System extends the life of the metal grinder by ejecting harmful dust and debris particles that enter through the air intake vents.
The DEWALT angle grinder has a low-profile gear box that allows it to fit into small places.
The Quick-Change wheel release eliminates the need for a wrench to remove the wheel.
The One-Touch Guard allows you to rotate the guard 360 degrees in a single motion.
Accidental start-up is prevented by a paddle switch with a safety lock-off.
Wheel flanges that match enable for the usage of common accessories.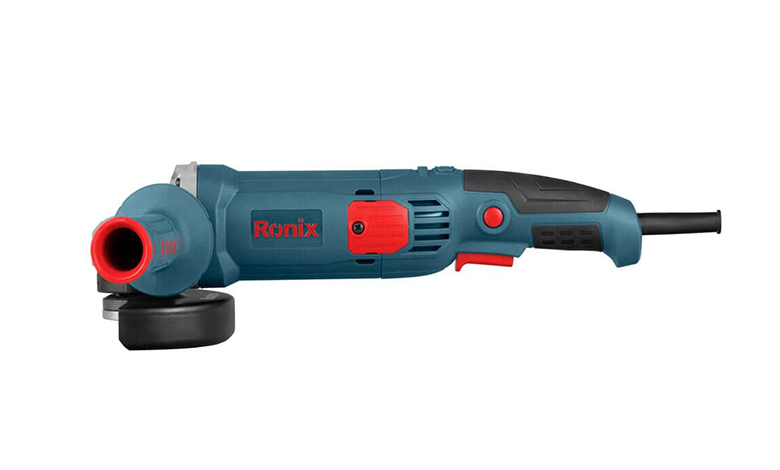 Ronix 3151 Mini Angle Grinder, 1000W, 11000 RPM
If you need assistance with deburring, sanding, blending, and finishing, a small angle grinder will be exactly what you need. The Ronix 3151 Mini Angle Grinder is tiny and compact enough to reach those hard-to-reach spots, yet its strong 1000W engine is powerful enough to do the job quickly and effectively. It boasts an ergonomic slender body design for easier usage in a variety of working environments. It also includes an ergonomic 2-position shock-proof side handle to reduce vibration and assure uninterrupted operation.
Effective and powerful No-load speed of a 1000W motor is up to 11000 RPM.
2 vacancies -Ergonomic thin body design for more convenient operations in various working environments -Anti-shock ergonomic side handle reduces vibration and allows for sustained low-fatigue work -Ergonomic slim body design for more convenient operations in various working environments
A direct airflow system cools the motor, resulting in more consistent performance.
Fast disc guard change that allows the user to set the guard at a variety of working angles
System for replacing carbon brushes that is simple and quick
An anti-dust switch minimizes dust penetration, which is especially useful in construction applications.
A new locking pin system with a safety mechanism that speeds up disc changes.
Use of a Small Angle Grinder
Small angle grinders -just like any other angle grinder- function by attaching a range of replaceable abrasive discs or blades to a fast-revolving headpiece. The rapid rotation makes these instruments very strong, allowing them to cut through even the toughest materials such as metal, concrete, and stone. Smaller grinders, on the other hand, can be used for more delicate tasks like cutting ceramic tiles or polishing metal.
A small angle grinder can be used to grind away burrs left after cutting metal using different power saws, in addition to cutting the materials listed above. Grinders may also be used to remove rust and grime from metal, as well as polish it. This multi-purpose tool can even remove paint and sharpen instruments.
Angle grinders can be used with a variety of attachments, including diamond-bladed cutting discs for tile cutting, abrasive discs for sanding, grinding, and polishing, and cleaning wire brushes. Angle grinders are strong and quick instruments. When using a small angle grinder, exercise extreme caution and always wear protective equipment, including safety glasses.
Angle grinders come in a range of sizes, with 115mm and 230mm being the most popular. The majority of the grinders in this evaluation are small angle grinder of a smaller size, which is ideal for most household and DIY requirements. If you're cutting huge sheets of material or slabs, however, the larger machine will be more suitable. Make sure you select the correct accessory size for your tool.
The 115mm angle grinder is the best angle grinder for beginners since it is lightweight and easy to operate. The smaller size also allows for more accuracy, making it ideal for tasks like tile trimming, blade sharpening, and grinding and polishing complex metal work.
Safety Precautions When operating Angle Grinder
Angle grinders are strong and quick equipment that should be used with extreme caution and small angle grinders are no exception. When using one, always use safety goggles or a face shield, as well as gloves. In addition, constantly double-check that the guard is appropriately set for the work at hand.
To ensure that a new wheel is not defective or damaged, run it for a minute or two in a safe location.
The wheel should always be aligned such that it spins away from sharp edges. This will keep the wheel from grabbing and tossing the work, as well as causing the grinder to kickback.
FAQ:
How do you cut metal with an angle grinder?
Cutting metal with an angle grinder is a breeze. To finish the task, you'll need a metal cut off wheel.

What Can Destroy a Small Angle Grinder?
There's always the chance of damaging the abrasive wheel, no matter what angle grinder you're using. The abrasive wheels must be properly mounted on the matching tool.

How do you cut tiles with an angle grinder?
A stone cutting or diamond blade is required to cut ceramic tiles, stone, or concrete.

Is it possible to sharpen blades with an angle grinder?
An angle grinder can be used to sharpen blades in a rough manner. With a clamp, hold the blade to a stable surface, and then gently move the grinder to the blade's edge to begin sharpening.

Is it possible to get angle grinders that run on batteries?
Yes, there actually is a large range of battery-powered cordless angle grinders.

How deep can a 4" grinder cut?
The diameter of the cutting wheel differs significantly from its cutting depth; for example, a 4″ grinder can penetrate as deep as an inch and a half.
Conclusion:
The small angle grinder should ideally include a brushless motor, which reduces such a need to replace the brushes on a daily basis. The kickback brake is a critical safety feature that instantly stops the wheel when it becomes stuck. This will keep the instrument from becoming loose and inflicting major harm. Some angle grinders have two-stage triggers, which need the safety switch to be turned off before the trigger may discharge. This reduces the likelihood of unintentional disc changes that result in a start.