Rotary Tools & Die-Grinders are one of the most popular members of the large rotary tools, which are available in various sizes and shapes and are available for all light to heavy tasks. In general, the size of the colt, the motor power and the number of milling revolutions vary.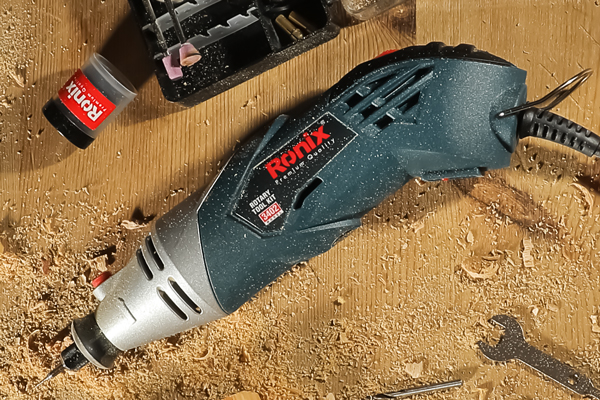 Applications of Rotary Tools
Due to its many capabilities, a rotary tool can be a tool used in all manufacturing and service industries and is suitable for performing tasks such as grinding, sanding, chipping, drilling and milling, and if selected correctly and appropriately, it is a very applied tool.
Rotary Tools & Die-Grinders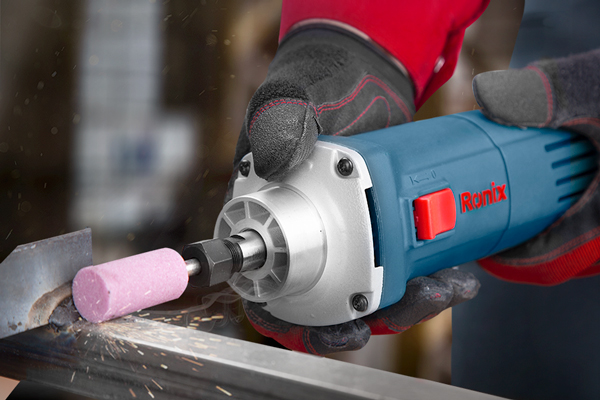 Ronix Rotary Tools are completely different from die-grinder or an engraving tool, each of which has a completely different use and is designed and built to do specific jobs. If you are careful in choosing any of these tools, you can have a tool in your toolkit with a lot of capabilities.
Types of Rotary Tools
Ronix Rotary Tools are available in two types of long-throat and short-throat, which are designed and manufactured for heavier and industrial tasks and are generally used for grinding, cutting, sanding metal surfaces, and other materials.
Long Neck Rotary Tools are used for work in spaces where there are sharp angles and little space for work, and they can easily penetrate the corners and do grinding work. For example, for grinding welds between two metal surfaces that are welded at a sharp angle to each other, the best tool can be a long neck rotary tool, where a rotary tool that can be used with a tungsten carbide blade that comes in many shapes and sizes. They have a variety of uses and are the best place to remove and grind a welding spot.
Short Neck Rotary Tools are used for spaces where the rotary tool is possible to be used due to its large size, a short neck rotary tool can be used for cutting and grinding. For example, to cut a small square on a metal sheet or even an iron profile, you can use a short-neck cutting rotary tool and cut the iron and metal with great precision, and then using a rotary tool carefully cut the edges of the cut and completely destroyed its pleats. Due to the possibility of installing a variety of tools such as razors, stones, sandpaper, felt and scotch on them, rotary tools can be used for many tasks and many different industries.
Ronix's high-quality collection of Rotary Tools, and Ronix Die-Grinders, are highly versatile with premium quality, ready to meet your needs. Check them out through the following link.
Die-Grinders
Ronix Die-grinders are another type of tools that are used to do more delicate work, and in terms of capacity to do the work, the power and of course the tools used on them are different from rotary tools, but they may also be known as rotary tools in general. Or sometimes mistakenly called a rotary tool. Die-grinders have much more variety in shape, size, and type of operation than rotary tools. There are different types of die-grinders such as cordless, pedal, die-grinders with the hose, etc.
For example, to engrave on decorative earthenware or glass dishes, you can use a die-grinder using a diamond blade and design and engrave on the dish. Or for sanding a very precise and delicate industrial part, sanding can be done using a sanding head. And many other semi-heavy tasks like this.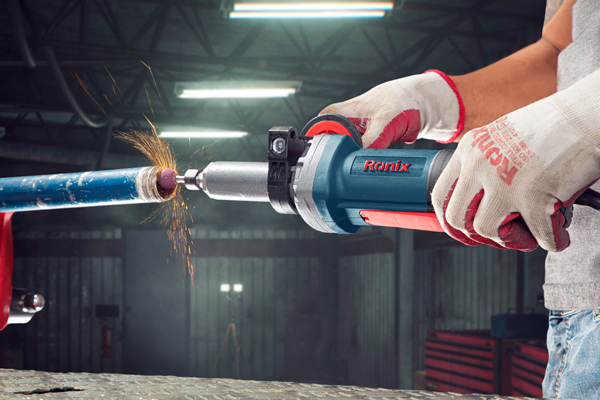 Working with rotary tools and die-grinders can be very simple and easy if you are familiar with the tools used for different tasks; and certainly, training to work with rotary tools or die-grinders can be possible by gaining experience and working with these tools or through the videos released by Ronix.
Colt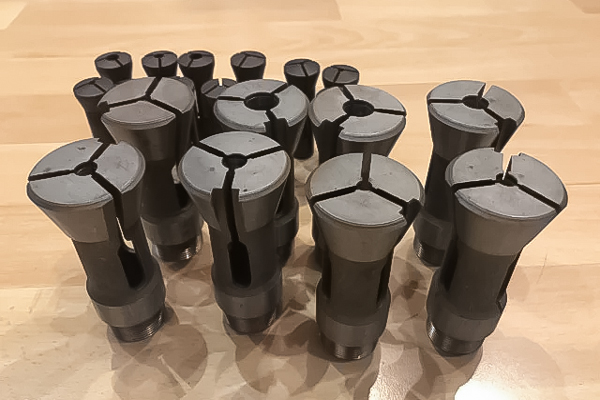 Colt is a piece that is used on a variety of tools to fasten and place drills and tools, and actually does the work of chuck in a drill. In all types of rotary tools, two types of Colt size 6 mm and 8 mm are installed, and to install a drill or tool on the rotary tool, you must use a drill and tools with a 6 or 8mm tail so that the drill or razor blade, or any tool be placed completely securely and firmly on the rotary tool. It should be noted that rotary tool colts can be replaced and 3 mm colts can be used on all types of such tools.
Different types of colts from 1 mm, 2 mm, 3 mm to 4 mm ones can be installed on rotary tools, and it's even possible to install small chucks. Also, instead of several different colts, you can use one chuck so that any type of die-grinder blade and sanding head with different tail sizes can be used easily. This way, there is no need to replace the colt with different drills.
Hose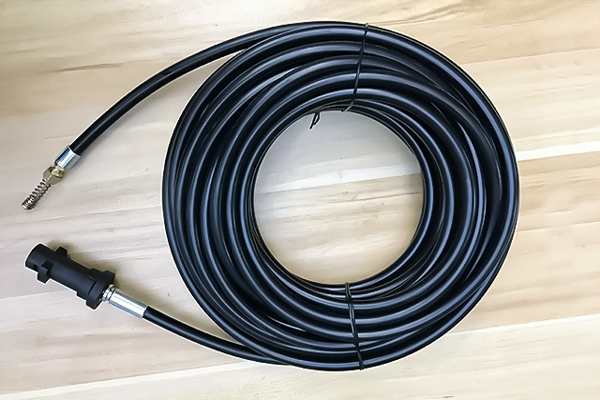 One of the most useful tools on all types of rotary tools and die-grinders, is the hose. The rotary tool nozzle consists of a spring or spring steel about 60 cm long, which is placed inside a polymer hose. The innerspring of this nozzle is connected to rotary tools or die-grinders like standard tools. The hose itself is also equipped with a colt and a tool holder on which the tool or drill and milling blade can be connected and installed. The rotation of the rotary tool is transferred to the colt through the spring inside the hose and rotates the tool on the hose. Any tool or accessories that are attached to the main milling colt can also be installed and applied with a hose.
You can use a hose to perform very precise and delicate tasks and due to its light weight, it is not tiring to work with it in delicate or long-term use.
Rotary Tools Accessories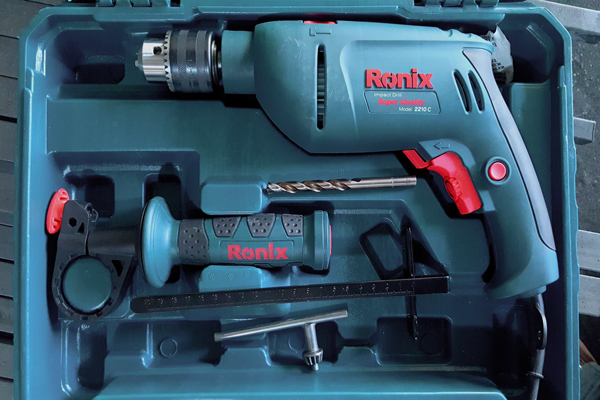 A wide variety of tools are installed on a rotary tool, which makes it possible for it to perform a wide variety of tasks. In the following, we will introduce some of these tools and accessories of rotary tools and the heads.
Drills: One of the primary and easy usages of rotary tools and die-grinders is drilling. Of course, it should be mentioned that to use the drill for drilling, you must use a chuck so that you can install different sizes of drill on the rotary tool, or you must use the same size drills with the size of the rotary tool's colt.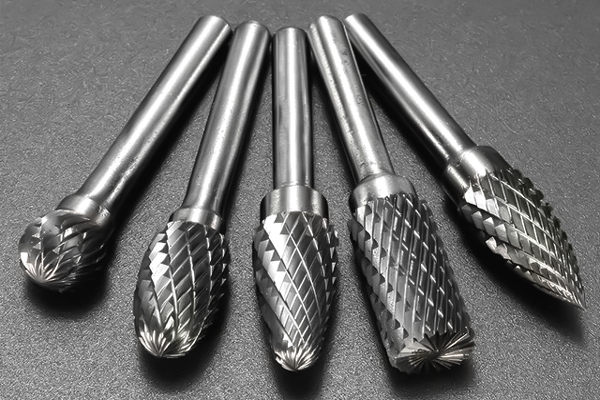 Blades: You can use a rotary tool's blade to make delicate cuts on any materials such as iron, wood, and plastic. There are different types of rotary tool blades, including HSS blades, which are used to cut all types of soft metals, iron and aluminum. Tungsten carbide blades are used to cut a variety of steel and hard metals.