Your Concrete Breaking Solution
Cities are endlessly growing upwards and outwards in our modern world thanks to many elements that make construction a much easier job and concrete is one of them.
That's why tools working with this tough, widely-used material are so vital. No doubt, Rotary hammer drills are at the top of the list.
They are multifunctional power tools that can do a variety of drilling, hammer drilling, hammering, and chiseling functions in different hard materials. But what are they made for specifically? Definitely Concrete!
But as quality and functionality makes difference everywhere when it comes to these heavy-duty assistants, the rules are still the same and every professional seeks not an ordinary one but the Best rotary hammer drill for concrete.
To find the best rotary hammer as fast as possible, all you need is some reliable pieces of accurate information that answer your key questions at once.
Here you can read it!
First, let's take a look at the features of the best giant ones.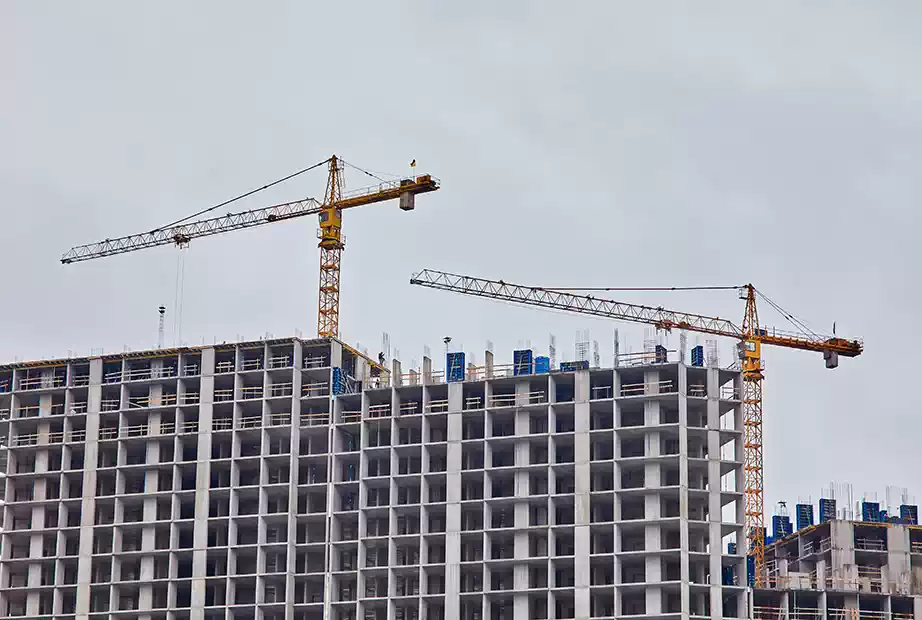 The Best Large Rotary Hammer Drill for Concrete
Rotary hammer drills are massive tools by nature. But there are still differences in size. Obviously, the bigger ones need more strength to be used. However, they should have specific features to work better and cause less fatigue and damage risk. So, if your projects demand a big-sized rotary machine, don't miss the following tips.
An ideal large one for concrete should Have: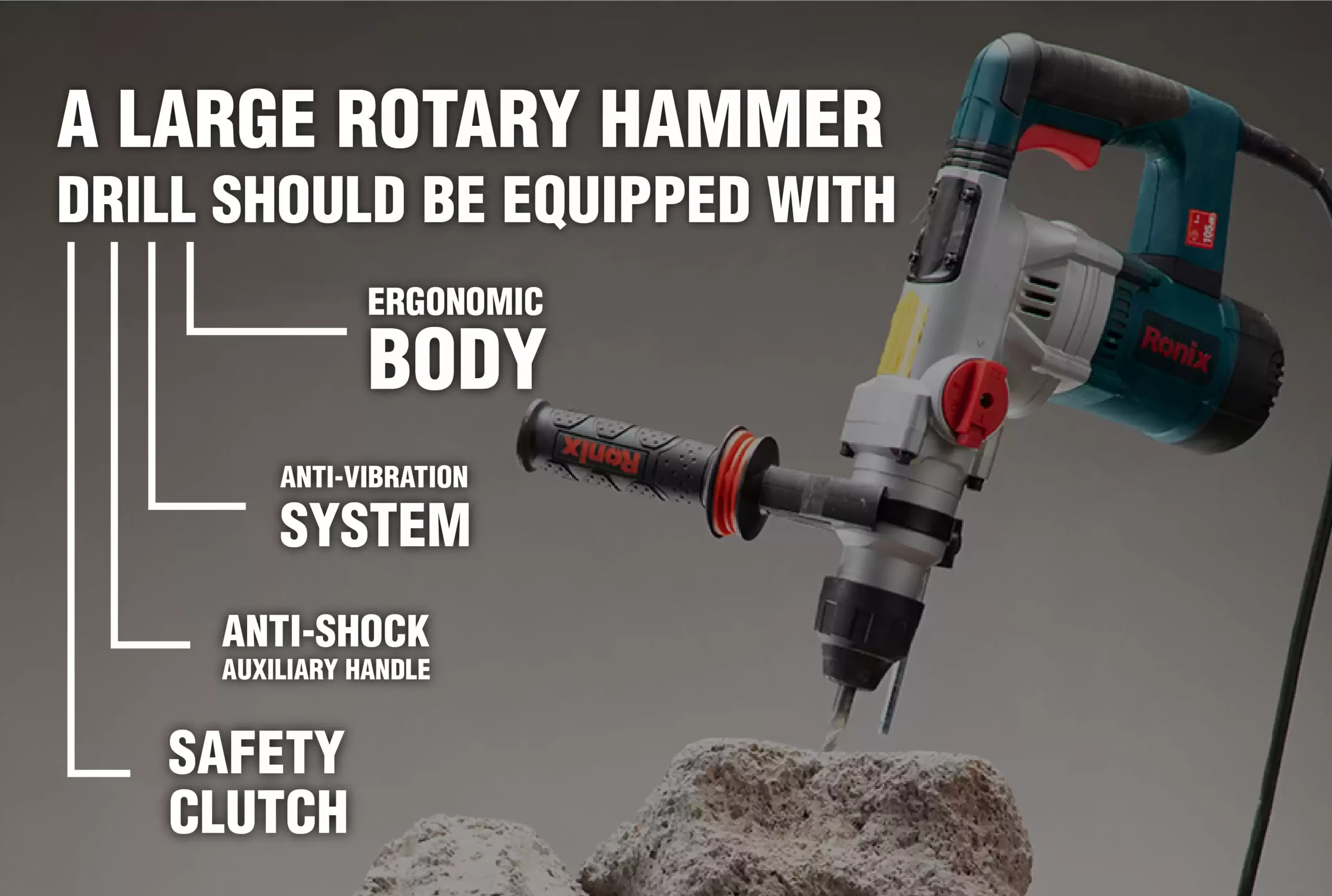 Lightweight and Ergonomic Body
Such a big tool cannot be as light as a feather, but the perfect ones, despite their dimensions, should be lightweight relatively. Being made of proper materials such as Die-cast Aluminum can boost this feature and not only make it less massive but increases its body strength.
Anti-vibration System
Controlling a huge tool can be highly challenging specifically when it is crazily shaking in your hands. To solve a such problem, premium manufacturers equip their rotary hammer drills with a high-tech anti-vibration system. An AVS system will minimize vibrations and reduce the operator's fatigue during long hours of work.
Anti-shock Auxiliary Handle
To make it easier to handle, an auxiliary handle is a must-have attachment for every rotary hammer. But the best brands are the ones that provide an anti-shock, non-slip one.
Safety Clutch
A safety clutch can add to the tool's safety by protecting the armature and preventing the bit from being stuck in concrete.
The Best Cordless Rotary Hammer Drill for Concrete
Cordless rotary hammer drills have specific privileges over other types. They are more portable, lightweight, and perfect for situations where electric outlets are not available. These all increase the efficiency of work. But to be much more effective, they need to bring the following Facilities:
Lithium-ion batteries
Lithium-ion batteries are the best types of battery that any cordless one can apply. They charge quickly, have no memory effect, are lightweight and have a reduced self-discharge rate, withstand a wide variety of temperatures, require less maintenance, and have less downtime.
Brushless Motors
They should be equipped with a brushless motor to display the best function. Brushless motors are more efficient than their brushed DC equivalents. They generate less noise, have better speed/torque, work with little energy loss, and last longer. So, they can drill into concrete with more strength and efficiency.
The Best Corded Rotary Hammer Drill for Concrete
Right, cordless rotary hammers deliver so many advantages, but there is still a great need for utility power. The corded ones that rely on the main-line power, are not portable as their cordless counterparts, but bring more power and are needless of charging. But to get the best results, you need to consider some specific features: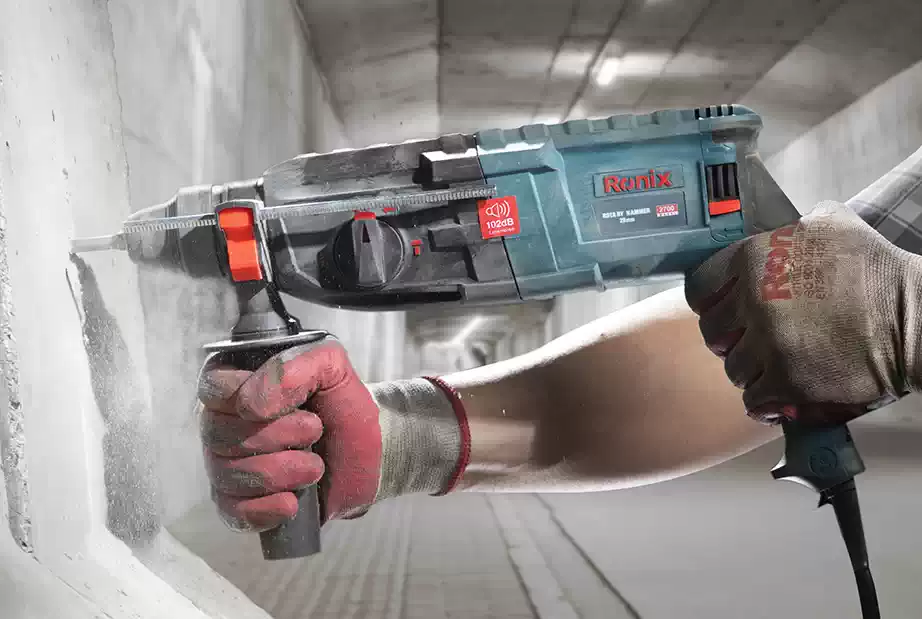 A Powerful Motor
The corded ones should have high-power, durable, high-efficiency motors that can handle the three functions of releasing, hammering, and hammer drilling with maximum power.
They also should have large-capacity cylinders that bring stronger impact energy. But the high power shouldn't make working hard. An anti-vibration system should be applied in them to improve efficiency and reduce operator fatigue. It also should give a variable speed range to ensure a wide span of activities to be done.
Tool-free Bit System
To improve user convenience, a tool-free bit system with an automatic bit-locking mechanism should be added to your ideal machine. It helps a quick, agile working experience for those who are doing such heavy-duty jobs as construction.
An Efficient Maintenance System
An ideal rotary hammer will last for a long time. So, along with the high-resistant material and high-quality producing progress, you need to have a reliable maintenance system that can ensure you of a long-lasting operation. That's why a special grease lubrication system is a must-have for every rotary tool that claims the best.
No doubt, a proper one can add to the quality and efficiency of concrete-related jobs, specifically in heavy-duty construction jobs. And if you are willing to have all the advantages at once, you should find an all-embracing item that not only brings great quality but also is offered at affordable prices.
Needless to say, many brands can supply you with the best rotary hammer drills for working with concrete. Makita, DeWalt, Bosch, Hilti, Milwaukie, and Black&Deckers are just some of them that you definitely know.
Along with them all, Ronix is a premium tool brand that firmly guarantees high-quality rotary hammer drills in various sizes and versions. But what makes it outstanding is that despite the fact that all the advantages mentioned above are gathered in Ronix tools, they are offered at reasonable prices and in variable versions and models.
FAQ❓
What are the best brands for rotary hammer drills for concrete?
The best brands for rotary hammer drills for concrete are the ones that provide ergonomic, high-power, easy-to-work-with, and easy-to-maintain ones.
What is the recommended warranty period for a rotary hammer drill for concrete?
The best period for a rotary hammer drill for concrete to be warranted is 1 year