The construction sector is constantly growing due to the global rise in urbanization. To accommodate the world's rising population, we depend on construction projects. Erecting a house, bridge or road involves many steps including demolition, design, framing, and setting up plumbing, each of which requires a different set of tools.
Rotary hammer drills are among the essential tools found in a construction site that can make holes into tough materials such as concrete, brick, and masonry.
Powerful and highly performant, these power tools are up for any light or heavy-duty drilling, hammer drilling, and chiseling tasks. They are quite handy and can take care of various construction tasks, be it making holes in brick walls or putting anchors in concrete.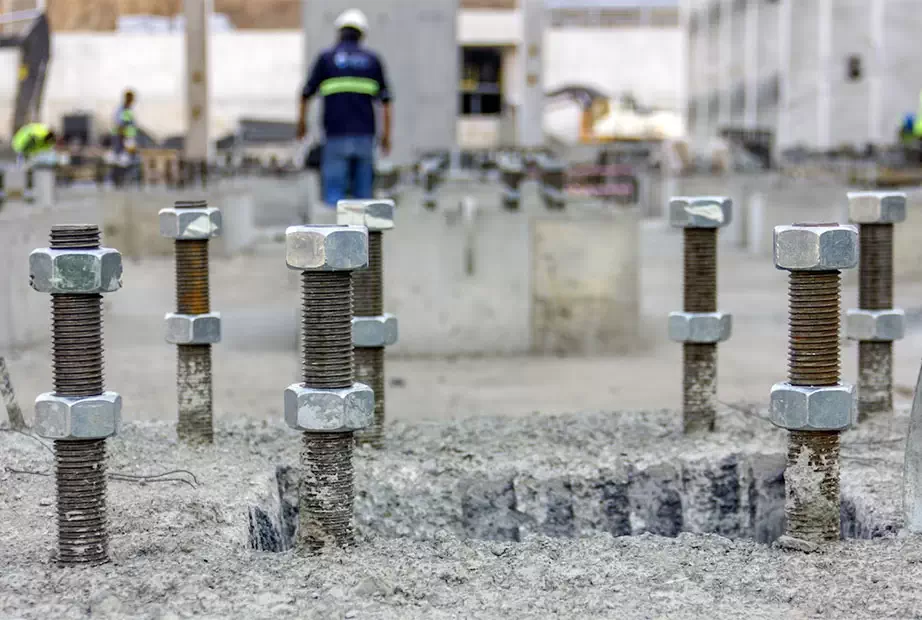 Due to the remarkable variety of products and brands in the tool market, choosing the best corded rotary hammer drills and their cordless counterparts might be a challenge for users. This article is the guide you need to pick the right choice and get the job done effectively.
Best Cordless Rotary Hammer Drills
Based on their source of power, rotary hammer drills are either corded or cordless. corded models do not need to be charged and provide the user with more power to penetrate the target material.
Here you can read more about best corded hammer drill completely.
Cordless models, on the other hand, work with batteries and are easy to carry around as they are not tied up to an outlet.
When going for cordless models, there are many factors to consider:
Lithium-ion batteries
The best cordless rotary hammers are powered by lithium-ion batteries. As an advanced battery technology, they charge fast, have no memory effect, are lightweight, have a lower self-discharge rate, are tolerant of a broad range of temperatures, and require less maintenance.
These best-in-class tools feed on lithium-ion batteries that charge faster and come with less downtime.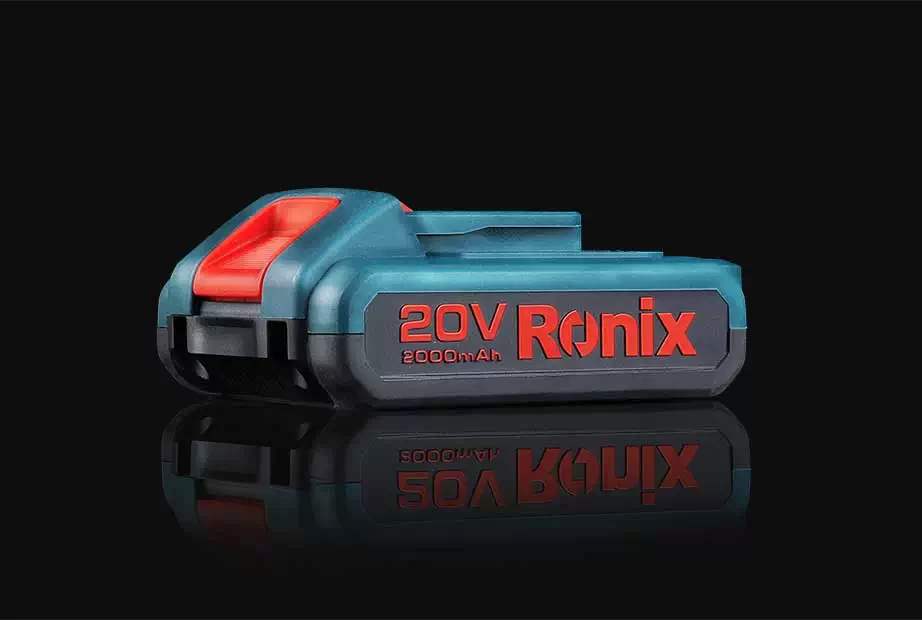 Brushless Motors
To check all the boxes for the best cordless rotary hammer drill, this power tool should be equipped with a brushless motor. Brushless motors are a more efficient version of their regular DC brushed counterparts. They produce less noise and come with higher speed/torque and a longer lifespan.
With a powerful brushless motor and lithium-ion battery, the Ronix 8910 can be your best choice in this category. A 20V 4Ah lithium-ion battery provides it with consistent power to deliver 2.2J of impact energy at a speed that can go up to 1400 RPM.
With a maximum impact rate of 4500 IPM, this wireless tool is a great choice for heavy-duty tasks at home or on construction sites.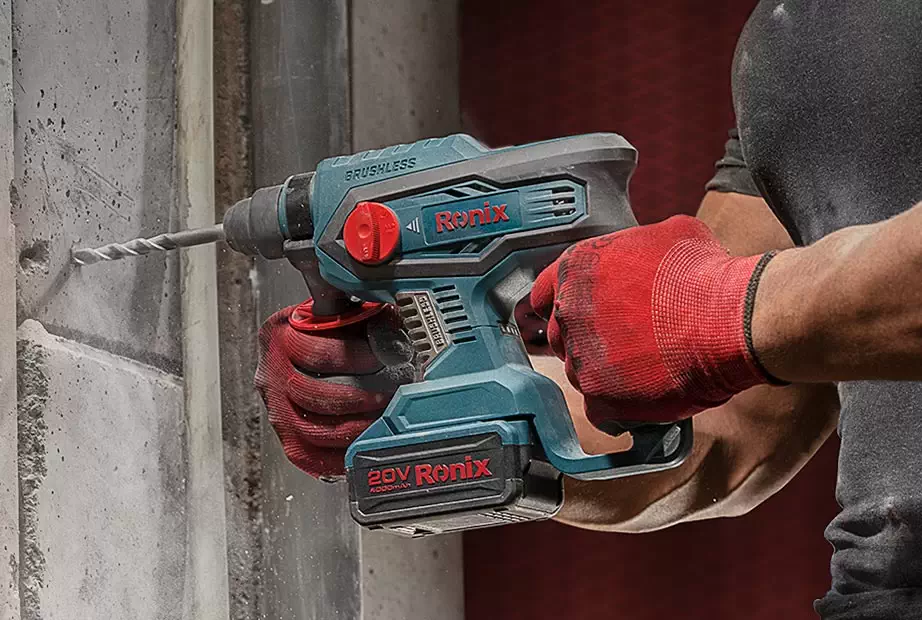 Best Rotary Hammer Drill for Concrete and Rock
Concrete and rock might seem impenetrable but the best rotary hammers and their pounding action have proved otherwise.
Choosing such tools for drilling holes into a concrete wall or a piece of rock, first and foremost, depends on many factors such as the diameter of the hole you plan to drill or the thickness of the surface.
However, as a rule of thumb, the best rotary hammer drills for concrete and rock are the ones that maximize productivity and achieve the desired results in a short amount of time.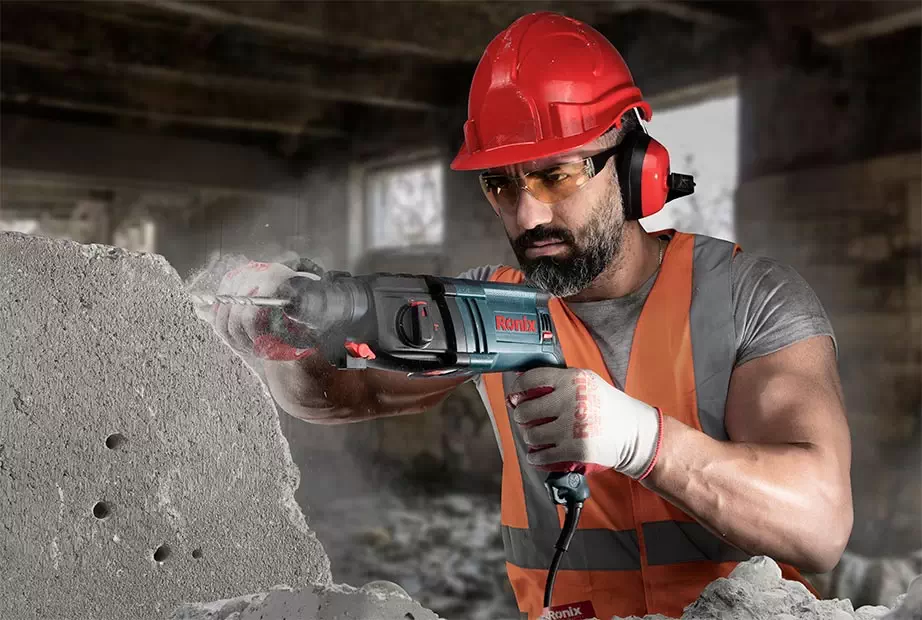 Such ideal power tools should have:
High Impact Energy
The higher the impact energy in a rotary hammer is, it can penetrate harder materials. Therefore top-ranked models that are best suited to drill into concrete and rock, are the ones with great impact energy and less need for physical pressure.
High BPM
BPM stands for blows per minute or the number of blows or impacts that the hammer drill can deliver to the workpiece in one minute.
The higher the BPM, the lower the time for completing the project would be. Therefore, the best tools to make holes in concrete and rock are the ones with a high BPM to be time-saving.
High Drilling Capacity
By indicating the depth of a hole the tool can make into the target material, drilling capacity is yet another important factor in identifying the best rotary hammers for concrete and rock. The higher the capacity is, the higher the performance of such a tool will be.
Safety System
Drilling holes into concrete involves many risks, therefore the best tool for this task is one that comes with a built-in safety torque clutch system to prevent injuries.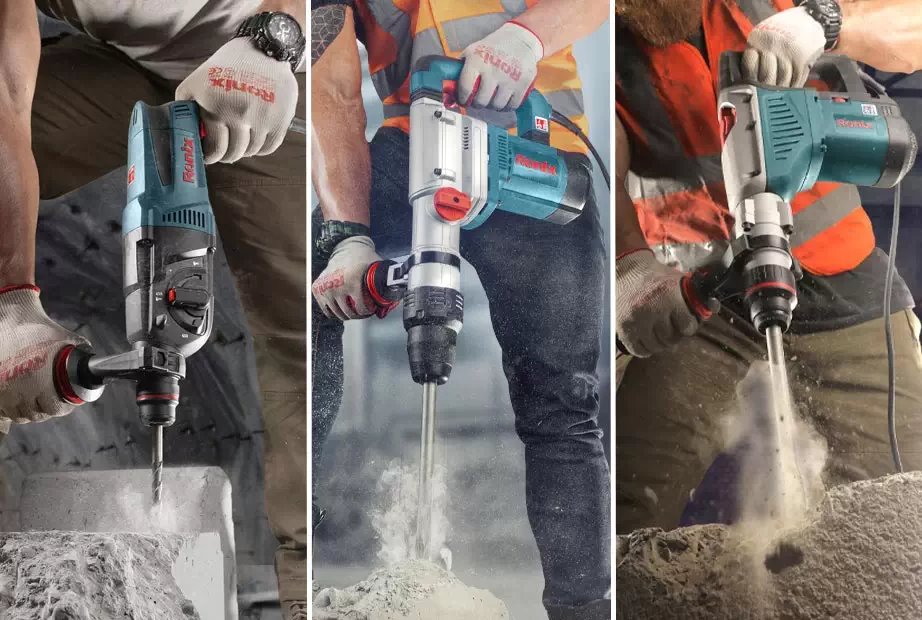 Speaking of the best rotary hammers when it comes to drilling into concrete and rock, let's take a look at Ronix top-line series. The tools in these series can compete with other world super-brands like Makita, Bosch, and DeWalt in power, blows per minute, and drilling capacity.
2712 relies on a highly-efficient 720W motor and a 36mm SDS Plus bit holder to excel in its four operation modes: drilling, hammering, hammering with rotation, and chiseling which is meant to meet different needs.
This power tool also features a unique chisel rotating system to withstand large blows, making it a perfect choice for drilling into tough materials. Its drilling capacity in concrete can go up to 26mm and it has a soft grip which prevents fatigue during long hours of work.
2741 is another one of the best rotary hammer drills in Ronix's top-line series that have proved to be best-in-class. It runs on a powerful 1250W motor and has a die-cast magnesium housing which is lightweight and enables greater heat dissipation and increased body strength.
As one of the best choices for drilling holes into concrete, 2741 comes with a 40mm drilling capacity, 10J impact energy, no-load speed of 410 RPM, and an impact rate of 3100 BPM. For more heavy-duty tasks you can always count on 2742 which delivers up to 13J impact energy.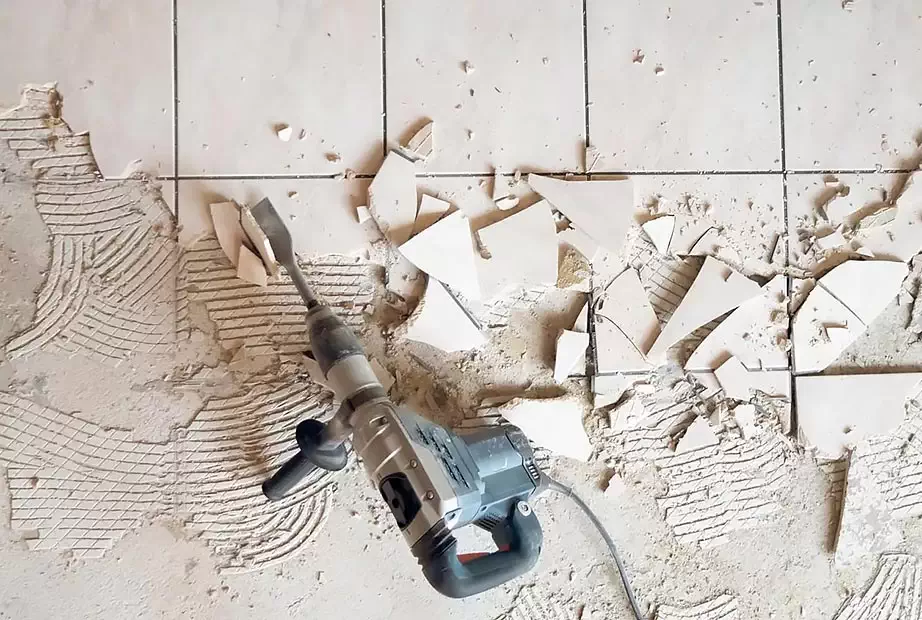 Best Rotary Hammer Drill for Tile Removal
In addition to drilling holes into tough material, best cordless and corded rotary hammers can also be used for light-duty demolition such as in tile removal. These best-in-class models are equipped with:
Chisel function
Many models are multifunctional and can operate in different modes: hammer-only, rotation-only, hammer drilling, and chiseling. When it comes to tile removal, the chiseling mode is a must-have.
A tool-free bit holder compatible with chisel bits
The best rotary hammer for tile removal has a well-made bit holder that can hold up flat or pointed chisels of different diameters and lets the user change the bits fast and easily.
Ronix 2726 has it all and much more! It has an SDS-plus bit holder that can hold drill bits up to 26mm in diameter and flat or pointed chisels. This bit holder is also tool-free and automatic, which makes the user work faster when changing different drill bits and chisels.
This five-star tool has a powerful 850W motor and 4000 BPM impact rate. With 3kg of weight, this light tool delivers 3.5J of impact energy and enables you to adjust the working angle.
Best Rotary Hammer Drill for Home Use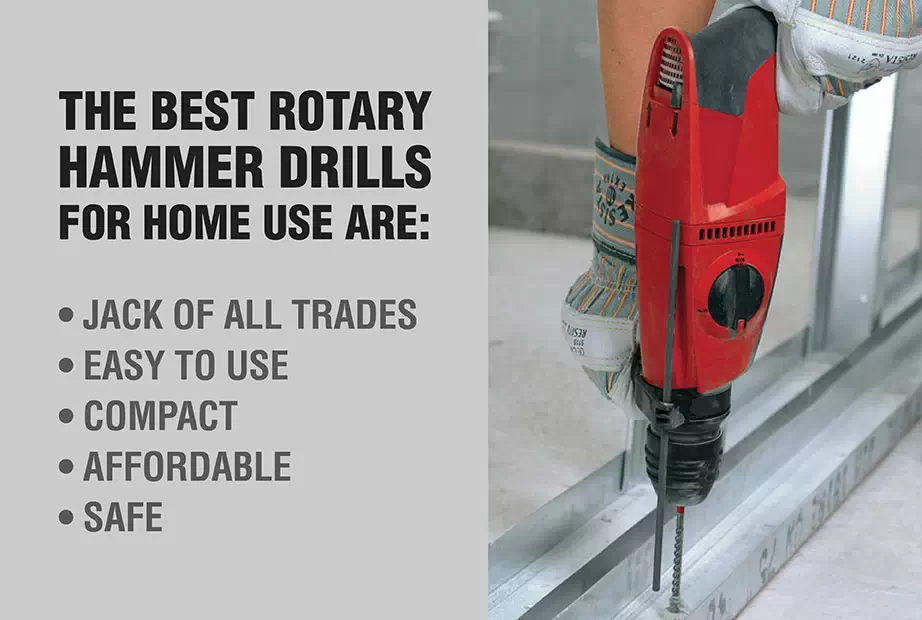 Let's take a closer look at what the best rotary hammer drills for home use bring to the table:
Multifunctional
A tool that can take care of all drilling, hammer drilling, and chiseling tasks by itself while being compact and easy to handle, is the best choice for homeowners.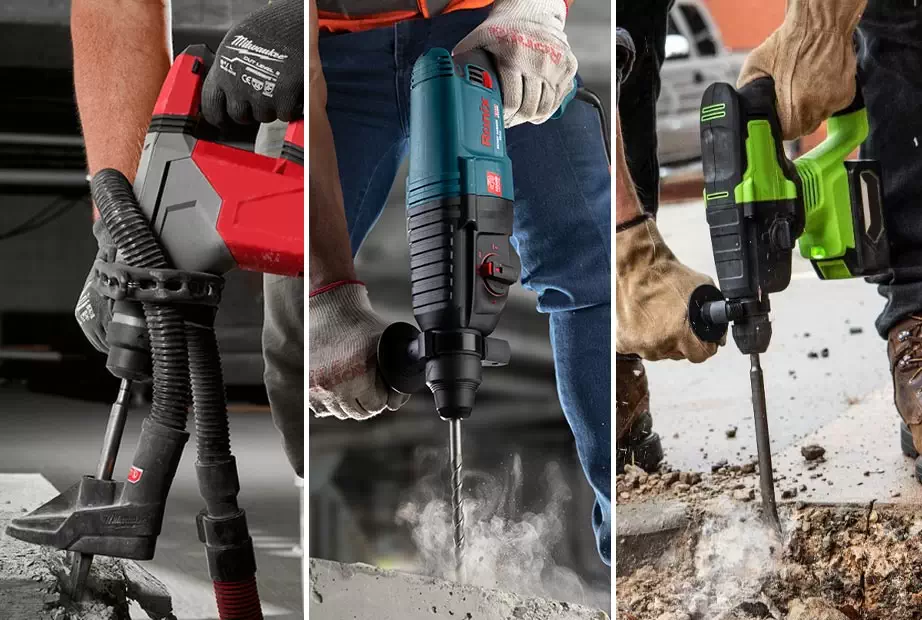 Compact and lightweight
The best rotary hammer drills to take care of home projects are the ones that deliver enough power while being light, compact, and easy to carry around.
Safe
When using such drilling machines for your home projects, safety comes first. In addition to using personal protective equipment (PPE) like gloves, safety glasses, or face shields, you should go for a tool that has embedded safety features to eliminate all the potential risks.
Affordable
Quality combined with affordability is an important factor for DIYers who don't make money from their projects and need something within their budget.
Ronix has the best rotary hammers in store for all home projects. 2701 weighs 2.6 kg but offers 3J of impact energy, 4900 bpm, and 26mm drilling capacity in concrete therefore the combination of its lightness and power will amaze you!
This light-duty tool is made of a Die-cast aluminum housing with superior heat dissipation and enhanced body strength. This power tool also comes with a Safety torque clutch system that is designed to protect the user's wrist during high-torque operations.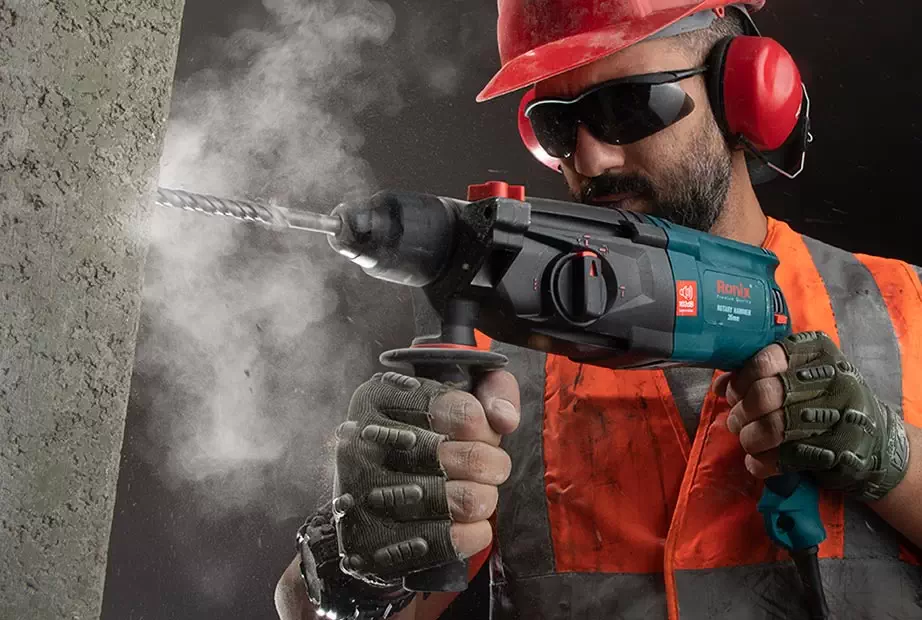 Last but not least, Ronix 2701 is affordable, and adding all its great capabilities to your toolbox won't cost a fortune.
Best Rotary Hammer Drill for Outdoors
We suggest considering portability and durability when choosing the best rotary hammer for outdoor use. The best choices for this application are: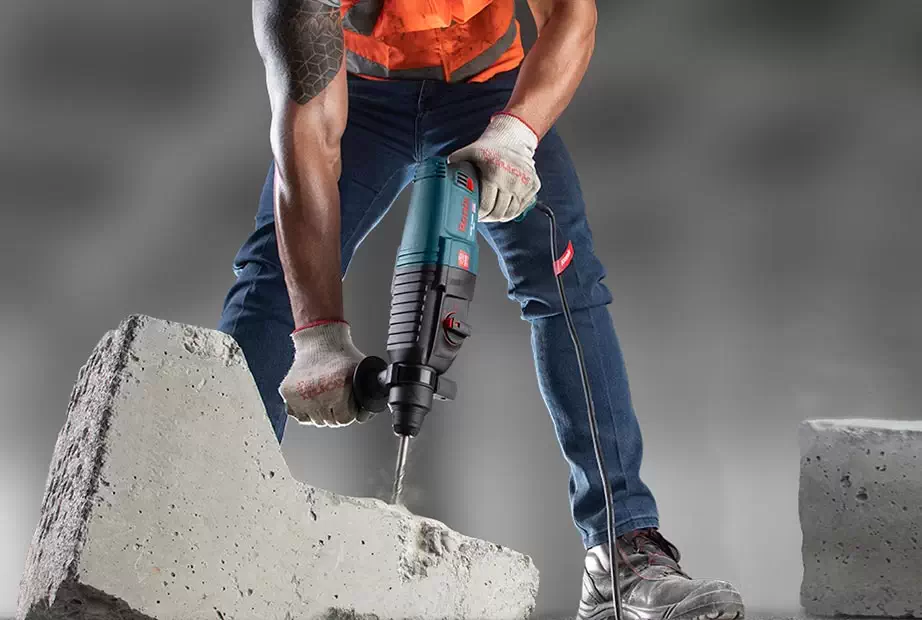 Cordless and Portable
As power outlets might not be available outside, you'd better go for cordless models that are not under the tight leash of a cable and can be carried around easily and with no limits.
Durable
Tools that are used outdoors are often exposed to moisture, heat, dust, and dirt. Therefore, they'd better have durable and corrosion/dust-resistant bodies and waterproof motors to withstand the test of time!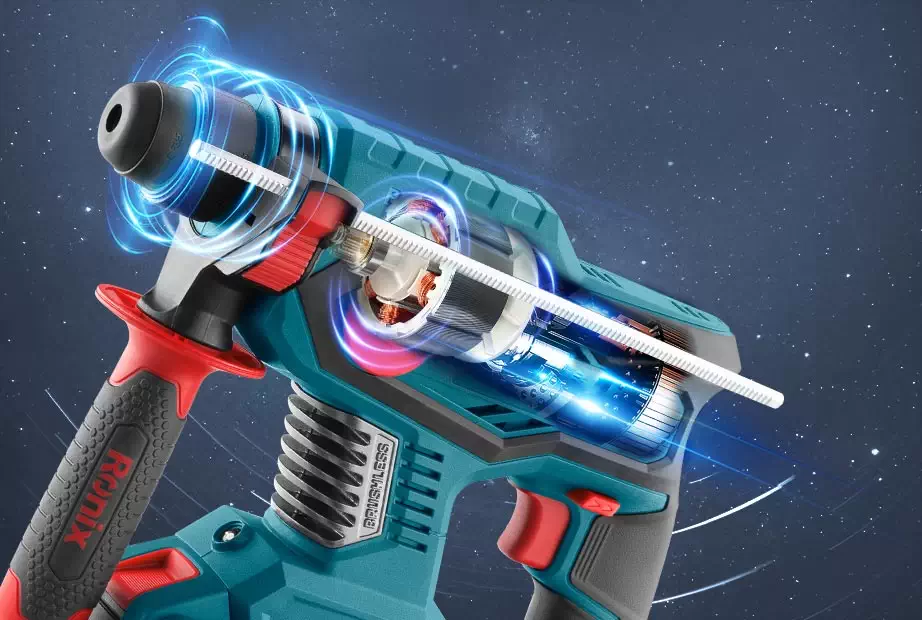 If you are looking for the best corded rotary hammers or cordless models for outdoor tasks, give Ronix 8910 and 8910K a shot and you won't regret it.
Their High-performance brushless and waterproof motor ensures maximum durability. They come with a die-cast aluminum housing that ensures their superior heat dissipation and enhances their body strength.
An ergonomic soft grip handle for better handling during working and a high-torque safety clutch system to protect the armature are just some of the other handy features that turn 8910 and 8910K into a great choice for those who plan to work on outdoor projects.
Best Rotary Hammer Drill for Heavy-Duty Tasks
The best rotary hammer drills to tackle heavy-duty tasks are the ones with high power to penetrate the impenetrable and ergonomic design to reduce hand fatigue during those demanding operations that usually take a long time to complete. Let's dive into the details:
High Power and Capacity
Heavy-duty tasks demand powerful tools. To drill large holes in concrete, stone, or drywall or take care of hammer drilling or chiseling in a construction site, you need a tool with powerful motors, high-impact energy to deliver a high impact rate, and high drilling capacity.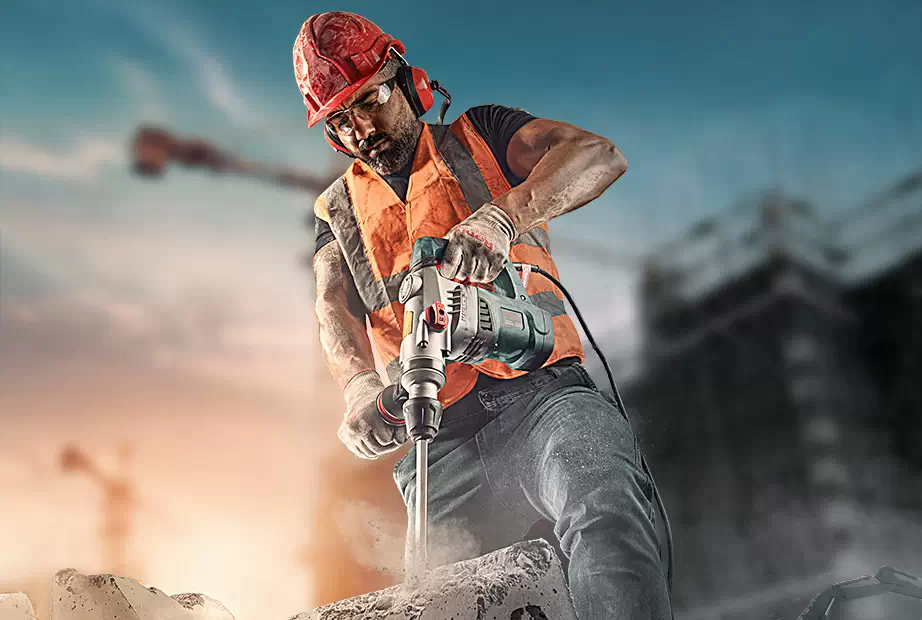 Convenience
The best heavy-duty rotary hammers are as compact as possible and have ergonomic designs so that the user can handle them more easily.
These ideal tools should be equipped with special handles that reduce the vibration transferred to the user's hand for less fatigue and come with lock button switches for added convenience during long hours of work.
The good news is that you can find all the above features in Ronix top-line series!
Best SDS Plus Rotary Hammer Drill
The tool holder is an important part of any rotary hammer. It holds the bits and chisels that are in direct contact with the workpiece and therefore indirectly determines the drilling capacity of the tool
SDS plus tool holders are made to hold bits up to 23mm and are the best choice for light-duty hammer drilling and chiseling. The best rotary hammer drills with SDS plus tool holders are the ones that come with: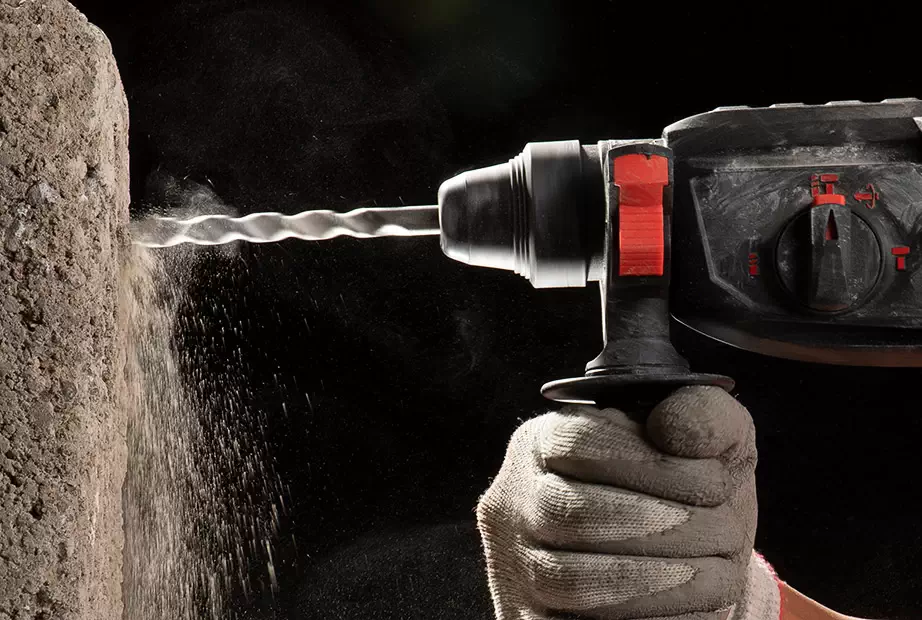 Automatic Bit Locking Mechanism
An automatic bit-locking mechanism secures the bits in place to avoid possible slipping.
Adjustable Hammering Positions
The ideal SDS plus rotary hammers come with adjustable hammering positions which help the user take care of the tasks easier and faster.
If you are searching for the best tool in this category, Ronix 2701 might be IT. This tool's SDS plus bit system provides tool-free bit changes with automatic bit locking and maximum impact energy transfer.
Ronix 2712 is yet another great choice.
This model's fully metal SDS plus bit holder holds different sizes of chisel bits as tight as possible for the best performance. This bit holder has a unique chisel rotation system for adjusting the hammering positions.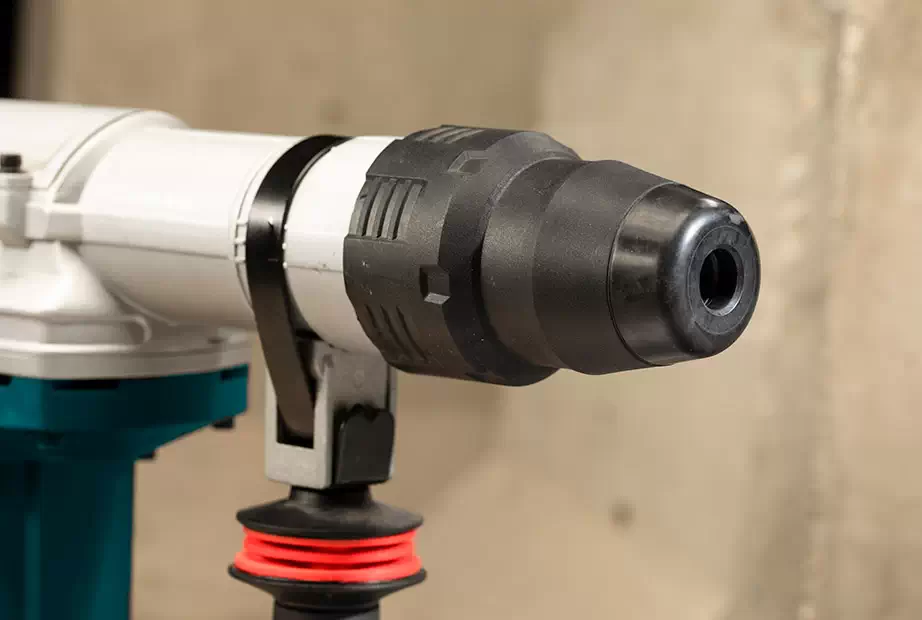 Best SDS Max Rotary Hammer Drill
SDS max bit holders are thicker than their SDS plus counterparts and can hold bits up to 34mm. These bit holders are made for heavy-duty tasks and can be used for delivering impacts of greater force to create holes in larger diameters.
The best SDS max rotary hammers come with high drilling capacity in concrete, wood, and steel and deliver high-impact energy and rate.
Although they are used for heavy-duty drilling, hammer drilling, and chiseling, they have an ergonomic design and a soft grip that ensure the convenience of the user during demanding tasks.
In this category, Ronix 2741 has a lot to offer. It relies on a powerful 1250W motor to perform hammering and hammering with rotation. It has a 360° anti-shock auxiliary handle which provides the user with freedom of movement and has a double anti-vibration system that improves efficiency and reduces hand fatigue.
Best Rotary Hammer Drill for Investment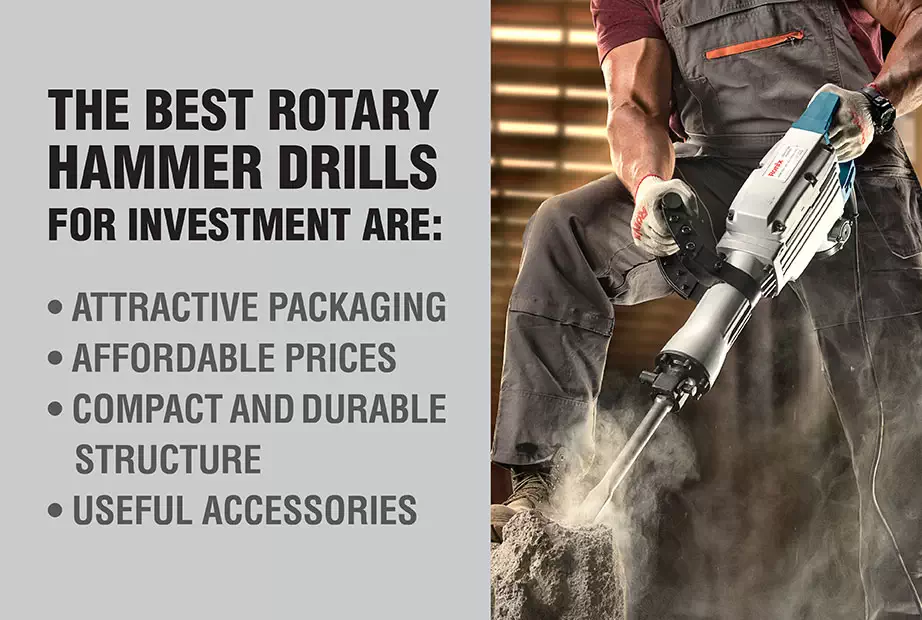 When choosing the best rotary hammer drills for investment, there are many factors to consider:
Compact and Durable Structure
Smart wholesalers invest their money in models that have a compact design because such tools are easy to store and take up less space in a warehouse.
In addition to being compact, these choices have durable bodies that can withstand the test of time in the warehouse or on the shelves of a store.
Useful Accessories
Customers would love to buy tools that come with all the essential accessories. Therefore, the best rotary hammers for investment are the ones that come in a package including all the useful add-ons.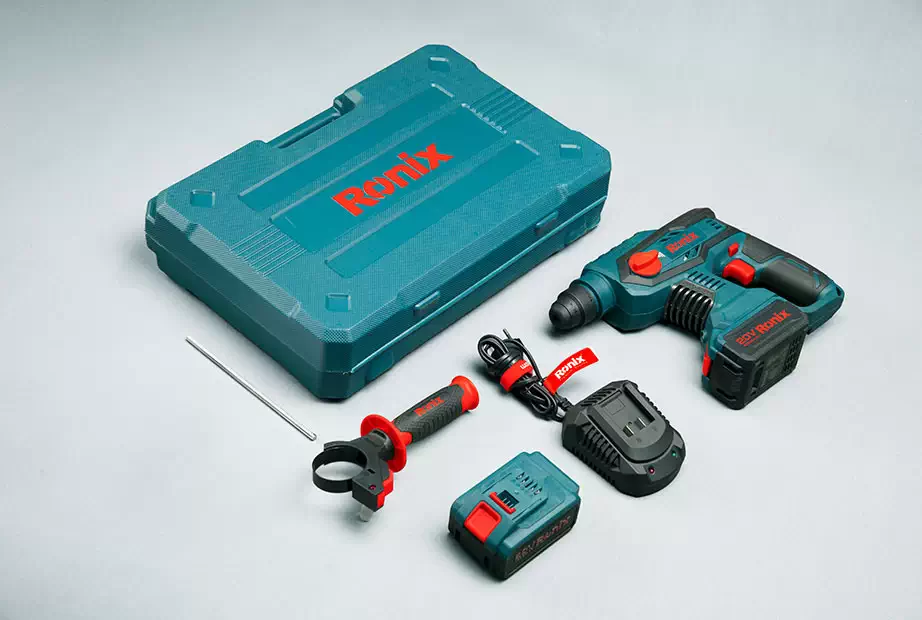 Attractive Packaging
These great investment opportunities for wholesalers, come in attractive and durable packaging to enchant customers.
Affordable Prices
They are also of the highest quality and yet come at affordable prices. Ronix offers the best corded rotary hammers or cordless models to attract more customers for any wholesaler.
With compact and durable bodies, various accessories like drill bits and chisel bits, rubber protect cap, Depth gauge, Grease bottle, auxiliary handle, and incredibly affordable prices, our tools are easy to store and easier to sell!
FAQ?!
What is the best heavy-duty rotary hammer drill?
With high impact energy, high BPM, and high drilling capacity, Ronix 2742 is the best heavy-duty rotary hammer drill. It features a unique chisel rotating system to withstand large blows and comes with an extraordinary demolition speed system for maximum functionality in heavy-duty tasks.
How do I choose a rotary hammer drill?
Choosing the right rotary hammer very much depends on the task at hand; Ronix 2742 is the best choice for heavy-duty tasks like drilling deep holes in concrete and rock, 2726 is a great option for tile removal, 2701 is the best pick for home use, and when it comes to rotary hammer drills for outdoor use, Ronix 8910 is the best of the bunch.
what are the features of the Best Rotary Hammer Drill for Investment?
they should have Compact and Durable Structure, Useful Accessories, Attractive Packaging, Affordable Prices