Demolition hammer! It's all about the act of demolishing, destroying, wrecking, breaking, and bulldozing.
Earlier, it might be done with simple tools like hand hammers and shovels.
However, the development of the tool industry is always ahead of time. Today, we have specialized tools to do every single step of a construction or renovation project.
In this article, we're going to talk about a well-known tool among constructors and operators: the best demolition hammers, which over time have become safer with advanced technologies to give a far more convenient demolishing experience to the operators and constructors.
There are many names to address this beast in the tools industry, like jackhammers (or jack hammers) concrete breakers, or breaker hammers.
At this point, you should have a good understanding of which tool would be better suited to your needs and the work you intend to do.
You may spend a lot of time searching for the best electric jackhammer or best cordless demolition hammer, and during your search, you will come across a lot of widely known brands with various specifications and features.
Therefore, we came up with this article to help you first gain a basic knowledge of the best concrete breakers for every task and then choose the ideal one based on your needs.
Before jumping straight to the point, there are some questions that you might ask, and in this article, we're going to answer them:
• How to choose the best jack hammer?
• What are the features of the best jackhammer?
• Where to buy the best demolition hammers?
Head on to the rest of the article to pick the best breakers for every operation and get your heavy-duty jobs done efficiently and professionally.
Best Demolition Hammer (jack hammer) for Tile Removal
Tile removal is a critical step in home renovation and remodeling. Nevertheless, before starting this project, you need to choose the proper equipment to do it and consider some safety issues.
A demolition hammer (jack hammer) is a fundamental tool for removing the tile and any similar materials, such as ceramic and brick, from walls, floors, and roofs. Some essential factors must be considered when purchasing the best jackhammer for these kinds of applications.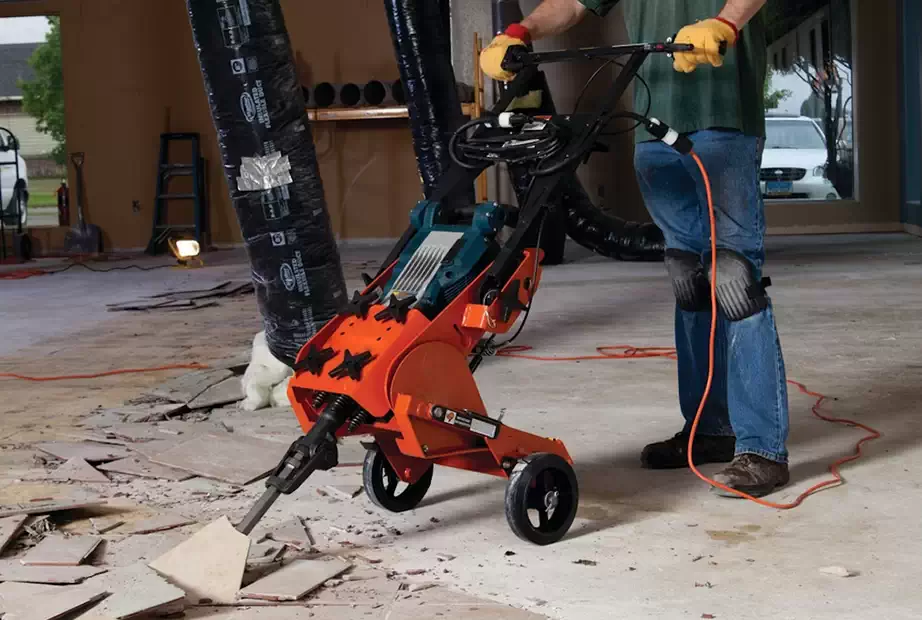 The Weight Is Important
Due to their wide scope of usage, demolition jackhammers vary in size and weight, from lighter to heavy-duty types. However, in the renovation tasks, the operator should carry the tool for long working hours. To avoid hand and body fatigue, lighter-weight removers (typically 10-11 kg) should be used in this operation. Therefore, the weight is an important factor in choosing the best demolition hammer for tile removal.
The Best Type of Chisel
It is a subtle and tricky operation, and if you don't do it with the right kind of chisel, you might damage the floor and underlayers.
Flat chisels, since they have a larger cross-section, are best to use. Because a flat chisel can be in touch with a wider part of the tile and lift more materials. However, bear in mind that flat chisels aren't that effective in removing thick and condensed materials.
Best Demolition Hammer for Digging
Offering the right combination of impact energy and power is the most important factor for a jack hammer to be considered the best tool for digging and excavation.
Moreover, heavy-duty demolition hammers that are 15 kg and above are perfect choices for digging holes in the ground or earthmoving projects. Then, any operators who need an industrial jackhammer for digging, need to consider the following key points.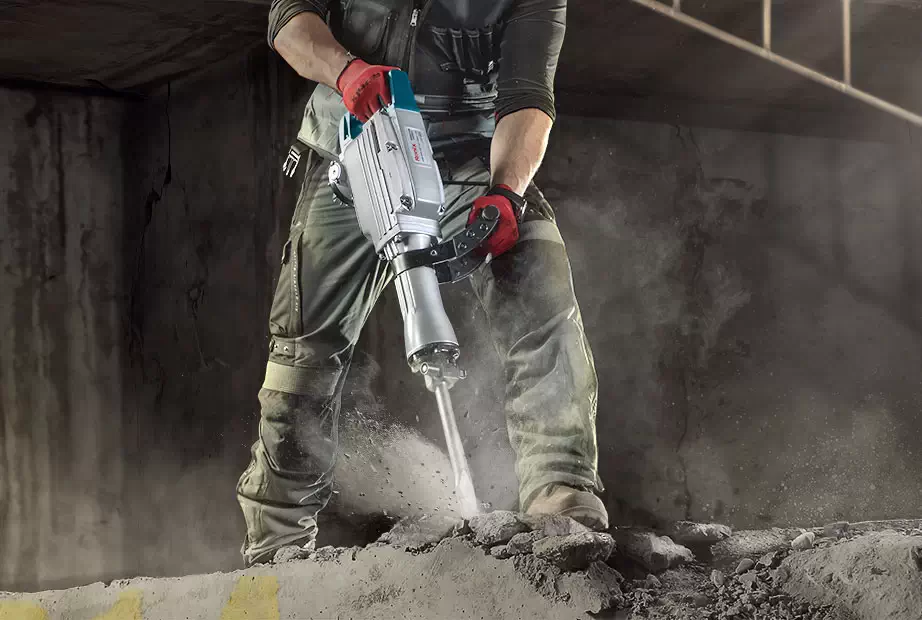 Discover the Hammering Mechanism
The hammering mechanism, which includes various spare parts such as O-rings and gears, cylinder, piston, connecting rod, and hammering shaft provide the power and transfers the impact energy to the bit holder of the tool.
The impact energy of a breaker hammer is indicated in joules. The higher the impact energy of the tool (joules), the more force it generates for excavation, and the denser the material that can be broken.
Therefore, for a heavy-duty operation such as digging holes in a thick surface, the best demolition hammer is a machine with a lighter weight for less exhaustion and a higher number of joules for more penetration force.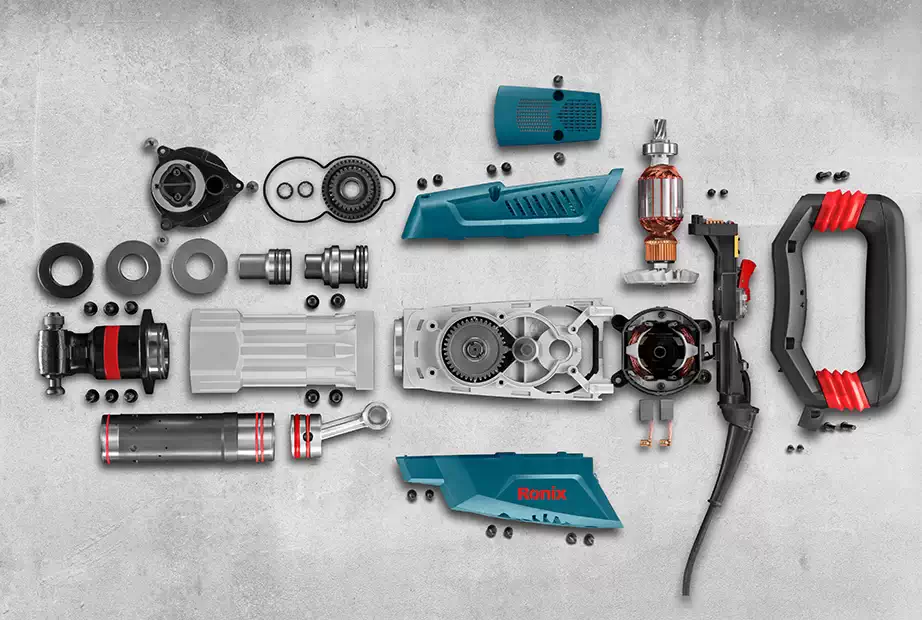 Control the tool's vibration
Operating a giant power tool with a high impact rate while digging on a hard surface for long periods is hard and uncomfortable enough by itself, adding vibration makes it an intolerable activity.
Plus, it may have additional side effects and consequences on the operator's body and health status, such as HAVS (Hand Arm Vibration Syndrome), which is caused by exposure to vibration at work.
It's when the anti-vibration technology in breaker hammers is a great bonus and reduces operator fatigue and improves efficiency during long hours of work. The AVS anti-vibration system allows workers to work safer and not cause any lasting injuries.
So, in purchasing the best demolition hammer for your heavy projects, put the anti-vibration system (even better to be a double anti-vibration mechanism) in the highest priority.
Best Demolition Hammer for Concrete
Before choosing the best demolition hammer, you need to define the type of surface you're breaking through. If it's concrete, what is its thickness? Although it's mainly the rotary hammers that are used for chiseling and demolishing concrete and similar surfaces, operators can use a jackhammer for concrete too.
Gasoline and electric jackhammers are the most helpful power tools for breaking through thick concrete or ground. However, the tools you choose should have certain characteristics in order to provide the best performance possible.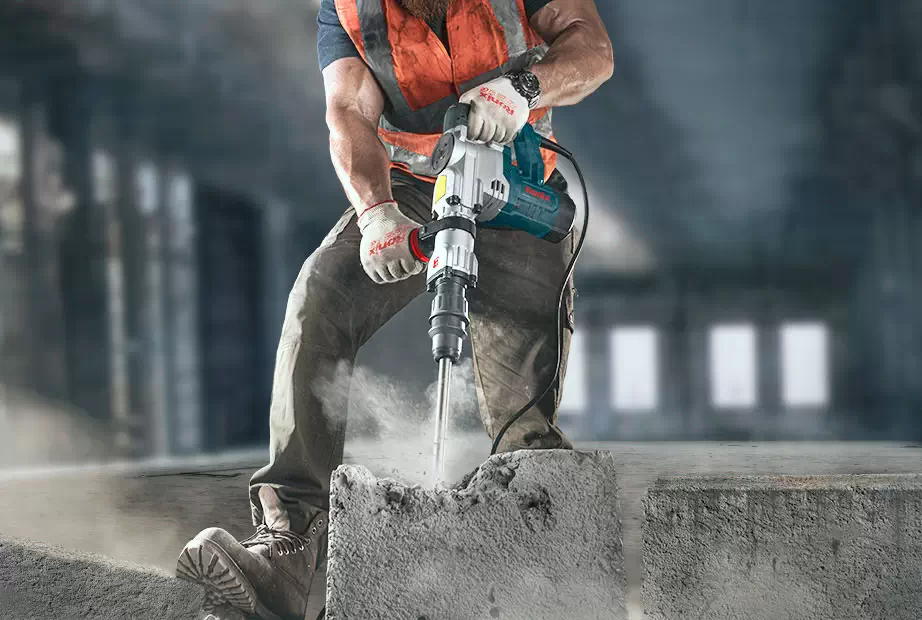 All about Beats per Minute
The impact rate of a concrete breaker has a great influence on its performance. Impact rate is the number of times the chisel strikes the working surface and is indicated with BPM (beats per minute). The higher the number of strikes (BPM), the faster your concrete breaker works through the material.
Note that even if you select the best demolition hammer with a higher BPM, this does not guarantee that it will break through thicker concrete. The combination of a high impact rate and a high energy rate results in a high-power concrete breaker capable of breaking through most surfaces.
Housing is just as important as the motor
It's not only the inner parts of a demolishing machine that have a great impact on the tool's performance. Using a tool that is made of heavy materials can cause injury and inconvenience to the operator.
Plus, if you need to lift your breaker to work through a wall or roof, a lightweight tool is safer and more convenient to carry.
Newer breakers are usually made of die-cast aluminum alloy that is lighter in weight and has a superior heat dissipation system that leads to a high-strength body, more durable spare parts, and finally the tool's long lifetime.
Best Electric Demolition Hammer (aka Jackhammer)
Electric jackhammers are the most common types available on the market, and the most fundamental factor in purchasing the best electric jackhammer is that you need to have access to an electrical outlet to run it.So, it's important to specify where you're going to accomplish your demolition operations.
If you need to use a jack hammer outdoors, a gasoline-powered one is ideal. But, if you're working indoors or wherever there is access to an electricity source, you can go for the best compact electric demolition hammer.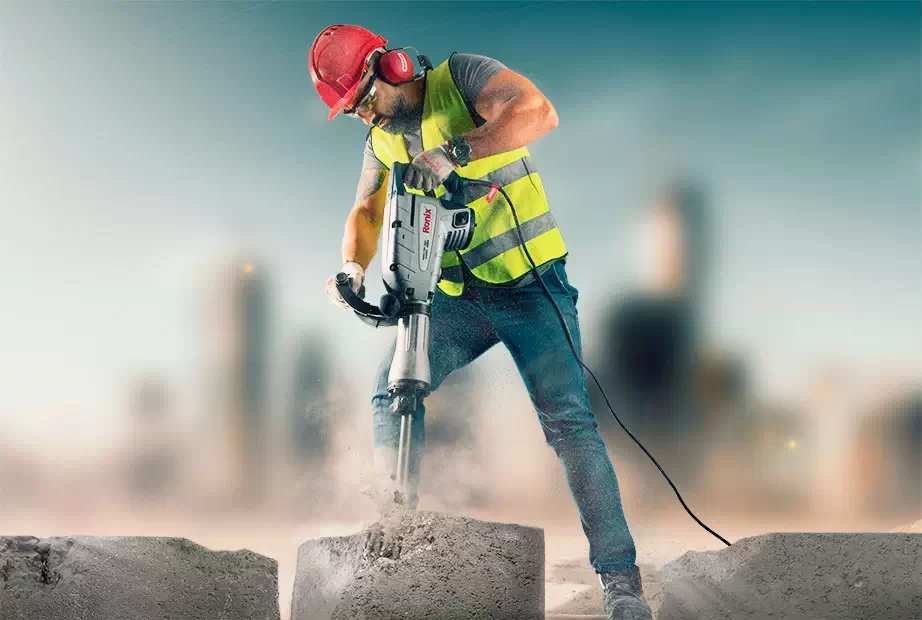 Check out the power source
Before purchasing the best electric demolition hammer you need to consider its power source and check to see what type of outlet it should be connected to.
Some power tools work only with 220V power voltage, while the voltage of AC power in your country may be 110V. Therefore, you might need to use a transformer depending on the voltage of the electric demolition hammer you use.
Power capacity is another helpful parameter in choosing the right tool. The higher the wattage of the tool, the more powerful the motor it has, and this robust motor can provide a top-notch impact force in joules for the operator and make the corded jack hammer competent for all kinds of working operations.
Best Cordless Jack Hammer (Demolition Hammer)
Cordless tools have many advantages and disadvantages compared to their corded counterparts. They are well-known for the portability and freedom that they give to operators across job sites. Many users think that cordless demolition hammers aren't strong enough to get the jobs done.
However, it should be acknowledged that these battery-powered tools are also practical, like other demolishing tools, and can be used well in various light and heavy-duty operations and projects. You just need to keep an eye on some key points.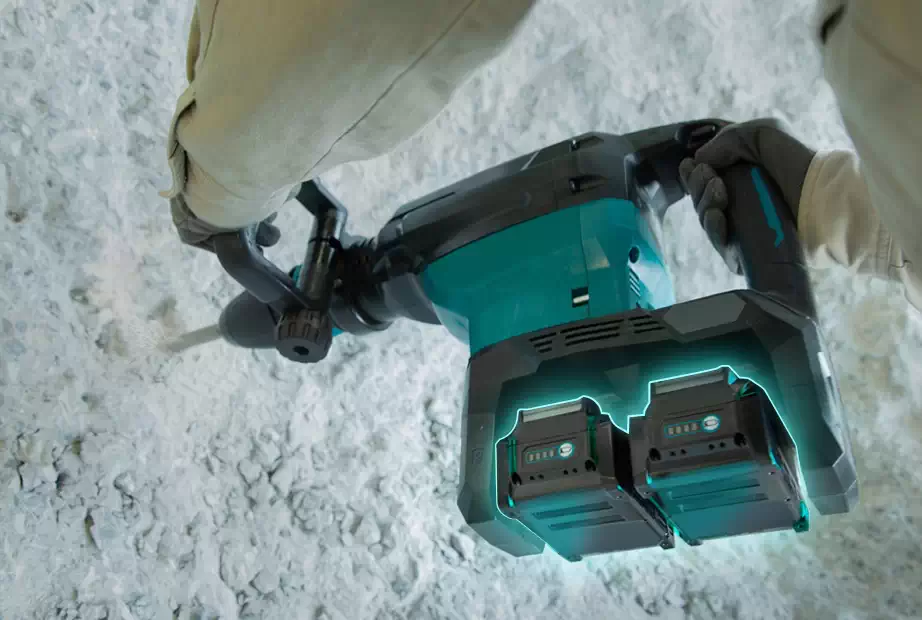 The battery is the key factor
One of the most essential factors in choosing the best cordless demolition hammer is the battery. The new generation of high-capacity Li-on batteries used in the manufacture of cordless tools allows for more power supply independence. Plus, the battery capacity is of great importance and determines how long it lasts during working hours.
Another essential feature is the use of fast charging technology in the chargers. Therefore, when buying a battery-powered hammer, choose the one that is made with the latest technology of battery and charger.
Which motor type is the best?
There are two types of motors in the world of cordless demolition hammers: brushed motors and brushless ones. Brushless motors are the latest trend in the cordless world.
Having no brushes to wear out means lighter weight, higher energy efficiency, and lower noise. If you're going to purchase the best jack hammer in the battery-powered category, a brushless one gives you an added lifetime and higher speed.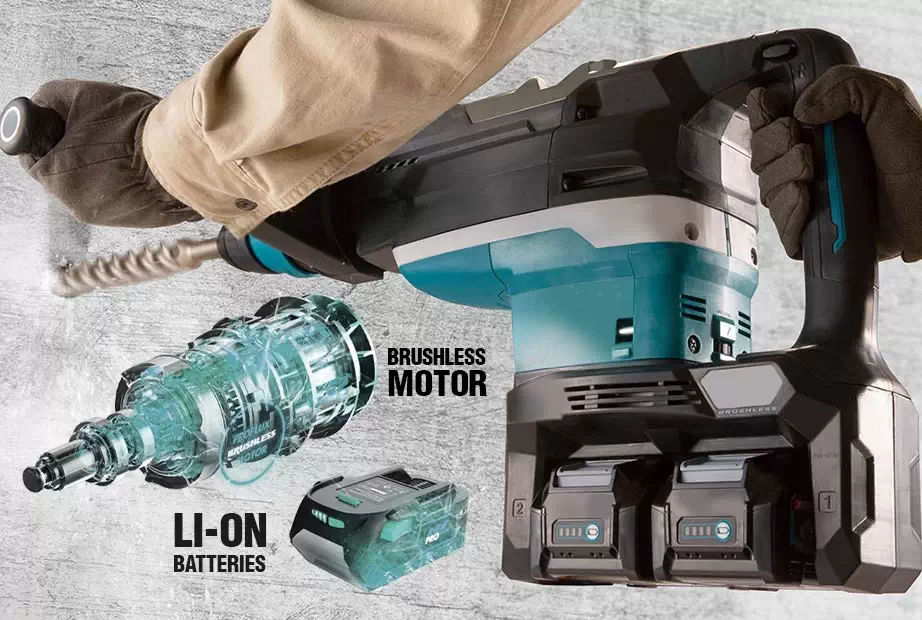 Best SDS Max Demolition Hammer (jack hammer)
SDS Max and Hex are among the most common bit holders that breakers use to grab the tool. Because of their advantages, SDS-Max tool holders are superior to others.
They have robust power and impressively high demolition performances. But a more supreme characteristic of an SDS max tool holder is the quick bit-changing mechanism, which usually best jackhammers have in common.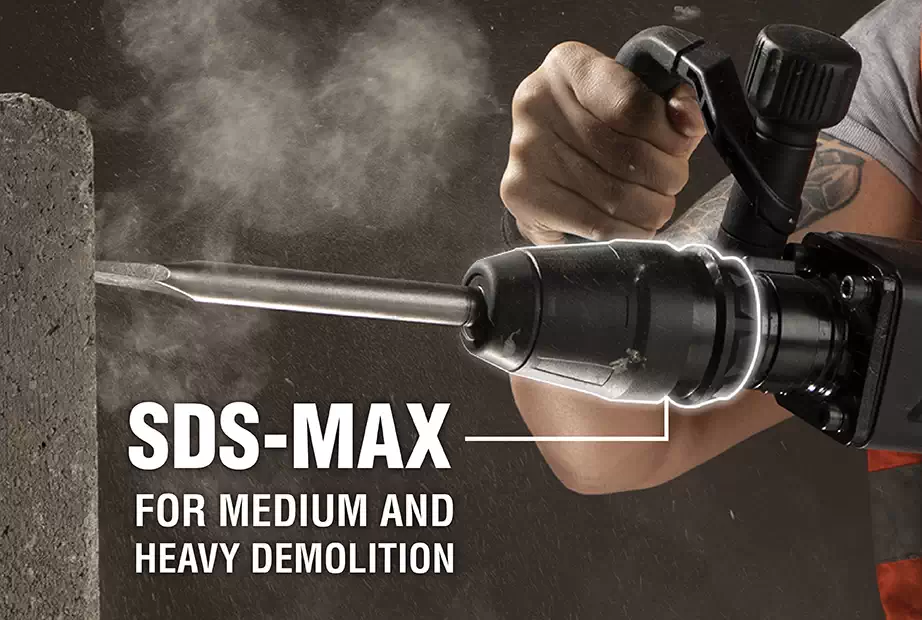 Quick-change mechanism is a must
A quick-change mechanism helps the operator make quick and easy chisel changes, holds the chisel firmly in place, and prevents the chisels and bits from popping out of the tool holder when striking tough surfaces and materials. This guarantees a longer lifetime and more durability for both the bit holder and the chisels.
Best Lightweight and Compact Demolition Hammer
Due to different construction projects and operations, these tools are available in different sizes (light and heavy), with each fitting into different projects. You need to choose the ideal type according to your working space and application.
If your job requires work on wall tiling and heights, pick out a lightweight demolition machine to prevent hand fatigue. But do you know what special features should be included to buy the best small demolition hammer?
Housing materials matter
We talked about the impact of the tool's housing on its weight. The use of die-cast magnesium and aluminum alloys in the housing material helps in the tool's light and compact body weight and allows for more smooth heat transmission.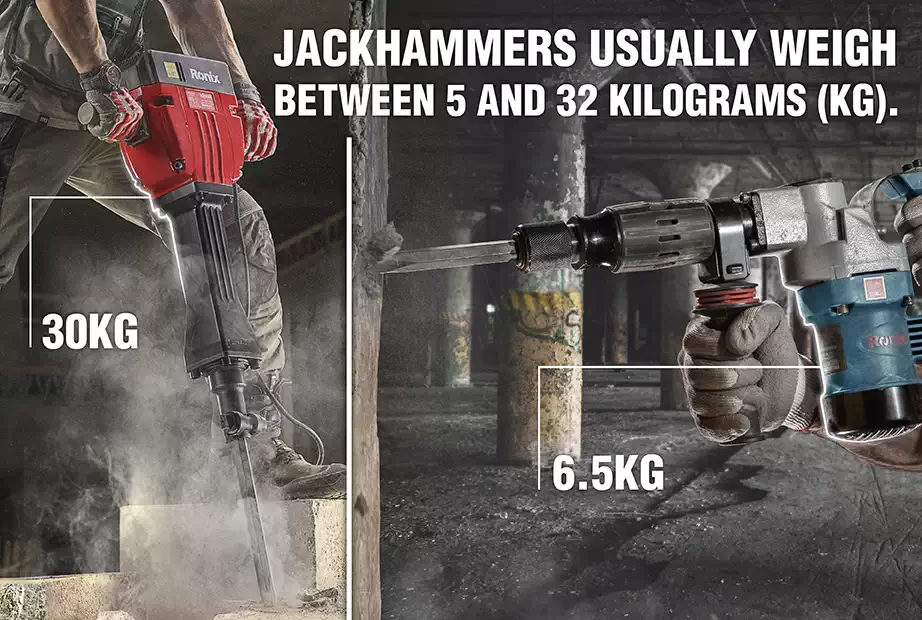 Go for the brushless motors
As we mentioned before, brushless motors make the machine more lightweight and compact in size. There are no mechanical brushes and commutators to wear out the motor; therefore, in addition to their impact on the weight of the tool, they increase the motor's efficiency, speed, and lifespan, too.
A Buying Guide for the Best Demolition Hammer
Jack hammers are applicable in a wide range of demolition projects, from tile removal, home and décor renovation, and yard tiling, to extended workspaces like cave excavation, concrete breaking, digging, and asphalt paving. Therefore, it is critical to choose a concrete breaker that is specifically designed for your needs.
Until now, we talked about the specialized features that these machines should have for any particular operation or project. Here is a general buying guide that you should follow before purchasing this heavy-duty tool.
The safety of demolishing
Safety always comes first in any technical operation, especially when working with an industrial and heavy-duty demolition hammer. So before purchasing the tool, make sure it meets international safety and protection standards such as EMC, GS, and CE standards.
Other features that ensure the operator's safety while using a breaker are an anti-vibration mechanism and trolley packaging for safer and easier transportation of +30 kg machines.
Above all, make sure you are wearing all of the necessary safety equipment when using this strong and dangerous tool.
Ergonomics is the emphasis
As aforesaid, concrete breakers produce lots of vibration. Heavy jack hammers with a more powerful motor are more difficult to handle and carry around the job site. The tool's handle is an important factor in determining whether it is ergonomically ideal.
Make sure the tool's handle has shock-absorption technology and is made of high-quality rubber materials to lower the risks of slipping as much as possible. An auxiliary 360˚ handle does best to enhance the grip's performance.
All of these features, when combined, can help operators feel less fatigued and inconvenient while using this powerful tool.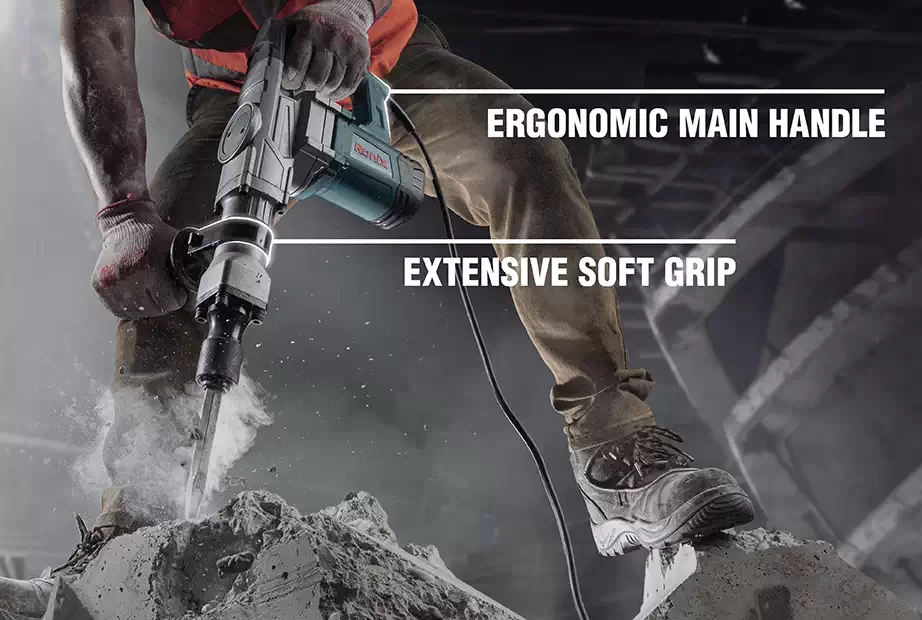 Affordability above all
For some users, the price of the tool is the only deciding factor in purchasing it. But there are other factors as important as price, such as the quality and durability of the tool. It's better to spend a little more money on a high-quality machine rather than an ordinary one that needs extra charges for future repairs.
The good news is that Ronix is a first-rate brand in the tool industry that manufactures the very best compact electric demolition hammers at reasonable prices with the quality and productivity you're looking for.
Taking everything into account,
And with the features mentioned above, many popular brands with lots of experience in the industry might come to mind, such as Makita, Bosch, DeWalt, Milwaukee, AEG, and so on.
Along with all these mentioned brands, Ronix Tools manufactures best high-quality jack hammers to meet the needs of all types of customers. Ronix products are well-known for their quality, affordability, and durability, a triangle that every tool enthusiast is looking for.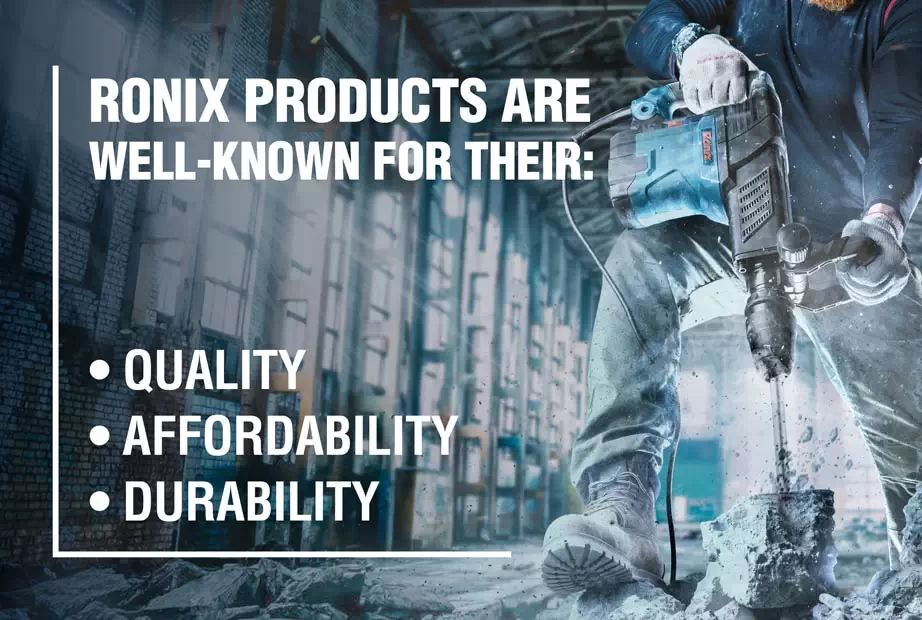 Ronix demolition equipment varies in size, type of application, and hammering power, from lightweight and light-duty 6kg/10J tools to more professional 30kg/75J machines for industrial and heavy-duty construction sites.
Consequently, you can count on Ronix to afford your ideal breaker for any type of usage, application, and job site.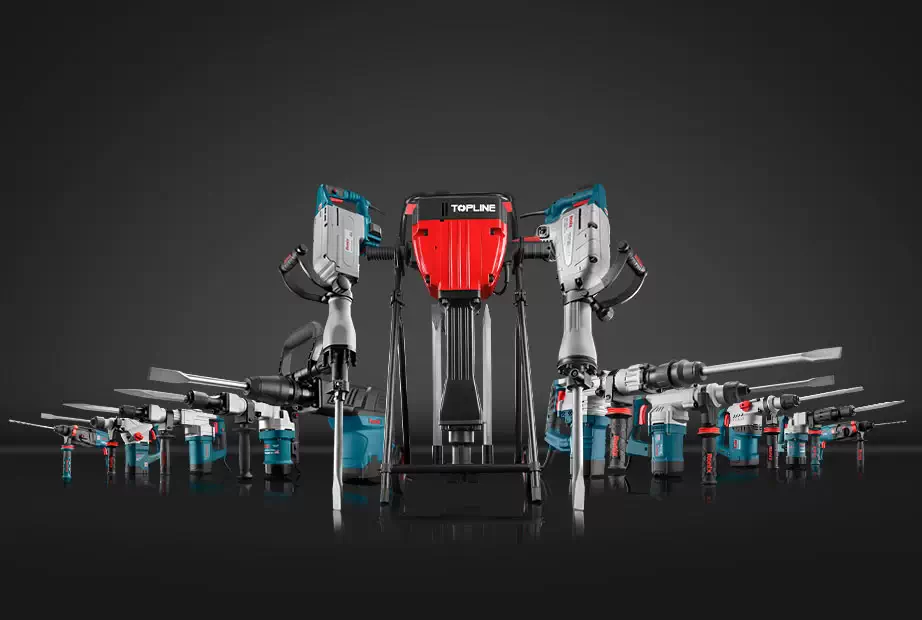 FAQ
What is the best demolition jackhammer?
Many brands can be the flagship for the best jack hammer. But the best one delivers a combination of quality, durability, and affordability to its users. Ronix is a German tool brand that can claim to produce high-quality tools at reasonable prices that are made to last.
What are the benefits of using a demolition hammer in construction projects?
Jack hammers are high-power and heavy-duty tools to get many jobs done on various construction sites and demolishing projects. They make the process of concrete breaking quicker and smoother.