Ronix Top-line series contains unique products of greater quality than other Ronix products and are intended for more professional and super-industrial applications and uses and to fulfill the professional needs of users across the world.
Ronix Top-Line rotary and demolition hammers with extremely high strength and speed will be the finest option for you. The speed of the products in this series is up to 50% faster than the rest of Ronix items, and 15% to 20% faster than the super brands' products such as Dewalt, Makita, Bosch, etc.
In the following, we will examine 5 top-line products that are divided into 2 sections.
Top-Line rotary hammers
A rotary hammer is a drill that utilizes spinning and pounding to break up concrete as the bit spins. We have introduced the top 3 rotary hammers of the Ronix Top-Line series.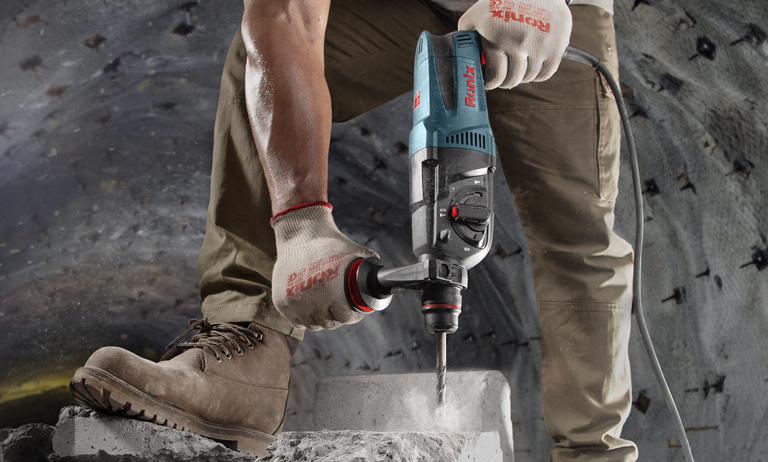 2712 Ronix Corded Rotary Hammer
If you're regularly drilling into wood, steel, or concrete, comfort should be one of your top priorities! With its 36mm SDS Plus bit holder, Ronix 2712 will provide this convenience to your job. Its high-efficiency 720W motor offers four operation modes: drilling, hammering, hammering with rotation, and chiseling, allowing you to meet all of your demands. The 2712's 36mm SDS plus bit holder may hold various sized chisel bits for optimal performance. This all-metal drill stand features a unique chisel rotating system for adjusting the hammering position to withstand large blows. In steel, the maximum drilling capacity is 30mm in steel, and in concrete is 26mm. This compact aerodynamic shape adds to long-term comfort, and the wide soft grip also helps prevent fatigue during long-term labor.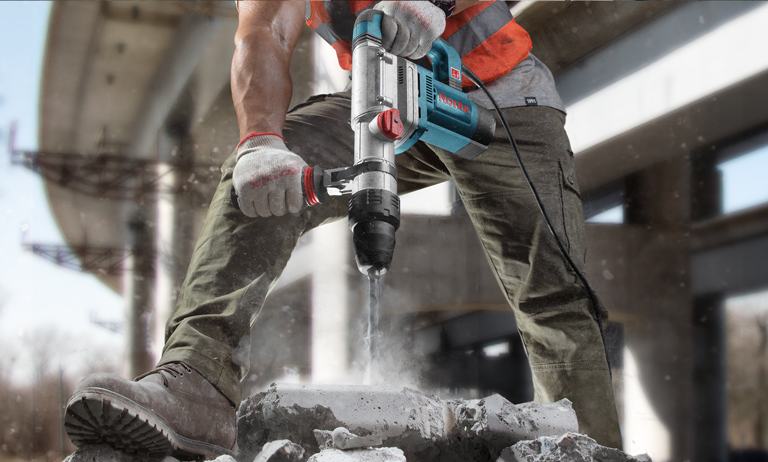 2741 Ronix Corded Rotary Hammer
You will never feel annoyed or powerless while using Ronix 2741 rotary hammer drill since its 1250W motor and hammering function with rotation will never fail you. 2741 has a die-cast magnesium housing, which allows for lightweight, greater heat dissipation, and increased body strength. Ronix 2741 Electric Hammer Drill comes with a 40mm SDS Max bit that can be tightened for improved performance. It also has a one-of-a-kind chisel rotating mechanism for adjusting the hammering position. The greatest level of accuracy is available for you now!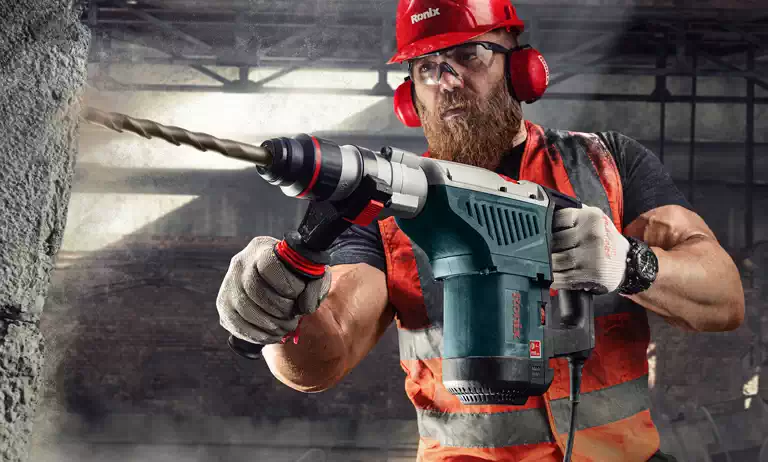 2742 Ronix Corded Rotary Hammer
Ronix 2742 rotary hammer drill weighs 8.3Kg and has enough power to offer all users.
2742 features two operating modes, hammering and hammering with rotation, to meet all of your demands.
Its exceptional demolition speed system is completely equivalent to top brands at its level, and its maximum no-load speed of 516 RPM is unrivaled in the industry.
Ronix 2742 Rotary Hammer Drill comes with BMC, which includes a 16 * 320mm drill bit, an 18 * 320mm drill bit, a 22 * 320mm drill bit, and a 25 * 350mm flat chisel drill bit, and across chisel cloth. Everything you need for large tasks!
Top-Line demolition hammers
Demo hammers are intended particularly to chip and break up concrete, brick, and masonry.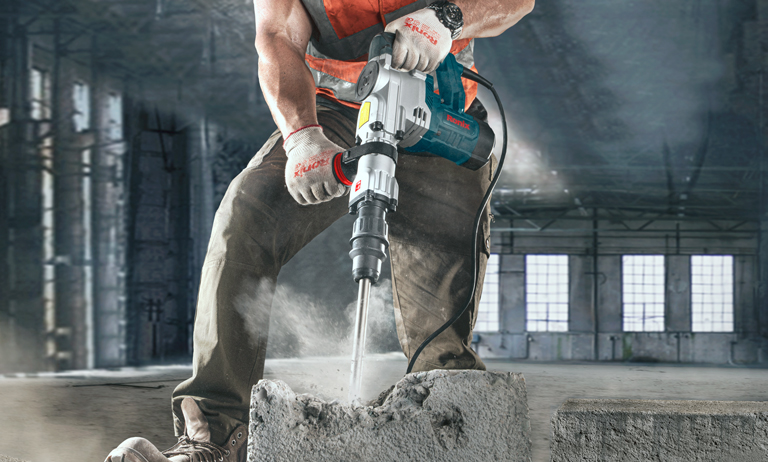 2800 Corded Demolition Hammer
There is no need to be concerned if something in your home or workplace has to be knocked down, demolished, or chopped away!
Demolition hammers are made to help you with this.
Ronix 2800 Demolition Hammer with 20J Impact Energy will come in handy.
This demolition hammer is smartly built for heavy-duty masonry work, with a maximum impact rate of 2400 BPM.
This tool's die-cast magnesium alloy housing allows for lightweight operation, greater heat dissipation, and increased body strength.
It also includes a variety of comfortable grips that reduce fatigue when working long hours.
This 7.5 kilogram includes a switch locking capability that may safeguard the armor indefinitely.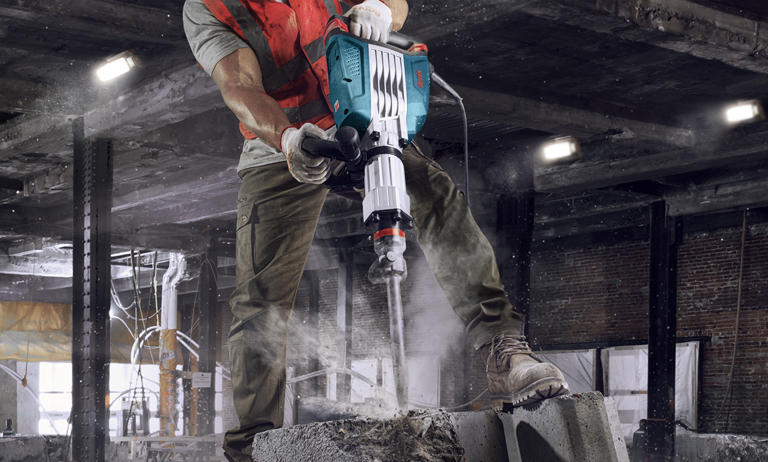 2802 Corded Demolition Hammer
Ronix 2802 demolition hammer is a power tool that may assist users in undertaking heavy-duty operations.
This 15.5Kg demolition hammer has a maximum impact rate of 1500 BPM, which is an impressive record for a demolition hammer.
Users will be able to wield a lightweight tool with exceptional heat dissipation and robustness thanks to its 1750W strong motor and die-cast magnesium alloy housing.
It also incorporates a dual anti-vibration mechanism to reduce the reflection of impact energy.
Ronix 2802 demolition hammer has a strong hexagonal chuck that can boost demolition performance dramatically.
This standard chuck will securely hold the workpiece, allowing you to operate them safely.
We've created 2 comparison charts to help you see the products' specifications more clearly.
Rotary Hammers
| | | | |
| --- | --- | --- | --- |
| Model | Chuck size | Power | Weight |
| 2712 | 26mm | 720W | 3.3Kg |
| 2741 | 40mm | 1250W | 7.3Kg |
| 2742 | 40mm | 1350W | 8.3Kg |
Rotary Hammers

Demolition Hammers
| | | | |
| --- | --- | --- | --- |
| Model | Chuck type | Power | Weight |
| 2800 | SDS Max | 1300W | 7.5Kg |
| 2802 | HEX | 1750W | 15.5Kg |
Demolition Hammers
Final Thoughts
The use of high-quality materials and a designed internal structure in the production of these Ronix-branded topline demolition tools has increased the speed and effectiveness of demolition in heavy-duty operations. Ronix's top-of-the-line power tools, such as 2742, 2712 Rotary Hammers, and 2800, 2802 Demolition Hammers, are incredibly efficient, with an ergonomic design and a long lifespan.
Ronix Topline Series tools compete with similar products from tool manufacturing giant brands because they provide great performance at an affordable price.
FAQ

1. Is a rotary hammer better than a hammer drill?
To wrap it up, the hammer drill is the preferable choice for smaller, simpler concrete holes. Rotary hammers do more difficult tasks faster and with more strength. They also offer a far larger and more adaptable bit variety.

2. Can we use a rotary hammer to break concrete? Rotary hammers use an electro-pneumatic hammer piston to generate high impact energy, which allows it to drill or demolish concrete. .