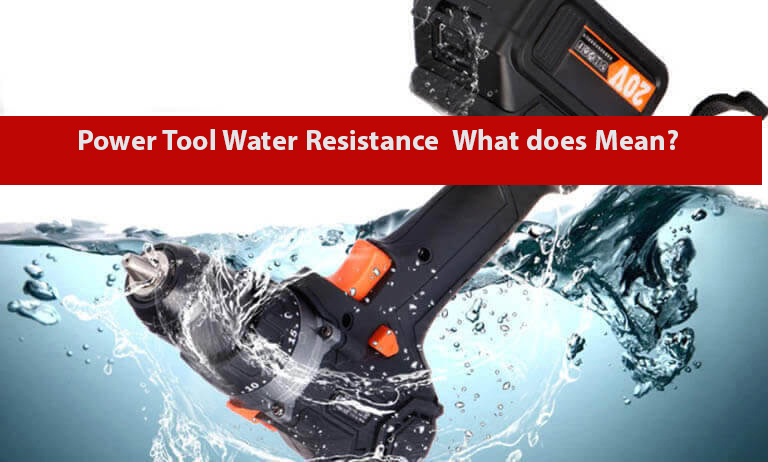 When one intends to buy a power tool, waterproofness, dust resistance, material hardness, and some other physical factors will undoubtedly influence his decision making, as nowadays, several mechanisms and standards have been designed to control or structure them. The water resistance factor is one of the elements mentioned above that guarantees the resistance and long service life of a power tool. In this article, we explain in detail the waterproofing of power tools.
---
What is the Power Tool Water Resistance Factor?
Water resistance factor is one of the issues with which one could ensure the durability of your tool or any other electrical appliance, particularly due to the many situations in everyday life where one comes in contact with water, such as rainy days, wet environments, plumbing tasks, etc. There is no doubt that the water resistance factor could protect us from such conditions.
📌 In fact, the permanent exposure of human beings and the tools they use to water led to a series of inventions and the design of standards and mechanisms to offer the indicated safety to users. So, making devices completely waterproof became an engineering challenge.
For this reason, the concept of IP Degree of Protection arose to regulate the water resistance fact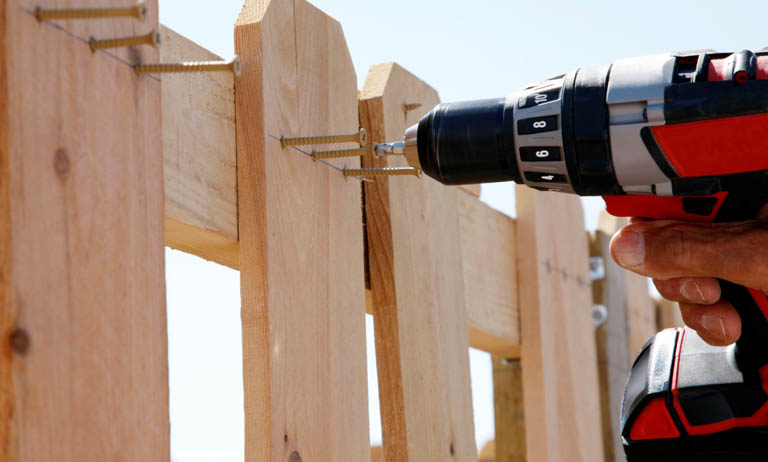 What is the IP Protection Rating?
In terms of power tools water resistance factor, the IP rating or IP rating is defined as the abbreviation of an international protection standard. It is the IP protection rating, that is, a two-digit rating mechanism that is applied to the housing of a mechanical or electrical element and provides customers with a clear indication of the tool's resistance to various types of unwanted intrusion, such as water, dust, etc.
📌 Scientifically, the IP degree of protection refers to the international standard IEC 60529, frequently used in the technical data of electrical or electronic equipment, in general for industrial use such as sensors, meters, controllers, etc. In fact, it specifies an effective system for classifying the different degrees of protection provided to them by the containers that protect the components that make up the equipment.
The above standard has been developed to alpha-numerically classify equipment according to the level of protection that its container materials provide against the ingress of foreign materials. By assigning different numerical codes, the degree of protection of the equipment can be identified quickly and easily.
If you are interested in learning more about all the features of a drill like Power Tool Water, chuk and .., you can read the article Cordless Drill Features to Look for in a Tool, which is written exclusively in this regard.
Keep Your Power Tool Water Protected
The ideal place to keep your tools is undercover and away from the possibility of getting them wet. If you must leave your tools outside, placing them on a waterproof surface, such as a tarp, is a good short-term option. It's also a good idea to store the tools somewhere higher if possible to minimize water getting on the tarp they're on.
Waterproof Cordless Power Tools
In power tool market, waterproof cordless drills were created for workers or boaters who want portable electric drills for operations in wet or submerged situations. These Waterproof tools can drill deep in salt, fresh, or chlorinated water. The waterproof drill is ideal for building and repairing dock and boat hoists, working in and around swimming pools and aquariums, boat and yacht maintenance, and installing aquaculture and scientific equipment in the maritime environment.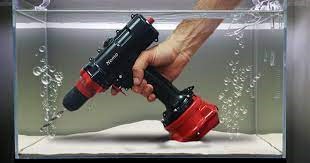 Having said that, there are some batteries and Power Tool Water Resistance that are known to be slightly waterproof but should never be immersed or exposed to rain or water. There also are some manufacturers who produce waterproof power tool battery chargers that can be safely used outdoors or by marines. They provide dust-resistant housing that is totally sealed, waterproofed, and certified IP67.
How to Make Your Cordless Power Tool Water Resistance
The procedure of water proofing power tools is straightforward. To begin, remove the battery and open the tool's side. Then spray conformal coating on the inside of the drill to protect sensitive electronics from the environment. This can be done with a silicone or lacquer-based coating. To be extra safe, apply 2-3 coats. Then, if possible, open up the battery and perform the same procedure on it.
Next, take some electronic insulating compound or dielectric grease and generously apply it to the tool's and battery's battery connections. The electrical connections will be protected against corrosion and electrolysis as a result of this.
📌 When you're done, your tool will be ready to use as usual, and you'll have peace of mind the next time it starts to rain or you forget your tool outdoors. However, make effort to remember to bring it in.
---
FAQ ❓
Is it possible to use Power Tool Water Resistance in the rain?
Your power tools may appear to be well-sealed and waterproof, but even a single little raindrop can do catastrophic damage to the equipment and the person who is handling it.

Are there any power tools that are water resistant?
Although certain equipment and batteries are water resistant, they should never be immersed or left outside in the rain.
Conclusion 📜
Although in today's global market, certain batteries and Power Tool Water Resistance are known to be partially waterproof power tools, they should never be submerged in water or exposed to rain. Some manufacturers also make waterproof power tool battery chargers that may be used safely outside or by marines.