The origin of a DRILL returns to the ancient times when primitive human used pointed elements (possibly rocks) to make holes in materials such as bones, horns, shells and ivory. Over the time, the rocks were replaced with rods, and later the bow drills were used by the Babylonians and Egyptians for making fire and working with wood and stone. Nowadays, drills are recognized as of one the most essential tools in any toolbox not only for professional users, but also the domestic ones.
They are perfect machines for drilling hard materials such as concrete, bricks, cement, plasterboard, wood, metals and etc. In this context, power drill offer the best results in comparison to the other drill types, since they depend on the electric current, and consequently are more powerful and resistant. In addition, they are continuous high-performance tools and have several speed modes which allow the user to adapt the force and speed to different kinds of materials and applications. In this article we will go through the diverse types of power drills and the most important features of this useful tool in detail.
What Are the Different Types of Power Drills?
Among a wide range of corded power drills there are two important types, namely electric drill and impact drill. Each type has so many features so that you can pick the one best suited for your job, since the best power drill for you depends on the tasks you want to tackle. In this part we are going to analyze these two important drills and detail the characteristics that the best should have.
Related Article: Best Cordless Drill Brands
What Is an Electric Drill Characterized By?
An electric drill is a very versatile tool which is usually shaped like a pistol and a trigger-shaped switch that is the one that operates the mechanism. It has a housing, which is usually made of reinforced plastic, which covers the motor and the frame. At one end it has a piece, called a "chuck", which holds the drill bit.
Electric drill is the most commercialized drill model and therefore the most widely used worldwide. Its use varies from large, medium and small industry to reaching our homes. They are used to drill any type of material and have various functions. The main advantages of a corded electric drill are power, speed and increased endurance.
The best corded drills for DIYers and professionals have mechanical speeds or "gears" that control machine speed and power. For example, for concrete it is convenient to use position "1" because, although it rotates slower, it delivers more power and the percussion does the job.
Power is measured usually in watts and speed of the motor in RPMs which is between 400 and 4500 and is controlled by means of pressure on the trigger switch. An adequate power for a conventional corded DIY drill is typically between 500 W and 850 W. For small tasks that we perform at home, it would be oversized, indicated only for professional uses.
In addition to controlling the torque of the motor, with a selector just before the chuck that, depending on the model, can have between 10 and 30 positions, as well as another function selector: screwing, drilling or hammer drilling.
A great example in power and speed of a drill we can refer to Ronix 2106B Electric Drill with 6.5mm Keyed Chuck which it is characterized by an efficient and high-quality 400W motor that delivers maximum 3500 RPM for great performances in wood and metal industries. By using this efficient handy power drill, not only you can expect the best functionality in drilling, but also screwing tasks.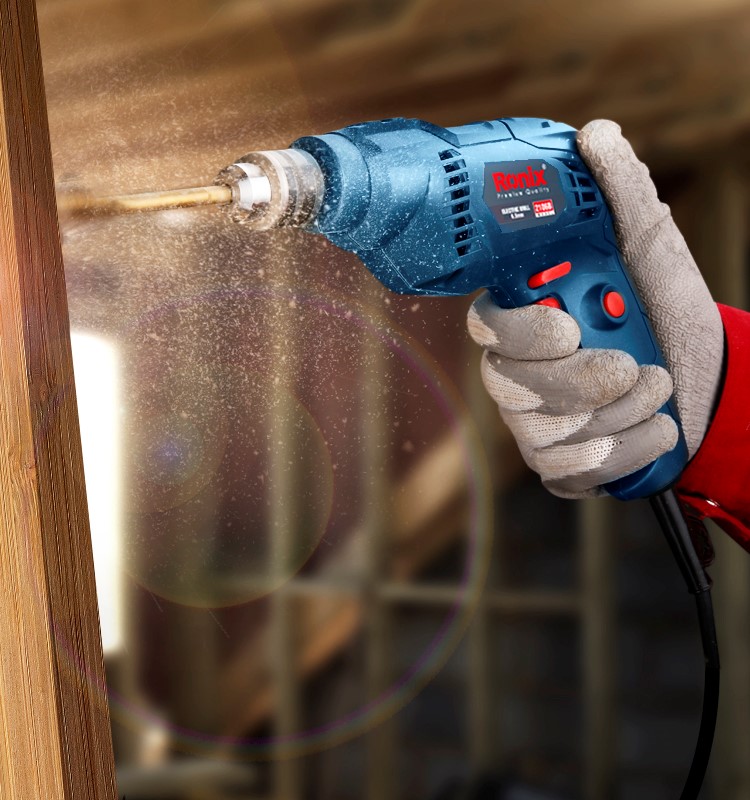 Furthermore, understanding a drill's main components and their usage will allow you to make better use of the tool, therefore it is essential to get much more familiar with different parts of an electric drill and their specifications, in order to make a better choice. So, let's take a look at the next parts.
Chuck: The drill chuck is the mechanism, with or without key, which holds the shank of the drill bit or screwdriver bit. The chuck key is used to open or close the drill chuck, mainly on corded electric drills. It locks the chuck and makes it more vibration-resistant. The keyless chuck is standard on cordless drill driver and makes changing out the drill bit much faster.
Speed range switch: The speed selector help you choose the most suitable speed for a specific application. In other words, variable speed control enables working at customized speeds in order to adopt to various materials and applications. For example, it is necessary to use a high speed for drilling into wood, and a slower speed to drill into stone or metal. It is also recommended to choose a slower speed for screwing in order to avoid blunting the screw head, driving it too deep, or damaging the material you are screwing into.
Forward/reverse function: This switch determines the motion, either clockwise or counter clockwise, a definite must which allows you screw and unscrew, and also loosen drill bits more easily after drilling a hole. Ronix electric drills such as Ronix 2106C Electric Drill have such a great and practical benefit. For better ergonomic use, the lock-on button is perfectly located behind the trigger to have a continuous operation and reduce hand fatigue during a non-stop trigger hold.
Trigger switch: There is only one way to control speed on corded electric drills, and that is by means of pressure on the trigger. You can also depress the button that will block the trigger, so speed will be locked into that position.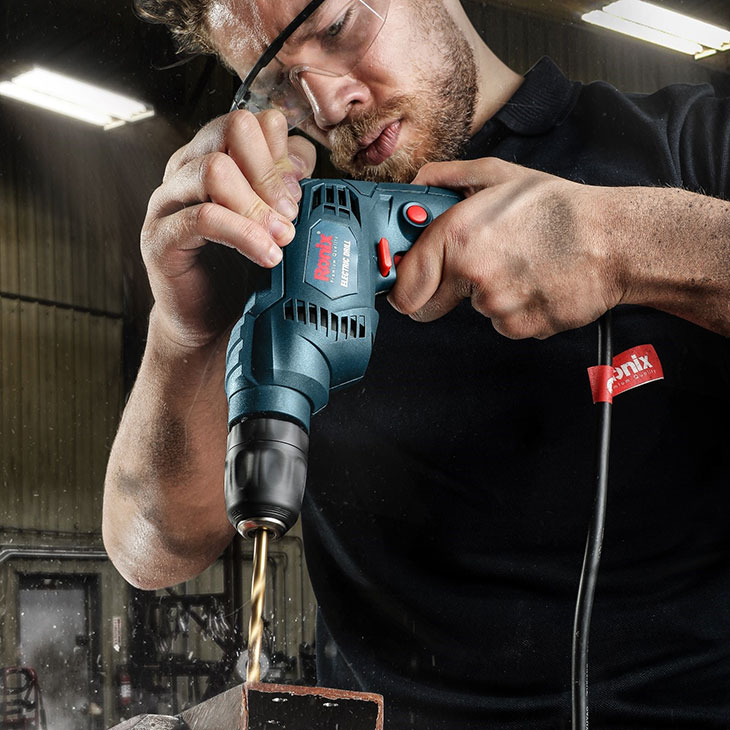 With these features, you can now choose the best drill that suits your needs and with which you will be able to start a fast and efficient job.
What Are the Most Important Features of An Impact Drill?
Impact drivers in comparison to electric drills utilize the same rotational motion, but as you are driving in a screw, impact drivers also mix in a hammering action that not only hammers down, but sideways. This makes it easier to drive screws into tough materials, and it prevents the drive bit from slipping off the screw head, which could potentially strip the head and ruin the screw.
With a power drill, you would normally have to apply a lot of pressure in order to prevent the drive bit from slipping, but the hammering action of impact drivers mostly prevents this, and all you have to do is apply enough pressure to keep the screw guided and on point.
Impact drill is also a great option for removing stubborn screws or bolts while reversing the spin direction. In fact, the hammering action can make it easier to remove fasteners that corroded or were over-torqued.
Apart from that, impact drivers use a combination of a higher torque with a fast-paced rotational strike, which delivers strikes from the rear to help the bit power through hard materials such as concrete. The rotational strikes help to nudge fasteners along while preventing the screw tip from spinning out of the grooves in the fastener. This might be more easily pictured as a wrench firmly placed onto a bolt with a hammer bumping it to add extra power as the bolt is turned.
Another example is when you use a traditional drill and hit a patch of hard going trying to drive the fastener in. When it comes time to add the extra muscle, you might begin to release and resume the drilling to give more impetus to the motion. The impact driver does this, but at speeds of approximately 50 of those release-resumes per second. It's fast enough to not be an overly bumpy process, but it is a loud one. Ear protection is recommended with impact drivers.
Impact drills lacks one, which makes it much shorter and capable of fitting into spaces a traditional drill wouldn't have a chance of managing. It also limits the bits that the impact driver can take, and the ease with which it can take them. Ultimately, impact drills come into play where muscle is truly needed and additional torque can drive long sheet rock screws, be found in tasks like cabinet installation, shop furniture construction, theater set construction, deck building, or framing anything with dimensional lumber.
Now, if you are thinking of buying an impact drill, you would better bear the following factors in mind so as to make a right choice:
Power: Before you check how much the drill you like costs, you should ask yourself if it has good power. In all power tools of this type, power is the factor that will determine whether you will perform low, average, or high for best results. The Ronix 2210 Impact Drill with an extremely powerful motor which delivers a power of 810W is recognized as an outstanding example for make holes in wood and metal workpieces. It is also equipped with hammering function, so that you can drill in concrete and tougher materials with it. Thus, this overloaded and high-power motor provides a perfect functionality in various types of drilling projects.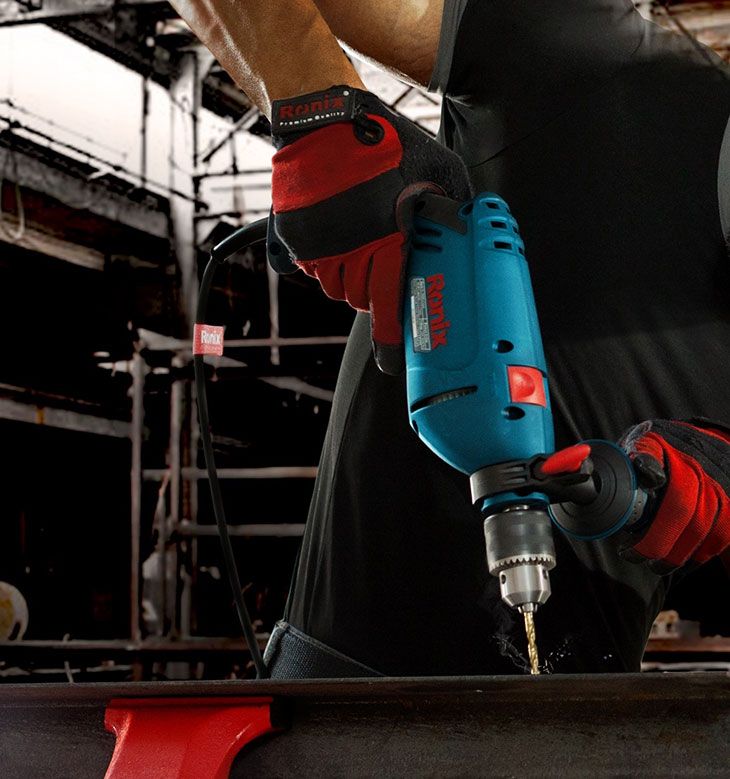 Size and transfer: While making a comparison of impact drills, you will find out that there are different sizes, some larger than others, but with differences of centimeters that do not greatly affect their operation. However, it is highly recommended that these types of drills have a compact and lightweight size due to the comfort of the customer. In other words, working for long hours with a heavy power drill definitely causes damages to the workers, because they have to carry this heavy weight continuously.
Furthermore, what we do recommend is that you choose a drill that includes a briefcase so that you can store it and take it with you anywhere, keeping the equipment and its accessories tidy. Verify that the drill holder is made of resistant materials and that it has a robust design, capable of withstanding shocks and falls to keep tools well protected.
In this context, the Ronix 2121 Impact Drillis a great option which only weighs 1.4kg and is the perfect power tool for continuous working. Its highly effective and powerful 450W motor delivers the best performance which is suitable both for drilling and impact drilling applications. its small, compact and robust body design will also let you work and move easily around your workshop and even at a construction site. To reduce hand fatigue, this electric is also equipped with an ergonomic grip.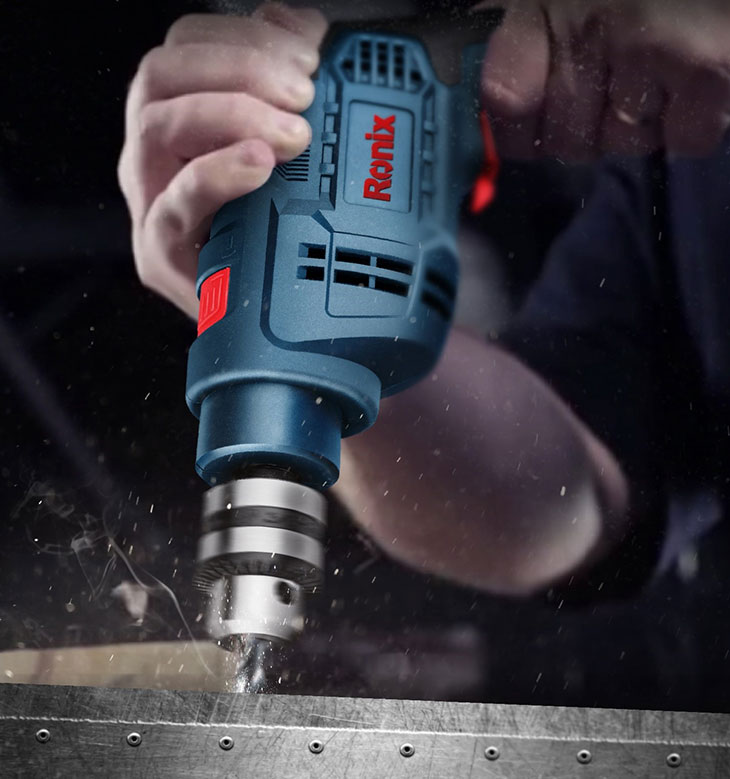 Speeds: Impact drills usually have two to three speeds modes because it is more versatile than those with a fixed speed. With various levels of speed, you can drill holes in different types of materials, some stronger than others, obtaining professional results without much effort. Similarly, they must have a speed control so that you can regulate it according to the task you do.
For example, when you start a hole, you can set the speed slow so that the bit does not slip off the surface and prevent damage to the area around the hole. Once the hole is set, you can increase the speed to finish the hole effectively. All the Ronix impact drills such as 2120 Impact Drill with 10mm Keyed Chuck, 2211 Impact Drill with13mm Keyed Chuck and 2210C Impact Drill with 13mm Keyed Chuck have variable speed control which enables the user to work at customized speeds in order to adopt to various materials and applications
Voltage: Voltage is another factor that plays a very important role in performance of a compact drill. For this reason, it is quite essential to identify and choose the best and the most suitable voltage in accordance with the task and user situation.
To sum up, buying a power drill is always a good choice, because not only gives you the opportunity to do any DIY work, but also by using this tool you can perform all kinds of repairs and even professional projects in less time and with less effort. You just have to pay attention to your needs and the materials which you are going to work with, and finally according to the features of each kind choose the best suits your requirements.