Hardware stores are one of the cornerstones of a community. The products that hardware stores provide, contribute to the building of furniture, equipment, houses, stores, and infrastructure in a town or an area. These businesses are extremely important because they are places where professionals and DIYers gather and talk about the latest trade secrets.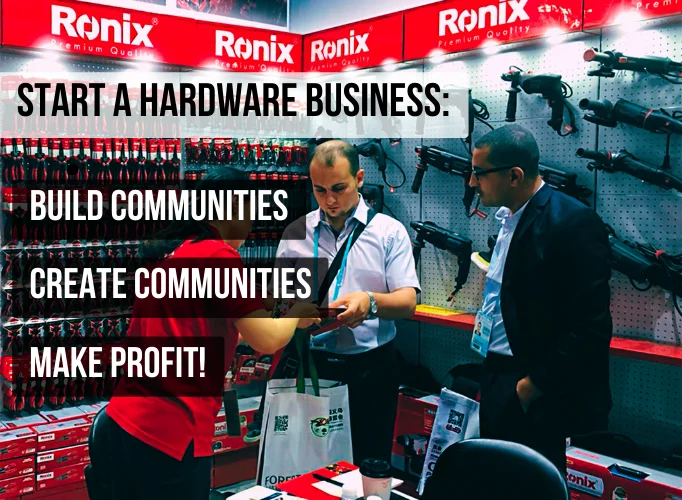 These stores are also lucrative businesses because of their high profit margins. If you want to enter into the hardware business market, right now is especially a good time because of how DIY culture has grown and become popular among millennials.
In the next section of this article, we will go through all that you need to know on how to start a hardware store and the steps you need to take, to set up and run a professional business in this market.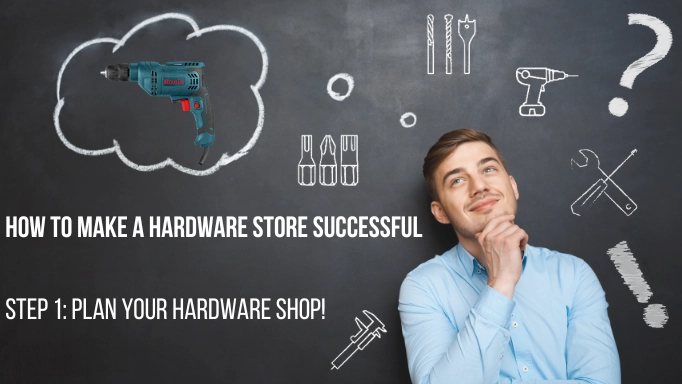 How to Make A Hardware Store Successful
Like with anything, the first step is preparation and planning. This step involves many things the most important of which is doing market research to find out the hardware needs of your target customers in your locality and how you can turn those needs into a profitable business. Another thing to take care of during the preparation phase is finding the right location for your business.
After we've given you all the information you need to prepare and plan your hardware business, the next step is taking care of legal stuff and finances. Follow us along as we delve deeper into this subject and give you detailed information on how you can start a hardware business and turn it into a success.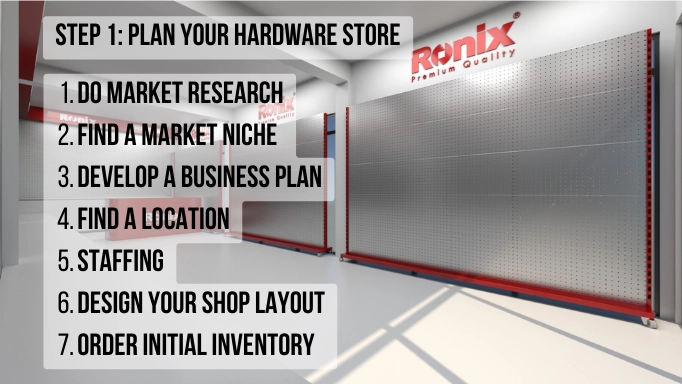 Plan your Hardware Shop
Starting any business in a new market requires planning and preparation, even if you are experienced in starting and running businesses. If you want to know how to start a hardware business, it's no different than any other business. So, what does it actually mean to plan and prepare for your hardware business? This step involves doing market research, finding a market niche, developing a business plan, finding a location, staffing, and designing the layout of your shop.
Market Research is an important step in the planning of any business. Market research is the process of collecting data and information to assess the viability and profitability of providing a product or service in a new market. This step involves assessing the demands of a product or service in your area as well as analyzing the competition. You also need to find ways to target your target demographic.
Finding a Market Niche is an important part of any business, especially in the case of hardware stores. This step is a result of doing thorough market research. There are many items that hardware stores provide such as power tools, hand tools, fasteners, pipe fittings, electrical supplies, compressors, locks, accessories, storage solutions, and even building materials. So, it's important to find the right niche and eventually, expand your business from there.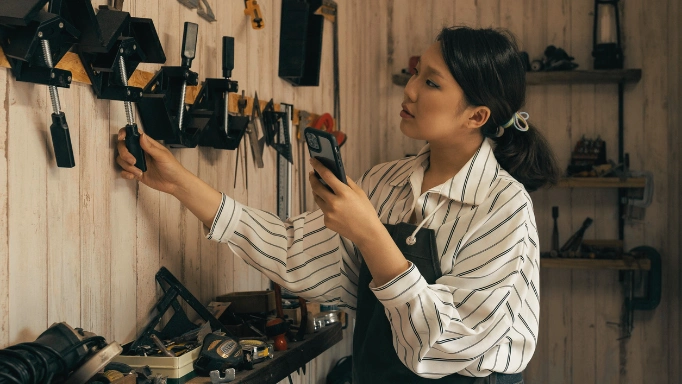 Developing a Business Plan in this field is the next natural step in the planning of your hardware business. After you've accomplished all the previous steps you need to figure out what your business model is going to be. Do you want to have a hardware shop that is completely your own? Or do you want to have partners? Or do you want to start a franchise store? What are your goals and visions for this business going to be?
Finding a Location is an important step in setting up a hardware shop. To choose the right location to set up your hardware shop you need to find a place that has enough foot traffic and is close to your target audience. You should also need to consider the amount of space you are gonna need to display all your inventory items.
Staffing is a significant part of any business. You need to figure out how many employees you will need and you need to make sure that your employees have sufficient training to help your customers.
Designing the Layout of Your Shop is the next step once you've gone through all the previous steps. Make sure your layout is designed in a way that can assist your customers in finding whatever product they need. You should also make sure that the layout you have designed matches your inventory.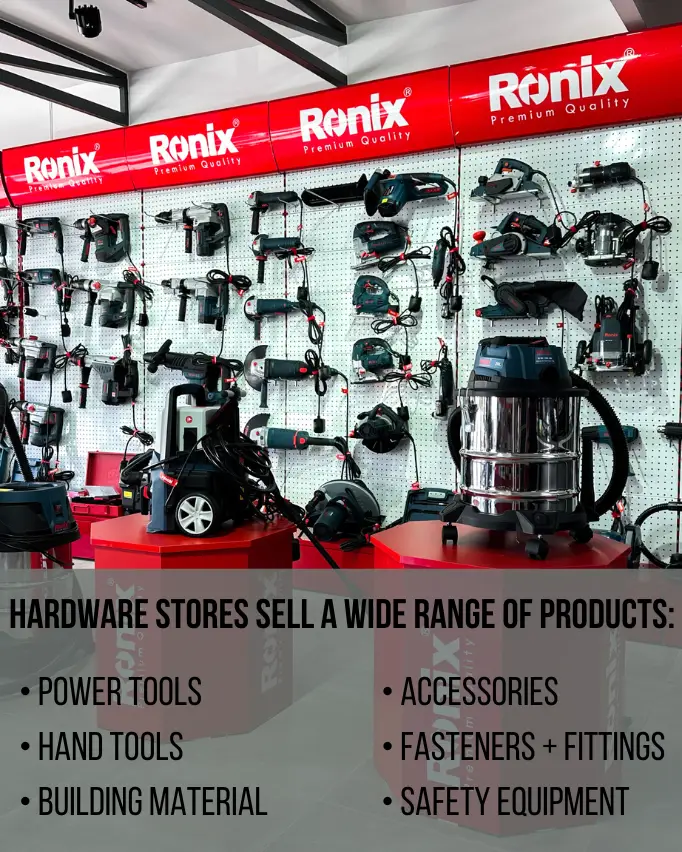 Think about what items and from what company you want to order your initial inventory. Think about the variety of items that you want to sell at your shop and find a good brand or store to order from. If you want to order a wide range of high-quality products at an affordable price, Ronix can help you with that.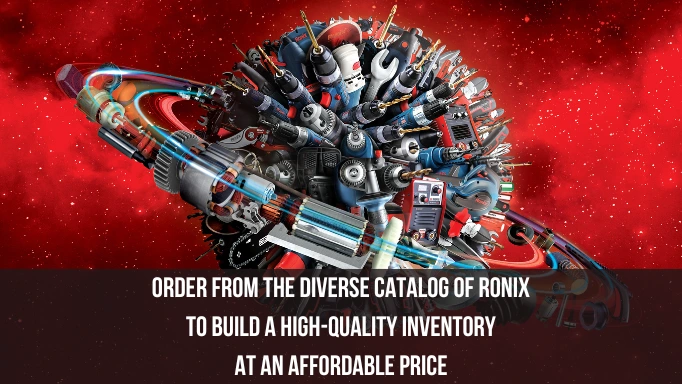 Form your Hardware Shop into a Legal Entity
After you have followed everything in our "How to Start a Hardware Store" guide, the next step is taking care of the legal status of your business. This step is different in every country and every locality. Therefore, our best advice in this regard is to consult a lawyer who specializes in commercial law. Alternatively, you can research laws for setting up a business in your locality.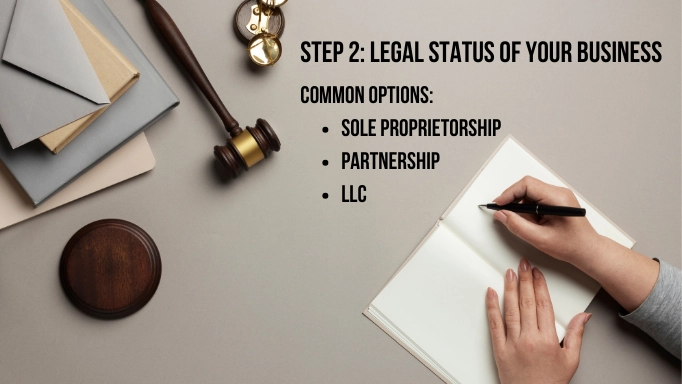 The first and most important step in this regard that needs to be figured out is choosing a business structure. Common options are the following:
LLC
Sole Proprietorship
Partnership
Each structure has its own legal and tax advantages and disadvantages. You need to research all these different steps to conclude your best option. It's worth emphasizing that the best course of action in this regard is always getting a lawyer.
This section does not conclude all there is to read in this article about actions to take in setting up the legal status of your hardware store. Read the following sections to get all there is to know in terms of all the legal and financial actions that need to be taken care of if you want to know how to open a hardware store.
Register your Hardware Store for Taxes
As Benjamin Franklin once said, "Nothing can be said to be certain except death and taxes."
If you own any business, you need to register for taxes. A hardware store is not any different. After you've taken the preliminary step of making the legal status of your hardware store official, you need to research your local laws to figure out the next steps for registering your business for taxes.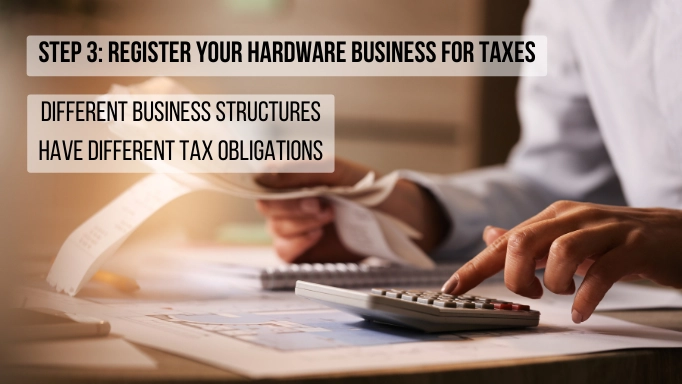 It's worth noting that your business structure determines your tax obligations. If your company is an LLC, your tax obligations are different from a partnership, or a sole proprietorship. There are usually other tax-related steps you need to take depending on where your business is located. In the US for example, if you own a business and have employees, you need to get an employee identification number (EIN) from IRS.
As always, your best option for figuring out taxes is talking to a lawyer or a professional. It takes a lot less time than having to research all of the laws and requirements all by yourself and you will save yourself a lot of headaches.
Other steps for opening a hardware store, which is also related to taxes, are opening up bank accounts, taking care of accounting, and getting the required permits and licenses. In the next sections, we will talk about all these steps in detail.
Opening a Business Bank Account and Credit Card
Opening a business bank account and credit card is essential for any business owner. As with every other step in this guide on "How to Start a Hardware Business", you need to research the options in your locality or area.
Again, your best option is to consult a professional. But here are the steps you need to take to open a business bank account and get a business credit card for your hardware business: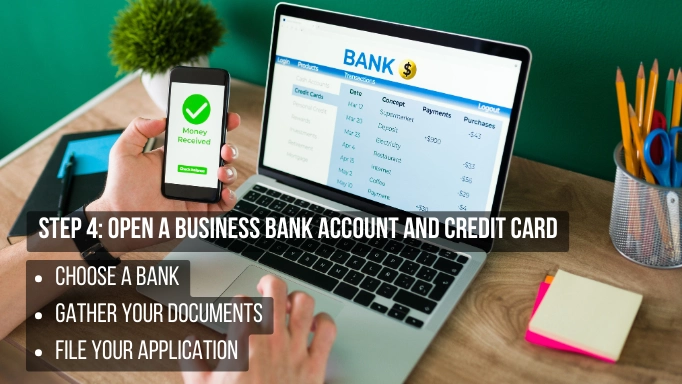 Choose a Bank after doing thorough research about all the banks in your area that can provide you with your required service. Do research on what the terms and the fees are for opening up a business account. You can do this step by contacting the bank itself or via their website. Make sure you don't miss the benefits, such as loans, that you can get if you open up an account in the bank you are researching.
Take Care of Documents you would need to open a business account such as your required business licenses and permits, your identification documents, and proof of address. We will talk more extensively about business licenses and permits you would need to start a hardware business.
After Filing your Application, the bank will review your application and if your application goes through, the bank will ask you to put in a deposit. You usually need to deposit a minimum amount of money in the bank to be able to finalize the process of making a bank account.
Getting a Business Credit Card requires extra steps and you usually need to provide the bank with documents about your previous business history and your credit score. Alternatively, if you can not get a business credit card, you can usually use your credit card.
Set up Accounting for your Hardware Shop
When you set up any business, one of the most important things you need to take care of is accounting. It should come as no surprise that our top recommendation related to doing accounting is hiring a professional. Submitting an incorrect tax reform for example can have dire consequences. So always make sure your accounting is taken care of in the best way that you can manage.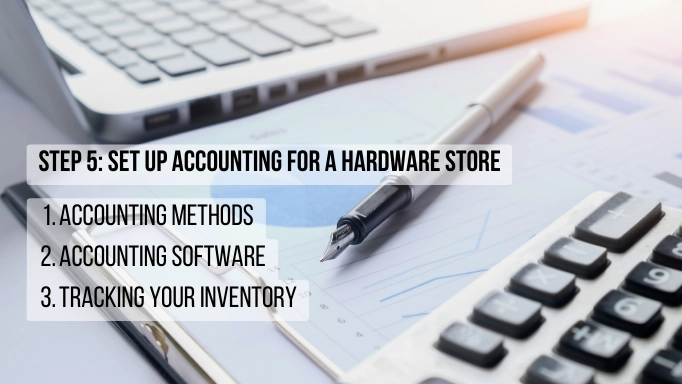 A lot of small businesses usually do the bulk of their accounting and rely on professionals to give them their accounting reports. It's always a good idea to do your research on the following topics whether you hire an accountant or not:
Do research about different accounting methods like accrual basis accounting or cash basis accounting
Choose an accounting software for your business. You can do your research and find the proper software for your own accounting needs.
Tracking your inventory is an essential step in the accounting of a store. Make sure you have a system set up for tracking your inventory.
Get the Necessary Permits and Licenses for your Hardware Store
One of the main requirements for opening up a hardware business is getting the required licenses and permits. Depending on where you set up your business, you will need different business licenses and permits for your business. Each country, state, or city is markedly different in this regard.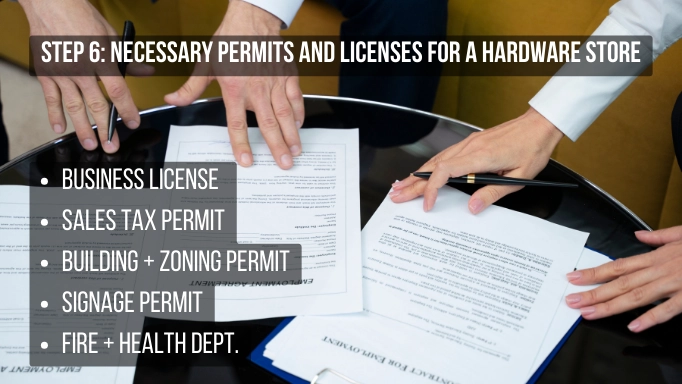 You can ask officials in your city or hire a professional to help you get the required permits and licenses for your hardware store. Your required permits and licenses may include the following:
Business License
Sales Tax Permit
Building Permits and Zoning Permits
Signage Permits
Permits from the Fire Department and the Health Department
Get Hardware Shop Insurance
After you have gone through all the previous steps, you need to take care of insurance. Depending on what your needs are you need a range of different insurances. Most businesses will need general liability insurance. A general liability insurance takes care of any bodily injury, property damage, or personal injury that is caused in your area of business as well as any medical payments or legal costs.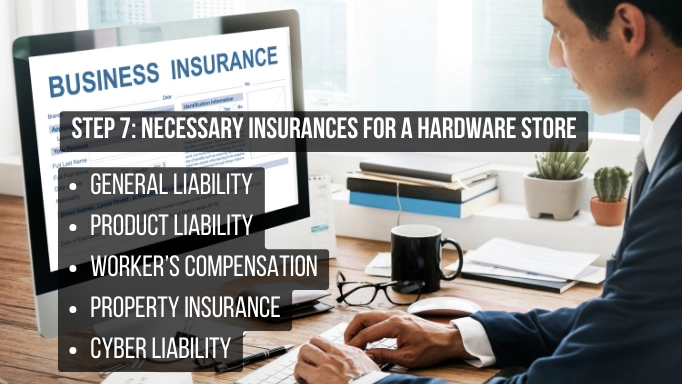 Depending on the unique situation of your business and your store, you might need the following insurance:
Product Liability Insurance
Worker's Compensation Insurance
Property Insurance
Cyber Liability Insurance
You should always consult with professionals about what types of insurance you will need for your business. So, always talk to an insurance broker or a lawyer to see what type of insurance policy you will need for your hardware business.
Define your Hardware Store Brand
One of the most important steps in the branding of a hardware store is choosing a name for your business. Be careful when choosing a name for your business. It's usually hard to change the name of your business once you have chosen a name and made it official.
Another step in defining the brand of your business is choosing a logo. Make the logo interesting and relatable for your customers. You also need to think about your brand values and find ways to share the story of your brand. To bring awareness to your brand you can utilize the following: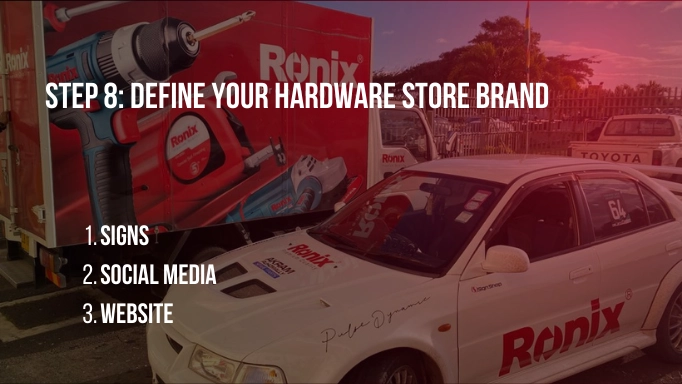 Signs: Using eye-catching signs in public is one of the oldest advertising and branding techniques.
Social Media: Using social media has become a staple for every business nowadays, whether small or big. Taking advantage of social media is an essential part of garnering attention to your brand, attracting customers, and creating a community.
Website: Having a website and hiring SEO (Search Engine Optimization) services can significantly boost your brand recognition and send potential customers your way.
If you ever order tools and equipment from Ronix, you will get advertising and branding services on the house! We provide all of the advertising materials our customers need such as signs, banners, business cards, etc.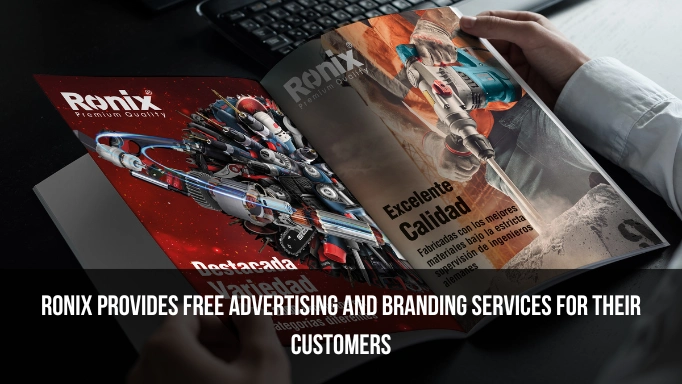 Create your Hardware Shop Website
Now that you know most of what there is to know in general on how to start a hardware shop, you should make sure that you don't skip this step. Making a website is something that can easily skyrocket your hardware business.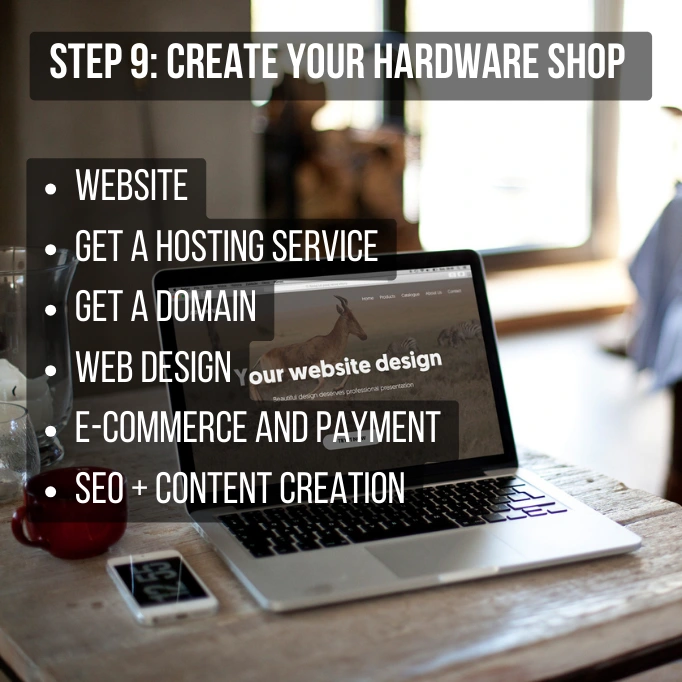 You have a lot of options for creating and managing websites nowadays. The first step is getting a hosting service and buying or renting a domain name. What you need to do next is set up your website. Some platforms give you layouts for your commercial needs, sometimes without the need for any knowledge about web development. But if you want the most professional result, you can always hire a web developer.
Depending on the functionality that you want for your website. If you want to sell products from your website, you need different services set up on your website such as e-commerce and payment functionalities.
Managing your website is the next logical step. Depending on how you want to run your website and what you want to use it for, you might need SEO services or you might need to create content for your website.
Set up your Business Phone System
Now that you know how to set up a hardware store, do not forget this last step. You might need a business phone system.
A business phone system is a system that allows businesses to satisfy all their communication needs within an internal network. What you need to do is figure out what your needs are. Your specific needs for a business phone system include the number of employees, your desired features, as well as expected call volume.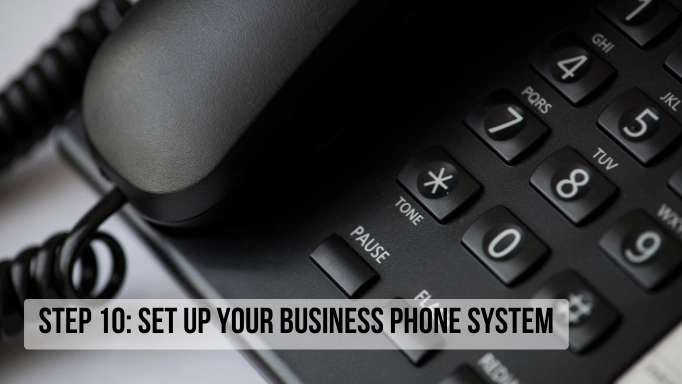 After you have determined your specific applications for a business phone system, you can then choose a phone provider and a method for proving a business phone system. The most popular method for setting up a business phone system is a VoIP (Voice over Internet Protocol) system which uses your internet.
How Much Does It Cost to Start a Hardware Store?
Now that you know how to start a hardware business including all the steps, you might want to know what the cost of all these tasks is. There are different estimates based on your location. The lowest estimate in the US is around 80,000 dollars. You should always do your research, talk to a professional, and get your estimate based on your location.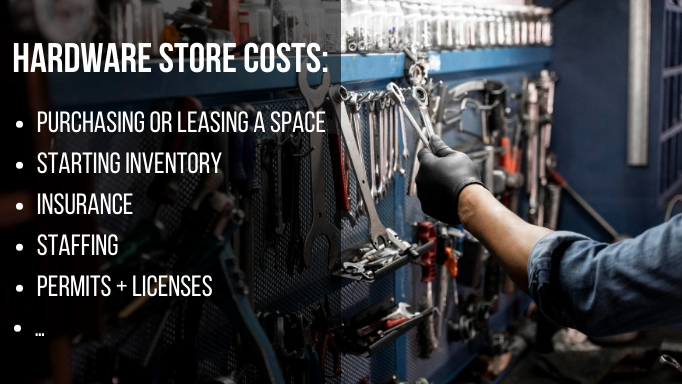 The first thing that we'll do is give you a list of all the different costs. The amount of the cost depends on your specific situation including your location, how big of a store you want, and how big of an inventory you want to start with. The major costs are at the top of the list. You can also hire a professional to assess all of the costs of your business.
Purchasing or leasing a space
Your starting inventory
Insurance
Staffing and training
Costs of permits and licenses
Store Equipment
Marketing and Advertising
If you want to buy a large inventory from a brand that produces a wide range of high-quality products at an affordable price that can not be competed with, you can order from Ronix. We also offer free advertising services to our customers.
How to Start a Small Hardware Business
Starting a small hardware business is not any different from starting a bigger business. All the steps are similar. There are plenty of profitable small hardware stores which also play a pivotal role in their respective communities. Every step is the same but perhaps their initial costs are not as heavy as bigger stores.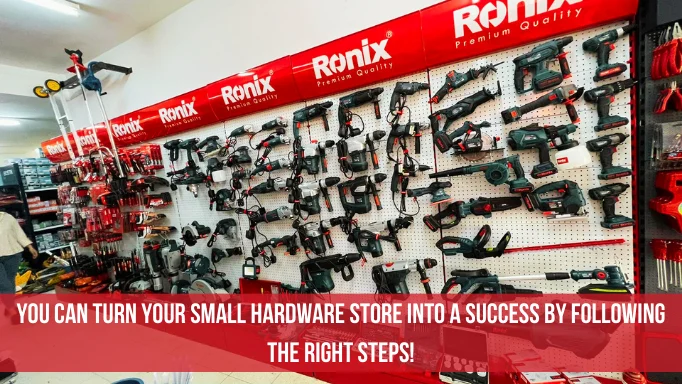 If you are a small business you should make sure of plans and preparation. You should do all of your research so that you can find the right place, the right market, and the right brand to order from. Ronix can provide you with a wide range of high-quality items at an affordable price. We also provide our customers with free branding and advertising services.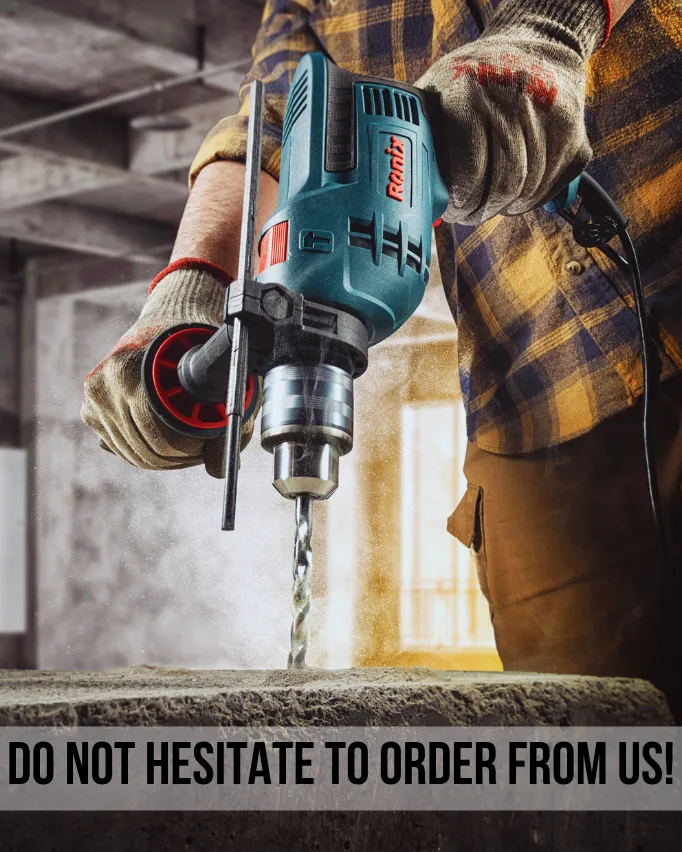 This concludes the end of our "How to Start a Hardware Business" Guide. If you want to order from us, you can get more information by browsing through our catalogs, and websites. You can also contact our sales experts to get more information.
FAQ
What are the initial steps I need to take to start my own hardware store business?
The first step is planning by doing market research. Depending on your local laws, you have to take care of legal and financial aspects of your business which includes registering your business entity, setting up a business account, getting insurance, and marketing. Also, think about your initial inventory.
What types of products should I stock in my hardware store, and how do I decide on the range of items to offer?
It depends on your market niche and the customers that you are trying to target. Power tools, hand tools, attachments, fasteners, pipe fittings, safety equipment, and building materials are some of the products that hardware stores sell.