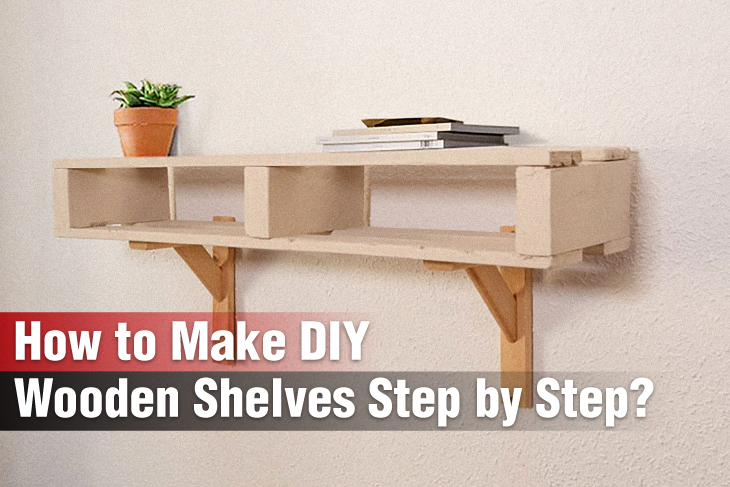 What is better than having well-designed and beautiful shelves to organize and store all the objects that we use the most in our daily lives? In this way we can have an easy access to different essential objects that we use without any confusion. One of the most popular materials for making shelves is wood, since gives us feelings of warmth and security.
You don't need to be a professional carpenter or craft expert to make shelves, it is enough to spend a few minutes to provide the necessary materials and tools and fallow the steps in order to join the movement of "Do It Yourself (DIY)" and use the best of your space with simple materials and little effort.
Why Do We Need Shelves and Where Can We Use Them?
Shelves are useful and decorative elements that offer multiple uses. Not only they allow you to place objects while maintaining order and cleanliness, but they also add to the decorative pieces you have in the room. In addition, they can be built using various materials, from wood to concrete. In this article we will teach you how to make wooden attractive shelves using simple materials and tools. But before that, let's take a quick look at different usages of shelves and the best places where we can place them.
Wooden shelves can be very useful for dividing spaces. In fact, they are considered to be a great option for dividing different kinds of sectors without preventing light from passing through.
Shelves for Different Purposes
If you have little space in your home and you want to enjoy living with various plant species or have your tiny garden for growing vegetables you can install wooden frame shelves and place different flower and plant pots on it.
Small, But Very Useful Shelves
We can place small floating wooden shelves in order to provide exhibition spaces for those objects that dress our rooms. Incorporating some shelves in contrasting colors allows us to highlight the objects worthy of being seen.
It is not necessary think about large structures for this purpose, you just need to include small shelves that give the environment dynamism and beauty.
In a place where order, cleanliness and practicality play a very important role, you must consider how you access the utensils of your daily use quickly.
In a small kitchen where there is little space, using shelves would be a great idea in order to visualize all the utensils you have and easily access them, because not only organizes different elements of the kitchen, but also enriches the senses in the environment.
While organizing your study or work material, it is necessary to have wooden shelves that allows you to quickly and easily find those copies that you frequently use.
It is not also strictly necessary that your shelves to be made up of equal units. You can incorporate some dynamism in the configuration of this type of furniture by adding divisions which help you maintain order.
Shelves for Covering the Wall
You can easily make wooden shelves to occupy the entirety of a wall in order to provide a private space where can be used as an ideal place to accommodate your most precious things.
In the bathroom, generally, we have many frequently used items that if they are stored in drawers and cabinets, get messy very easily. Incorporating wooden shelves made with floating corbels is a great idea to organize and reach easily your everyday objects.
What Kind of Wood Can Be Used for Making Shelves?
Using proper construction techniques and materials plays an essential role in building sturdy and stable shelves. There are different materials and ways to make a wooden shelf, depending on the use you want to give it. The type of wood shelves depends on how nice you want them to look and how heavy the objects you place on them are. In the fallowing part we will go through different kinds of materials that can be used in constructing wooden shelves.
Softwood: softwoods can split easily so that they need to be pre-drilled for screws. One of the best softwoods which is strong, can be cut easily and painted, and is fairly inexpensive is pine.
Hardwoods: this kind of wood is more suitable for high-quality pieces that will be dyed. Although, hardwood is strong and durable, is much more expensive.
Plywood: this is an engineered wood from the manufactured boards family that can be quite useful for garages or laundry rooms. It is not as expensive as solid woods; but it is strong and easily cut.
MDF: this type of wood is made of powdered wood that has been tightly compressed and glued together. It's smooth, works easily, is painted well, but doesn't look good when is dyed. It can swell if it gets wet.
Laminated wood: Laminated wood is usually built by the parallel gluing of lumber boards in a variety of sizes and shapes. This kind of wood is considered to be one of the best options for making shelves to hold lightweight objects.
What Kind of Tools Are Necessary to Make Shelves?
Having a kit of basic woodworking tools can be an investment that helps you solve many problems and save so much money. Now, if you are going to make wooden shelves, you would better have the following tools in order to facilitate and accelerate the process.
Jigsaw
Jigsaws are extremely versatile tools and deserve a place in every tool collection. They are usually used to cut the wood. Ronix 4120 with a 650W universal motor is one the best jigsaws ever made. This tool is able to make a variety of cuts from straight crosscuts through to intricate curved and scrolling lines. Combination of 31000RPM with a functional blade roller guide ensures fine and fast cutting. Fit the right blade and no wood, MDF sheet or even metal sheet has a chance to resist.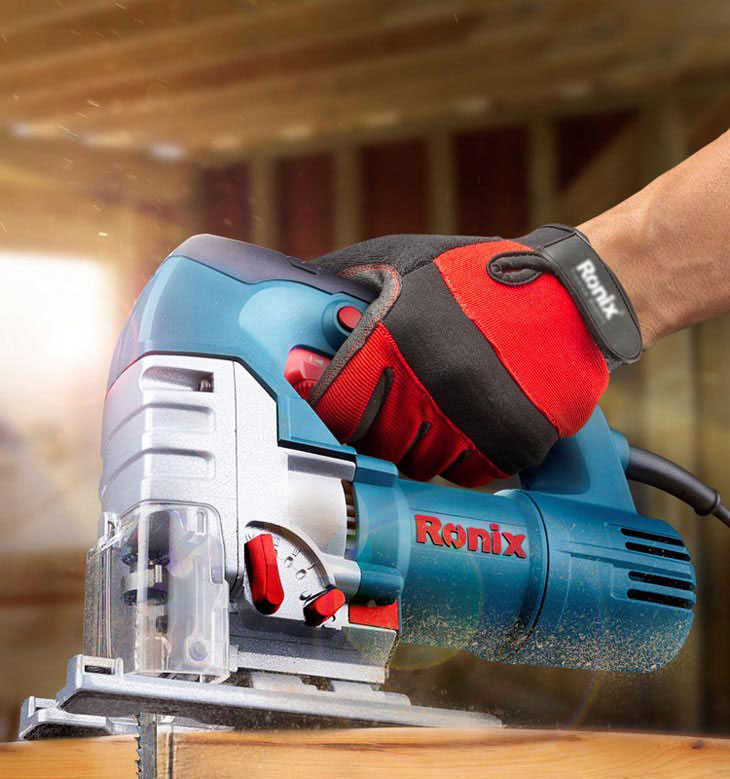 Sander
It can be done with hand sandpaper, but the ideal is to have an orbital sander, which is a portable power tool that works in a random direction of rotation. These sanders combine the speed and power to produce a fine finish. One the best sanders in this regard is Ronix 6401 Electric Sander which gives you the opportunity to experience the smoothest sanding operations. 6401 is powered by a 300W motor that uses this power to generate 13000 OPM which is considered to be as efficient as possible for aggressive stock removal. Dust collector mechanism on 6401 is one of the most important features that puts 6401one step ahead of competitor models.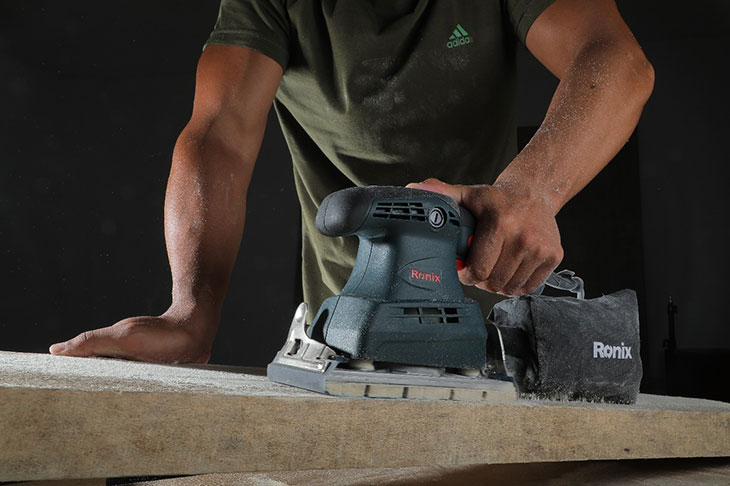 Drill Driver
These are one of the most popular components in any toolbox. It is used to make holes in wood, metal, plastic and other materials. In addition to the basic ones, there are models that add various accessories and serve to screw and unscrew fasteners, sanding, sharpening and grinding surfaces and even for mixing paint or mortar. Ronix 2107 Electric Drill with a light weight and an efficient 400W motor delivers maximum 4300 RPM for great performances in wood. Thus, you can absolutely expect the best functionality in drilling and also screwing for any woodworking task, including making wooden shelves.
Tape Measure
ape measures are one of the most practical and necessary tools for woodworking that should be included in your kit. It lets you measure the wood with a total exactitude and fix it in the right place. Ronix Measuring Tape can be a very handy tool for home repair jobs. They are available in a variety of models (RH-9034/RH-9054/RH-9058/RH-9018). They are 3m-10m in length, 16mm-25mm in width, and 1.1mm in thickness. Their nylon coated blades resist rust and corrosion and ensure longer lifetime, so they can ce a very good option for any woodworking.
Wooden Dowels
A dowel is a cylindrical rod, usually made from wood, plastic, or metal. … Dowel rods are often cut into short lengths called dowel pins. Wooden dowels are an essential building supply for homes, creating borders to coordinate with baseboards and other ornamental mouldings.
Wood Pallet
Free for the taking and bursting with raw style, pallet wood has quickly become a favorite material for savvy do-it-yourselfers. Pallet wood board is unique and there is rarely a need to distress this wood since most of it gains a natural, rich patina from exposure to the elements. So undoubtedly, it can be the best option for making a wooden self.
There are also some other elements thar are necessary for this project such as Bolts, Deck, Paint and screwdriver.
In the next part we will go through the different steps of making a wooden shelf. Let's start.
How to Make Simple DIY Shelves Step by Step?
First of all, do not forget about the safety and put on your safety gloves and glasses while using any tool, such as saws, sander or drill. In this case, you can absolutely count on Ronix products! Also, try to work in a clear, spacious and safe place in order to avoid any possible accident.
Measure and cut the pallet
Now if all the safety measures have been adopted, you can start; the first thing you should define is the size of the shelves according to what you want to put on it. For example, If the object you are going to put on the shelf is pretty heavy, the shelf should be made of hardwood with one or two supports in the middle.
Wood pallet plays a key role in this project the. What you are going to do is to use only a part of it and add some strip from the excess part to act as a bracket.
In the first place, mark where you are going to cut, so that you will not deviate and install it completely straight.
Remove two slats from the excess piece
Extract two slats from the pallet in order to give the shelves enough support and form the bottom part. Remove those two slats under pressure with a flat-head screwdriver, Ronix RH-2701 & RH-2702 Cr-V 7Pcs Screwdriver Set is a good option in this project . First, pry the screw to loosen it, then when it's out enough, pull it out with pliers. Do it very carefully so that the slats are not damaged, if the wood is very fine and is already somewhat deteriorated it will be easily split.
Sand the pieces
Now it is time to sand all the pieces that you have cut so far. First of all, sand the piece that you have cut both at the top and at the bottom. Also take advantage of this moment to sand well the two slats that you have removed in the previous step.
Paint the pieces
After preparing the pieces, you should paint them. First, you paint the piece you cut at the beginning and let it dry. Paint the two slats that you removed from leftover piece of pallet. You can paint the other part later.
Screw the pieces together to create the shelves
Take the largest piece from the pallet and place it on your work surface with the slats facing down. Now, take the two loose boards and place them on this piece leaving the part that you have not painted facing up.
Screw these two pieces together with the electric screwdriver. Embed two screws at each end and in the center of the two slats.
Paint the surface lying face up
You can choose any color you wish that best matches your decoration and your style. This is one the advantages of creating your own shelf! Let it dry again, now the shelf is somehow complete.
Screw two brackets to place the shelves
By using a tape measure, mark exactly where you are going to place the wooden shelves. Make sure the marks are straight. When you have those marks made on the wall, make the hole by a drill to insert the plastic plugs with the hammer. When you have the plugs on the wall, place the shelf and use the electric screwdriver to fix it on the wall.
Screw the wooden shelves to the brackets
Finally, what we are going to do is screwing the shelves to the brackets in order to prevent it from falling down. This step is the simplest but not less important. Place the shelves on the brackets, centering it. Now, from below, screw through the bracket and the shelves. Do this step on both squares. Now your wooden shelves are ready to be used!