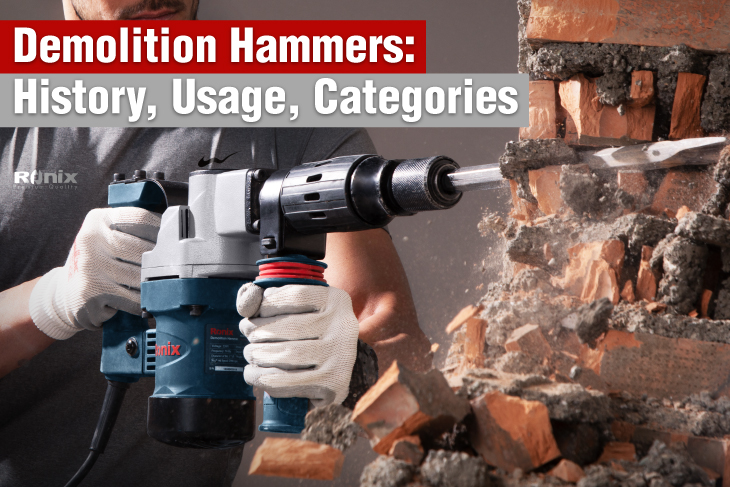 Demolition hammer is categorized in the hammers group and as its name implies, refers to a hammer that is used for demolition projects. Demolition hammer is one of the most important tools and used in all demolition operations from small jobs to industrial jobs. This device is used for the demolition of concrete and various structures and it is used in civil, construction and drilling operations; In other words, the demolition hammer is a necessary and essential tool for all jobs that are somehow related to construction operations.
How Does Demolition Hammer Work?
The demolition hammer actually has a hammer and impact mechanism inside. When the engine starts, the hammer mechanism is activated and the device starts hitting and making holes in the target material. The drills used in demolition hammers are different from other drills because these drills do not have rotational. They easily get into hard surfaces such as concrete, stone and cement so that they can make holes in the desired size in which a screw sinks and fits. Unlike rotary drills, these drills strike from the front and back and thus can create holes in hard materials such as concrete. Because of the fact that these tools work very quickly and powerfully, the demolition hammer is one of the main construction tools that every construction worker needs and should have in their toolbox.
Various types of demolition hammers
There are several types of tools, each with a specific purpose. For people who are looking to use a combination of drills and use them for different tasks, there are models of combination drills that have a variety of combination capabilities such as screwdrivers, drills and hammer drills that each one is for a separate application. But a standard hammer drill or demolition hammer usually has much more impact and digging force than a drill doing all those tasks. These drills are used for regular drilling and drilling of surfaces and hard materials such as concrete and stone. One of the heaviest and strongest models of hammer drills is its SDS type. They can be used to drill very hard asphalt surfaces. You can use an SDS drill to separate tiles or you can use it to break hard materials such as concrete. SDS actually refers to the type of chuck used in these drills.
Types of demolition hammers
Demolition hammer is divided into 15 to 20 kg based on weight and it is offered in various types. As mentioned, the strength of a demolition hammer is measured in terms of the number of bits per minute or joule, which results in two groups of hammers: industrial and non-industrial (heavy and semi-heavy work) demolition hammers.
This powerful machine has an impact piston in its structure, which increases the drilling power. There is a drill and engraver inside the machine that can be used as a demolition hammer. Each hammer drill can have various types of bit holders, SDS Plus and SDS Max.
Demolition hammer components
This device is usually made of a long handle, a heavy body, armature, cushion (stator) and gear that performs the destruction operation by hammering. The strength of a hammer is measured by the number of bits per minute.
Tips to choose the right demolition hammer
The following points should be considered when buying:
The device must have high power and strength.
If you only need a demolition tool, it is the best to use a demolition hammer instead of a concrete drill.
Choosing the right size drill in terms of performance is also an important point to consider when buying a demolition hammer.
 Note that according to the quality and efficiency of the device, you must consider the price. High-quality parts, anti-vibration system, gearbox shock absorber, high-quality gears, product warranty period, customer affairs as well as accessories in the box along with quality standard are all items that affect the price of demolition hammer and should be purchased.
Visit this page: power tools company
The best brand of the demolition hammer
Various brands have made and produced demolition hammers, the most successful of which are the Hilti, Bosch and DeWalt and Ronix.
Safety Tips Using a Demolition Hammer
Observing safety tips when working with this device is one of the important points that should be considered, including the following:
Before starting work, make sure that there are no cables and electrical, water and gas installations.
The power cords of these drills are long and sometimes cause falling or other accidents. Therefore, you need to be careful while working with it.
Be sure to use the auxiliary handle and keep the drill as stable as possible.
Wearing safety goggles to protect the eyes is one of the important points that must be observed. To control the device, hold both the main and front handles firmly when using.
Note that when using this device to perforate surfaces, you do not need to apply much pressure and can only apply gentle and constant pressure.
How you position yourself can increase your balance and control and increase your safety at work.
Important points to maintain and extend the life of the concrete drill
To extend the life of the device while using it, pay attention to the following tips:
Turn off or stop using the device for 3 minutes after every 15 minutes of using.
After every 100 to 120 hours, service your tool. Leave it to the experts.
Do not add any oil or grease.
Related Article: Everything About Power Tools History