The construction world is constantly expanding due to a number of factors including the modernization of cities and structures, the growth of various industries and factories, and the advancements of the machinery equipment used in construction and demolition projects.
When it comes to concrete breaking, it is critical to utilize the proper equipment and procedures to guarantee that the job is done in the best way, such as rotary hammers, diamond saws, and the use of sledgehammers + pry bar, as each tool has its own distinct strengths and limitations.
However, for large-scale construction sites, a high-power and heavy-duty machine is required to quickly and efficiently remove concrete and other hard materials.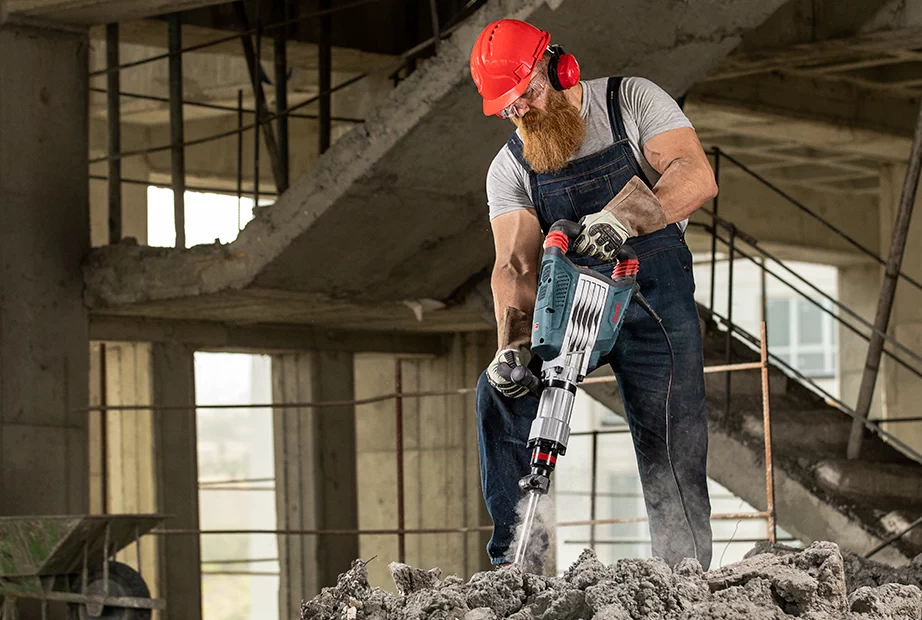 A jackhammer, commonly referred to as a demolition hammer, is one of the most frequently used pieces of equipment for cracking concrete. It is a strong tool that shatters concrete with tremendous impact energy. Depending on the needs of the operation, this power tool comes in a variety of sizes and styles. To ensure that the operation is finished safely and properly, selecting the appropriate jack hammer for concrete is essential.
In order to choose the best demolition hammer for concrete that is best suited to your project and construction site, some factors are involved. In the following, we will consider these factors along with introducing worldwide brands so that you can purchase the best jackhammer for concrete.
Best Jack Hammer (Demolition Hammer) for Concrete
Choosing the best demolition hammer for concrete depends on various factors and specifications. You need to specify the scale of your project. Are you going to take out a part of your patio, or remodel your entire garage floor? How much is the concrete's thickness? How much impact energy does your project demand?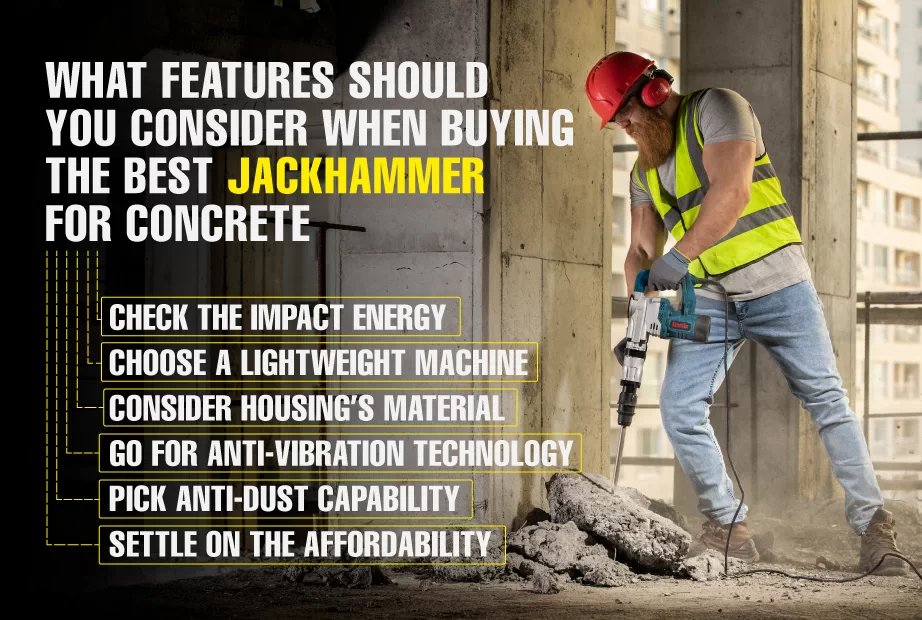 Moreover, demolition hammers vary in their source power. There are electric, gasoline, cordless, and pneumatic jackhammers in the tool market. Commonly, Gasoline and electric jackhammers are best to use for breaking through thick concrete or ground. However regardless of their power source, in order to find the perfect jackhammer for concrete, consider the following features.
Check the impact energy
Impact energy is the power that is produced in the tool's hammering system and transferred to its bit holder to strike the chisel and penetrate through thick concrete. This energy is indicated in Joules, and the greater it be, the more force jackhammer generates for breaking thick concrete and other hard materials.
Therefore, to have the best jackhammer for concrete, go for a tool with over 5Joules impact energy. You can find top high-performance jackhammers for concrete in the Milwaukee, Hilti, and AEG heavy-duty lineup.
Heavy or lightweight?
Weight is an essential element in choosing the proper jackhammer for concrete breaking. Your demolition hammer should have an excellent weight distribution while chiseling concrete in downward or horizontal applications. Moreover, the weight of your jack hammer for concrete mostly depends upon the type of your application, the thickness of the concrete, the penetration depth, and many other factors.
Heavier jackhammers are best to use on the ground. If you intend to demolish concrete on the wall, you need to choose a lightweight concrete breaker. Ronix, DeWalt, and Bosch offer a variety of different demolition hammers for all applications from light-duty ones to heavy-duty construction projects.
Consider the housing
As we discussed the significance of the jackhammer's weight, the housing materials of the tool also play a significant role in determining its weight. New jackhammers are typically manufactured of die-cast aluminum or magnesium alloy, which contribute to the lighter weight and better heat dissipation of the tool, resulting in a body with higher strength, more resilient spare parts, and ultimately an extended tool lifetime.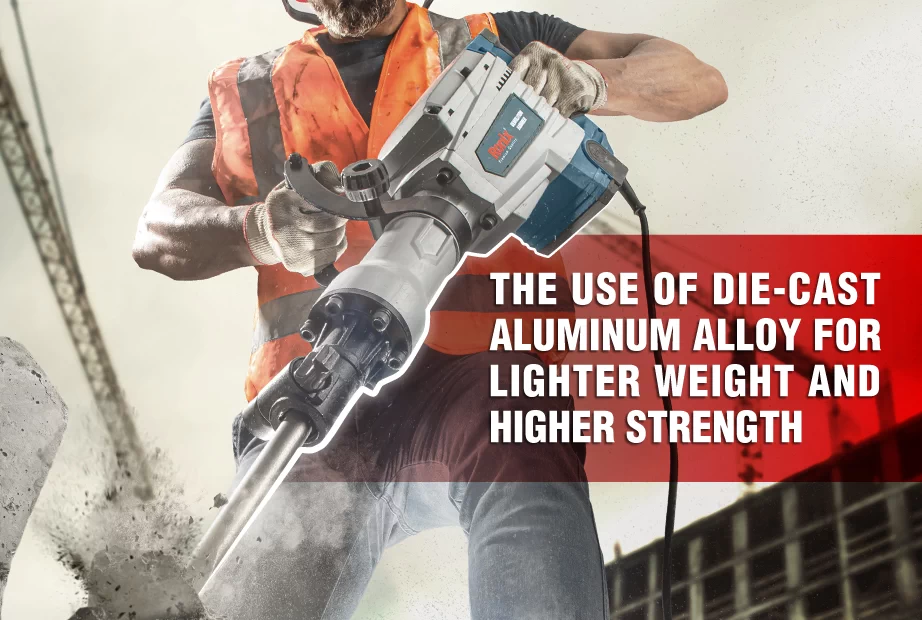 Therefore, before buying any demolition hammer for concrete, make sure to check its housing materials and go for a tool brand that offers powerful and high-performance tools in the most compact bodies, made of lightweight high-quality aluminum alloy.
Anti-vibration technology
Demolition hammers frequently cause the operator's hand and body to vibrate intensely when in use. Additional injuries and difficulties can result from this. The operator can avoid side effects like HAVS (Hand Arm Vibration Syndrome) and excessive vibration during lengthy workdays by using a tool with anti-vibration or double anti-vibration technology.
Tool brands integrate this anti-vibration technology in their products under various labels. For example, DeWalt equips its products with a SHOCKS Active Vibration Control, and Ronix uses an AVS anti-vibration system to reduce vibration for the user.
A dust-free operation; a durable tool
Dust is an inseparable part of a construction site. Especially when using a giant power tool like a jackhammer for concrete projects. There are many ways to control this dust so that increases the tool's durability and does not let it have a negative effect on the operator and the tool itself.
For instance, many brands like Bosch, Hilti, and Ronix use anti-dust switches on their demolition hammers to reduce dust penetration. Makita equips the jackhammers with a dust extraction capability with an optional Makita Dust Attachment Kit, and some DeWalt jackhammers come with silica dust containment systems, to reduce silica dust in the workplace.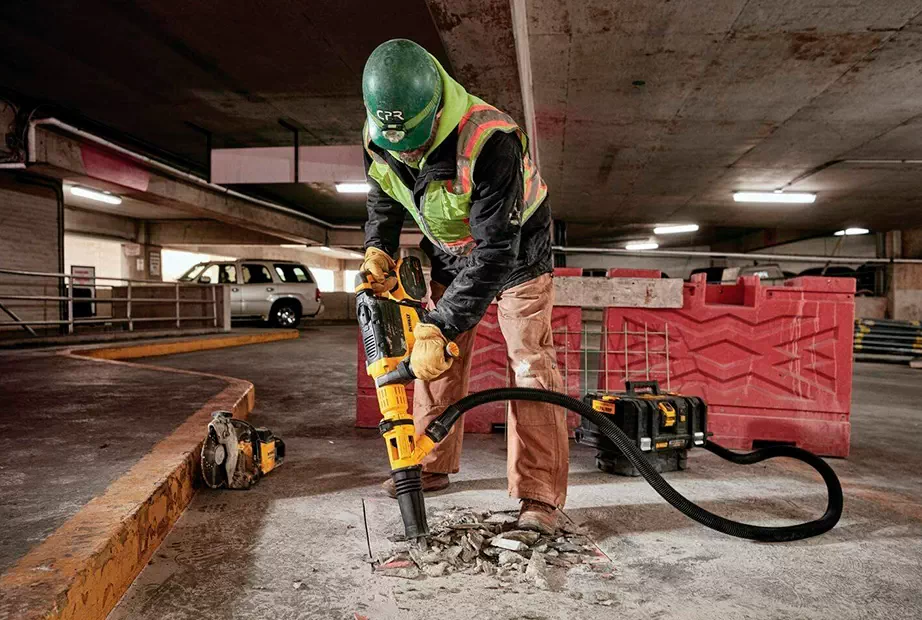 Affordable; with lots of accessories
Today's tool industry is full of various specialized tools for the smallest phase of a whole project. investing in all of these items will cost a huge budget and space for the users. Therefore, they tend to accomplish more tasks with a single tool and usually choose products that have more accessories in their packaging.
Some jack hammers come with accessories such as chisels, point bits, or carrying cases. Consider what accessories you need and whether they are included with the hammer. Usually, most of the tool brands include main accessories in their packaging, like pointed or flat chisels, grease bottle, auxiliary handle, and other accessories.
Our pick:
Having said that, many tool brands on the market include the majority of the characteristics listed above in their models. Some companies may produce high-quality demolition hammers for concrete that meet all of your needs on the job site. However, the majority of consumers seek a tool brand that fits these requirements while remaining cost-effective. We can tell you that Ronix Tools manufactures a comprehensive variety of high-quality, heavy-duty demolition equipment at competitive costs.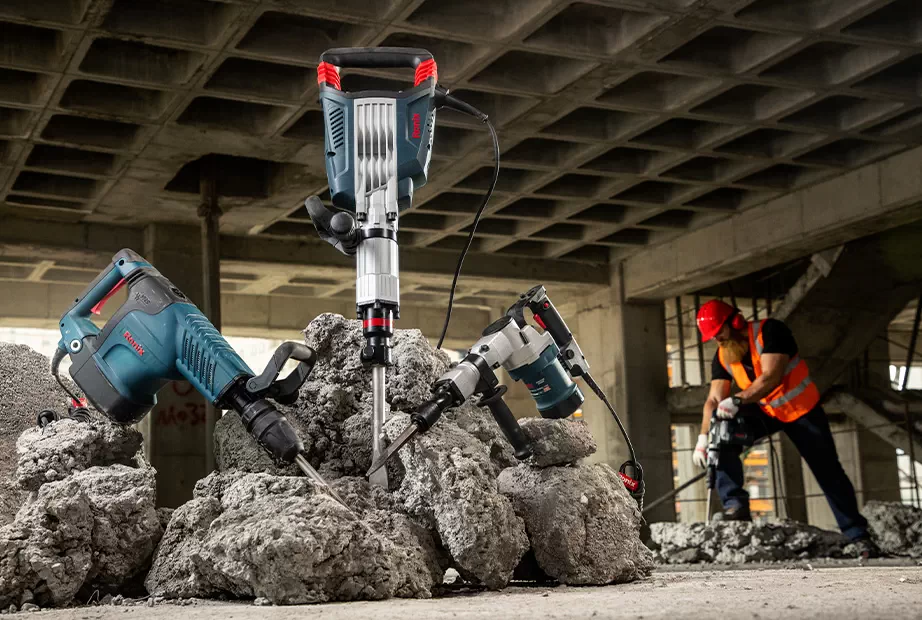 The size, kind of application, and hammering force of this brand's jackhammers vary, allowing a wide range of consumers to pick the best jack hammer for concrete. As a result, you can rely on Ronix to provide you with the best concrete breaker for every usage, application, or job location.
FAQ❓
Will a jackhammer break concrete?
The jackhammer is often used for breaking up concrete slabs, walls, and other structures in building and demolition projects. The jackhammer's pointed or flat chisel bit is propelled by a piston, which impacts the bit quickly and causes it to break apart the concrete.
Which hammer is used to break concrete?
Typically, a jackhammer, also known as a concrete breaker or demolition hammer, is used to break up concrete. Other hammers, such as a sledgehammer or a hand-held power hammer, can be used to break concrete, but they are often less efficient and effective than a jackhammer, especially for large-scale demolition projects.