A to Z of Tile Removal Works
Home remodeling and renovation is the new trend in today's construction world, and tile removal is an important step of this process. People want to replace their home's old flooring with new trends in home improvements, like stone floorings, porcelain tiles, classic wooden flooring, ceramics, vinyl tiles, carpet, laminate floorings, etc.
When beginning the tile removal procedure, it is crucial to keep in mind that the operator must be careful not to damage the underlayers. There are many tools (both hand and power tools) to operate home removal projects and they may vary according to the area of the operation (floor, wall, or ceiling). So, you might ask what is the best tool to remove the floor's surface?
People use various equipment like floor scrapers, and sledgehammers, or they do the removal task with the use of a hammer and a masonry chisel. However, there are more advanced machines to do this heavy and subtle operation, such as demolition hammers, which are also called jackhammers or concrete breakers. To accomplish the removal process successfully and with the highest efficiency, demolition hammers should be your go-to tool.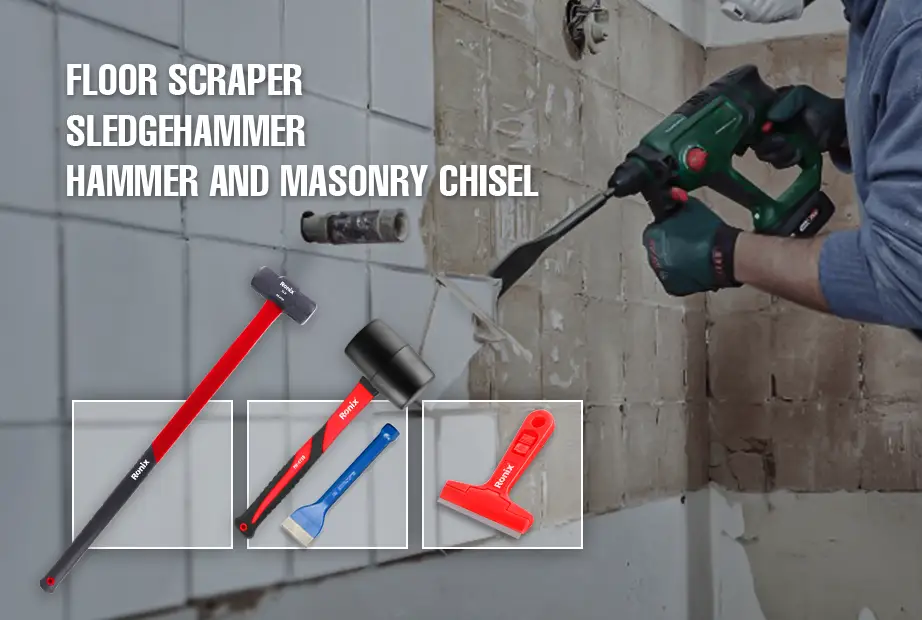 In this article, we're going to examine the features of the best jackhammer for tile removal, as well as introduce some brands in the market with the best demolition hammers to remove tile and brick.
Best Demolition Hammer (Jack Hammer) for Tile Removal
To choose the best jack hammer for tile removal and have a successful project, you need to consider some essential factors before purchasing your tool. The best demolition hammers for tile removal have certain features that make them efficient and effective for this task.
Here are some key features to look for when selecting a demolition hammer for tile removal:
How heavy should the tool be?
Depending on how they will be utilized, demolition hammers might be either heavy or light. It's crucial to choose a tool that you can use comfortably for long periods of time when removing tiles. You need to look for a tool whose weight you can handle. Especially if you're doing the project on the wall or higher spaces. Lighter jackhammers (usually 6–11 kg) are best to be used in the tile removal procedure to reduce hand and body fatigue.
Among the well-known brands in the demolition tools market, you can find lightweight ones in the Makita, DeWalt, and Ronix brands.
Choose the best chisel
As previously stated, using a masonry chisel and hammer is a common method in remodeling. However, if you use a jackhammer to remove tiles, you must choose the proper chisel, as it is a delicate and precise operation, and you risk damaging the floor's underlayers.
Flat chisels make your tile-removal process super easy because they have a larger cross-section and can be in touch with a wider part of the floor and lift more materials. However, keep in mind that this kind of chisel isn't very good at removing thick or condensed materials.
Therefore, if you're looking for the best demolition hammer for tile removal, you need to choose tools that have flat chisels in the box as an accessory or buy the chisel separately. Ronix's 2807 and 2820 demolition hammers from this brand's Topline collection, are lightweight and come with both pointed and flat chisels.
Protection matters most
Prolonged vibration exposure may result in fatigue and discomfort, as well as additional side effects and consequences on the operator's body and health status, such as HAVS (Hand Arm Vibration Syndrome). Especially with a giant power tool like a jackhammer, which has a high impact rate and high vibration while in use.
It's when the anti-vibration technology in breaker hammers is a great bonus and reduces operator fatigue and improves efficiency during long hours of work. The anti-vibration mechanism allows workers to work safer and not cause any lasting injuries.
Tool companies use various mechanisms to control this vibration in their products. For example, DeWalt equips its products with a SHOCKS Active Vibration Control to protect the operator. While, AEG and Ronix use an AVS anti-vibration system to reduce vibration for user comfort and safety, and Makita implies an AVT anti-vibration technology for less vibration with no compromise in power or performance.
Moreover, a double anti-vibration system minimizes the reflection of the impact energy and gives added protection to the user. Ronix 2802 demolition hammer is equipped with this technology, making it an ideal jackhammer for tile removal.
Control the dust in the environment
Tile removal can produce a lot of dust, which is dangerous for the operator if inhaled. therefore, you need to look for the best demolition hammer for tile removal that is compatible with a dust extraction system or has a dust collection system.
In case you want to purchase a product with a dust control mechanism, some DeWalt jackhammers, for instance, come with silica dust containment systems, to reduce silica dust in the workplace.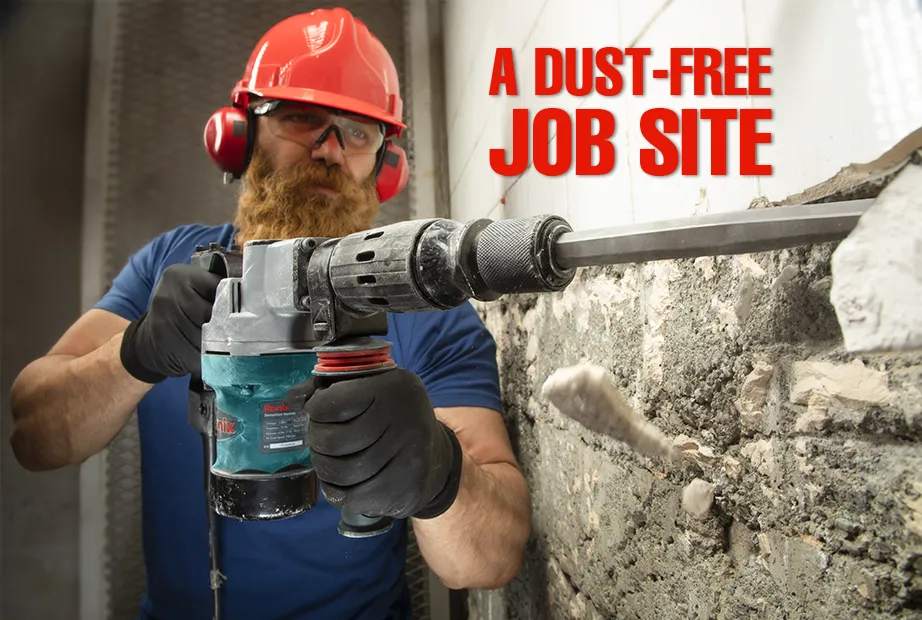 Note the affordability
Jackhammers are typically high-priced tools, and you have to allocate a large amount of budget to purchase a demolition hammer to remove tile. Due to this, you need to choose a tool manufacturer that in addition to being of the highest quality, is also reasonably priced.
Usually, some tool brands provide the best jackhammers with the highest quality but are not affordable for most casual or professional users. Some of them don't offer high-grade quality, despite their cheap prices. So, go for a brand that offers cost-effective products without sacrificing quality.
Ronix is a first-rate brand in the tool industry that manufactures the very best demolition hammers for tile removal at reasonable prices with the quality and productivity you're looking for.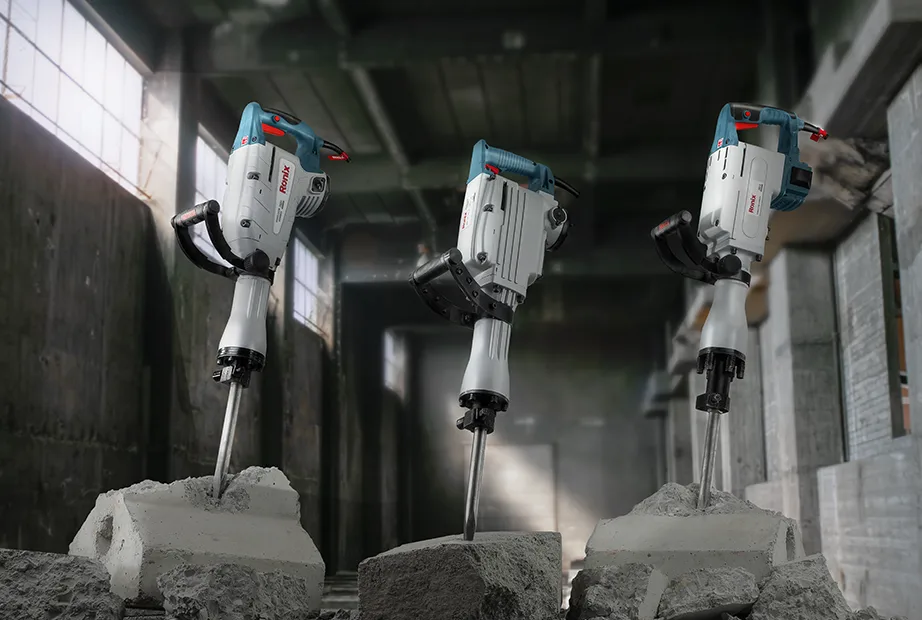 Taking everything into consideration,
In order to find the best jackhammer for tile removal, you must consider the following factors:
Select a demolition hammer to remove tile that is lightweight and user-friendly, and reduces your hand and body fatigue
Choose the proper type of chisel, whether a flat or masonry chisel
Pay close attention to the vibration control of the tool
Go for a tool with a dust control mechanism
And ensure that the tool is reasonably priced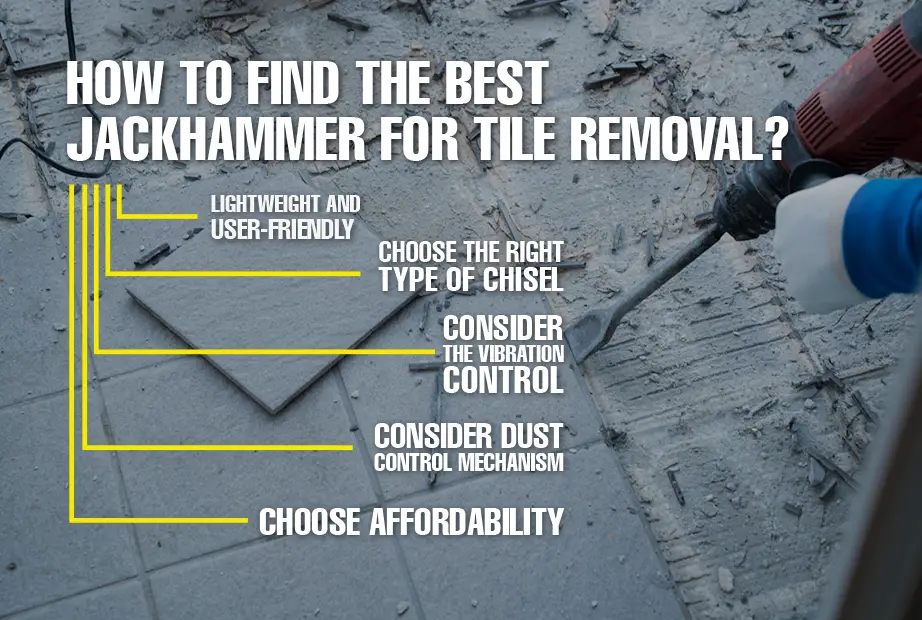 FAQ❓
What kind of hammer drill do I need to remove tile?
To remove tile, you'll usually need a tool with a chisel attachment. Jack hammers with flat chisel attachments are ideal for chipping tiles and bricks away from the floor, the wall's surface, or a brick wall.
Can you remove tile by yourself?
If you intend to remove tiles by yourself, it is critical that you first read the instructions and have the proper tools and safety goggles to protect your eyes.