Many experts in the tools industry talk about the features of air tools vs electric tools which shows nothing but the importance of these two types. In the past, there were only few industrial needs for air-powered equipment but in recent years, with the expansion of public use and increasing demand, a variety of these tools with different brands and qualities have entered the market.
The most common pneumatic devices tools are different types of impact wrenches, impact drills, drill drivers, air staplers, air cutting tools, air sanders and polishers, air hammers, air ratchets and so many others. They are all different tools with the same principle of converting the compressed air power to mechanical force. while the electric ones are powered by urban power.
Meanwhile, there are still some questions left; why should I use air tools that need external energy sources? What makes them better or more practical than electric tools? in what situations will they be wiser choices?  
If these questions have occupied your mind too and you are curious about this issue as well, read the A to Z about the qualities and functions of pneumatic vs electric tools in this article. Let's know more about these two, for the first step.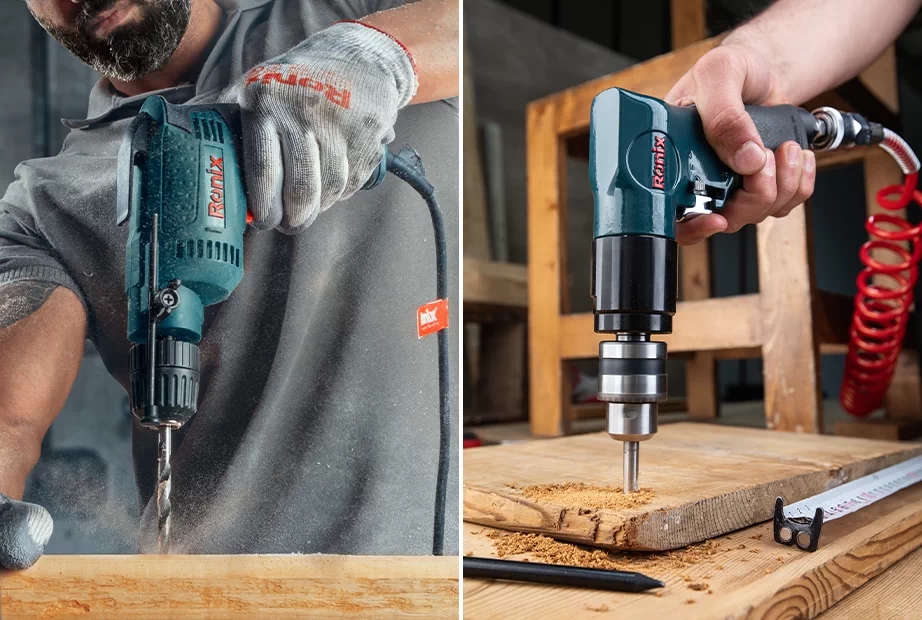 What Are Air Tools?
Air tools (also known as pneumatic tools) are referred to those tools which are driven by compressed air rather than mechanical force. They could also be used by carbon dioxide capsules for portability. Basically, there is no difference in the task they do but a huge dissimilarity in the way they overcome these tasks.
But, why not keep doing everything with power tools in old ways like old days? Of course by power tools we mean best power tools with highest possible quality.
Advantages of Air Tools Over Electric Tools
Here are some advantages of air tools over electric that will give you compelling reasons to consider pneumatic tools as the practical ones.
When comparing air tools vs. electric you will see many benefits that make you think twice about the excellent functionality of the air tool:
They are as strong as power tools and they do the exact same tasks
They are powered by an air compressor or a pneumatic motor which is safer to run and easier to maintain
Using these tools not only removes the risk of electric shock but also minimizes the risk of short circuiting
They have a better power-to-weight ratio which makes them smaller, lighter and cheaper tools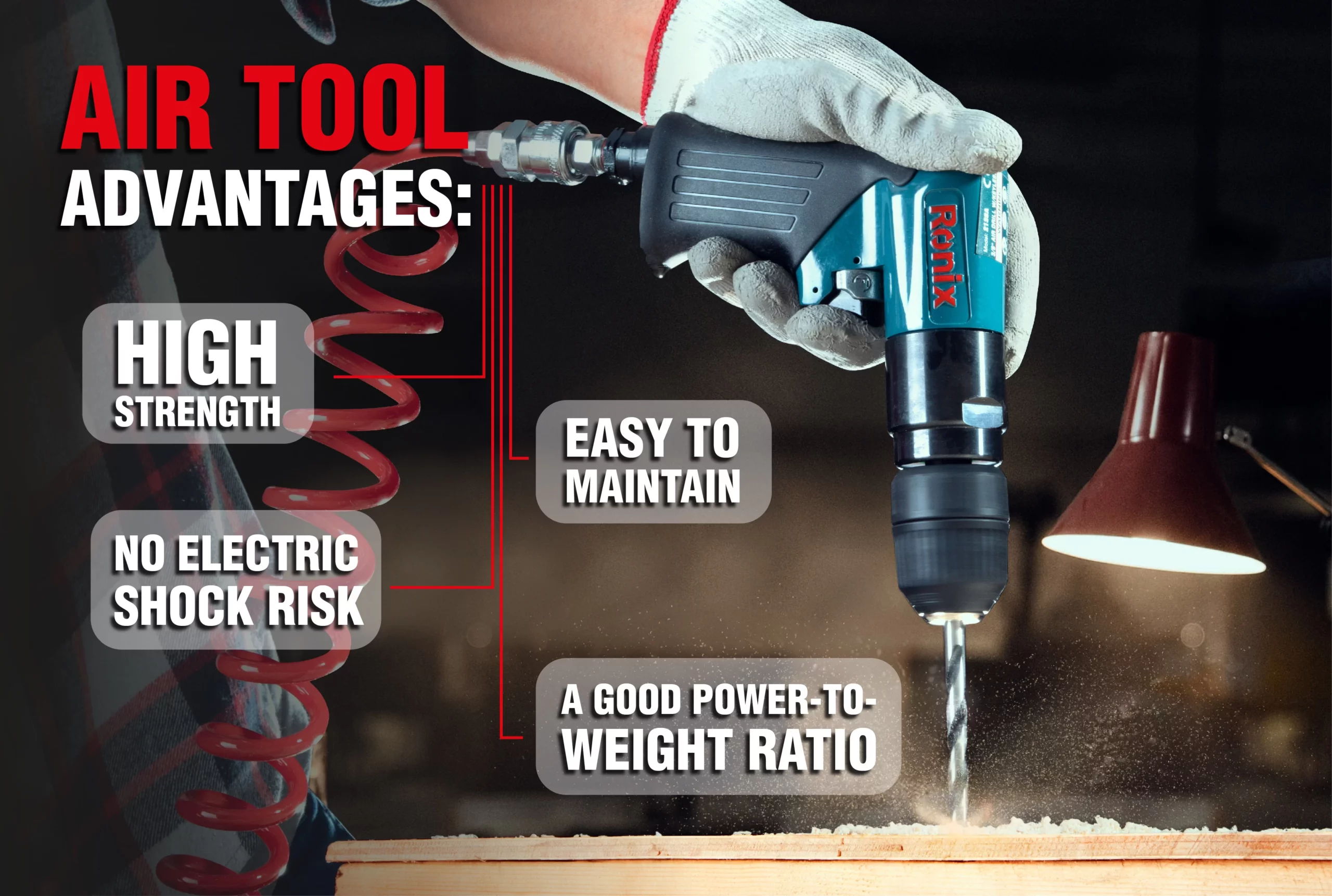 To evaluate air-powered tools vs electric more accurately, it is really good to know some terms and measuring units which can later be a good help for a better purchase. Pneumatic tools are rated using several metrics:
Free Speed (RPM)
Air Pressure (Psi/Bar)
Air Consumption (Cfm/scfm or m3/min)
Horse Power (hp)
Airflow (l/min, m3)
Each individual tool has its own specifications which determine their compatibility with air compressor systems.
Now a days Air Tools are used in nearly all major industries such as mining, construction and reconstruction, remodeling, road and highway construction, smelting, wood industries, mechanized assembling lines etc. due to this wide range of jobs there are thousands of pneumatic tools in the market in different sizes and shapes.
But, does it worth to buy one?
By the way, as all the Air Tools are powered by compressed air so all of them need an air compressor. So, buying a high-quality compressor might be expensive but since all the pneumatic applicators can be used with one, let's consider it a good investment. All that have been said the cost of Air tools are still lower than similar power tools. So, if they match your needs, do not hesitate, they definitely worth it!
Benefits of Electric Tools
Regarding all the benefits mentioned before, when analyzing compressed air tools vs electric tools, you need to know about the advantages of electric versions as well. They deliver some qualities that make them good options for many users, including the following:
· Their ease of use because users don't need to carry the power source
· They don't need no initial investment on power source
· They are more portable
· Their maintenance is easier than pneumatic ones because they don't need to be regularly oiled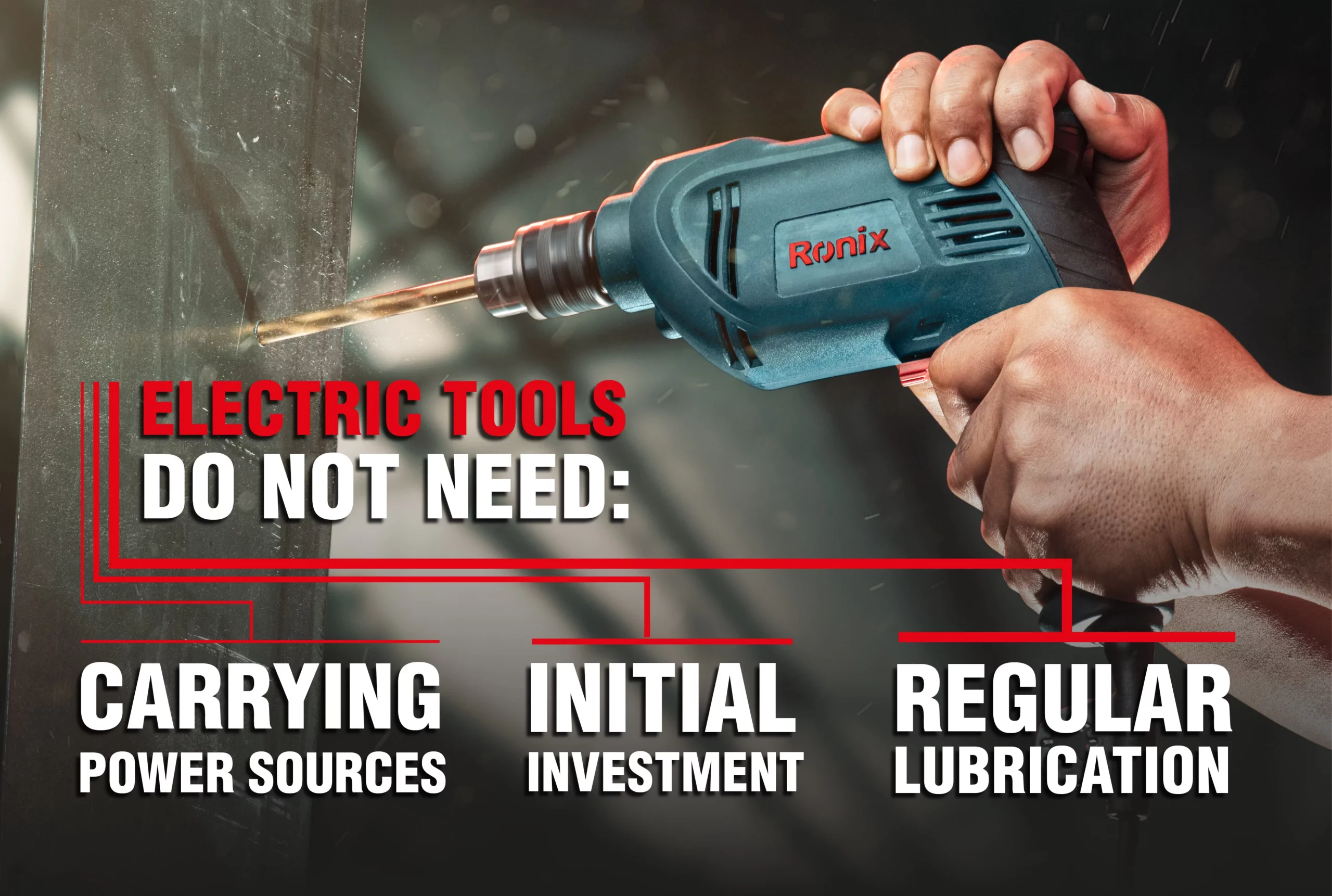 You read about the advantages of both types, now it's time to take a closer look at them and go into more details. Let's start with one of their most important features: Torque Rate.
Electric Tools Vs Air Tools Torque
When comparing pneumatic tools vs electric, it's important to consider their torque, which is a measure of their rotational force.
Analyzing electric tools vs air tools torque, electric ones such as drills or impact wrenches, typically have a higher rate than air tools of similar size and power. This is because electric motors can produce more torque with less energy loss compared to compressed air systems.
Additionally, electric tools usually have variable torque settings, which allow you to adjust the torque output based on the task at hand. This can be very useful when you need to apply a precise amount of torque or when you need to avoid over-tightening a fastener.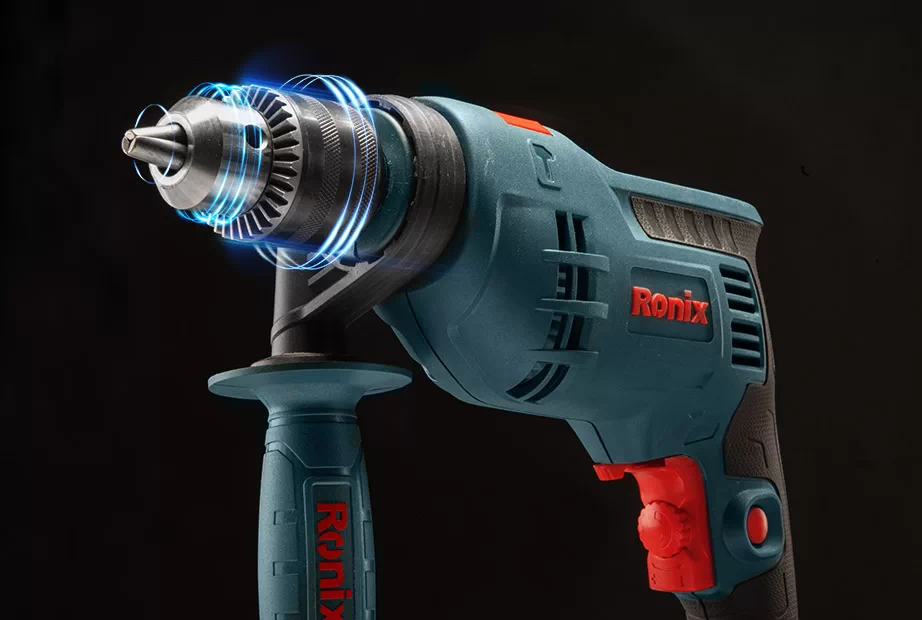 Electric Tools Vs Air Tools Maintenance
When it comes to maintenance, they have different requirements. But we can claim that in the pneumatic vs electric tools competition, electric versions typically are the winner. Because they require less upkeeping than their pneumatic counterparts. Because they have fewer moving parts and don't rely on a compressed air system. The compressor itself requires specific maintenance. Because it can easily introduce moisture and contaminants into the tool.
But this doesn't mean that the electrically powered ones do not need to be maintained. They should be kept clean, lubricated, and their power cords checked regularly.
Related article: power tool maintenance
Pneumatic Vs Electric Tools Life Span
Their durability depends on various factors such as quality, frequency of use, and maintenance. But when debating air tools vs electric tools under equal conditions pneumatic versions are the ones that outgo.
Generally, air tools tend to have a longer life-span than the electric-powered ones, because they have fewer moving parts. Also, as they operate at lower temperatures, they are usually away from the risk of overheating damages.
Final Thoughts
In this article, I placed air tools vs electric tools to help you choose between them sensibly. Each can bring different benefits and drawbacks regarding your requirements and type of job. Alongside, despite all their advantages and disadvantages, they should be of the best quality. There are several brands in the market that offer products with different levels of quality.
Ronix company has been producing tools for many years and uses its experience to debug all the competitor's product and innovate the most efficient and practical tools to fulfill all user's need. Air Tools are no exception in this game. Our company proudly introduces the most efficient and best seller pneumatic tools in the market. All the Ronix products are made out of the best raw materials with the most updated technologies in the world and that is why we are always few steps ahead.
Cutting-edge technologies and designs has always been a part of our policy in order to produce the best handy tools with the highest quality of raw material. If you are looking for reasonably priced, easy to transport and move, low risk tools to do you tasks consider pneumatic tools a good substitute for power heavy tools.
So, if you are seeking a supportive brand, ensure that Ronix company cares! We always come up with solutions to overcome this problem. One of the best ways to minimize tool damage in making them dust proof and water proof. Almost all the Ronix Air tools have these two specifications. All the bodies and triggers are covered with soft rubber in order to prevent corrosion, damage and rust. Also, Ronix air compressors come in different capacities to cover all household and industrial needs for our beloved users.
Another way is to teach our users some precautions. There are manual books with the tool which tells you how to take care of your tools. Almost all of them have special spanner in them to open specific parts and lubricate the moving components. There is special lubricant on the tools which you can use in this matter.

Amanda Smith
31 October 2020