If you have a wide variety of tools and finding them whenever you need them is nerve-wracking, organizing tools is the solution. When it comes to organizing your workshop or garage, tool boards are a great help. Tool boards, or tool organization boards, are designed to give you more organization and accessibility. One of the most popular types of tool boards are tool pegboards. A tool pegboard is a board with holes for tools.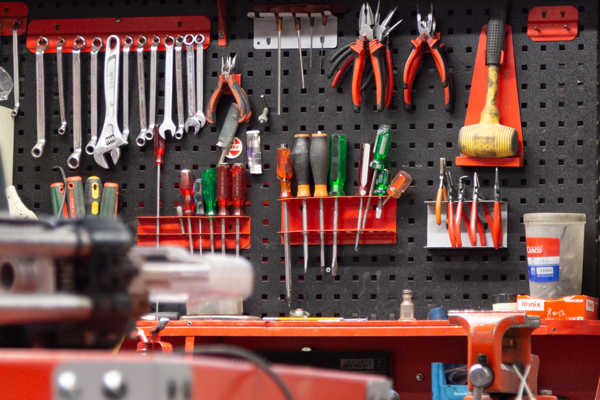 There are different tool boards made of different materials for different tools. Plastic and metal tool boards are the two most common kinds of tool boards. Tool boards are ready-made and available on the market; however, you can make them yourself if you are a tool enthusiast. The characteristics of a useful tool board and different kinds of them are explained in more detail below.
The characteristics of a good and durable tool board are as follows:
They are made of rigid and industrial co-polymer material.
It shouldn't crack, dry out, rust, corrode or peel over time, and it should be waterproof.
Easy to clean.
It has to be stain-proof and resistant to any chemicals.
For exterior use, it should be UVA safe.
It should offer plenty of space with a plain view and easy reach to different tools.
It needs to hold tools up to a reasonably heavyweight.
It should be easy to install and remove.
Different Types of Tool Board Materials
Plastic Tool Board
Plastic tool boards are appropriate for not-so-heavy, almost small-sized tools like screwdrivers, pliers, wrenches, etc. When buying plastic pegboards, remember to purchase tool boards made of durable and long-lasting material.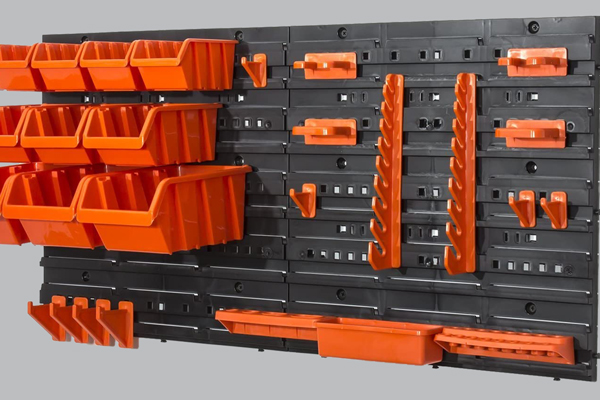 Metal Tool Board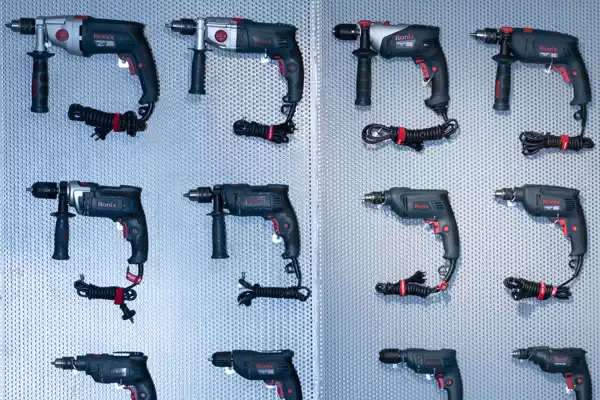 Pegboards made of metal are designed to hold heavy-duty tools. They are perfect for keeping drills, hammers, etc. Metal tool boards should be anti-rust and anti-corrosion to last for a long time, preferably. They can also be used with magnets, magnetic hooks, and magnetic lights.
Wooden Tool Board
Wood is the most suitable type of material for you if you are a DIYer and want to customize your tool board, as wood is the best readily available material that you can work with at home or in your garage.
Tool Board Applications
There are a number of ways that tool organization boards can be used. The advantage of tool boards is that they can be used to give you instant access to your tools. This is exceptionally helpful for professionals in their workshop or for DIYers or automobile owners in their own garage.
Tool Boards for the Workshop
If you are a professional or DIYer who works in their own workshop, you know that it's extremely important to keep your tools both organized and accessible. Tool boards can give you the best accessibility and organization for your tools out of all your other options. However, because they are out in the open, tools can get dirty or damaged because of dust.
Tool Boards for the Garage (Tool Boards for Mechanics)
Tool boards are extremely useful in your garage if you are an automobile owner, DIYer, or professional mechanic who keeps tools in their garage. Lack of space, messiness, and not being able to find your tools can really affect your productivity and your workflow in a garage. That's why tool boards are so useful in a garage or a professional auto shop. Because most hand tools that mechanics or DIYers use in a garage or auto shop are usually made of metal (e.g., open and ring wrenches, sockets, ratchets, etc.), it is recommended to get yourself a metal tool board that can be supplemented with magnetic hooks and shelves.
How to Make a Tool Board
There are a great number of ready-made tool boards on the market, but most of the time they won't give you the most ideal tool board that covers all your needs. If you want to have the perfect tool board for all your specific needs, you need to either customize a ready-made tool board or make your own tool board. In this section, we will briefly talk about making three different types of tool boards. We'll talk about the French Cleat System, tool pegboards, tool shadow boards, and how to make them.
Before we get to the specifics of every type of tool board, let's talk about some general guidelines that can help you make your own customized tool board:
Make a general mental image for your tool board wall. What do you want it to look like?
Be aware of your environment. Look at the walls that are most suitable at your shop or garage for installing a tool board. Locate the wall studs. Locate things like the power outlet and the fuse box.
Measure how much surface area you're going to need on the wall based on the number of tools you want to store on your tool board, and cut or get yourself a board with the proper measurements.
Think about exactly where you want to put each tool or set of tools on the board. You can do this by putting your toolboard on the floor or a workbench and arranging the tools on the board before installing the board on the wall.
How to Make a Tool Board Using the French Cleat System
One of the most popular ways to make custom toolboard designs is with the French cleat system. In this system for organizing, wooden boards bevel-cut at 45 degrees, called French cleats, are installed horizontally on a board at an equal distance from each other. These wooden boards then support customized shelves for each of your tools and tool boards. These tool shelves are made in a way that they can interlock with the 45-degree angle of the French cleats, and they can be moved freely across all the different French cleats.
The French cleat system is extremely versatile, customizable, and secure. A French cleat system board can be used to make your tool boards ideal for your specific needs. The downside of a French cleat board is that it takes a lot of time and effort to build.
How to Make a Tool Pegboard
Pegboards (or perforated boards) are usually readily available on the market, but you still have to customize them to your liking and install them. Metal pegboards are usually more secure than wooden pegboards, and they can be used with magnets. For installing pegboards, pay attention to the general guides we provided before and take note of the following tips:
Secure your tools with hooks, wires, or a combination of both of them. You should pay the most attention to securing tools on the pegboard.
Make shelves for items that are in a set and install them on the board for more organization.
Use magnets and magnetic tool shelves if you have a metal tool pegboard.
How to Make a Tool Shadow Board
Tool shadow boards are one of the most popular tool board designs, especially in professional environments and workshops. The difference between shadow boards and other types of tool boards is that the outlines (shadows) of the tools are marked on the board. Some shadow boards also include the name of the particular tool on the board. Shadow boards are not only used for tools. In professional settings, shadow boards have been adopted to define the location of any item that is regularly used to accomplish a task close to its workstation. The most prominent benefit of using shadow boards is that they decrease the chance of tools being lost because the absence of every tool or item on the board is instantly visible. Use the following tips to make your own shadow tool board:
Place all the tools and items on the board you want to use for your toolboard and draw their outline.
To make your shadow board even better, cut out the outlines of your tools out of vinyl or paper to make those outlines more distinct. Place the cut-outs on the shadow board.
Tool Board Ideas
You can employ the following ideas to make your tool board or your tool board wall more interesting, efficient, or secure:
Use magnets and magnetic shelves on your metal tool boards.
If you are not using your tool boards anymore, you can turn them into tool board organizers for all the other items you use at your house: keys, kitchen items, flower pots, pens, notebooks, etc.
Use shelves, drawers, hooks, fasteners, and dowels to secure your tool board.
And finally! Take a look at all the tool board designs that people have made. People share their DIY creations online, and these creations can inspire you immensely!
FAQ
What is a tool board?
A tool board is a board made of different materials that is installed on a wall for storing tools. Tool boards provide more accessibility than other methods of tool storage.
What is a tool shadow board?
A tool shadow board is any type of tool board with the outlines of the tools on it. The main advantage of tool boards is that they prevent them from being lost easily.
What is a tool pegboard?
Tool pegboards are tool boards with holes on them. Hooks can be attached to these holes, and then the tools can be installed on these hooks. Pegboards provide a lot of versatility.