Thanks to a collection of drilling, hammer drilling, chiselling, and releasing functions, Rotary hammer uses are various and the opportunities this tool offers to the users are vast.
When the hammer action is off, this power tool comes in handy for drilling into wood and steel and when it's on, you can count on it for making holes into tough building materials like concrete or hard masonry such as brick and stone.
Moreover, if you need a reliable assistant for light demolition tasks like tile and plaster removal, this multifunctional beast won't disappoint you.
The good news is that the uses of rotary hammers are not limited to the construction or renovation of buildings and they can also be used for sports! Keep reading the article to learn how.
What Is a Rotary Hammer Used For?
Based on their weight, design, capacity, and special features, different models of rotary hammers can be used for different purposes.
Let's take a closer look at rotary hammer uses, all you can do with these handy power tools, and how to choose the right brand and model to fulfill your specific needs.
Drilling Into Dense Materials
A Rotary hammer drill machine's uses can be categorized in a long list, topped by drilling into tough materials.
A regular drill's worst nightmare is facing concrete, other seemingly impenetrable building materials, or particularly thick and tough wooden and steel workpieces. But don't worry because thanks to innovations in the world of tools, there is nothing impenetrable anymore! All you need is something more powerful that comes with:
Ergonomic Design
Drilling into concrete and rock is a demanding process that takes a lot of time and energy. Therefore, an ideal tool for a such task should come with an ergonomic and compact design to ensure a convenient use that paves the way for more efficiency.
Soft Grip
Being equipped with a soft grip makes this tool well-balanced and easy to control which helps you get the job done more easily.
Anti-Vibration System
No vibration while working with a tool means no harm to your hands and body and less chance of the tool wear and tear over time.
High Drilling Capacity and BPM
Power is your ticket to effectively drill into concrete, bricks, and other dense building materials. Keep in mind that the higher the drilling capacity a rotary hammer has and the higher beats it delivers per minute, the higher its power will be. So, pick your fighter wisely!
Light Demolition
The demolition or renovation of a building involves getting rid of the tiles on the floor and the plaster on the wall. To complete such light-duty tasks, it is neither clever nor efficient to use a huge and heavy-duty tool like a demolition hammer because you can find chiseling for light demolition among rotary hammer drills' uses.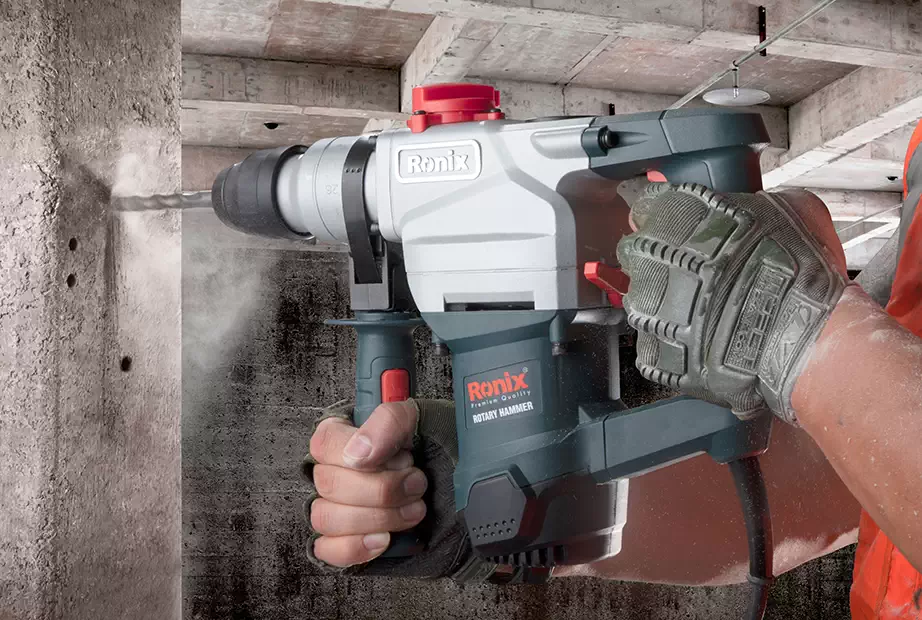 The tool should be set on the chiseling mode for this application and deliver no rotation. If you are looking for the best choice for such a purpose, go for the one with:
Quick-Release Function
A quick-release function allows fast and easy bit changes that can save you time and energy in the demanding task of demolition.
A well-made bit holder
When it comes to crashing tiles, the bit holder of your tool is an important factor. It should be strong and durable and capable of holding up flat or pointed chisels of different diameters.
Climbing
The variety and diversity of Rotary hammer applications have managed to excite construction workers, electricians, plumbers, and even amateur users who are not afraid to get their hands dirty, but there is also another side to this power tool's fascination!
When joined together, tools and sports rhyme great, don't you think? If you are into rock climbing and dream of clearing a new route, a rotary hammer drill is a must-have that can save you the trouble of finding cracks in the rocks and inserting bolts by hand.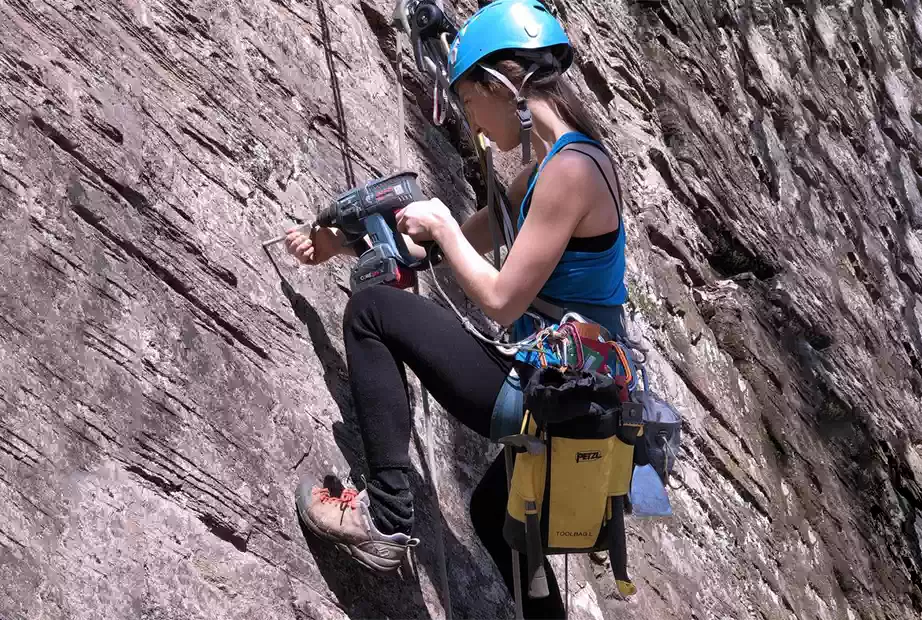 But not all models can fulfill your expectations in bolting the way up. In addition to being powerful, your best option is:
Cordless
When heading to the pick nothing should tie your hands, especially no wires attached to a fixed outlet! So go for cordless models to have more freedom.
Searching through the cordless models, go for the ones that run on brushless motors which ensure higher speed/torque and a longer lifespan, and work with lithium batteries that charge fast, have no memory effect, are lightweight, and have a lower self-discharge rate.
Durable
Climbers brace themselves for hardships and challenges they would likely face during their ascent and so should the tool they pick as their companion!
Pick a rotary hammer that is durable and can withstand heat or cold and resist mist.
Lightweight
Being lightweight is an essential feature of the rotary hammer you pick for your climbing journey because it will contribute to the lightness of your backpack and thus your comfort all along.
Pick Your Fighter: Rotary Hammer Edition
From Makita and DeWalt to Milwaukee and Bosch, world-famous brands provide the market with models that are engineered for durability, portability, high power, and much more needed for different Rotary hammer applications. But if you are fishing for a brand that combines affordability with supreme quality, look no further than RONIX!
Ronix quality rotary hammers are surprisingly efficient. Generally speaking, the majority of them enjoy a unique chisel rotating system, high-impact energy, and no-load speed, a soft grip, an adjustable working angle, and lightweight and durable housing that pertains to greater heat dissipation and increased body strength. However, for different rotary hammer drill uses, you can always lay your hands on a specialist, all at unbeatably affordable prices!
FAQ ❓
What are the different applications of a rotary hammer?
Rotary hammers can be used for drilling into dense material, having a go on light demolition tasks like tile removal, and even clearing a new route in rock climbing.
What type of bits can be used with a rotary hammer drill?
Based on the chuck your rotary hammer is equipped with, there are a variety of bits you can use. SDS plus chucks can hold bits up to 32 mm in diameter, while SDS max chucks are compatible with up to 40mm bits. For models that come with hex chucks, you should always go for a set of hex bits.