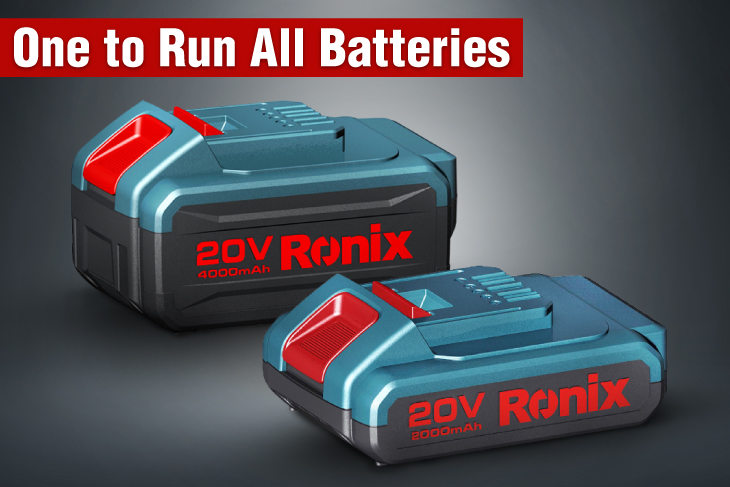 The advent of Lithium Ion batteries brought popularity to cordless tools. These batteries are the latest generation of cordless tools' batteries. One of their most amazing features compared to the older generation is that they are lighter in weight. In addition, their physical and chemical attributes allow manufacturers to produce them in a wide range of shapes and sizes. However, the Li-Ion batteries are generally more costly than other types of batteries. This is why the overall cost of cordless tools that are powered with Lithium Ion batteries are higher than their similar products. But with the help of the innovative minds at Ronix, we have thought of a clever solution for this problem:
One to Run All Batteries
One to Run All batteries are the power behind Ronix Lasting Series Cordless Tools. All members of this family can be powered with one single battery. These batteries deliver absolute freedom, great level of convenience and of course, variety.
20 Volts of power to handle all
Ronix One to Run All batteries can deliver 20 Volts of power to take care of a wide range of tasks like drilling, screwing, grinding and cutting. These 20V Ronix battery packs are considered to be highly powerful among their similar products. Ronix offers these Li-Ion batteries in two capacities: 2 Ah and 4 Ah. Based on the types of work you intend to do, you could choose either.
Visit this page: power tools company
Variety; the choice is yours
The freedom that One to Run All compatible battery packs offer has never been experienced before. They offer great variety and a wide range of combinations. There is no obligation to purchase any number of cordless tools or a certain amount of batteries. You can just select the items that are necessary for your line of work and mix them with suitable number of batteries. You have the ability to take control!
Less expensive; don't spend more than you have to!
You don't have to spend extra money on batteries that only work with one of your cordless tools. Batteries make up the bulk of the price of a cordless tool. Wouldn't it be amazing if you could purchase a tool without a battery and used your other tools' batteries to run it? Well, with Ronix Lasting Series and One to Run All batteries, this is now possible. You could choose any number of Ronix cordless tools and get any number of batteries you want and only you would only be charged accordingly. No more paying extra for what you do not really need!
Compatible; meet the deadlines on time!
With One to Run All compatible batteries of Ronix, you will not have to wait for your batteries to get charged. The compatibility between more than ten different products (and many more will join soon) is a great competitive advantage on every jobsite. From construction sites to different workshops, you can simply swap batteries between your cordless tools from Ronix Lasting Series and meet every deadline without wasting any time.
Lighter weight; easily transport your cordless tools from one spot to another
Since you don't have to have one battery for every cordless tool you own, the overall weight of the collection of the tools you need to carry to various worksites becomes less. You just need one single battery to power all of your Ronix Lasting Series products. This is especially practical for those who work at a height. Imagine you have to carry three different cordless tools with you. If you could only take one battery up there, it would definitely be a lot less heavy. With Ronix One to Run All cordless batteries, don't bear the excess weight of extra battery packs. Move freely from one jobsite to another and experience the actual freedom!
The technological advances that we possess in manufacturing has allowed us to offer One to Run All batteries that bring absolute freedom and outstanding convenience. These batteries are the result of constant innovations of the amazing minds behind Ronix products. With Ronix Lasting Series and One to Run All batteries, upgrade your experience with cordless tools.