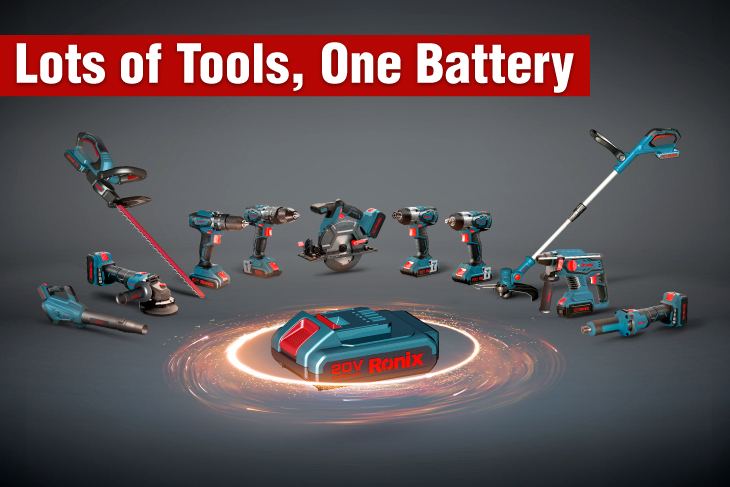 Hello everyone, this is Taylor Miller and I love to help my customers and solve their unique challenges about tools! Always listen to your customers. They have complained for a reason and it is important to understand why they are complaining. Excellent customer service has been always my priority. The biggest problem faced by my customers while coming to my tool shop is that there is no battery to manage all the tools. So, while they are working with different tools, they have to use different battery chargers and that is annoying to carry different chargers everywhere. Imagine that all chargers stop working at the same time, or worse you forget to bring one of the chargers. One of my customers, who is a carpenter, said: one day, while I was working with my drill driver, the tool stopped working! Something went wrong with my drill but it wasn't the battery problem. so, I thought to myself, well; what would happen if there were other tools that were designed to use the same battery? why not try to use another tool that can run with the same battery? and see what happens?

I have a few tools in my tool shop, including drills, angle grinders, circular saws, impact wrenches, grass trimmers, etc. that can be powered by one single battery! you may wonder how that is possible? Ronix has launched the next generation of its tools which can run with one battery. To find out more, you will have to keep reading!
The one to run all System is designed to meet all your DIY expectations and also your big projects. Whether you need to work with woods, metals, steels, etc. you may need tools like drills, impact wrenches, angle grinders, grass trimmers, and so more. For light-duty activities, tools like drills and impact wrenches will be just fine and for heavy-duty activities tools like circular saws or trimmers are great to get your job done. Tools with this system can be used in gardens, workplaces, workshops, houses, industries, etc. and they can keep your places in top shape. So, isn't it better to have a battery that can power several tools? Ronix company offers tools that can run with one battery; they recharge only with the charger specified by the manufacturer. Once you have finished your job with a drill, remove the battery, and use it on another tool. There are two types of batteries (2.0Ah, 4.0Ah). Ronix batteries with one to run all design consists of a range of 20-volt tools that all are powered from a battery and a fast charger. As its charger is suitable for one type of battery pack, if you use it with another battery-pack, you will create the risk of fire. When your battery is not in use, keep it away from other metal objects. If you are interested in checking out these cool batteries, I will put a link for your more information here. 
Here is the list of Ronix tools that are powered with one to run all battery and you will find whatever you may want in my tool shop:
20V BRUSHLESS DRIVER HAMMER DRILL 8900 – 8900K
BRUSHLESS ANGLE GRINDER 8901- 8901K
BRUSHLESS CIRCULAR SAW 8902
20V BRUSHLESS DRIVER HAMMER DRILL 8905K
BRUSHLESS IMPACT DRIVER 8906
20V BRUSHLESS IMPACT WRENCH 8907
BRUSHLESS DIE GRINDER 8908
BRUSHLESS ROTARY HAMMER 8910 – 8910K
20V HEDGE TRIMMER 8920
20V GRASS TRIMMER 8921
CORDLESS LEAF BLOWER 8922
Thanks to one to run all batteries, tough jobs will be done faster and easier: one battery for all tools within the Power Line 20V. From trimming your lawn to grinding metals, use it for easy DIY work and advanced DIY tasks.