Pressure washing removes dirt and grease from the ground, walls, roof, and many other surfaces. To have a clean outdoor grill, clean house, or car, you will need a proper high-pressure washer to clean more comfortably and faster. Powered either by electric motors or gas engines, this device pumps and pressurizes the water from hose up to 1000 lbs. and then forces it out through a spray wand. The cleaning jobs they can tackle depends on the pressure; the higher the pressure, the more challenging the job can get done.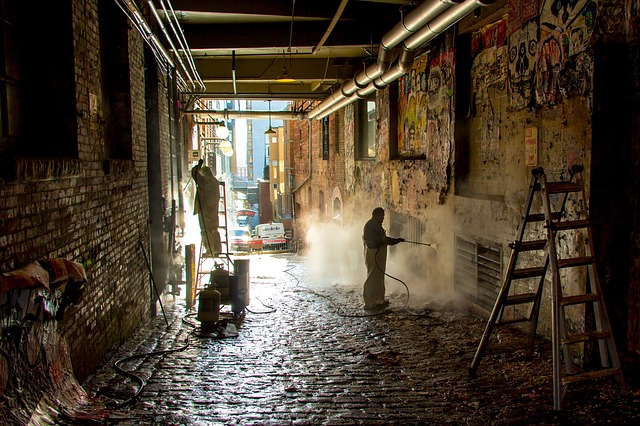 History And The Invention Of Pressure Washer
It was Frank W. Ofeldt II, who first created the original steam pressure washer in 1926. Back in the United States at a western Pennsylvania company, which produces gas-fired water heaters, he accidentally invented the first high-pressure washer. He noticed that when his portable whiskey's steam outlet was directed downward, the wet steam could hit the greasy ground and move the grease away. Since the steam was a gasified liquid without mass, he knew it could only move the grease and not remove it. This accidental experiment triggered the idea of making a cleaning contraption in Ofeldt mind, a device that would mix high-pressure wet steam with cleaning agents.
Related Article : Pressure Washer Uses
Steam Jenny
After that, he searched for pump casting, where pump parts are designed and cast by different metals or alloys. Eventually, the Homestead Valve Company saw the potential and started developing his contraption with the temporary term of "HyPressure Vapor Spray Generator." Frederick E. Schuchmann, the then-manager of Homestead, couldn't resist the temporary name or "Ofeldt Cleaner" alternative. Therefore, he hired Mr. Eltinge – the brother of the world-famous female impersonator Julius Eltinge – to develop a brilliant idea for his high-pressure washer. Mr. Eltinge had no idea what the machine does, so he asked the purpose of the strange apparatus. "It generates a high-pressure vapor spray," they responded. Then he suggested why don't they call it a "High-Pressure Jenny." The name got accepted, and as you can see, steam cleaners are still called by this name.
Related Article : Car washing at home tips
Development Process
After the primary invention, in 1950, Alfred Kärcher developed the first modern hot water high-pressure cleaner. Later on, the pump innovations continued to get better, so did the design for pressure washers. The most important one came in the late 1960s when the "Cat Pump" company established uniflow design piston pumps. These pumps were far superior to previous pumps, and above all, it was a low-cost line of production that has dominated the market till today.
Cat pumps had 10 times longer lifetime and could reach pressures up to 1000 psi. With the advancement of technology till 1975 and the high demands for high-pressure washers, Cat Pumps produced the sleeved piston pump that could reach up to 3000 psi.
Cat Pumps continued to develop ceramic plunger pumps as well as working with Interpump, Italy, to market a new line of new-created ceramic plunger pumps to meet the need of the car wash and pressure wash industries. The ceramic pumps came with not only higher pressures but also better safety features and options.
Today
Nowadays, a pressure washer is an undeniable part of every cleaning application, whether for garages or a regular car owner. Today's high-pressure washers can reach up to 60 feet high (with 4000 psi) and are scaled in a range of 100 up to 180 bars. Recently hot water machines have been widely employed for industrial cleaning applications and are acquiring the main role in heavy industries as they boost efficiency and production capacity in industrial lines. Today we use them to remove loose paint, mold, grime, dust, mud, chewing gum, and dirt from surfaces and objects such as buildings, vehicles, and concrete surfaces. Today's jet washes are more compact and lighter than the original steam cleaners, which were mentioned before.
Equipped with wheels and trigger, you can easily carry your high-pressure washer around and wash your car or bicycle at your own garage, rather than calling a carwash service with big steam cleaners. You can even find a 3in1 pressure washer that can play not only the role of a pressure washer but also a vacuum cleaner and a blower.
Conclusion
Every surface needs to get cleaned every now and then. High walls, vehicles, bicycles, and sidewalks are always found with grease, dirt, dust, or even chewing gums. For the purpose of having a sparkling surface without using strong chemicals, you need a power washer to blast things clean with water jets pressurized at 100-200 times the pressure of the air around us. As a matter of fact, without a high-pressure washer, it would be stressful and overwhelming to confront the stubborn and difficult stains.
Related Article: Everything About Power Tools History