Whether you run a business that's dealing with tools or are interested in DIY projects, you probably have many tools. You have certainly experienced losing or not finding them. When they are in need; in this case, you waste a great deal of time and energy. To avoid such problems and keep your items organized and well-stored, some types of toolboxes are needed. If you want to know more about their features, I recommend you check out the list provided below and use it to choose the right toolbox types.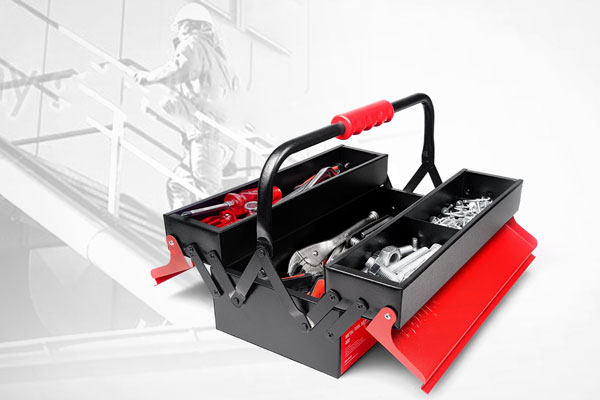 What Are Different Types of Tool Boxes?
Different types of tool boxes exist in the market for various professions with special designs and characteristics. The most commonly used ones are mentioned below.
Hand-Carry Toolboxes
As the name suggests, hand-carry toolboxes are easy to take from A to B. Most professionals prefer a hand-carry over other tool box types since they are lightweight. Hand-carry toolboxes come in small and commercial sizes that make them easy to place in the garage or under the workbenches. Hand-carry toolboxes have compartments inside to organize and arrange tools.
Portable Rolling Toolboxes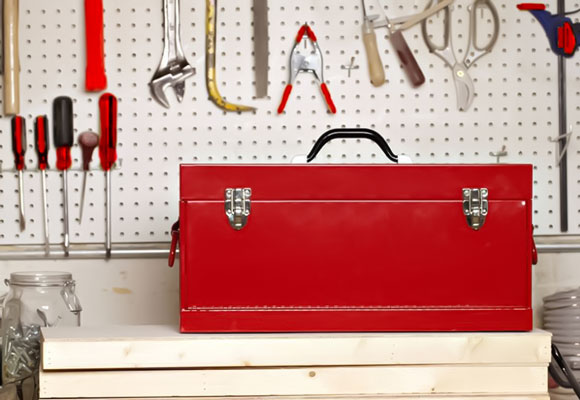 If you search for a toolbox made of high-density and durable plastic with wheels, portable rolling tool case are suitable for you. If you are a homeowner, plumber, or carpenter and you feel the need to move constantly, this type of toolbox is considerably portable and consumes less of your energy.
Roll-Around Workbench Toolboxes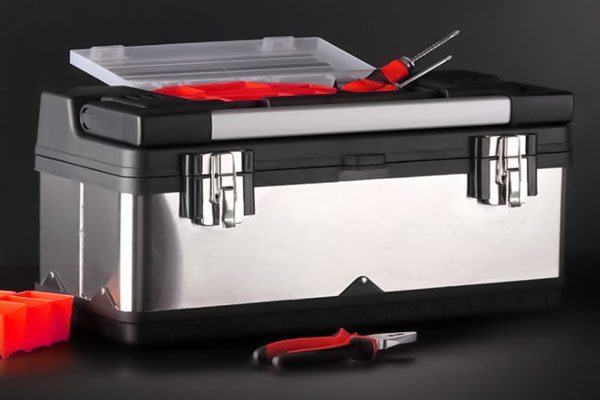 Carpenters, plumbers, and homeowners are big fans of it among all types of tool box. Roll-Around Workbench Toolbox has a workbench that is mostly made of wood or composite material. The workbench is placed on top, enabling the owner to do plenty of tasks on it. Some roll-around workbench boxes give the users the joy of using a desk with a height adjustment feature.
Different Materials to Make A Tool Box
Toolboxes are made of different materials; aluminum, steel, stainless steel, and plastic toolboxes exist in the market; choosing the right toolbox depends on your professional interests and preferences. Here are some of them.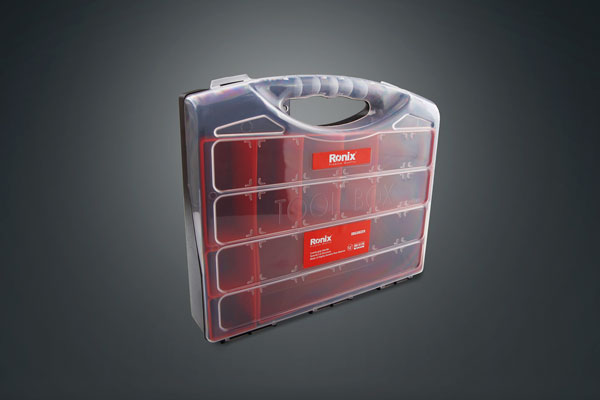 Aluminum Toolboxes
The most common material used to make toolboxes is aluminum since it is strong and lightweight. Most aluminum toolboxes are made of rugged texture aluminum to avoid any possible slippage.
Benefits
Aluminum is lightweight.
It is a strong and durable material.
It's long-lasting since it doesn't rust or corrode, and tools are protected in it.
Steel Toolboxes
After aluminum, the most widely used material is steel. If you are working under hard circumstances or tough conditions, use these types of toolbox instead of aluminum ones since they are harder and more durable.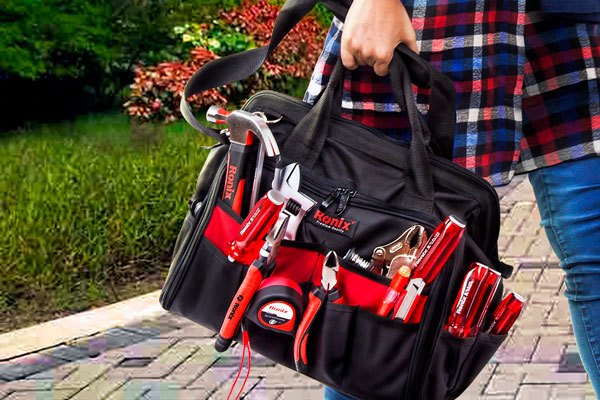 Benefits
Steel is tougher than aluminum, so they are appropriate for heavy-duty tools.
Steel is highly resistant to any damage.
The steel toolboxes' inner and outer surfaces are covered with a powder that makes the steel resistant to corrosion.
Stainless Steel Toolbox
Stainless steel toolboxes are similar to aluminum ones; in comparison with aluminum toolboxes, they have a much higher price. This high price is due to the anti-rust steel alloy used in manufacturing them; besides, stainless steel toolboxes don't need any anti-corrosion powder coating.
Benefits
Stainless steel toolboxes are long-lasting and durable.
They never rust.
They are highly resistant to any damage.
It's easy to maintain and clean them.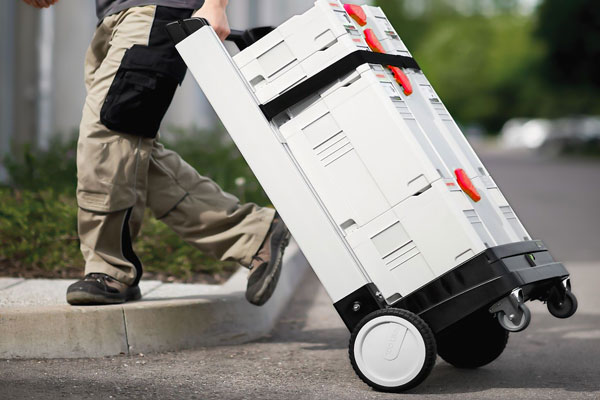 If you search for a toolbox made of high-density and durable plastic with wheels, portable rolling toolboxes are suitable for you. If you are a homeowner, plumber, or carpenter and you feel the need to move your toolbox constantly, this type of toolbox consumes less of your energy and satisfies you.
Plastic Toolboxes
Plastic toolboxes are anti-corrosion, but they aren't highly durable. Many homeowners choose plastic toolboxes since they are almost cheap and light in weight.
Benefits
Plastic tool boxes are lightweight.
They are transparent; this feature makes tools easy to find.
They don't rust and consequently they can be cleaned easily with detergent powders or water.
They are easy and comfortable to carry.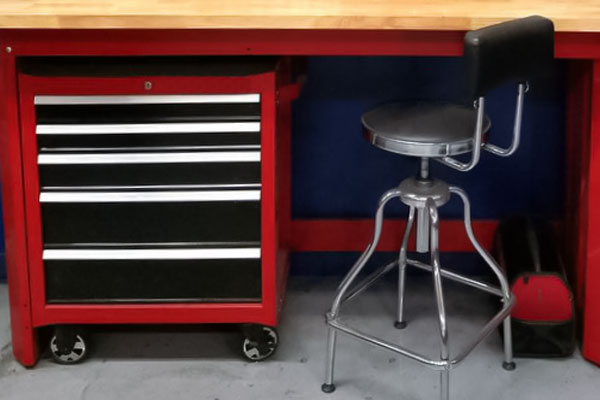 Wooden Toolboxes
Not so common among the professional, they are mostly used as decorative equipment. Typically, it is so heavy and not portable and also not suitable for rough and humid work spaces.
Benefits
Wooden toolboxes are heat insulative
You read about the different types of tool boxes based on their material. I want to get into more details yet to show you what is the difference between them.
The Difference Between Plastic, Steel and Wooden Tool Boxes
Here I will circle back, and wrap it up to compare three different types of toolboxes including plastic, steel and wooden.
First, I am going to see what is different about them price-wise:
Actually, wooden ones are the most expensive, and the plastic the cheaper. Meanwhile the steel boxes stand in the middle regarding their financial value.
What about their durability?
The answer is that steel wins the first place because of its high tensile strength. The second place is for plastic, while wood finishes last in this competition. Because of its fragile texture and vulnerability to moisture.
Then when it comes to weight, no doubt that plastic is the lightest one, while steel weighs more in comparison with its counterparts.
FAQ of Different types of Tool Boxes
What are the different types of toolboxes?
We have various types in the market. But the main styles include Hand-Carry Toolboxes, Portable Rolling Toolboxes, and Roll-Around Workbench Toolboxes.
What are most toolboxes made of?
They are mainly made of materials such as aluminum, steel, plastic, or wood.