The Revolution of Carpentry Power Tools
The use of power tools has revolutionized the woodworking and carpentry industries, making work with wood simpler, more interesting, and more productive. In the past, carpenters and craftsmen used to tackle woodworking projects with more simple hand tools.
Then, more and more advanced carpentry power tools were created over time. Choosing the best power tools for carpentry, however, might be difficult given the wide variety of options available.
Moreover, working with wood is associated with a broad category of jobs. In the woods business, craftsmen including carpenters, cabinet makers, framers, roofers, furniture manufacturers, craftsmen, and even hobby woodworkers are among the technicians who use the most different kinds of tools and machinery. For each stage of their work, they must be able to afford specialist equipment.
No matter whether you're a woodcraft master or a newcomer in the woodworking world, this article will help you find out answers to some of these frequently asked questions about power tools needed for woodworking.
What are the most essential power tools for woodworking?
Which tool brand is best for woodworking?
What is my #1 woodworking power tools list?
The characteristics, adaptability, and overall value of the greatest power tools needed for carpentry and woodworking will be discussed in this article.
Types of Power Tools for Woodworking (Carpentry)
Each woodworker can choose their perfect type of tool based on their workspace, expertise level, light or heavy-duty tasks, power source, and many other deciding variables. Many different types of power tools for carpentry can be utilized in woodshops. Let's examine the most prevalent category of instruments that are useful in woodworking shops.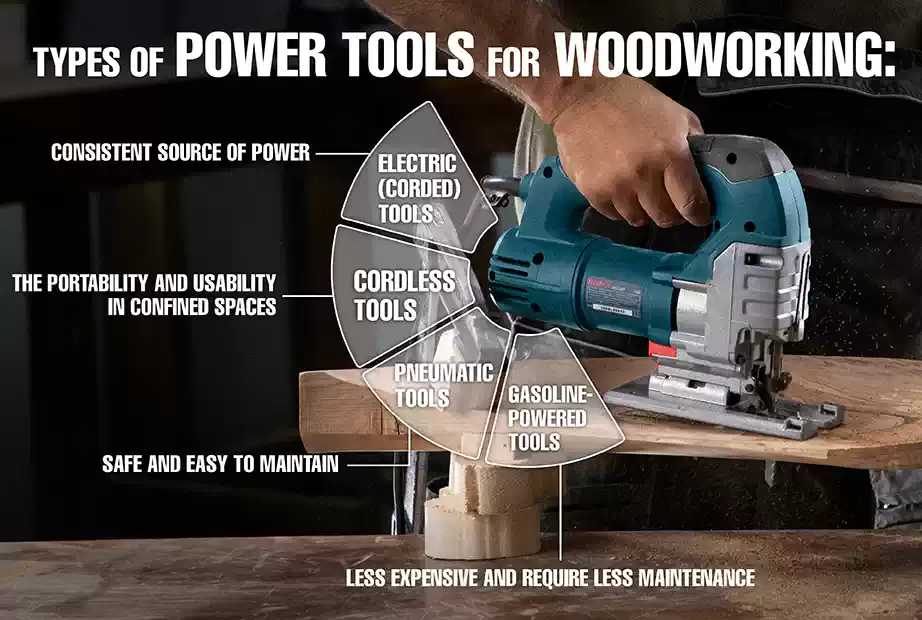 Electric (Corded) Tools
Electric (corded) tools are most commonly used in woodworking and carpentry because they offer several advantages over their cordless counterparts.
An A to Z of best power tools for DIY.
They can sustain a constant power output during extended periods of use because they have access to a constant source of electricity.
They are therefore perfect for demanding jobs in woodworking shops. Their advantages over other types of tools are their consistent source of power, their reliability and consistency, and their cost-effective prices for a much wider range of customers.
Cordless Tools
Cordless tools are always the most favored item in carpenters' toolkits because of their portability and small design. Your cordless tool may even be more potent than your corded tools if it has a high-efficiency lithium-ion battery and brushless motor. So, it is not often true that corded tools operate better and have more power than cordless ones. The mobility and use of cordless tools over other kinds of tools, as well as their capacity to operate in confined and tight spaces, are some of their benefits.
Pneumatic Tools
Every form of tool that is powered by compressed air is referred to as a pneumatic tool. You need to have an air compressor nearby in order to operate these kinds of tools. In comparison to other types of equipment, pneumatic tools are easier to maintain, safer in workshop settings, and more durable. These tools are widely used in woodshops, factories, construction sites, repair shops, etc.
Gasoline-Powered Tools
You may be familiar with the chainsaw, which is a well-known woodworking tool among gasoline-powered tools. Fuel-powered vehicles run on gasoline and are best suited for large workshops, lumber mills, and building sites because of their loud operation, heavy smoke production, and enormous volume of exhaust fumes. In comparison to other types of tools, gas-powered tools are less expensive and require less maintenance.
Best Brand of Power Tools for Woodworking
Choosing the appropriate brand is crucial when it comes to power tools for woodworking. You want the best woodworking power tools brand that provides quality, toughness, and long life. Certain brands may provide the highest quality at the most expensive costs, while other brands may have reasonable pricing but fall short in terms of quality and performance. As a result, you must make a good decision and take all factors into account.
Let's review the features of the best brand power tools for woodworking that makes them stand out from the rest:
Quality
The best woodworking power tool brands produce high-quality tools that are durable, reliable, and perform well. Quality is the most important factor for customers when choosing a power tool brand. When we say that a power tool is made of the highest quality, we mean that it is high-efficient, performs with precision and accuracy, meets safety standards, and is made of the best raw materials that are made to last.
Range of Tools
A perfect carpentry power tool brand will offer a wide range of tools to suit different needs and skill levels. This includes everything from basic hand tools like pliers and hammers to more specialized power tools like angle grinders and demolition hammers.
There are a wide variety of power tools needed for woodworking industry. that's why customers prefer to choose a brand that offers all of the carpentry power tools. In other words, they want to purchase all the products they need in only ONE brand. Therefore, "variety" is a key factor.
Innovation and Technology
Top woodworking power tool brands are always looking for ways to improve their products and innovate with new features and technology. They often invest heavily in research and development to create tools that are more efficient, easier to use, and safer.
Reasonable Prices
One of the main reasons a buyer selects one brand over another is price. Often, woodworkers would choose brands that sell high-quality carpentry power tools at reasonable pricing. Hence, a company that offers clients high-quality tools and equipment at reasonable prices wins the customers' attention.
Customer Support
Customer support services are a crucial indicator of a power tool brand's superiority over competitors. The top power tool manufacturers for woodworking offer top-notch customer care, including repair services, gifts and facilities, and technical support.
Some of the top brands with the best power tools for woodworking that meet these criteria include:
Bosch
DeWalt
Makita
Ronix
Milwaukee
Festool
With the qualities of the best woodworking power tools brand previously mentioned, Ronix Tools is a power tool company with headquarters in Germany that provides high-quality products at the most competitive prices.
One of Ronix Tools' assets and a factor in why so many customers rank it as their top power tool brand is its customer service. Moreover, with over 2000 different tool types and 24000 different spare component types available, you can order all the tools and spare parts you want under a single brand.
Best Power Tools for Carpentry (Woodworking)
When it comes to naming woodworking power tools list, a wide range of different tools may come to your mind to cut, sand, grind, nail, staple, drill, join, drive, and plane. Choosing the best item among the huge world of power tools and giant brands is surely a daunting task. Here, we will explain some pro features of the best carpentry power tools, and then introduce you to the most-used items that you must have in your woodshop.
Table Saw
Table saws should be a staple in your woodshop shelves due to how flexible they are. Such a tool is required in any wood-related job site to create straight, angled, and bevel cuts with the utmost precision and accuracy.
The numerous benefits that table saws provide are what entice you to have them in your workspace. These saws can produce some of the most precise cuts while using the least amount of energy. They can cut through bigger pieces of wood and are quick, versatile, and simple to operate. So, as an essential power tool for woodworking, table saws should have the following features:
Precision
Maneuverability
Versatility
Rapidity
Miter Saw
Miter Saw is usually the #1 saw in every woodworker's toolkit and one of the best power tools for woodworking projects. It is a tool with similar functions to a table saw, but with less maneuverability and is usable for smaller pieces of wood. With a miter saw, you can have straight, angled, and bevel cuts too. It's easier and safer to operate due to various features like a safety guard, table locking system, fence extension, and adjustment knobs.
To purchase the best miter saw for your woodworking projects, consider the following factors:
Accuracy
Portability
Blade Quality
Power
Brad Nailer
Nailers have made a revolution in the woodworking and carpentry shops, due to the speed and simplicity that they brought in the joinery works. The speed and accuracy that brad nailers bring to the job sites, have made them essential power tools for woodworking.
Before buying the best nailer for your wood crafts, check the following factors:
Speed
Accuracy
Strength
Safety
Router and Trimmer
Among the best power tools for woodworking, Routers are known for the versatility that they bring to job sites. From cutting and shaping to grooving and joinery, you can tackle many tasks and applications. A router may be a great tool in making woodcrafts because it offers versatility, accuracy, efficiency, safety, and results that will lead to a great masterpiece.
Versatility
Accuracy
Efficiency
safety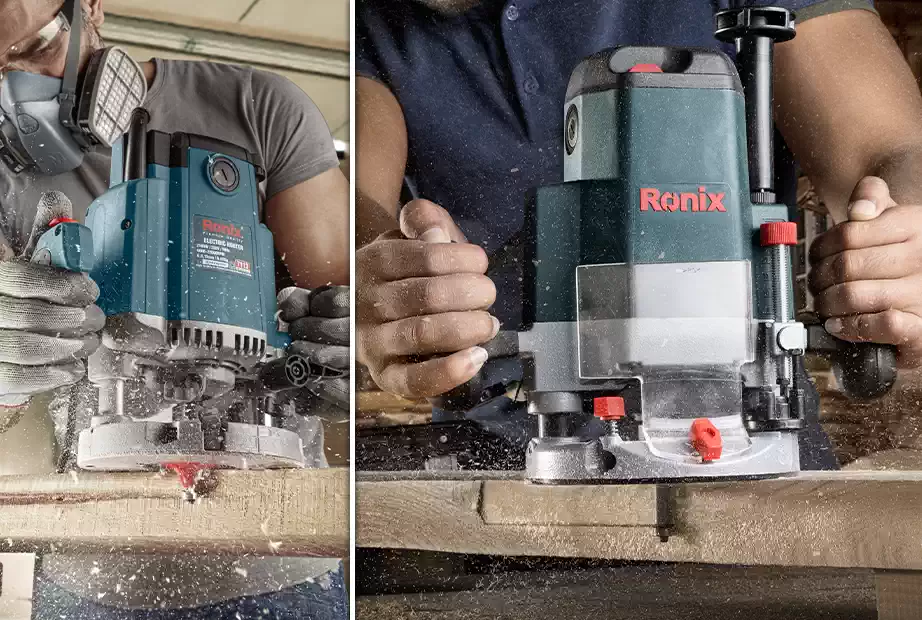 Planer
The best uses for planers are to flatten rough lumber, fit doors, and straighten studs. The most effective planers for carpentry and woodworking are those that are dependable, effective, and adaptable.
When planing wood, a lot of dust and debris are produced. A satisfactory planer should therefore feature a dust collection system that is capable of capturing a sizable portion of debris. The following features will make a planer stand out in the best woodworking power tools list:
Dependability
Effectiveness
Durability
Portability
Sander
A sander is one of the most essential carpentry power tools for creating woodcrafts. It creates an even and straightforward finish by flattening and smoothing the wood's surface. The best sanders for carpentry and woodworking should be effective, adaptable, and provide precise and reliable results.
Choose a sander that best meets your unique sanding demands by looking for one that lets you alternate between orbital and belt sanding. The following features indicate that a sander is among professional woodworking power tools:
Ergonomics
Versatility
Efficiency
Precision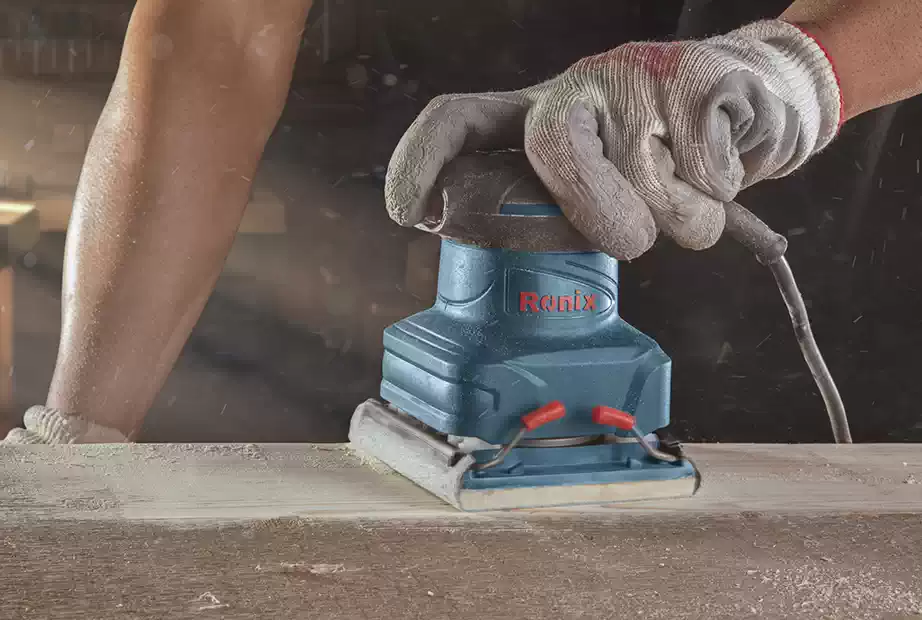 Drill Driver
Both a drill and a screwdriver are the most used carpentry power tools in a woodworking shop. To have a more compact and portable tool that you can carry around your woodshop, you can buy an impact drill driver. It has three functions drilling, hammer drilling, and screwing in one tool, and helps you tackle many projects on the job site.
A perfect drill driver delivers the following features to the users:
Mobility
Multi-functionality
Strength
Versatility
Circular Saw
If used correctly, a circular saw can cut MDF and plywood with almost as much accuracy as a table saw and is necessary for cross-cutting and rip-cutting. There are two types of circular saws: hand-held and table-mounted. It is adaptable, available in both corded and cordless models, and some even come with laser guides to improve precision.
For more power and adaptability, look for a saw with a high amperage and a large blade size. For a circular saw to be considered a top power tool for carpentry, check out the following features:
Speed
Precision
Safety
Quality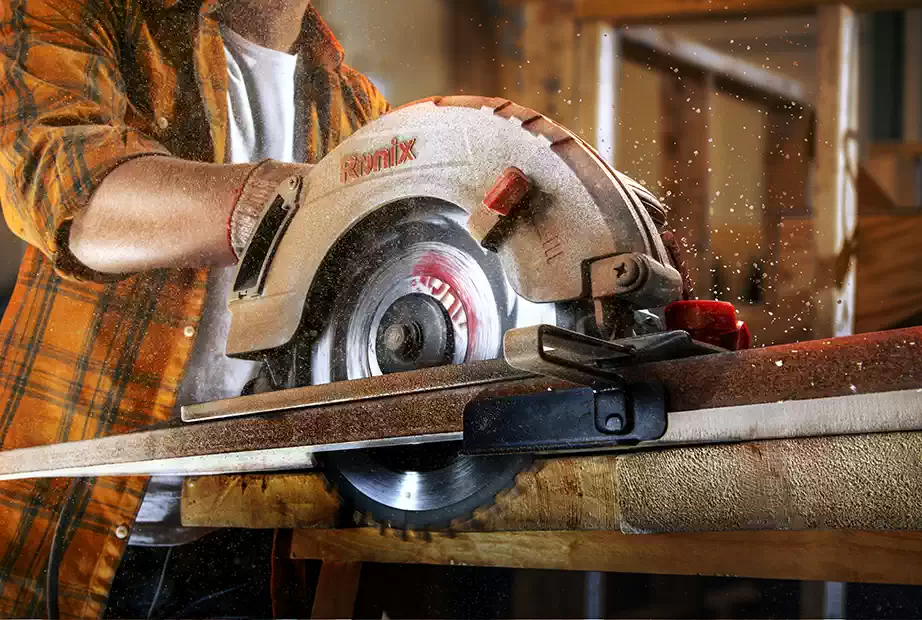 Jigsaw
A jigsaw is the best carpentry power tool to make curved, rounded, and straight cuts on the wood and must be your go-to. it can cut through various densities and thicknesses of the wood and with them, accurate and high-quality finishes are obtained. They come in both corded and cordless models and typically have a range of blade options for cutting through different materials.
Look for a jigsaw with variable speed control and a comfortable grip for extended use. To purchase the best jigsaw for carpentry projects, these features are inevitable:
Versatility
Accuracy
Power
Stability
Overall, whatever your carpentry project, having the right power tools for carpentry will help you succeed. Although there are many more tools developed for woodworking and joinery that we will discuss in future articles.
The right power tool for woodworking is ergonomic, high-quality, affordable, and meets the needs of all customers with advanced technologies. In the journey of becoming a professional carpenter, first of all, consider your area of work and types of the power tools you need, and then, go for a brand that meets all the criteria we mentioned above.
Ronix Tools is a German high-quality brand and solution for all your woodworking projects, from cabinet making, framing, and furniture making to joinery and professional carpentry projects. Ronix Tools has had extensive knowledge and participation in the tools industry since its foundation.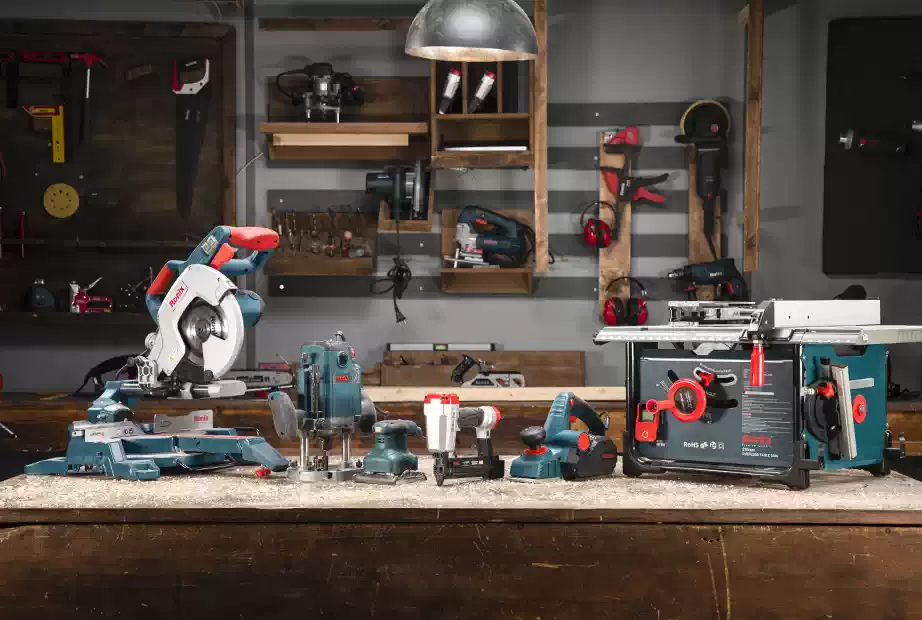 FAQ ❓
What power tools do I need for woodworking?
The kind of woodworking project you intend to accomplish, as well as your level of expertise, will determine the power tools you require. However, some of the most important of them are different kinds of saws, sanders, nailers, drills, and screwdrivers to complete a variety of woodworking tasks, from straightforward house repairs to intricate furniture creation.
What power tool is most used by carpenters?
The power drill is one of the power tools that carpenters use the most frequently. It is a flexible tool that can be used for driving screws and drilling holes, and it can be fitted with a range of accessories and bits to perform various tasks. Carpenters also regularly employ circular saws, jigsaws, and sanders as power tools. Nonetheless, a carpenter's choice of particular tools will depend on the job's requirements and tastes.