When it comes to jobs associated with electricity, several tasks should be done properly and safely; ranging from installation, maintenance, and repair of electrical systems and infrastructures for households, industries, and businesses.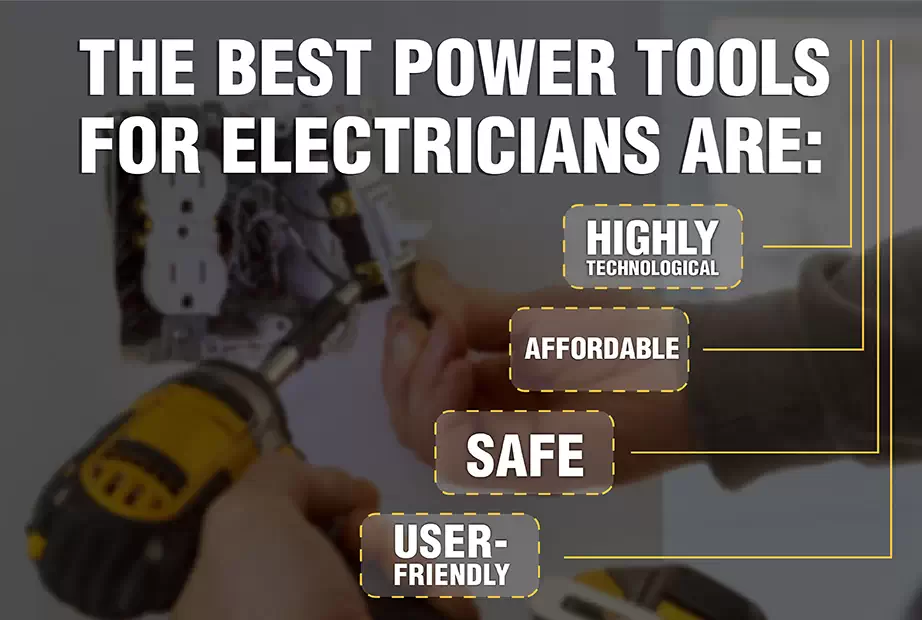 All the projects mentioned are so important that each one needs specific power tools that can help technicians and home users work easily and efficiently. They vary based on their mechanism, functions, and the strength they deliver.
They are also different according to their quality, resistance, and durability. This is the reason why finding the best power tools for electricians needs some endeavor and close research. You need to do it on two different levels, first, finding the most proper type for your specific use, then discovering the perfect versions of them.
So before choosing, you need to answer the following questions:
Does the tool I am using fit my field of the job?
Which brands bring the safest tools to avoid the risks of working with electricity?
How can I find the most affordable and high-quality tool?
To answer such questions, firstly, we suggest you read about the types of electricians' power tools.
Types of Power Tools for Electricians
Electric technicians do some professional, high-risk jobs that along with high skills and accuracy, demand correct tools. So, for choosing the essential power tools for electrical works, you should know exactly what they do and need. They usually install electrical equipment on different surfaces, ranging from soft materials such as wood to the hardest ones like concrete, metal, and masonry. They also have to cut different items such as wires and cables that can be so thick or thin. These are just a little number of requirements they have in their everyday job. So, to fulfill their tasks, they should have the following types that include the best corded and cordless power tools for electricians:
Corded and Cordless Drills
For easily installing and removing electric-powered equipment such as outlets and switches, electricians need different types of drills including corded and cordless ones. The first can bring more power while the best cordless one is handier and more portable. But to find the best drills for electric works, you need to consider the following features: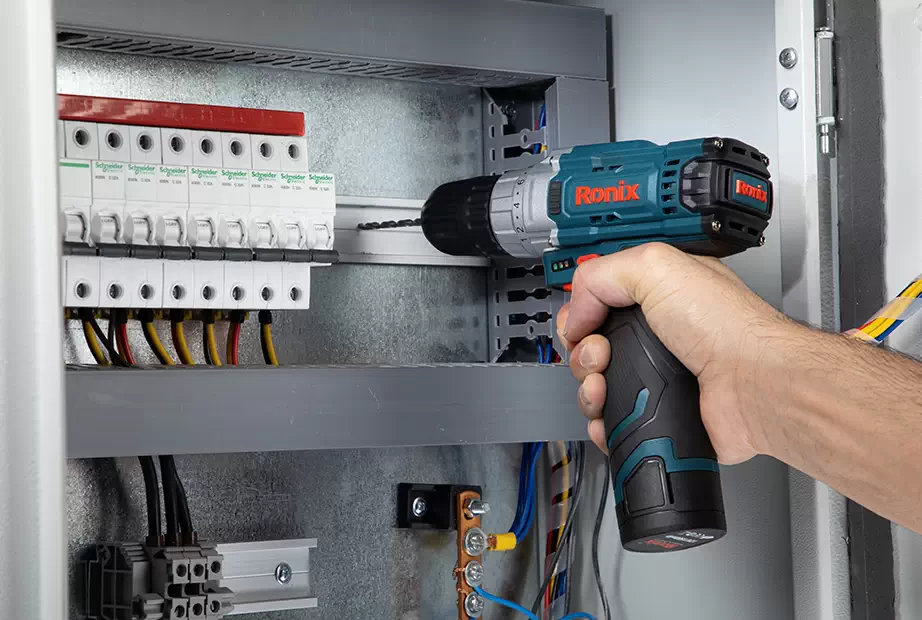 As electric works come with many hazards, the first point to consider is safety. No matter whether they are corded or cordless, they should have highly advanced security facilities. One of those is their safety clutch systems that ensure a safe drilling activity when working with tough materials and surfaces.
The drills you use for jobs related to power equipment should have strong motors that can deliver variable speeds (Rotation Per Minute-RPM). So, they can perform effectively in different levels of functions, materials, and applications.
They should be ergonomically designed to bring more comfort to users. But this is not all. Their compact body can help technicians reach hard-to-get places, which you will face a lot while working with electric items.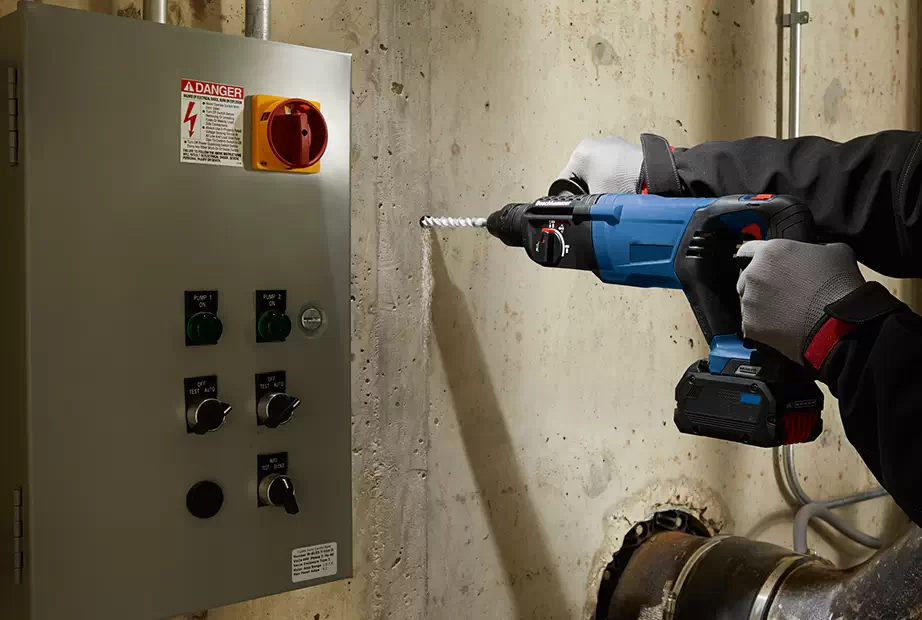 Rotary Hammers
When an electrician is to install an electric system on a concrete wall, they need a more powerful device that an ordinary drill.
Learn it all about essential power tools for diy.
Rotary drills, which are specifically designed to make holes in concrete and masonry, are more helpful here. However, like drills, they should have unique qualities to deliver the best performance in electric projects, including:
Along with the high-strength motors which are the main characteristics of these tools, they should have relatively lightweight bodies that are equipped with superior heat dissipation systems that avoid the tool's overheating during work.
An anti-vibration system also will help reduce the operator's fatigue. Rotary drills should also have auxiliary handles that provide a wide range of movement and increases user comfort.
When searching for a rotary hammer for electric tasks, you should pay particular attention to every feature related to safety. An overload safety clutch system is one of them, it brings more control over the tool in heavy-duty electric jobs and ensures the users' safety. In addition, to increase control, they should be equipped with an anti-vibration system that reduces operator fatigue as well.
Electric Saws
To cut cables and wires with different diameters, an electric saw can make your job faster and more accurate. Based on what job you are doing, you can use different types of them including reciprocating and circular saws. From each type they are, they should have specific qualities to help electricians carry out their tasks perfectly.
Variable Speed Adjustment
The speed range provided by the Revolution Per Minute unit is one of the key qualities that every electrician should consider. All power saws must operate at different speeds (a broad RPM range) to cut varied materials as correctly and rapidly as possible.
Power saws come in various designs, but they should all be ergonomically constructed for quick and convenient usage. In addition, most of them may use rubber grips and work clamps to facilitate more efficient procedures.
Wall Chasers
One of the most common tasks electricians do is installing wires in walls. This needs a unique twin-blade power tool called a wall chaser. They make narrow channels in the wall to put cables in.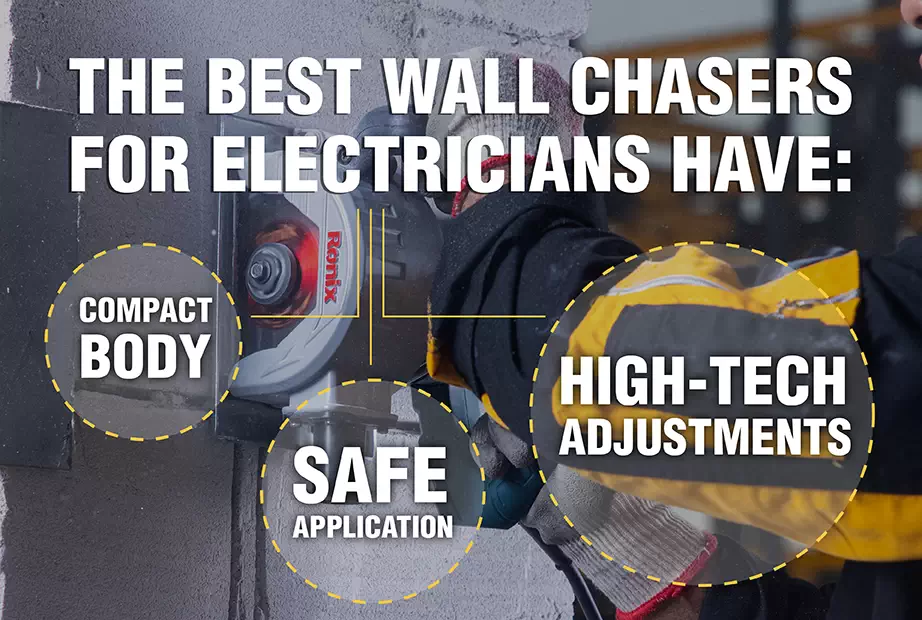 If you are seeking the ideal ones, you should look for the following qualities in them:
To perform the best, they need to be light, minimizing operators' fatigue. They also should preferably have a D-shape ergonomic handle to increase the users' control over the tool during heavy-duty operations.
For more secure work, they should have special guards that avoid chip ejection while working.
They should be equipped with advanced channel width and cutting depth adjustments for performing different kinds of operations.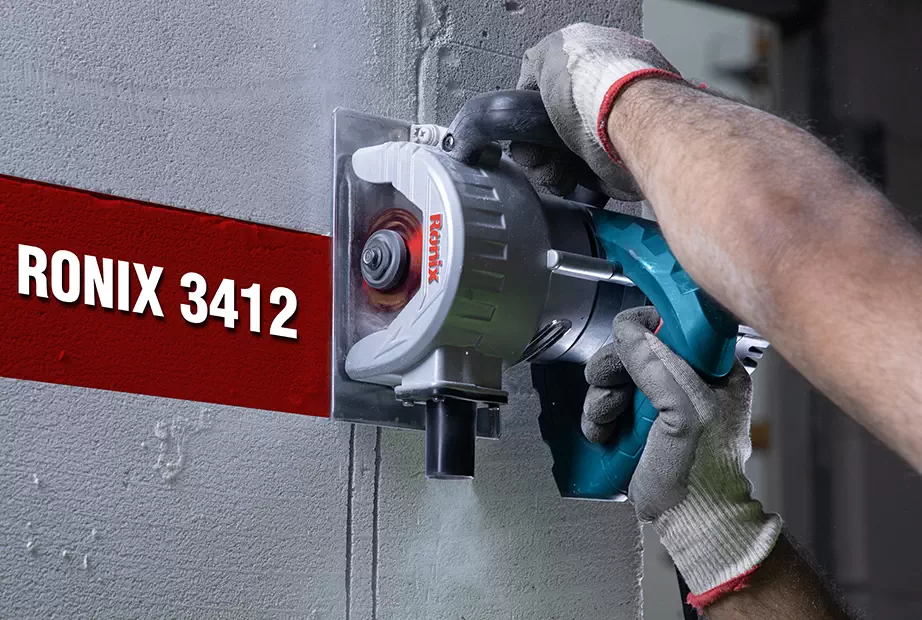 Electric Screwdrivers Drivers
Last but not least, electric screwdrivers have a very important role in this area. whenever you want to assemble or dismantle a unit, or you want to attach or unfasten some equipment, you demand a high-quality electric screwdriver that covers all the driving jobs properly. They can be either corded or cordless, and just like the former power tools, they should be:
Lightweight, anti-shock, and ergonomic
Safe
With flexible speed ranges
And equipped with LED lights for working in dark zones and are also with fast charging systems in case they are cordless.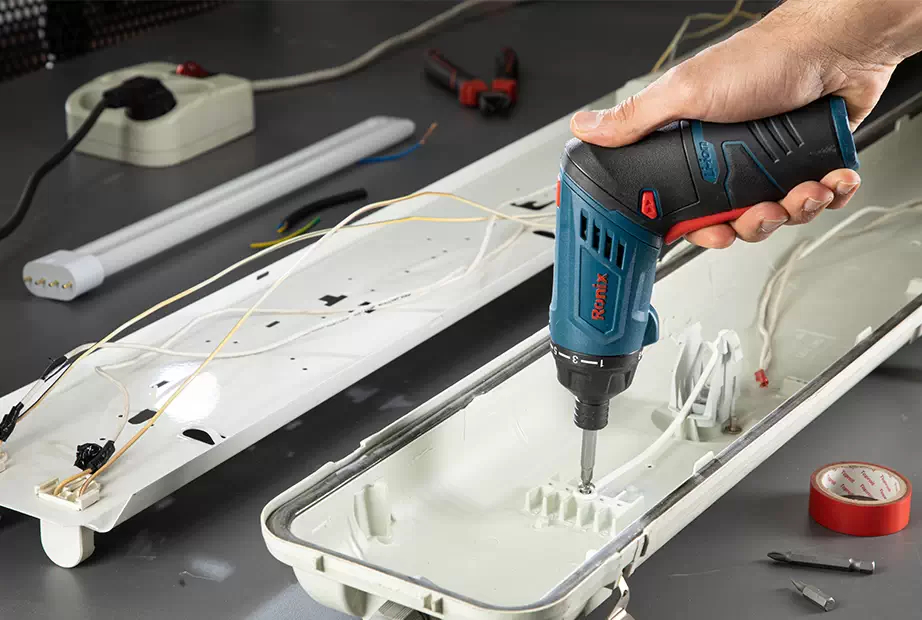 The Features of The Best Power Tools for Electricians
After reading about the essential power tools for electricians, let's extend our knowledge about the further features and qualities that finally make a power tool a perfect choice for you as an electrician.
As talked before, they all need to have unique qualities that make them compatible with electric jobs and increase the quality and efficiency of the processes. However, for being the best corded or cordless power tools for electricians they should deliver some more characteristics to stand out:
High-tech Facilities
Electronic systems and infrastructures are developing along with new technologies. So, the power tools used for them should be cutting-edge ones that are updated continuously. Manufacturers should constantly research to find out the latest achievements in this field and reform the power tools regarding the best and newest tech. To do so, they need to have professional R&D teams that supervise the entire design and production process to prevent possible flaws. So, they will be some first-rate assistants that will guarantee long-time, high-quality use.
Affordable Prices
Quality is a priority, but no one can deny the importance of financial issues specifically when it comes to wholesale purchases. We can claim that one of the most crucial features of the correct power tools needed for electricians is the one that combines quality and affordability. Right, it is hard to find a top-notch tool that can match the budget of most users, but it just takes some time to find it.
Safety
It is a key point in electric projects: You should be excessively conscious about safety. So, when choosing a power tool for your job, you have to put this factor first. Having safety guards, safety clutches, and switches can prevent many hazards in this area.
User-friendly Design
In many cases, electricians work in hard-to-reach places and need compact items, anti-shock, and ergonomics so that users can carry and apply them with no trouble. This can also add to their safety and durability because when they are portable enough the risk of falling and being damaged will decrease considerably.
After all, you may be willing to know where to find the best power tools needed for electricians or know more about the best brands for them. Many brands can provide you with most of the necessary features mentioned in this article. Makita, DeWalt, Bosch, Hilti, Milwaukie, and Black&Deckers are some of them that are best known in the market each is outstanding in particular aspects.
In addition to the previously listed brands, Ronix manufactures products that meet the demands of those in the electrics industry. Ronix firmly promises to provide quality, functionality, and affordability while offering a wide range of proper power tools for electricians, including drills, rotary hammers, wall chasers, electric screwdrivers, and electric saws. You can quickly select any power instrument you want for your profession on the Ronix website and obtain all of the information you require!
FAQ❓
What power tool do electricians use the most?
Corded and Cordless Drills, Wall Chasers, Rotary hammers, and Electric Screwdrivers are among the most applicable power tools for electricians.
What power tools do I need as an electrician?
Corded and Cordless Drills, Wall Chasers, Rotary hammers, and Electric Screwdrivers are among the most helpful power tools that can boost your job experience as an electrician.