Ronix News
Ronix's New 4604 Welding Inverter Perfect for Cheap Bulk Buys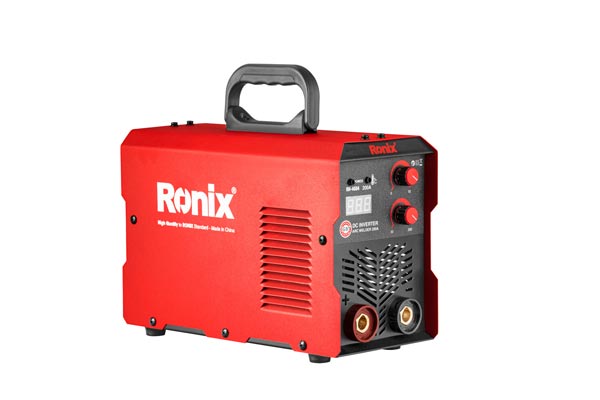 As bulk buys are considered beneficent financially, especially in the tools business, you may consider China a country where you can find various tools as cheap bulk buys. Power tool manufacturers in China offer a variety of tools to all retailers and tool users worldwide. One of the applicable devices these power tool manufacturers in China can provide you with bulk buys is the welding inverter.
Industrial tool consumers and homeowners who will need to perform welding tasks on occasion choose to buy a lightweight device with high strength and a significant performance range that can be easily carried around the job site and used efficiently. Furthermore, such an effective product will be one of the cheap bulk buys, which is both a profitable market for tool dealers and one of the better inverters perfect for so many applications.
Ronix is one of the tool manufacturers in Chins that can provide you with various tools as bulk buys, including welding inverters, especially Ronix's new 4604 inverters.
Ronix's New 4604 Inverter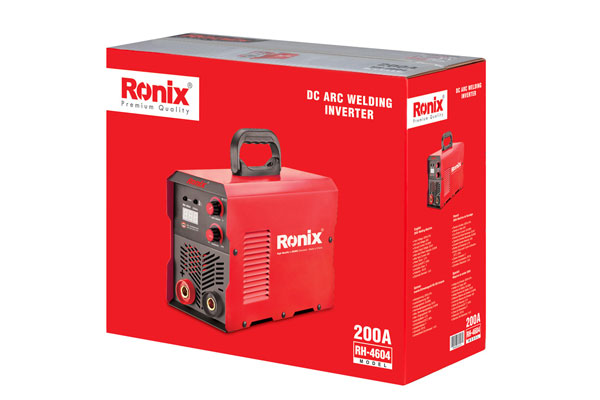 Ronix's RH-4604 inverter is the perfect choice if you are looking for long-lasting inverters for industrial and semi-industrial welding activities because it has been adequately tested by Ronix's supply chain and many other industrial tools suppliers. Ronix's inverters are also inexpensive, and you can prepare them as Cheap bulk buys. Suppliers of industrial tools agree that this ultrasonic switching frequency emits much less noise emission than its competitors.
With a power of 200 amps, Ronix's welding inverter model RH-4604 employs a transformer with a ferrite core that is coiled using modern methods. This device accepts cast iron, steel, and iron electrodes ranging in scale from 2.5 to 5. Furthermore, the weight of this commodity is 8 kg. Being a popular choice for bulk purchases, this model has a metal body and high resistance and strength against impact. This product has an automated shut-off system that protects it from damage. This model of inverter includes three efficient boards with high-quality AGBTs, capacitors, and diodes.
This device has many adventages including low power consumption, a high arc, a lightweight, and an anti-adhesion mechanism that allows the user to do welding with ease. This product comes with a welding mask, a cleaning brush, welding pliers, and attachment pliers. Another feature of this inverter model is the thermal shut-off function, which protects the device from overheating. Also, suppliers of industrial tools agree that this ultrasonic switching frequency emits much less noise emission than its competitors.
This inverter, in particular, uses IGBT technology, which increases welding performance by triggering further penetration and lowering energy consumption. It significantly reduces component resistance and magnetism while also improving tool efficiency.
Ronix's Power Max inverter has been designed and manufactured with the lightest possible weight in mind, taking into account professional users' needs and offering it as one of the cheap bulk buys for tool retailers and sellers. The body of this unit is sturdy and resistant to any potential shocks, and it weighs just 5 kg. It has a unique, technological design that guarantees the lifespan of your inverter.
What is an inverter?
An inverter is a device that switches and controls voltage using an electrical circuit. The inverter welding unit converts alternating current power inputs to lower available output voltages, such as 240v AC to 20V DC. Unlike conventional transformer-based devices, which rely on a single large converter to control voltage, inverter-based devices transfer electricity using a series of electronic modules. An inverter works by raising the frequency of the primary power source from 50Hz to 20,000–100,000Hz. This functionality has been possible through electronic switches that easily turn the Power on and off (up to 1 millionth of a second). Regulating the power source until it reaches the transformer reduces the transformer's scale dramatically.
Ronix is one of the well-known company active in manufacturing a variety of tools involving power tools, hand tools, machines, accessories, and many more.  Ronix's new inverter 4604 is a device with all of the above features after releasing its Power Plus inverter and distributing it among industrial tool suppliers.