Ronix News
Ronix Offers Welding inverter 4604 as Its New Product for Tools Wholesale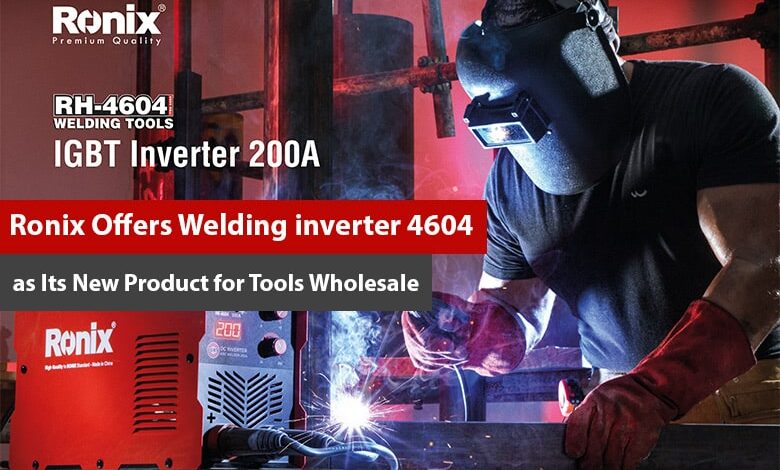 Power tool Manufacturers in China offer a variety of tools to all the retailers and tool users worldwide. One of the applicable devices these power tool manufacturers in China supply you with is welding inverter.
 A welding inverter is a device that converts and regulates the voltage through an electronic system. Welding inverter welding system converts the AC power supply into a lower usable output voltage; for example, from 240v AC to 20V DC.  Unlike the traditional transformer-based devices, which rely on a single large transformer to regulate voltage, welding inverter-based devices convert the power using a set of electronic components.
A welding inverter operates by increasing the primary power supply frequency from 50Hz to 20,000–100,000Hz. This function is possible using electronic switches that quickly transform the power on and off (up to 1 millionth of a second). Regulating the power supply before it enters the transformer will significantly reduce the transformer's size.
Industrial tool users, and even homeowner who may sometimes need to do a welding task, tend to purchase a compact unit with high power and a wide output range that can be quickly transported across the job site and used effectively. Tools wholesale suppliers provide such efficient tool, which is both a beneficent business for tool retailers, and one of the best welding inverters suitable for tool users.
Hence, after launching its Power Plus welding inverter and distributing it among industrial tool suppliers, Ronix recently developed a welding inverter with all of the aforementioned features. RH-46, 200-amp
New Ronix 4604 Welding inverter
Ronix welding inverter model RH-4604 has a power of 200 amps, and this welding inverter uses a transformer with a ferrite core that is coiled with modern methods.  This device supports a variety of electrodes such as cast iron, steel and iron from size 2.5 to 5. Also, the weight of this product is 8 kg. This model, which is considered as a target for tools wholesale suppliers, has a metal body and has high resistance and strength against impact. Tool wholesale is the best way to get your needed tools in large quantities, with reasonable price.
Quality welding inverter-based welders outperform traditional welders in terms of efficiency. This is particularly evident with MMA (stick) welding, where operators find welding much easier and do not have to "battle" the arc. This is mostly due to welding inverter machines' ability to have higher open-circuit voltages and integrate features such as Hot Start and Anti-Stick. Welding thin materials is a prime example of this: with a conventional stick welder, this is notoriously complicated if not impossible, but with welding inverter machines like the Weldforce range, which have infinite amperage adjustment and a very steady arc, the output can be turned down very low enough can weld say 1.6mm sheet metal or tube segment with relative ease and power.
This device has an automatic shut-off system that makes the device less damaged. This product has 3 powerful boards that have the highest quality AGBTs, capacitors and diodes. Other features of this machine include low power consumption, high arc, light weight and anti-adhesion system that helps the user easily perform welding. The accompanying items of this product include welding mask, cleaning brush, welding pliers and connection pliers. Another feature of this welding inverter model is the thermal shut-off system to protect the device against temperature rise.
More specifically, this welding inverter holds IGBT technology, which improves the efficiency of welding; it triggers more penetration and decreases energy usage. It greatly decreases the resistance and magnetism of parts; in addition, it improves the performance of the tool.
Ronix's Power Max welding inverter welder is developed, built, and sold with the lightest possible weight in mind, taking into account the needs of professional tool users provided by tools wholesale suppliers, retailers and tool sellers. The body of this unit is sturdy and resistant to any potential shocks, and it weighs just 5 kg. It has a special, technological nature that ensures a long life for your welding inverter.
If you look for durable welding inverters for industrial and semi-industrial welding projects, Ronix's RH-4604 welding inverter welder is the best choice because it has been repeatedly tested by the Ronix's supply chain and many other industrial tools wholesale suppliers. Industrial tools wholesale suppliers, as well as tool users, are aware that that RH-4604 welding inverter is a device with real 200 amps power, capable of continuous welding with electrodes 4 and 5 and ultrasonic switching frequency. Industrial tool suppliers believe that this ultrasonic switching frequency has far less noise pollution than its similar competitors.