Ronix News
New Ronix Brush Cutters VS Similar Brush Cutters from Other Top Power Tool Brands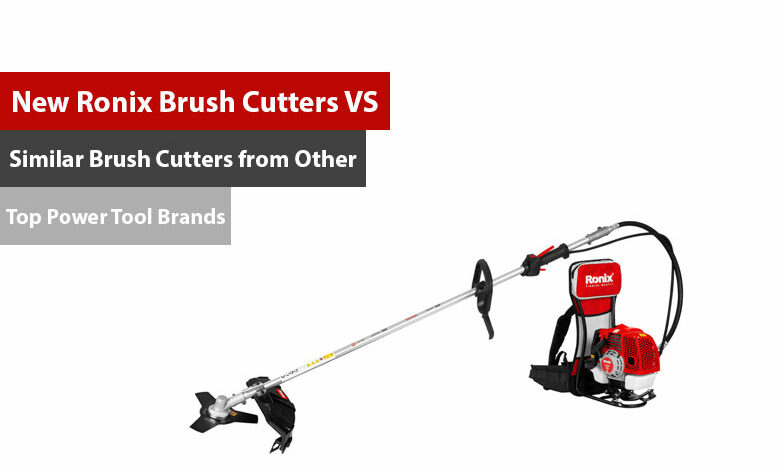 We all need to accept that keeping a healthy yard or garden isn't as easy as it seems. More than just watering and mowing are needed to achieve the ideal barefoot-worthy backyard. It needs a lot of fertilizer, the right tools from the best power tool brands, and a relentless fight against weeds and pests. With the summer season approaching, a delay in weed and grass control could quickly destroy even the most lucrative lawns. As a result, you'll need a brush cutter to keep your lovely paradise from being an overgrown mess!
Brush cutters are similar to line trimmers in that they use a thin nylon cord to cut plants like tall grass or weeds, while a brush cutter uses a metal saw to cut through dense foliage and tree trunks up to 4 inches thick. Brush cutters have a variety of starting and working mechanisms, but the basic concept is the same in all of them. When you drag the brush cutter toward the grass, they have blades to cut it. Brush cutters are stronger and more flexible than trimmers.
Why New Ronix Brush Cutters?
One of the well-known power tool suppliers and brush cutter suppliers is Ronix Power Tools Company. You can buy brush cutters from different power tool brands, specifically from Ronix tools company. Ronix is one of the leading power tool brands in china and many other countries, which offers a wide range of power tools specifically designed to satisfy customers. The power tools offered by Ronix are built with premium quality material; therefore, they promise to deliver maximum efficiency. The most common type of power tools manufactured by Ronix are drills, brush cutters, grinders, saws, etc.
Brush cutters come in a number of types and shapes from different power tool brands. Lightweight lawn cutters are ideal for removing weeds and long grass from your garden or yard. Heavy grass cutters, on the other hand, are ideal for removing thick brushwood quickly. Ronix has recently released a new product line that includes brush cutters and a variety of other innovative products. New brush cutters from Ronix are the 4553, 4554, and 4553 models. The new generation of Ronix fuel brush cutters are equipped with a 1350W engine with high torque, a 900ml tank, an ergonomic aluminum bike type handle, and shoulder ergonomic harness, so you won't be exhausted. The fuel-to-oil ratio in these gasoline cutters is 1:40, which is excellent. Their engine has a capacity of 51.7cc and runs at a top speed of 7500 RPM. The innovative design clutch system on the new Ronix brush cutters results in improved performance and efficiency. In addition to all of these helpful features, this tool's excellent CHAMPION ignition system ensures efficient, smooth operation. Ronix's new brush cutters dare to compete with many similar brush cutters from other power tool brands. With new Ronix brush cutters, there will be too much strength in your hands!
4553, 4554, and 4555 brush cutters offer a range of functions to users. You have a strong grip and low fatigue on the tool even after long hours of work. With the lightweight and ergonomically designed Ronix brush cutters you don't have to think about the neatness and beauty of your patio and yard any longer. The telescopic shaft, which is adjustable to your height and stance, also allows you to reach hard-to-reach working areas.
Furthermore, Ronix's latest brush cutters come with a variety of blade attachments that let you cut a variety of materials. They are highly reliable and efficient machines as long as they are well maintained. Brush cutters are beneficent tools, and we cannot underestimate their importance. So, in order to use them correctly, you must first understand how a brush cutter operates and then choose high-quality brush cutters from well-known power tool brands such as Ronix.