Ronix News
Industrial Tool Suppliers Should Not Miss New Ronix 4604 welding Inverter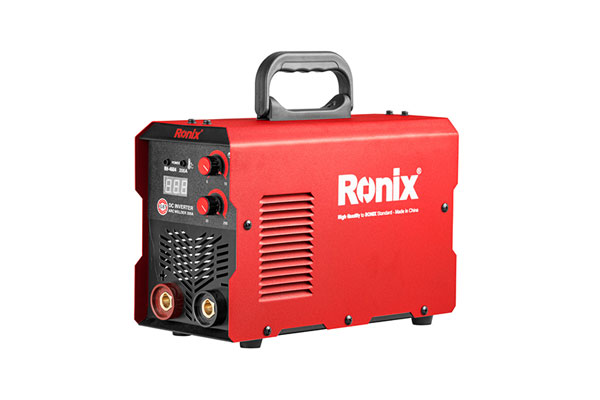 A welding inverter is a voltage regulator that is controlled by an electronic system. In a welding inverter's system, the AC power supply is converted into a lower usable output voltage, such as from 240V AC to 20V DC. Welding inverter-based devices convert the power using a set of electronic components, as opposed to traditional transformer-based devices, which rely on a single large transformer to regulate voltage. Today, industrial tool suppliers and professional welders are highly interested in inverter-based welding machines.
A welding inverter operates by increasing the primary power supply frequency from 50Hz to 20,000–100,000Hz. This is accomplished by using electronic switches that quickly transform the power on and off (up to 1 millionth of a second). The transformer's size can be significantly reduced by regulating the power supply before it enters the transformer.
Users generally prefer to buy a small device in size, along with high power and high output range so that it can be easily moved in the job site and used efficiently.
In this regard, Ronix company has recently produced a welding inverter with all the mentioned features after launching its Power Plus welding inverter and distributing it among industrial tool suppliers. 200-amp RH-4604 Ronix welding inverter is the one that customers are looking for.
New Ronix 4604 Welding Inverter
Ronix RH-4604 welding inverter uses a transformer with a ferrite core that is coiled with modern methods. Industrial tool suppliers are interested in this welding inverter since it has high-capacity power transmission paths, suitable insulation in different parts of the board to reduce magnetic interference, and it uses high-capacity capacitors.
It works with 220V power and 50Hz frequency and has a 60% operating cycle. This product's power has reached 9.5 kVA, which creates an output current between 30 to 200 amps and an output voltage of 65 volts. With the help of this power, the RH-4604 welding inverter has the ability to weld continuously with 4 and 5 electrodes.
More importantly, this welding inverter supports IGBT technology, which increases the quality of welding; it triggers more penetration and reduces energy consumption. It significantly reduces the resistance and magnetism of parts; in addition, it increases the efficiency of the device.
This system, also known as a "Thermo Switch," automatically turns off the device when the temperature rises and when the user puts too much pressure on it, preventing it from overheating and thus damaging the internal components.
Welding inverters' users who move the device frequently from place to place on a daily basis are well aware of the difficulty and danger of transporting the device constantly, especially at heights, if the device has a relatively heavy weight. So, tool suppliers and users should consider buying a welding machine with maximum power and output amps and minimum weight.
Ronix has designed, manufactured, and marketed its Power Max welding inverter with the minimum possible weight, taking into account the professional users' needs. This product, which weighs only 5 kg, has a unique, technical design that brings a long life to your welding inverter, and the body of this device is strong and resistant to any possible shocks.
Suppose you need a durable welding inverter for industrial and semi-industrial welding projects; In that case, tool suppliers recommend the Ronix RH-4604 welding inverter, which has been repeatedly tested by the Ronix supply chain and many other industrial tool suppliers. It has passed its tests very well. Industrial tool suppliers believe that it's a device with real 200 amps power, capable of continuous welding with electrodes 4 and 5 and ultrasonic switching frequency. Industrial tool suppliers believe that this ultrasonic switching frequency has far less noise pollution than its similar competitors.
All in all, professional welders with sniper eyes and a surgeon's hands choose to buy New Ronix 4604 welding inverter.