What is the best way to organize tools?
Any ambitious tool distributor and store owner that wishes to turn their business into a customer magnet, has at least once googled "my tool shop design" to get ideas that work.
For professional users, DIYers, and tool junkies, a tool shop is more than just a store to spend money in, It's their second home! And if you want to be that safe haven for them, you should first and foremost work on your tool shop design because after all store appearance is the first thing the customers notice. If you are looking for ideas to effectively organize a tool shop, you are at the right place.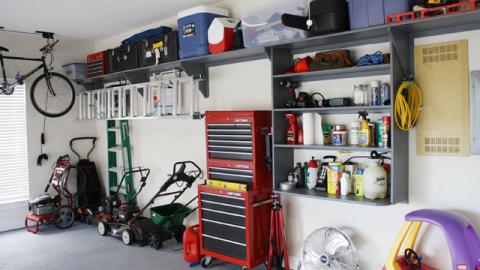 How to Organize Tools, General Facts
Stocking your store with the right tools is the first step toward success. You better make a collection out of high-quality tools with affordable price tags that any carpenter, electrician, construction worker, mechanic, metal worker, and DIYer would crave for.
Some of the most essential tools in tool shops are wrenches, screwdrivers, pliers, crimping wires, drills, saws, hammers, measuring tapes, cutting plates, and various types of accessories and spare parts. Choose the right brand and you are ready to go!
After stocking your store with the right tools, you should move on to the next step which is decorating the sales floor in an attractive and calculated way.
Your tool shop design somehow indicates the quality of the tools you offer or at least is interpreted that way by customers. So, let's see how you can improve it:
1. Focus on The Right Side
According to studies, 90% of customers find the right side of a tool store more attractive. so, more popular, versatile, and essential products should be showcased in that part. Placing brochures and advertisements on the right wall of the shop can also attract the attention of the customers that walk in.
2. Play with Paint
To have a more modern and captivating tool shop design you can also play with popular color combinations within the industry that clients usually associate with quality, power, and efficiency. Some of such combinations include red and green, red and black, black and yellow, etc.
3. Create Cabinets
Cabinets are considered to be the most effective space-saving solution in a tool store and they make it easier for you to find what you need.
Have you ever struggled to find a tiny bolt among thousands of other bolts and nuts? It's like looking for a needle in a haystack! The time has come to separate them all, collect each set in a basket or an empty tin, and put it in the cabinet. This way you can save space and save yourself the trouble of searching.
Moreover, as cabinets can be locked you can rely on them to protect your collection from being stolen or damaged due to misuse by customers.
4. Display Related products Together
To organize the tool shop effectively and encourage customers to buy more products, you should arrange the stand in a way that related and compatible products be near each other. That way a customer who is there to buy an angle grinder might also go for cutting wheels or other abrasive discs.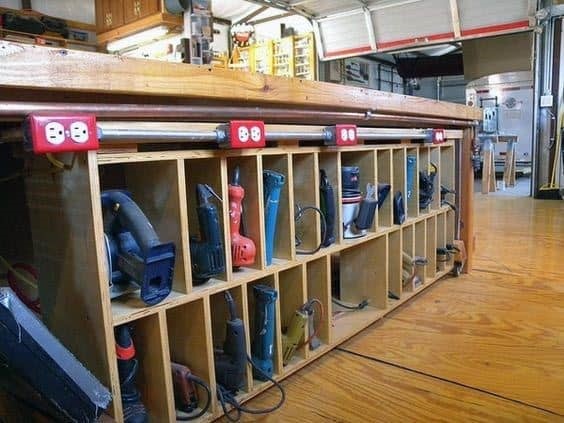 5. Use to-the-point Descriptions
After organizing your collections in the right order, you should then consider using labels that clearly explain all the features, applications and advantages of each item. This will give your store a more professional and organized aura.
6. Include Some Shelves
Having said it all, your tool shop design would still be half-done without shelves.
Let's explore how should you use shelves to upgrade your tool shop design.
How to organize tools on shelves
To make the best of Shelves in your tool store, you should use them to separate tools based on their functionality.
Unless you are looking for power tool shop design ideas, as a store owner you have an amalgamation of various tools to offer.
Experience shows that putting power tools, hand tools, cordless tools and consequently specialized equipment like cutting tools, gardening tools, and tools for electricians or mechanics can increase your sale and help customers make fast and easy choices.
By using shelves that are organized based on the type and functionality of the items available in your shop, you let customers clearly see their options and compare them to find what best suits your needs and helps you to be a resourceful shopkeeper that can help customers find whatever they need in the blink of an eye.
If you need help in branding your shop, you can always rely on Ronix team which is committed to brand your shop professionally with creative design ideas which include using stands, shelves, cubes, posters, and banners.
FAQs:
How can we organize tools in our shop?
As tools come in various shapes and sizes you need different storage solutions such as shelves, cubes, and cabinets to organize your tools in.

How to set tool shelves in a shop?
Choose the right shelves based on the type and size of the tools you want to store and stock each with tools of the same category, be it cutting tools, gardening tools, plumbing tools and etc.