What is the best way to organize tools?
Today I am going to write about the importance of the design process in a tool shop. When you are building a tool shop, there are things to consider. For professional users and also DIY enthusiasts, a tool shop is more than a place where they can buy some tools. It's their second home!
One of the most important things to do when you are building a tool shop is to decorate it properly. In the decoration of a tool shop, you should pay enough attention to the interior design of the shop and the correct shelving of the tools. When you are decorating a tool shop, you should use the elements that are attractive to people. Try to use the appropriate colors of the tool industry to decorate your shop. Like the combination of red and green, red and black, orange and gray, etc. Building a tool shop with a great design and enough information and knowledge in this field will make your business prosperous. To start your business, it is necessary to have sufficient knowledge about the products that are sold in your shop.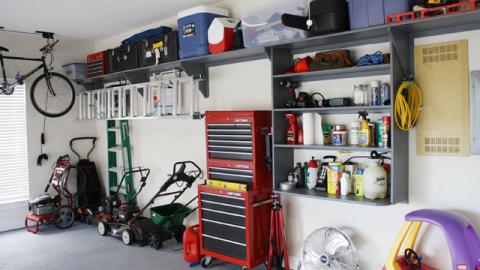 Tool shop products have different categories ( power tools, hand tools, gardening tools, etc.); the separation of them makes the customers purchase the product sooner and easier. The entrance of a tool shop is where the customer takes his first steps and gets an overview of your tool shop. He finds out if your products are cheap or expensive, high-quality or low-quality, etc. So here, the decoration of your tool shop and the way the tools are arranged have a great impact on attracting customers.
Buying tools is very important for your tool shop. When you are starting your first tool shop, try to buy the necessary tools that are cheaper but with high-quality. The most essential tools in tool shops are wrenches, screwdrivers, pliers, crimping wires, drills, saws, hammers, measuring tapes, cutting plates, and various types of glue and bolts.
According to studies, for 90% of customers, the right side of the shop is more attractive. so, when designing the right part of your tool shop, the arrangement of tools should be specially done. Therefore, more important products should be placed in this part of the shop. Placing brochures and advertisements and descriptions of each product on the right wall of the shop increases the power of customer attraction.
If you need more information about tools that need to be bought check. all the necessary tools in your toolbox.
Make different categories:
Separate power tools, hand tools, air tools, and gardening tools. put all power tools in one group, group all hand tools together, and so on.
Create cabinets:
Using the cabinets is the most effective space-saving choice. Have you ever tried to find a tiny bolt among thousands of other bolts or nuts? So, it is time to separate all these tiny but effective tools. You can choose a basket or an empty tin to put all your bolts in it then put it in the cabinet to save space and keep your tool shop more organized. If you don't want to put your small tools such as bolts, nuts, screws, etc. in a cabinet, create baskets or drawers and make shelves for them; put the tins, which are full of screws, bolts, or nuts, on the shelf in the open air. You will also need a cabinet for your expensive tools; when you want to close your shop, put expensive tools in a cabinet or a place that can be locked.
There are things that you don't like to put them in a cabinet or box. With baskets on the wall, you can keep some of your tools in the open air.
If you hide tools in tool kits or cabinets, you will forget or miss them; so, it is better to consider a slat board to put practical tools on it. For smaller tools, use pegboards and hang them wherever you want.
Make a charging station:
As you know, tools can be corded or cordless. Cordless tools are multifunctional and practical tools that can be easily carried. If these battery-powered tools run out of charge, they will be functionless. So, making a charging station is the best option.
Make a work table:
One of the most important requirements in almost all tool shops is a work table. Your work table needs to be equipped with some tools such as a drill, planer, polisher, sander, etc. These tools give you the opportunity to cut woods for your projects and so on. The work table in my tool shop had some unused spots; so, I made the best use of those wasted spots and created cubbyholes for some of my must-have tools.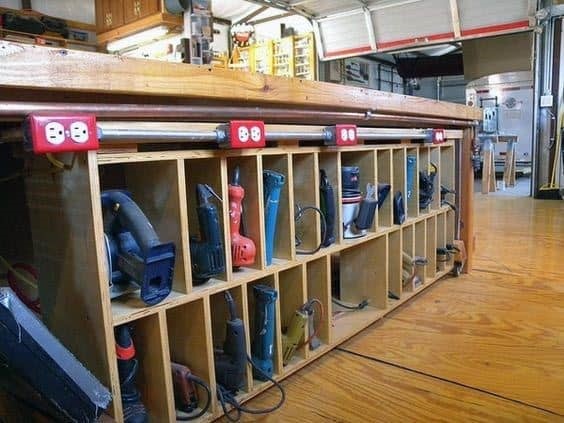 Keep the tools of your tool shop in a good condition:
Cold or hot weather will damage your tools. Keep them dry and get rid of the humidity!
If you keep the tools in a cold place and then try to use them, you will break the tool. To avoid this, put the tool out of the cold and then try to use it.
Be creative and come up with a great business idea:
I made an effigy with eye, ear, head, and foot protection and I put a chainsaw, like a neckless, around his neck. The idea of effigy made my tool shop more exciting for customers.
As pneumatic tools (air tools) are heavy and they can't be easily carried, I made something like a wheelchair for my heavy pneumatic tools. So, you can carry these tools everywhere you want and get your job done quickly.
Start taking steps toward your goals and build a tool shop that suits your customer's needs and requirements.