What if I had an incredibly captivating hardware shop rack design that would leave everyone awestruck and reluctant to leave my store?" This question immediately crossed my mind as my friend and I stepped into Mr. Geller's Hardware store for the first time, the first thing that caught my attention was the narrow aisles and dim lighting and the boring place to even walk, let alone shop and spend time choosing and picking up a specific tool or device among the variety of them.
"I couldn't help but overhear you talking about our store's layout. You're absolutely right; it's something we've been aware of, and I appreciate your patience as we work on improving it. "
These were the last words I ever heard from Mr.Geller while rushing out of his store and being sure there would be no return.
In my opinion, an acceptable and creative hardware shop interior design in which people feel comfortable spending time and searching around to find whatever they need or having easy access for those who don't have enough time to search around is the simple meaning of Art. The art of Hardware Store Design.
In this article, I'm going to give you some Hardware showroom ideas and some advice and tips to have an interesting and practical hardware shop interior design to be better known in your field.
The miracle of the store layout
You don't need to be a magician to perform miracles
It must have happened to you that you stood in front of a store window for a long time and it caught your attention and it even made you go inside the store to shop even though you didn't have enough money to buy it Yes, that is the miracle of hardware store design layout friend!
Now the factors and criteria for a good hardware showroom layout are:
Decide on a store layout
Let's move straightforward
here are some store layout ideas: Try to make clear pathways. Clear pathways and a layout with wide, well-defined aisles that allow easy movement and prevent congestion make it easy for customers to navigate through the hardware shop's interior design.
Customers can find products quickly and efficiently, reducing the time spent searching and increasing the likelihood of making purchases.
Organize the store by category and product type
Streamline Your Costumer's Shopping Journey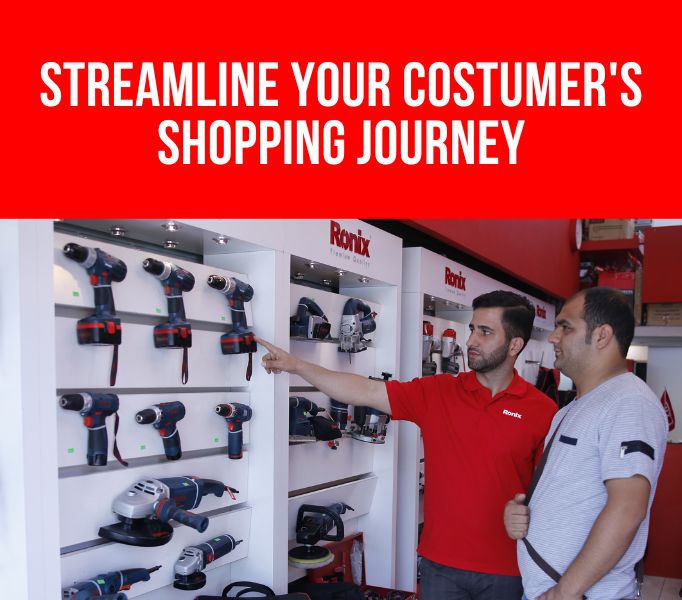 Organizing your hardware showroom, your hardware shop rack design, and your products is a smart way and it offers several benefits to both sellers and customers. By providing your customers with a broader perspective of your products, they may discover unexpected items of interest. Placing them in the right place at the right time can help them recognize needs they hadn't initially planned for, ultimately leading to additional purchases and It can make the shopping experience more enjoyable
The front of a hardware shop
"Seeing is believing."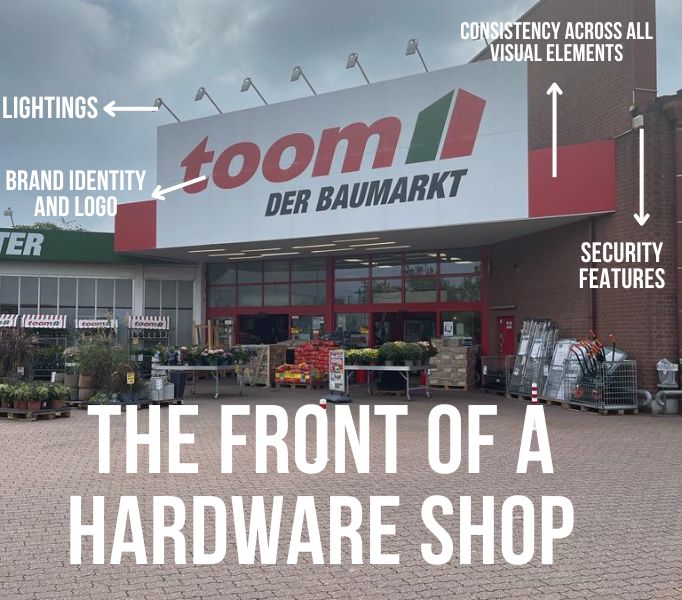 Visual evidence is often more convincing than simply hearing about or imagining something. People typically form their initial impressions based on what they see first. Therefore, the front design of your hardware showroom plays a pivotal role in creating that crucial first impression, influencing how customers think and ultimately make decisions about your business.
There are some factors you should keep in mind while designing and setting the front of your hardware store and hardware showroom such as :
. Brand Identity and Logo: Having a special logo will help your customers remember you and it will also make your store stand out in a crowded market. It serves as a memorable symbol of trust and quality as well.
. Lighting: Lighting sets the stage! By having a good lighting performance in your hardware shop rack design and the layout of store,, you can attract attention, especially during evening hours. lightings can enhance the products whether inside your store or at the storefront of your hardware shop.
. Security Features: put security features like cameras and alarms discreetly in your hardware store layout plan to maintain a welcoming appearance while ensuring the safety of the store.
. Consistency Across All Visual Elements: Visual elements such as appropriate colors, forms lines texture, and shapes will create the first impression customers have of the store and the layout of store.
Ensure Your Store Is Accessible
This place is open to all.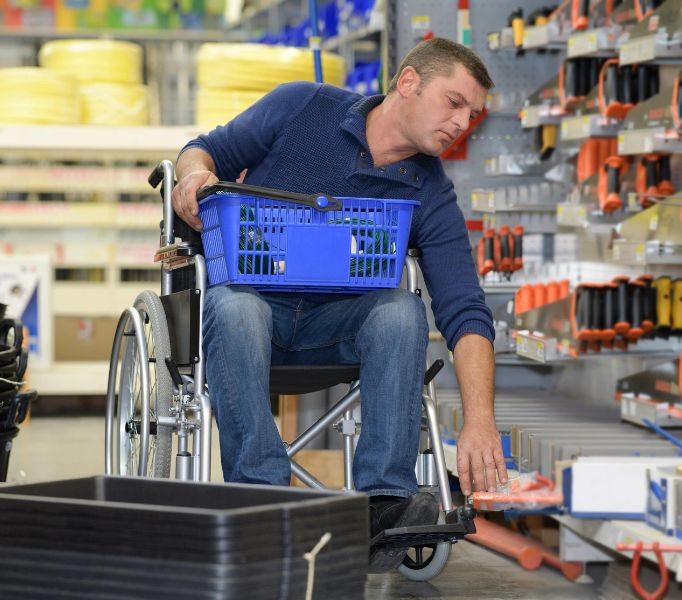 Make sure everyone can use your store, regardless of their age, height, or physical abilities. This is one of the important things that you should pay attention to in the layout of store .not only this is one of the first basic principles of humanity but also it's a fundamental aspect of running an ethical and customer-centric business. Creating an environment where individuals feel valued and appreciated fosters trust in your company, making them more inclined to engage with you and develop a genuine affinity for your brand.
Strategic Product Placement
Maximizing Exposure with Smart Tactics
. create an eye-catching display: Are you highlighting a specific product line, a seasonal promotion, or a DIY project idea? Make sure the theme aligns with your target audience. by using catchy and interesting colors, shapes, lines, and elements in your hardware shop rack design and the layout of store, your target audience can effortlessly grasp your intended message with just a glance at your products.
. Product Grouping: Group related products together to make it easier for customers to find complementary items. For example, display screws and screwdrivers together.
. High-Traffic Areas: You can place your popular or promotional items and tools in high-traffic areas, such as near store entrances, checkout counters, or aisle intersections, to maximize visibility.
Checkout Optimization
Strategically Positioning Your Point of Sale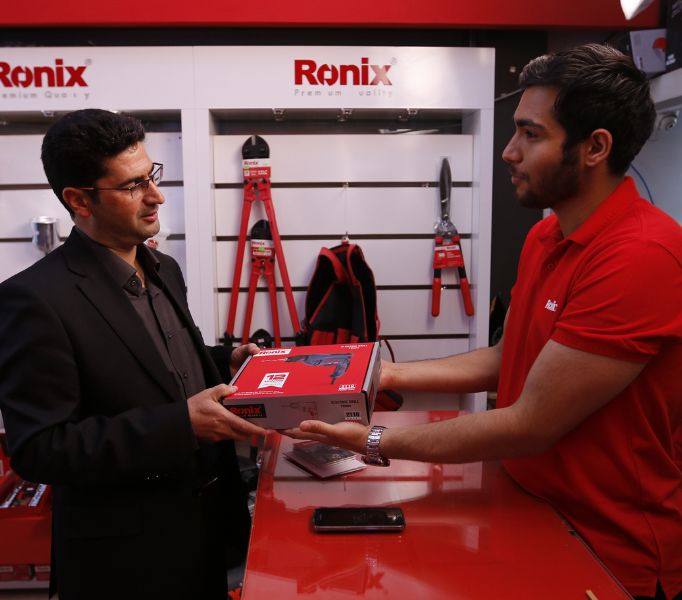 The placement of your checkout should ensure that your customers have had the opportunity to explore the entire shop before making a purchase
This exploration can lead to the discovery of products they hadn't initially planned to purchase. By providing an opportunity for customers to browse and engage with your merchandise, you increase the chances of upselling and cross-selling, ultimately boosting sales.
Enhancing the Shopping Experience
Adding Customer Amenities to Your Hardware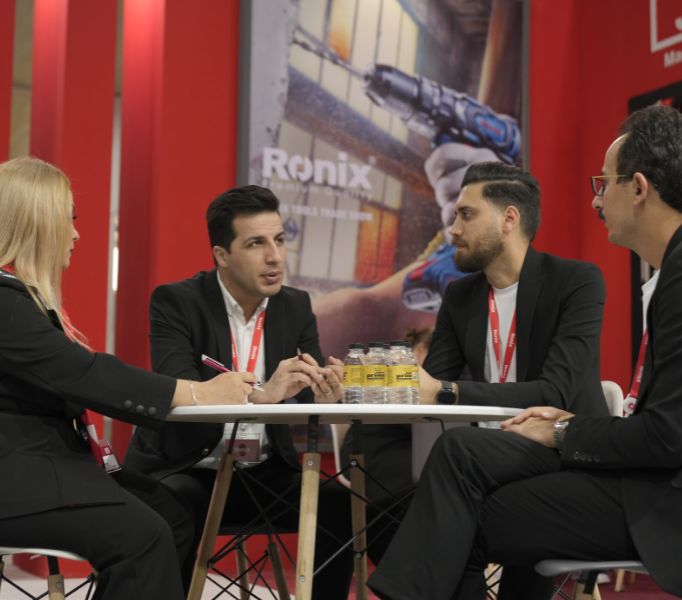 I remembered that I entered a hardware store once and I immediately noticed a comfortable seating area near the entrance with a few chairs and a coffee station. I decided to sit down, grab a cup of coffee have a quick chat about the tools I need with the salesman to plan my shopping list. This unique experience and unique hardware store design left a lasting imprint on my memory as soon as I want to talk about the hardware store, this is the first place that comes to mind. You will definitely like a place where they value you and your needs and comfort so try to keep it in mind in your hardware showroom design.
try to be known as a customer-friendly hardware shop and a place where people feel satisfied not only with their purchases but also with the overall shopping experience.
The Artistry of Hardware Store Interior Design
Building Dreams
Some people think that because they own a hardware shop, their job and the layout of store and field of work don't contain art, design, or any creative change. They taught that all of the hardware stores follow the same design and no changes are needed but the main point is here
You are going to be noticed if you have something different to give to your customers! it can become a selling point itself, attracting customers who appreciate not only the products but also the shopping experience. Here are some Hardware showroom ideas and tips for your hardware showroom design.
. Technology Integration: You are a hardware store and you should convince your customers to use a tool instead of their hands so by using digital signage, touchscreens, or augmented reality (AR) you can help them think better and have the real experience in the store and this will increase your sale. so try to use it in your hardware showroom design and keep it in your hardware store layout plan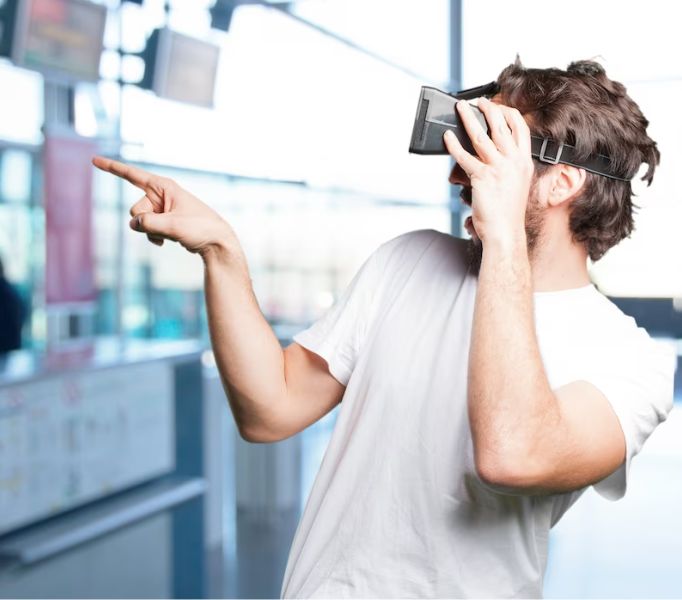 . Sensory Experiences: Try to engage all five senses of your customers when they enter your store. You can use catchy colors, music, and pleasant scents or even provide tools for them to touch and try. These elements can enhance the shopping experience and create a memorable atmosphere.
. Product Knowledge and Education: You can add some information kiosks or prepare some slideshows in your interior design. it will provide customers with valuable product information, usage tips, and DIY project ideas.
Modern hardware shop design
less is more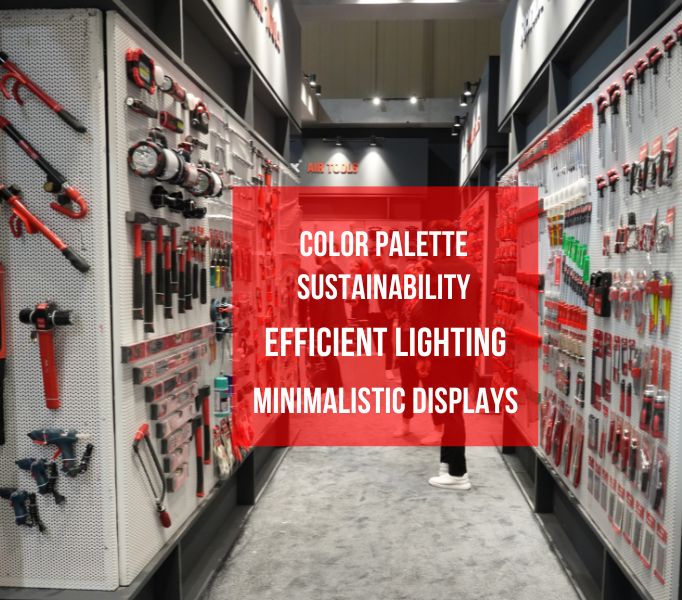 You can make an effective shopping environment and hardware shop rack design by simplifying the space and focusing on key elements. Don't make your store so crowded with various types of unnecessary tools.
. Minimalistic Displays: Keep it simple and avoid visual overloads in your layout of store . minimalistic displays will help your customers focus on the products and tools themselves.
. Efficient Lighting: By using adjustable lighting in your hardware shop rack design and your layout of store you can introduce and highlight your products better
. Color Palette: Limit your color palette to a small number of colors. don't use too many colors in your hardware showroom design. This can make it difficult for the viewer to focus on essential elements or your Hardware showroom ideas
. Sustainability: You can use eco-friendly elements in your hardware shop rack design and the hardware store design to attract environmentally conscious customers. you can use recycled materials such as wood, cardboard, paper, metal, glass, or fabric to make a friendly and warm environment for your customers.
FAQ
How to design a hardware showroom?
you can design a hardware showroom by planning a logical layout, providing adequate lighting, organizing products by category.
How to decorate a small shop?
To decorate a small shop, arrange things efficiently, use wall space, use mirrors to make it look bigger, pick matching colors, and keep it tidy.