Electric screwdrivers have found their place in the toolbox of every carpenter, handyman, electrician, mechanic, and any other professional user by saving time and energy and minimizing errors. Mini electric screwdrivers go even further in making things easier for the user; They are a great choice for operation in confined spaces and are easier to use, store and carry around.
These compact power tools might not be the best option for large-scale tasks of heavy nature and probably not a great fit for your workshop or factory, but they are the best choice for domestic tasks and a perfect personal assistant for homeowners and newbie DIYers.
Are you tired of tightening and loosening multiple screws while fixing your TV, repairing your kitchen cabinet doors, or assembling furniture? Then get through this guide to find the best mini electric screwdriver, add it to your toolbox, and save yourself the trouble. if you are interested in working with cordless screwdrivers do not miss our best electric screwdrivers article.
Best Mini Electric Screwdriver
If you want to find the best small electric screwdriver among various models available on the market, there are many factors you should consider, including the power source, torque, speed, design, and additional features like LED light and quick-release chuck.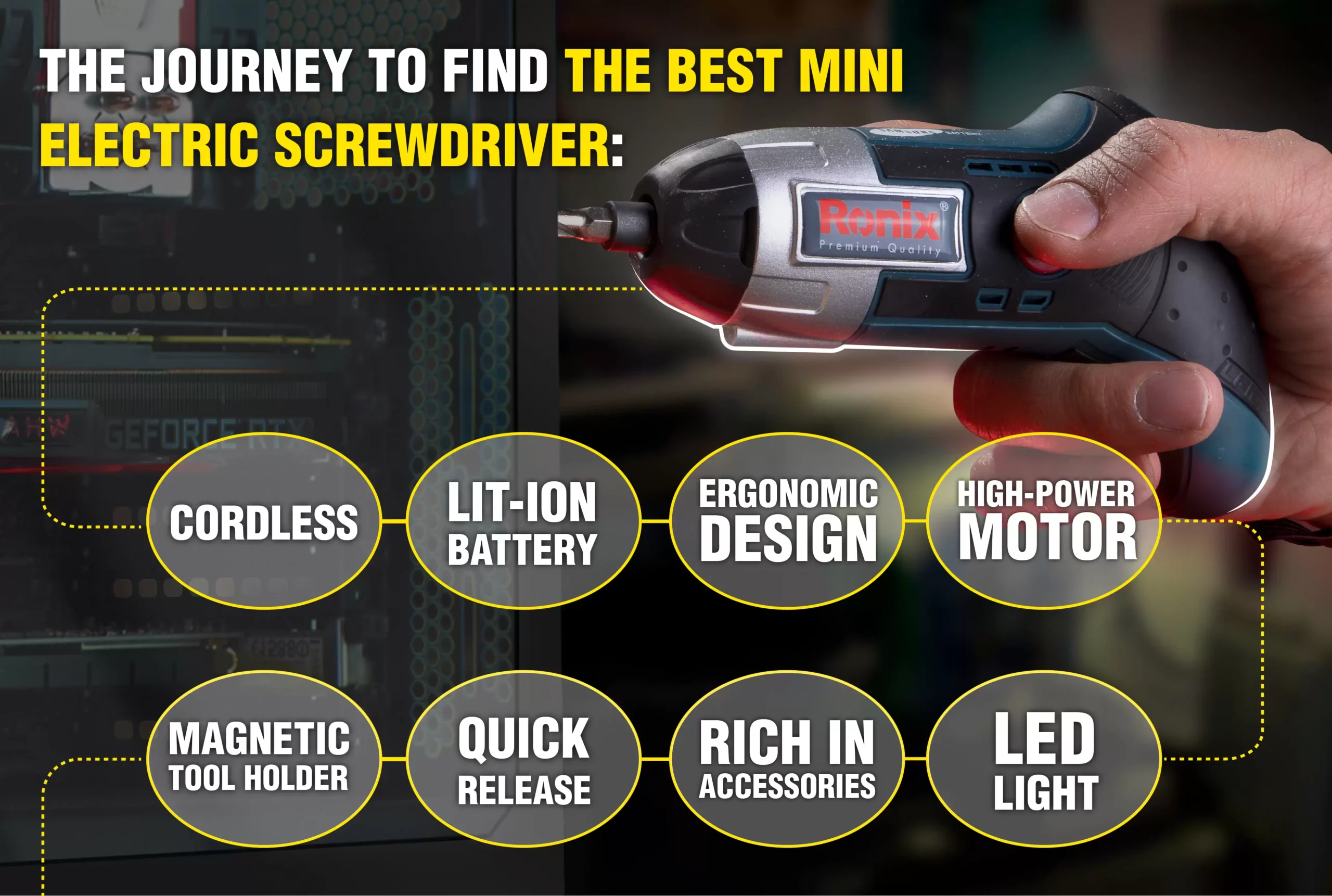 Keep on reading to get all the information you need to make an informed choice:
Source of Power
The best compact electric screwdriver is, first and foremost, cordless because a corded model would limit the user's freedom of movement and restrict their accessibility to confined spaces while rechargeable models can be taken anywhere, be it on top of a mountain or in a submarine floating deep down the ocean!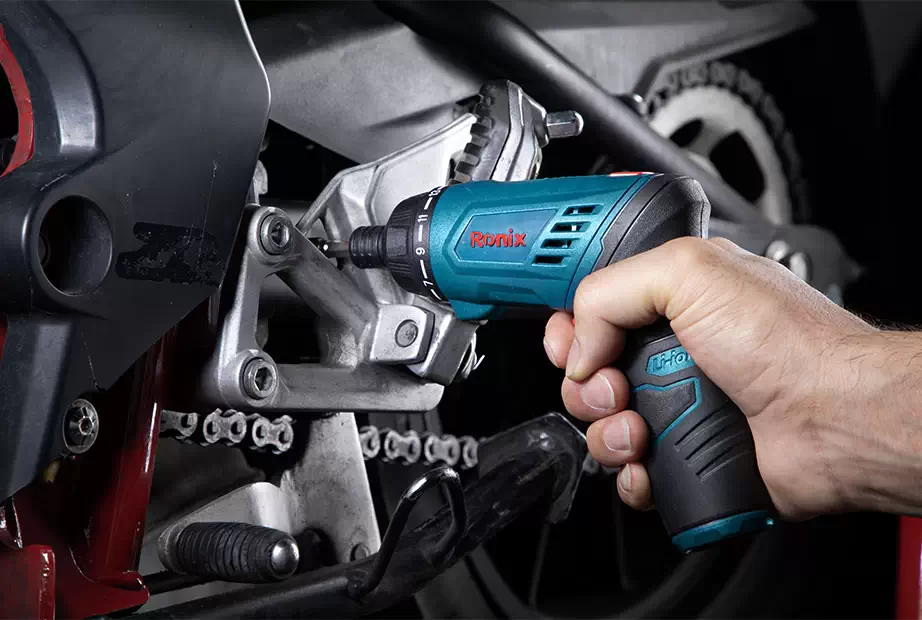 However, if you are looking for the best of the best, you should focus on the battery. The best small cordless screwdriver runs on a compact-cell lithium battery because, compared to their nickel-cadmium counterparts, they charge faster, enjoy less downtime and self-discharge rate, and have no memory effect.
Related Articles: Best Professional Screwdriver Set
Motor
This ideal tool needs a high-performance motor to deliver enough torque to the chuck and help the user with an effortless operation in tightening and loosening multiple screws in no time.
Design
The best small electric screwdriver is light and handy and has an ergonomic design to be easily carried and used with no hand fatigue.
To be worthy of such a title, this tool should also have a durable and resistant body to contain the risk of damage in case of falling.
Chuck
This ideal tool comes with a quick release and magnetic tool holder which ensures an easy and fast change of bits to save time and energy and bring about a convenient operation.
LED Light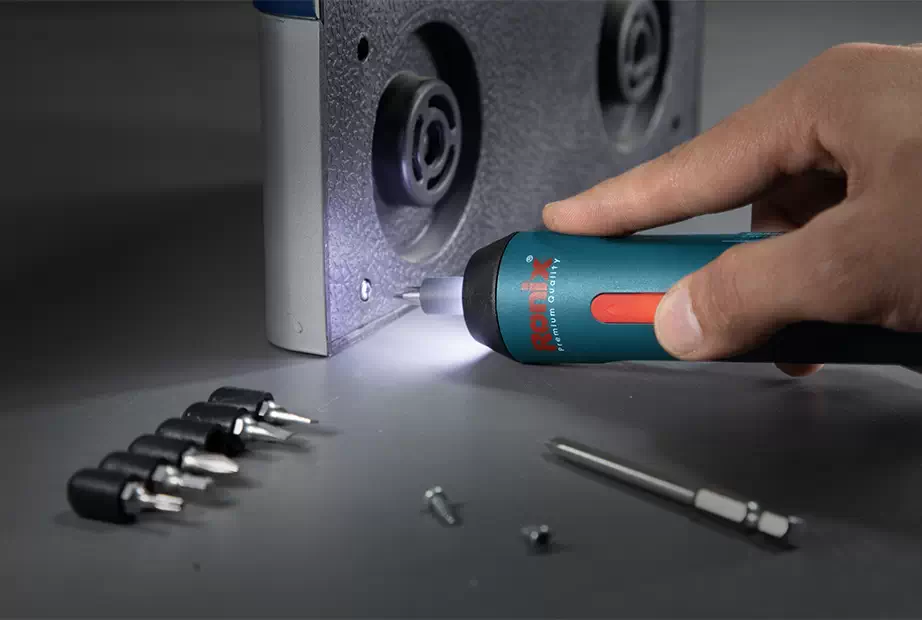 In many cases, the screws you need to loosen or fasten are located in dark and confined spaces so the best compact electric screwdriver is the one that comes with an LED light. This feature will also help you get the job done with more accuracy and fewer mistakes.
Accessories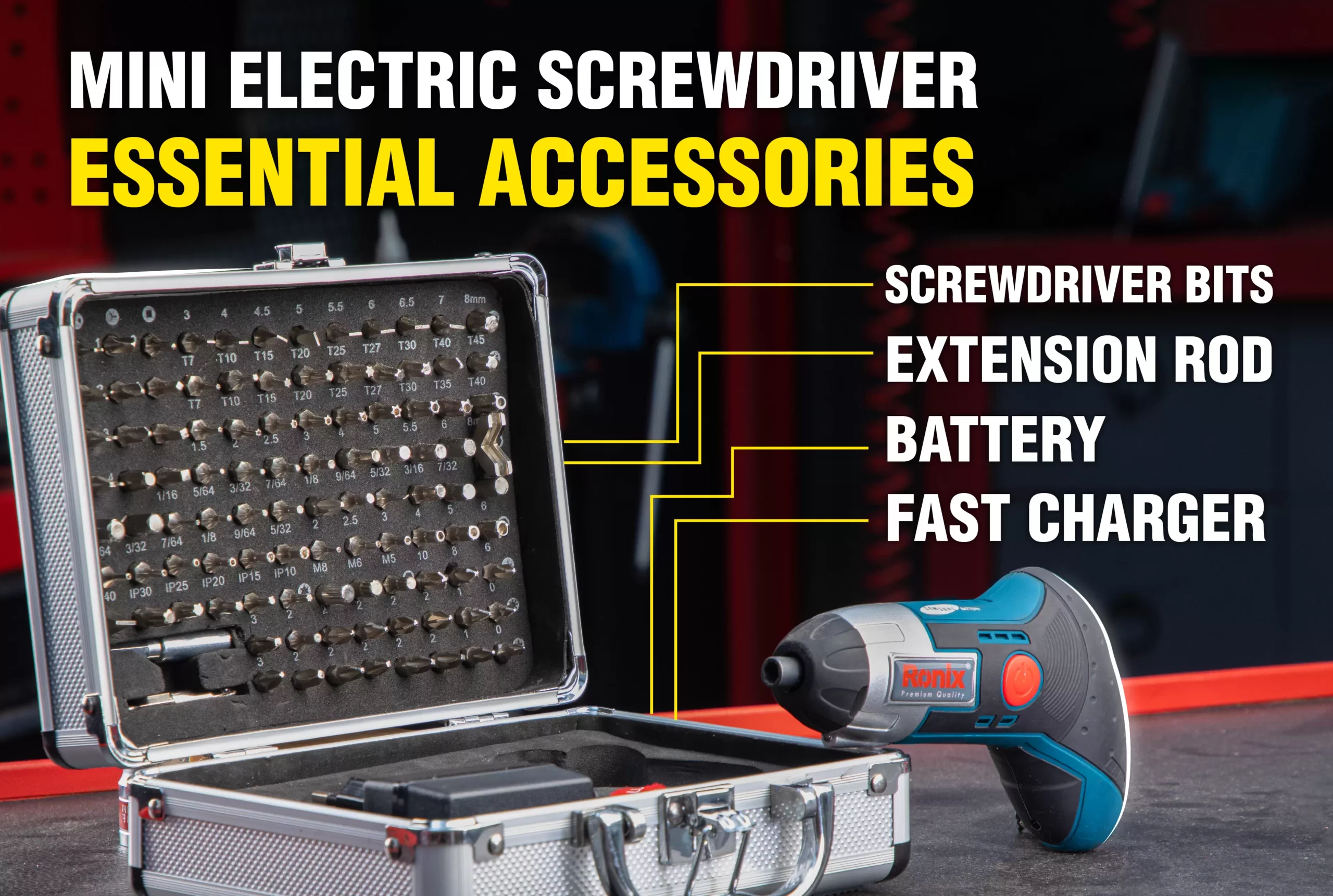 If you are looking for an ideal option, go for the one that is fully packed with needed accessories such as screwdriver bits, an extension rod, a fast charger, and batteries.
The best choice is usually the one that comes with a complete set of bits and provides you with a range of choices you can make based on the size and type of the fastener you need to turn.
Evaluate Your Options
If strong motor performance and increased runtime are what you look for, Bosch IXO 7 would be your best bet. DeWalt 8V DCF008 will fulfill your expectations of a tool with a powerful battery and Makita DF012DSE can redefine your definition of "lightweight".
Although each of these models is great at something, the title of the best mini electric screwdriver goes to Ronix 8500 because it combines all the above-mentioned qualities at the highest possible quality with unrivaled affordability.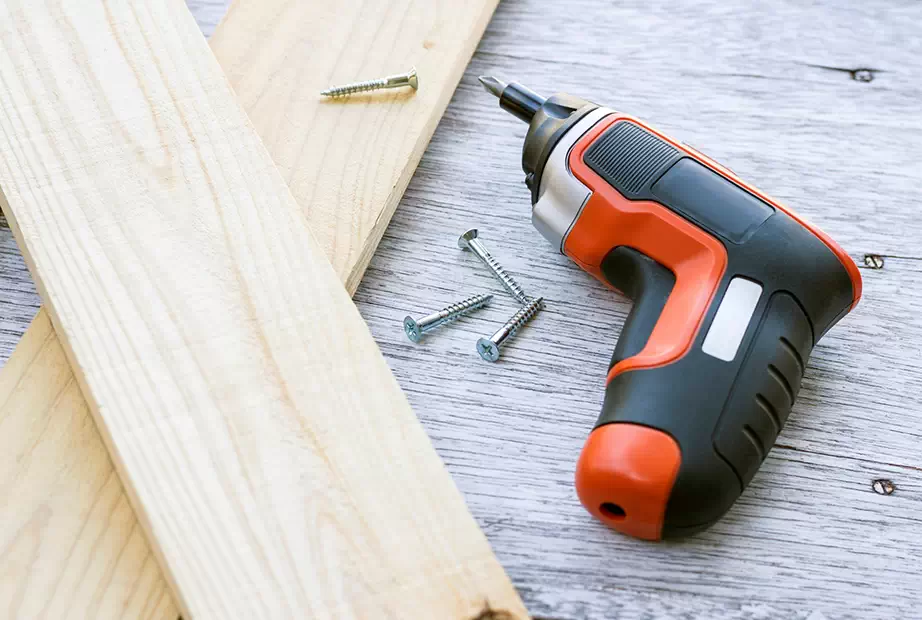 This 0.6 kg electric screwdriver runs on an efficient and fast-charging 3.6V Lithium battery and delivers 3NM of torque in its 200 revolutions per minute.
This product comes with a fast-charging system perfect for tight working conditions and an LED light that let the user get the job done even in the darkest of hours and spots.
8500 is particularly handy and ergonomic so you can handle it with perfect ease. Moreover, thanks to its advanced magnetic and quick-change chuck you can change the bits at your convenience.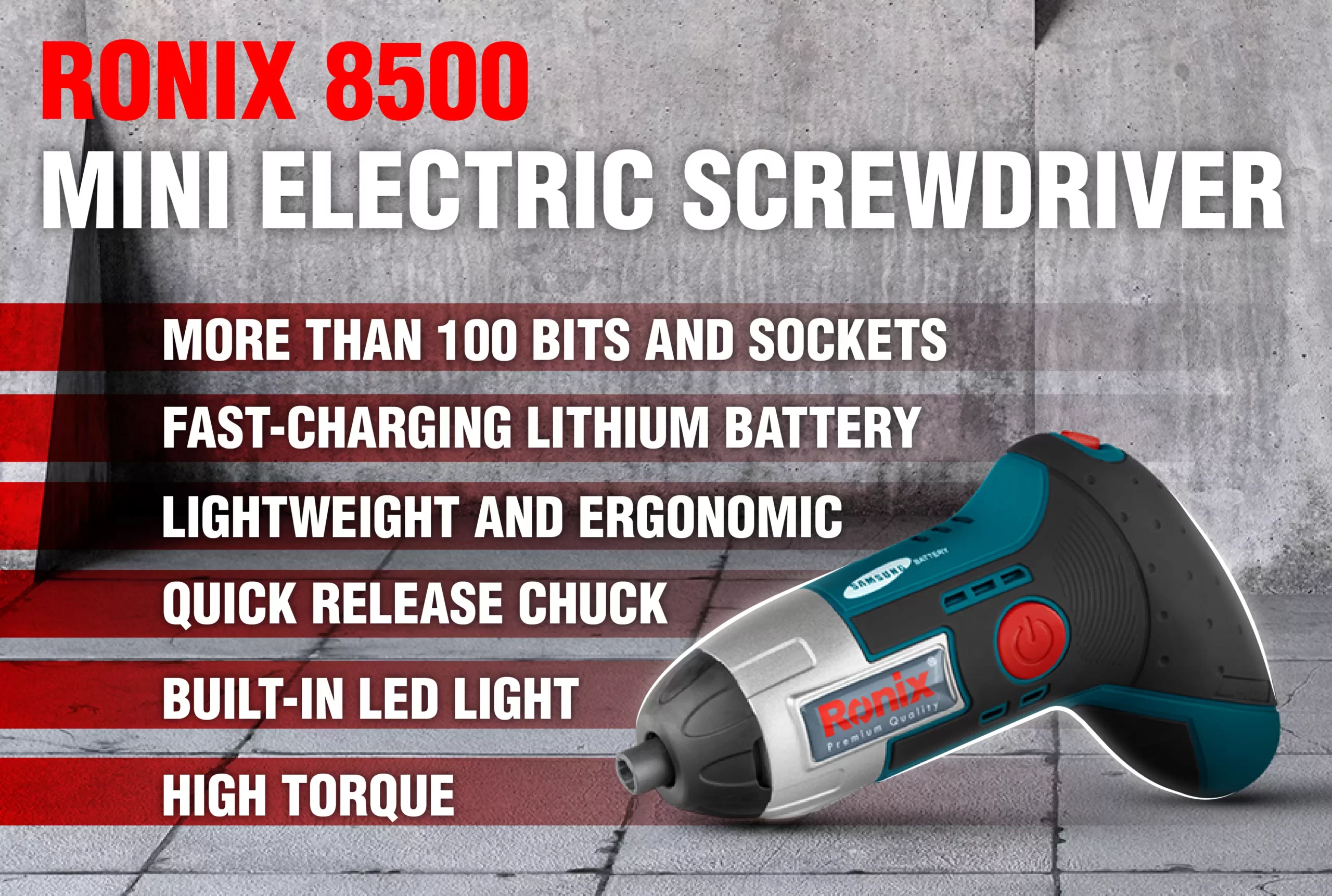 As the best small cordless screwdriver, this tool is offered in a durable and unique Aluminum case that contains more than 100 bits and sockets made of high-quality S2 materials to make things even better for the user.
With more than 2000 types of tools and spare parts that go up to 24000 in number, the best small cordless screwdriver is just one of the many special offers Ronix has for its international customers. This world-famous brand has a 30000m2 warehouse in which no product ever goes out of stock and delivers any order in less than two weeks!