Take a brief break from daily hassles to think about the relaxing process of using an electric saw for cutting wood: The heavenly scent of freshly-cut wood, the sound of slicing through the wood fibers and the sense of satisfaction, joy, and achievement you feel about creating a wooden craft of your own.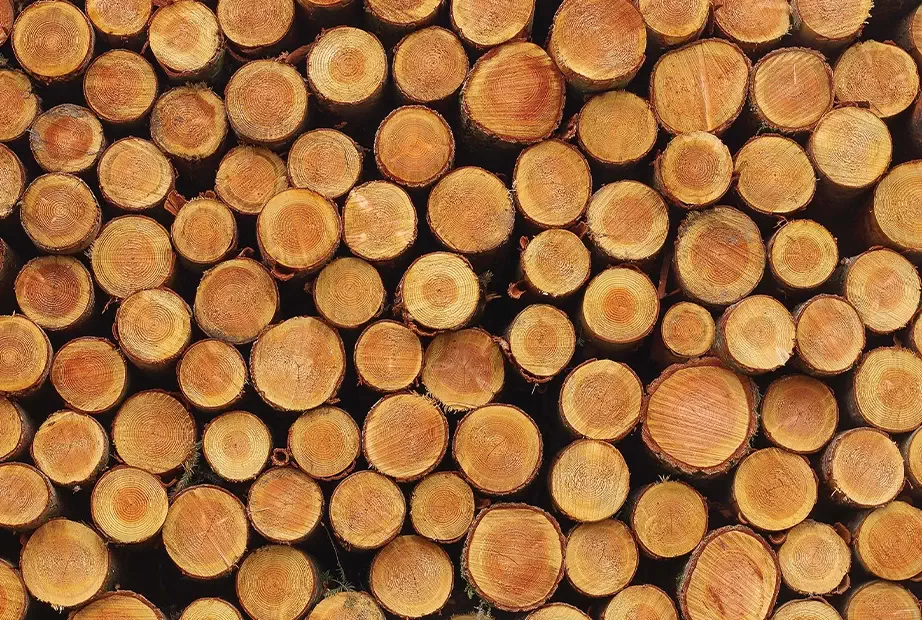 This is comforting and Invigorating, isn't it? But this satisfying experience can easily turn sour if you start to worry about damaging the texture of wood or struggling with making accurate, clean and smooth cuts on the workpiece.
But don't you worry because Ronix team has your back! Here in this article, we list out all the information you need to choose the best electric saw for wood and pick up the right tool with confidence.
Can an Electric Saw Cut Through Wood?
The answer is "yes". In fact, the first tool anyone thinks of when it comes to cutting wood is saw, be it manual or electric. However, most users prefer an electric saw for cutting wood because it is easier to use, faster, more precise and less physically demanding.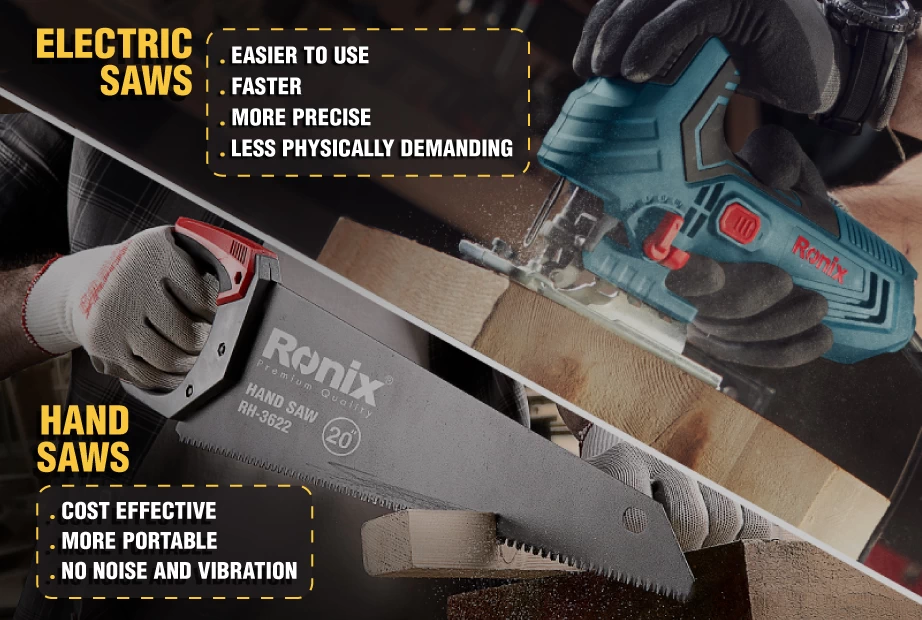 Electric saws come in a variety of types, each designed to fulfill different needs and make specific cuts. In its journey from the forest to a woodworking bench and then your favorite woodcraft shop, a piece of wood passes different cutting stops in which different types of saws make it ready for the next step.
Let's take a comprehensive look at best electric saw for trees article.
Everything starts from a chainsaw. You pick it up and lose yourself in the heart of forest to cut trees, albeit in a responsible and sustainable manner that you sure never forget about!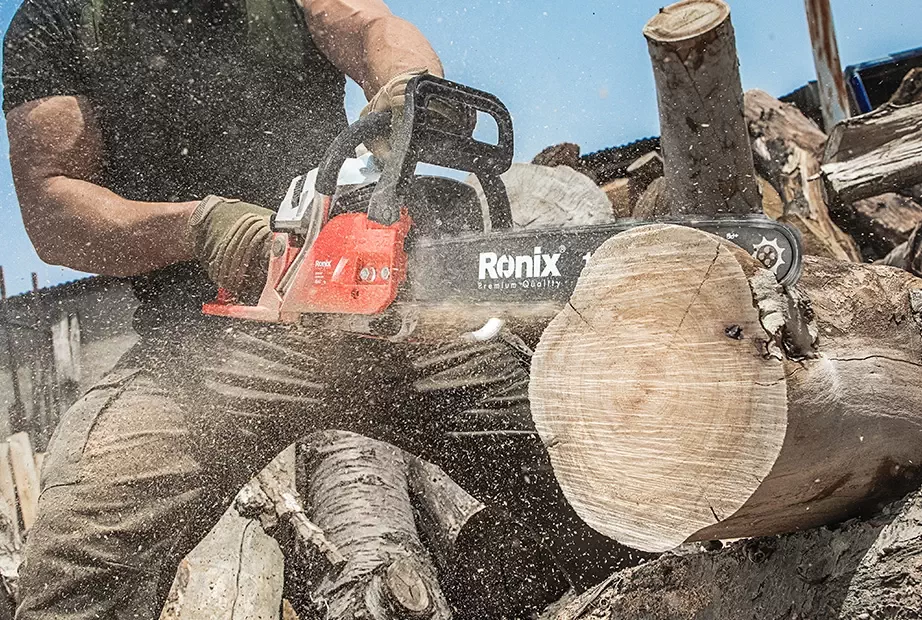 The wood that comes out of felling trees is still very much fresh, pure and untreated. But it's all going to change thanks to the advancements in the world of tools. With a band saw you can turn this valuable resource to timbers that can be used for a wide range of applications, from decking to making skeletons for wooden houses.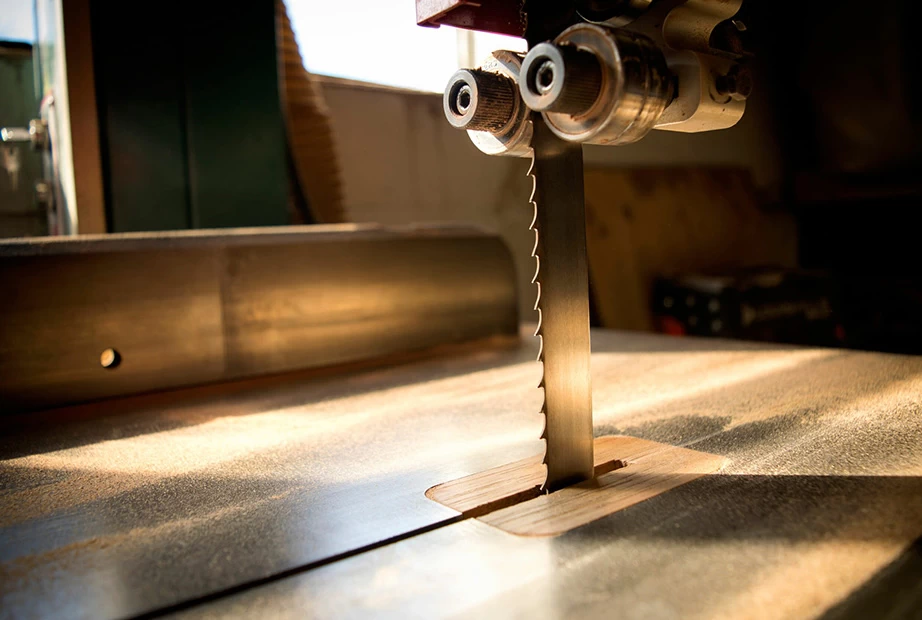 Based on your needs and expectations, you can leave these large pieces of wood to the blade of different electric saws. For instance, if you want to make straight cuts length-wise or width-wise, the circular saws are the best tool you can use and if intricate curved cuts are what you think of, you need to go for a jigsaw. As a versatile electric saw for wood, a miter saw is also always at your service when it comes to making angled cuts on the workpiece.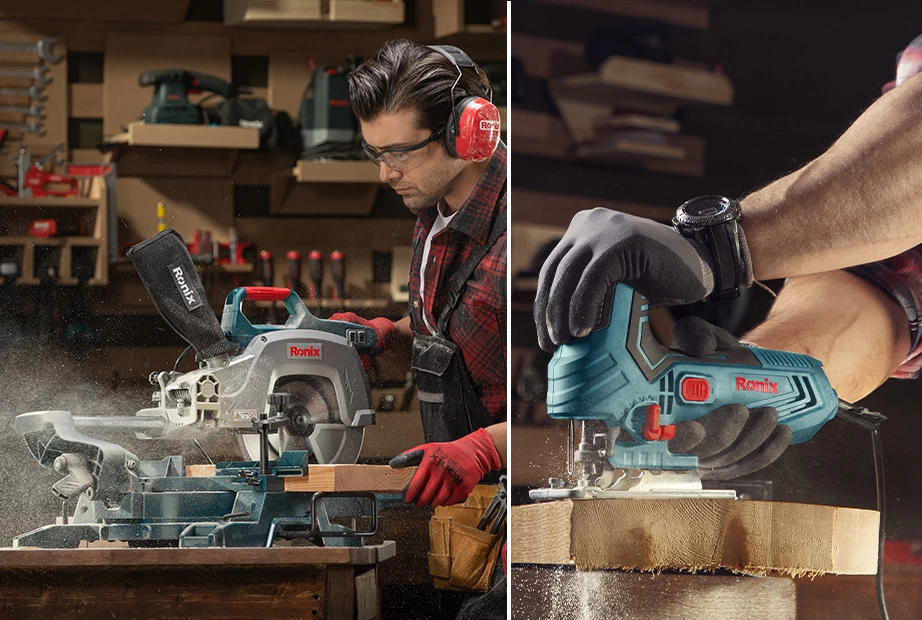 Using an electric saw for cutting wood might sound fun and convenient but it can also be dangerous without the following safety precautions:
5 Tips to Saw the Wood the Safe Way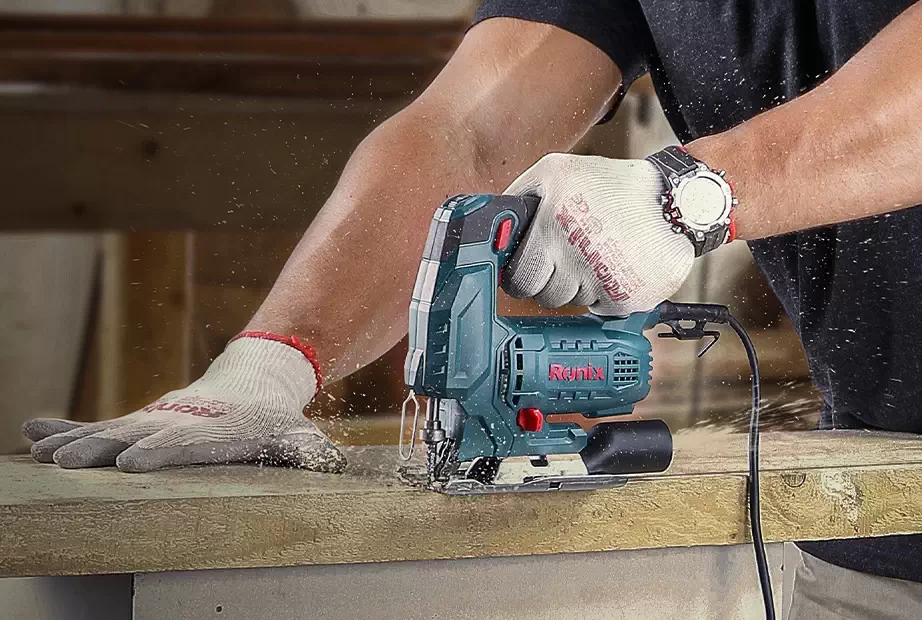 When using an electric saw for wood you need to protect yourself from cuts, kickbacks, electrical shocks, hearing damage, eye injuries and all the other potential risks. To that end, always use:
Safety Glasses: To protect your eyes from wood chips and dust
Dust mask: To prevent respiratory symptoms associated with dust inhalation
Gloves: To guard your hands from cuts caused by the sharp blade
Earplugs: To fight the effects of prolonged loud noise exposure while sawing the wood
Apart from arming yourself with all the essential personal protective equipment, it is also important to investigate the condition of the power cord on your electric saw because damaged cords can cause electric shocks or start a fire. 
What Is the Best Electric Saw for Wood?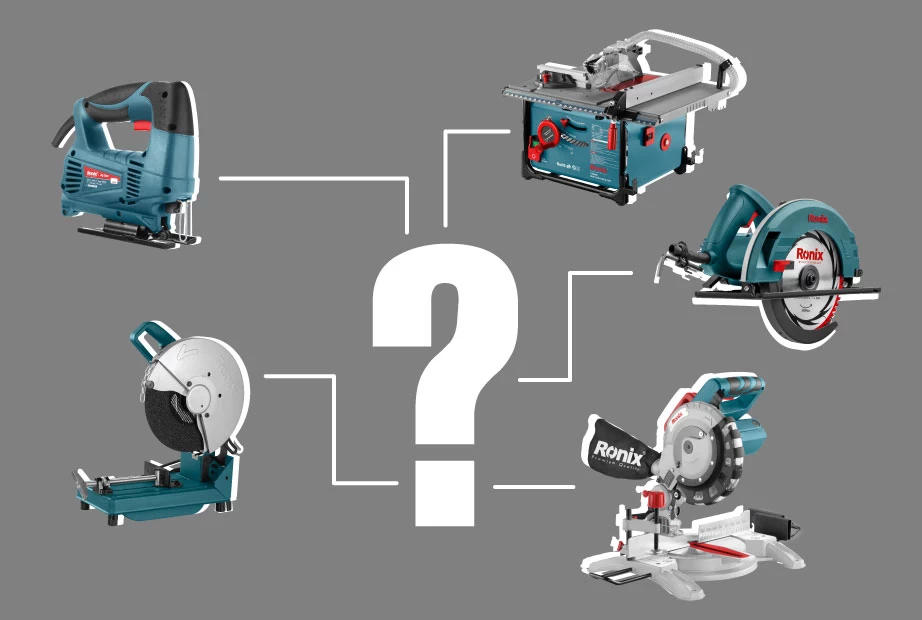 Earlier, we talked about different types of electric saw for wood you can use based on each cutting stage. But choosing the right tool for wood cutting is not merely limited to this factor and in the end, you need to pick a saw that best suits the type, density and size of the wood piece and the type of the cuts you plan to make.
Here's the ultimate guide for y'all!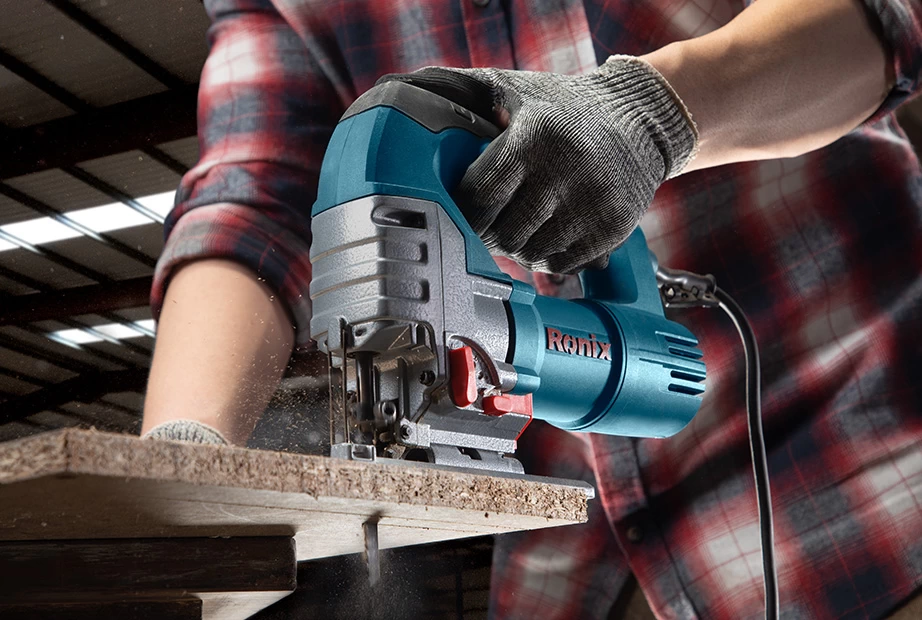 Intricate curved cuts in Plywood, MDF and softwoods like pine and cedar, Boards up to 2 inches thick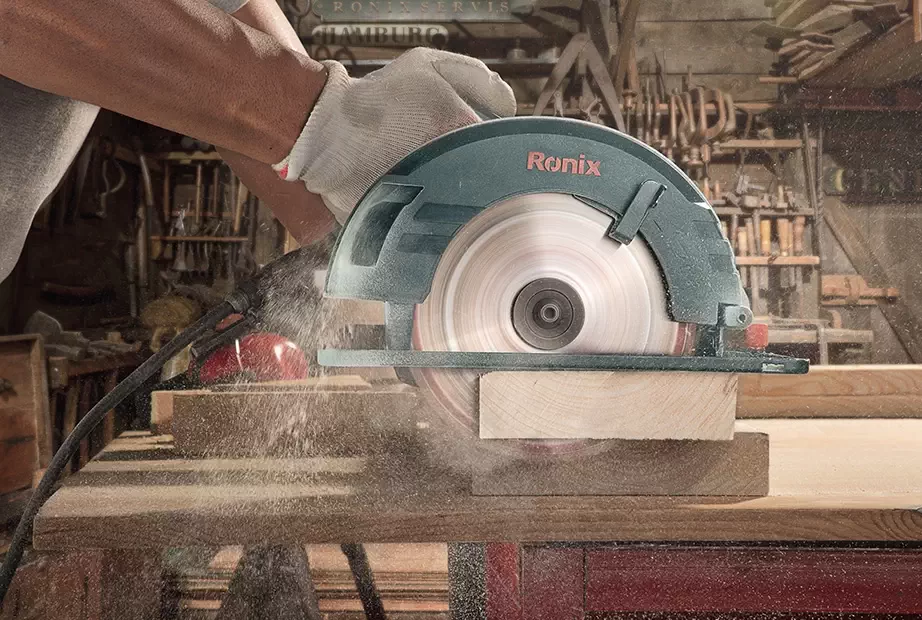 Straight Cuts in Plywood, particle board, wooden beams, softwoods like poplar and pine, hardwoods like maple and oak, boards up to 2-3/4 inches thick
Crosscuts, rip or bevel cuts in Dense hardwoods that are difficult to saw, heavy-duty models can cut up to Up to 12 inches thick wooden boards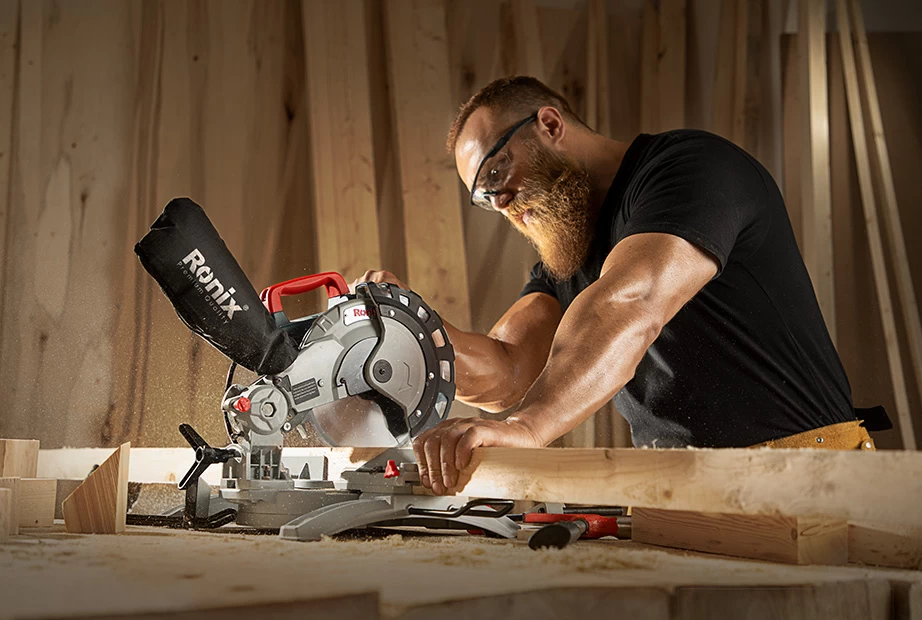 Angled cuts in molding and trimmings, plywood, chipboard, softwood, and hardwood boards up to 4inches thick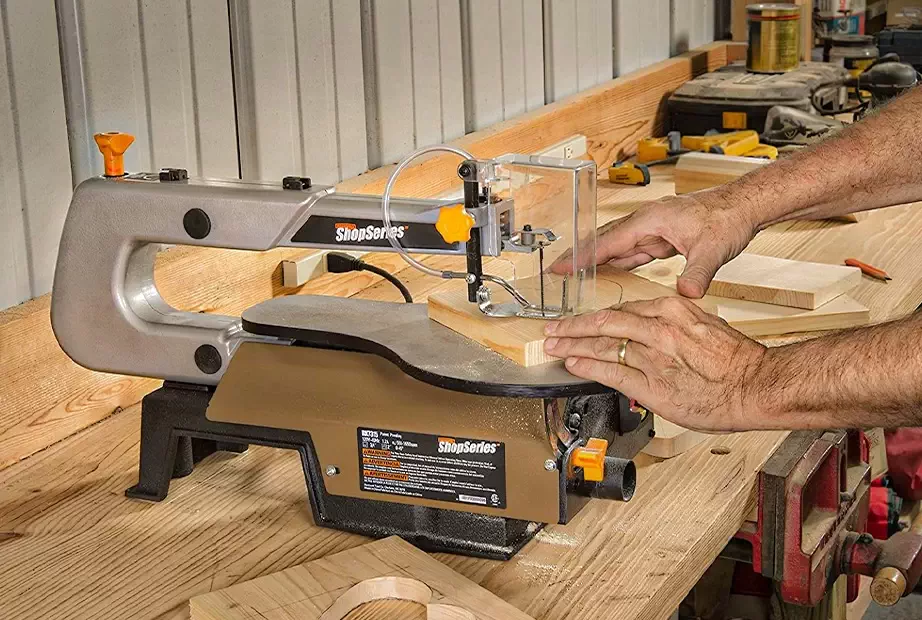 Intricate curves and joinery cuts in thin veneers, softwoods, hardwoods, chipboards, plywood and MDF boards up to 2inches thick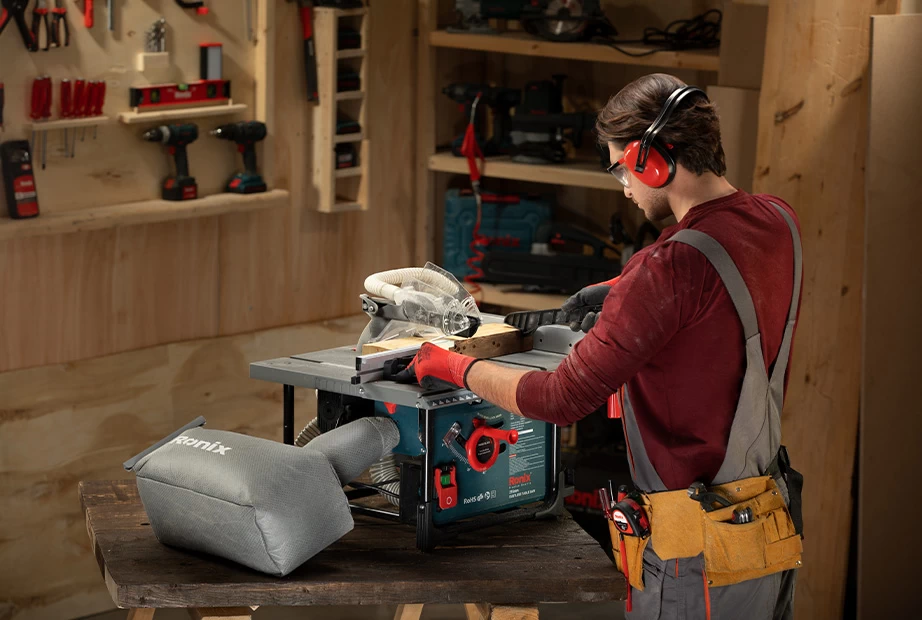 Clean, precise and repeatable straight or 45- and 90-degree cuts, softwoods, hardwoods, Professional models can take care of boards up to 4 inches thick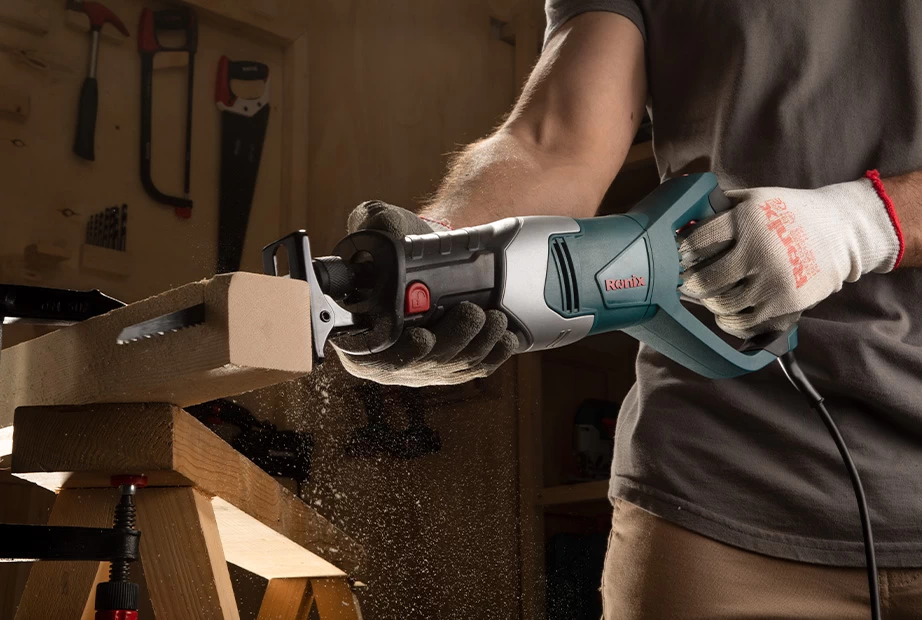 Fast and rough vertical cuts on softwood, hardwood, MDF, particleboard, and plywood, used in construction and demolition works and on tree branches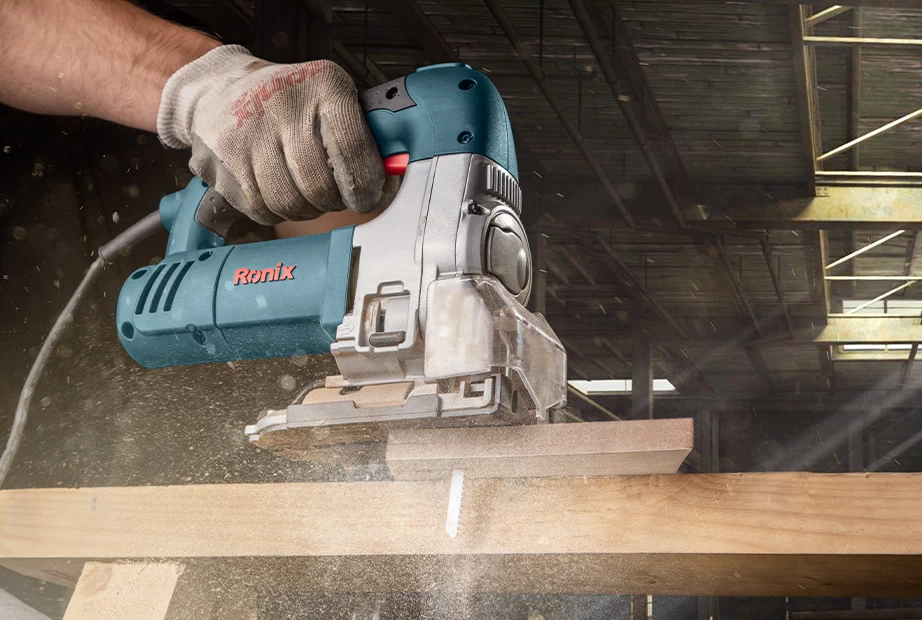 Cutting shapes and curves and plunge cuts in Straight grain soft wood, hardwood, MDF, particleboards, plywood and thin boards
Electric Saws for Wood Buyer's Guide?
If you are done choosing your fighter based on the wood cutting stage, type and thickness of the workpiece and the shape of the cuts you want to make, a new challenge awaits you!
Now you need to stay focused and keep a level head in the midst of confusion to choose the best electric saw for cutting wood in a market filled with endless brands and models available.
For your sliding miter, portable table saw or worm-drive circular saw to cut through wood like a hot knife cuts butter, there are some general features to consider when making a purchase:
Power:
The motor power of the saw you choose should match the type and density of the wood you want to cut.
As a rule of thumb, A power rate of 1500 watts for softwoods and 3000 watts for hardwoods is adequate.
When making the final choice, keep in mind that a tool with higher power would let you take care of more heavy-duty tasks but its heavier and more expensive.
Blade: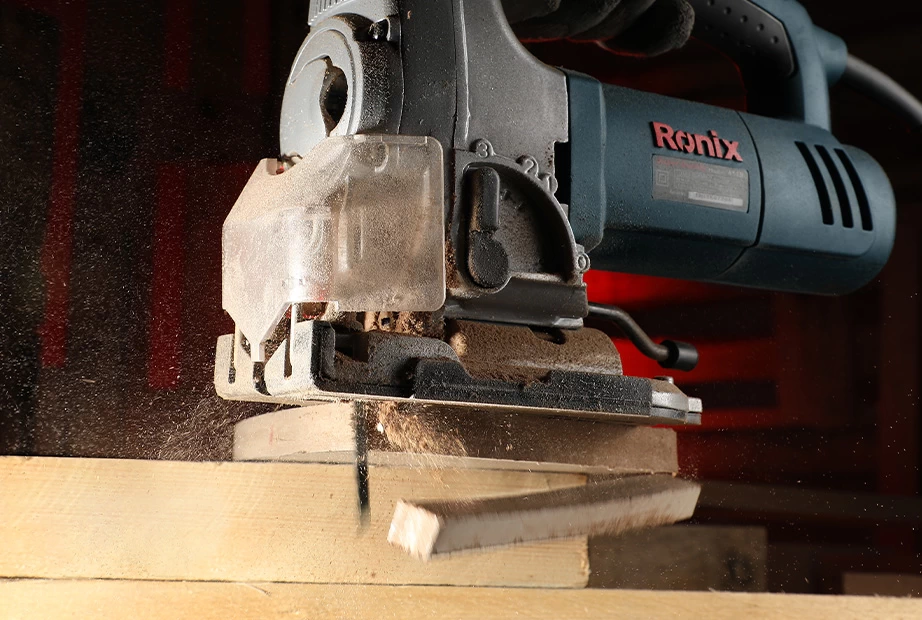 For the best cutting experience, the electric saw you buy should be equipped with an appropriate blade that is sharp, flawless and properly installed.
The product you choose as the best electric saw for cutting wood does not always come with a blade in its package. In that case, you need to go for a blade with diameter, tooth per inch (TPI), size, kerf and material that best suits what you want to cut and how you want to do it!
Design:
For more safety, comfort, precision and higher efficiency in an electric saw for wood, it should be lightweight and have an ergonomic and well-balanced design.
Cutting Capacity:
The cutting capacity of a saw you buy determines the thickness and width of the workpieces it can cut.
High cutting capacity: for thicker and harder materials, faster cutting, heavier, more expensive
Low cutting capacity: for thinner pieces of wood, lighter, more affordable
Flexibility: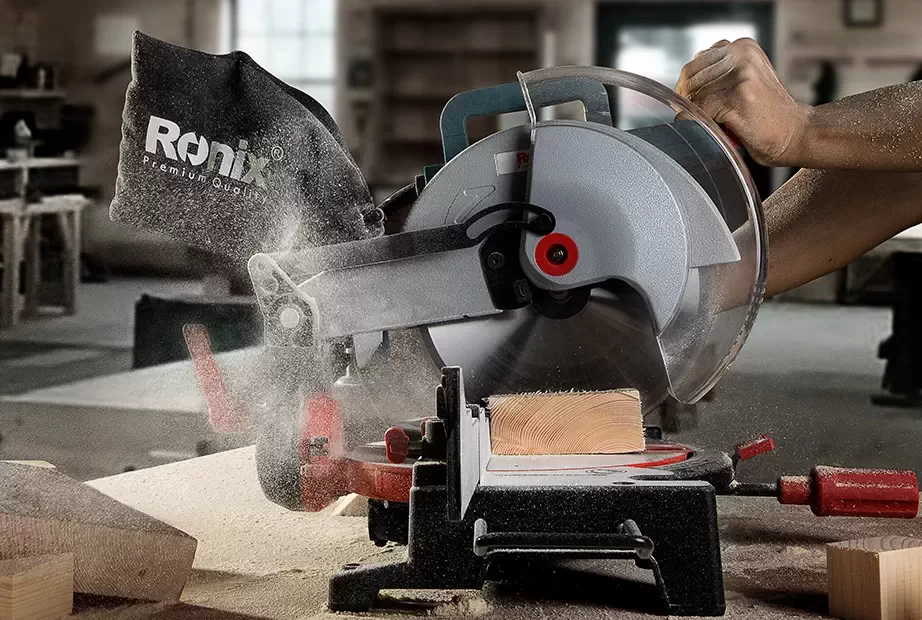 The best electric saw for cutting wood allows you to make controlled cuts on different types of wood. To that end, it needs to come with handy features like adjustable bevel, adjustable depth of cut, speed control and miter gauge.
Accuracy:
If making accurate and intricate cuts on the wood is your cup of tea, invest your money in a saw that features a laser guide, a dust blower and bag and a rip fence.
Safety: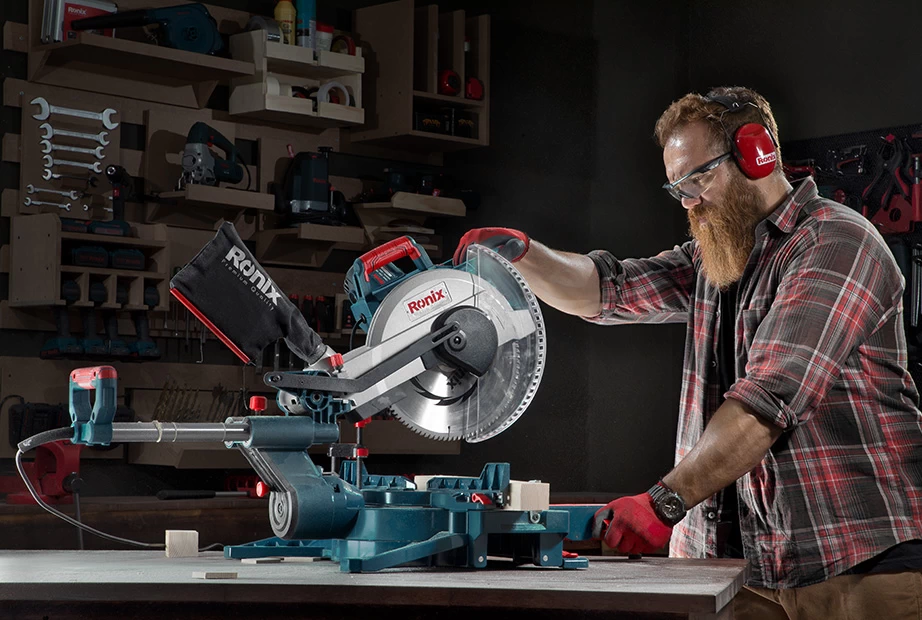 The best electric saw for cutting wood is safe to use and is engineered to protect the workpiece from damage and the user from injury.
Here are some of the safety features you need to look for in an electric saw:
Blade Guard:
Anti-kickback Features
Electric brake:
Brand:
Many brands claim to offer the best electric saw for cutting wood. Some insist on the quality of their corded cutting solutions while others have put all their eggs in the basket of price tags that are "suspiciously" low.
Due to years of experience, tool junkies have come to believe that quality of the saw depends on its price and between ourselves, there is some truth in it! If high-quality matters to you, go for Bosch, Makita, and Milwaukee and if you are on a budget settle for unbranded tools that we all know won't last long.
As a fast-growing German tool brands, Ronix provides you with a middle ground you kept dreaming of. In Ronix collections you can find a variety of best electric saws for cutting wood.
From quality jigsaws to versatile miter saws and safe and durable chainsaws, you can always find the right tool to fulfill your different needs and expectations. Regardless of their type, Ronix electric saws are safe, accurate, durable, easy to control and ergonomically designed.
By now, you'd be an expert in choosing the best electric saw for wood but there is another member of this sharp cutting gang you have not met yet!
Small Electric Saw for Cutting Wood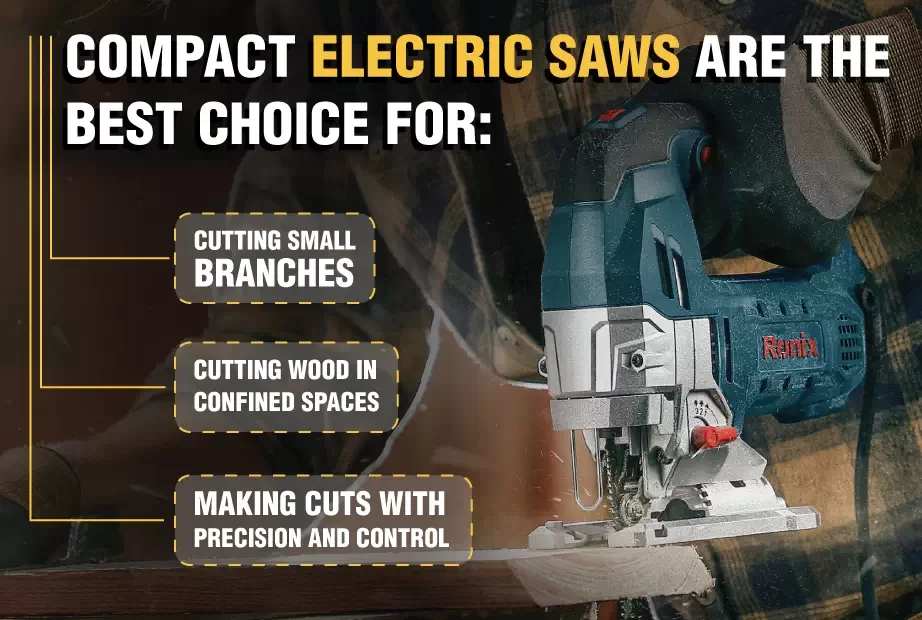 Compact saws are the smallest child of the electric saw family that make a good choice for those of you who value precision, portability and control over high power and cutting capacity.
Using a mini electric saw for cutting wood, you can make cute wooden toys, create tiny statues, cut or trim small branches or make cuts in a confined space.
If you have difficulty choosing the best small electric saw for wood, we've got you covered!
The first step is to choose the type of saw you need, based on the type of wood you are working with and the cuts you need to make. Then look for a choice with adequate power which generally ranges from 500 to 1000 watts in the dwarf saws planet!
To enjoy maximum precision in cutting, you should pick a tool with speed adjustment and dust collection mechanism. Keep in mind that an ideal mini saw, would still let you adjust its cutting depth and angle.
At the end of the day, the choice you make depends on factors we discussed earlier but if you are looking for the best small electric saw for cutting wood with Intricate curved cuts, beware that nothing beats Ronix 4150 mini electric jigsaw.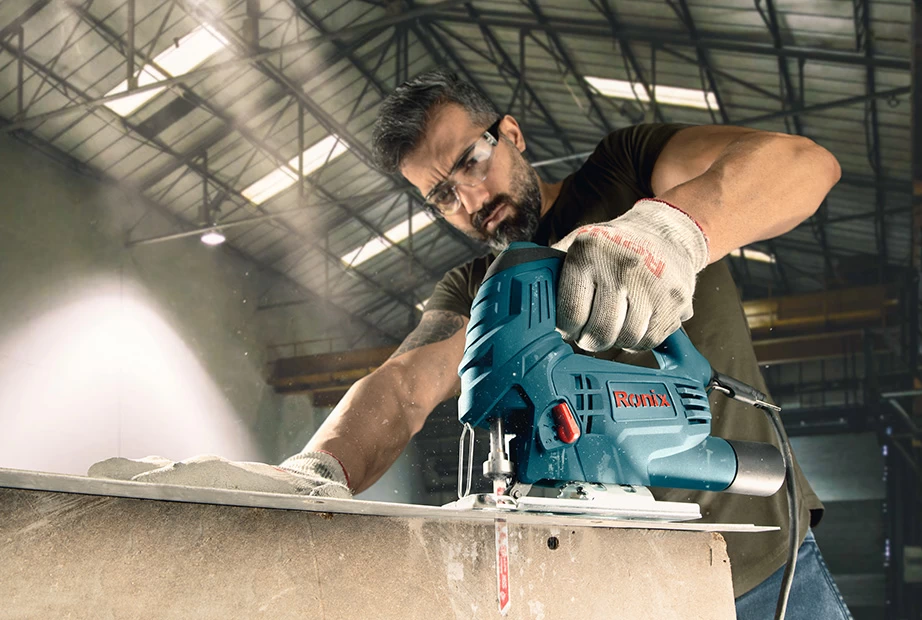 With a 550W motor, this efficient and compact cutting machine can cut up to 65mm in wood. It weighs no more than 2kgs and has an ergonomic design for more portability and convenience.
Thanks to its 6-position speed control wheel you can change the cutting speed of this jigsaw from 1000 to 3000 revolutions per minute to work on different materials at hand.
Last but not least, 4150 has a dust collection tube and a bevel cutting capacity to ensure the accuracy of cuts.
Woodworking journey starts at cutting wood in the right shape and angle. Choose the right tools to start this adventure on the right path…
FAQ❓
Can I use an electric saw to cut wood?
With an electric saw you can make fast, accurate and clean cuts in wood.
What type of electric saw is best for wood?
Choosing the best electric saw for wood depends on the type and thickness of the workpiece and the shape of the cuts you want to make.