Our world is in a restless change and one of the elements that speed it up is the materials we use for building new structures. Wood is one of the most ancient and important ones, of course. No doubt, we all are concerned about deforestation, but provided they are replaced with new trees, cutting them in a limited number is inevitable. Of course, our connection with trees is not limited to cutting them down, but to taking care of them as vital players in our life and great parts of our landscapes.
There are specific kinds of electric saw for trees in the market that can make this range of jobs more efficient, convenient, and faster. No matter whether they are corded or cordless, they need to bring specific qualities to ensure users of ideal performance.
If you are interested in them, you can read about the types and features of the best electric saws for cutting trees and later, the ideal ones for cutting branches below.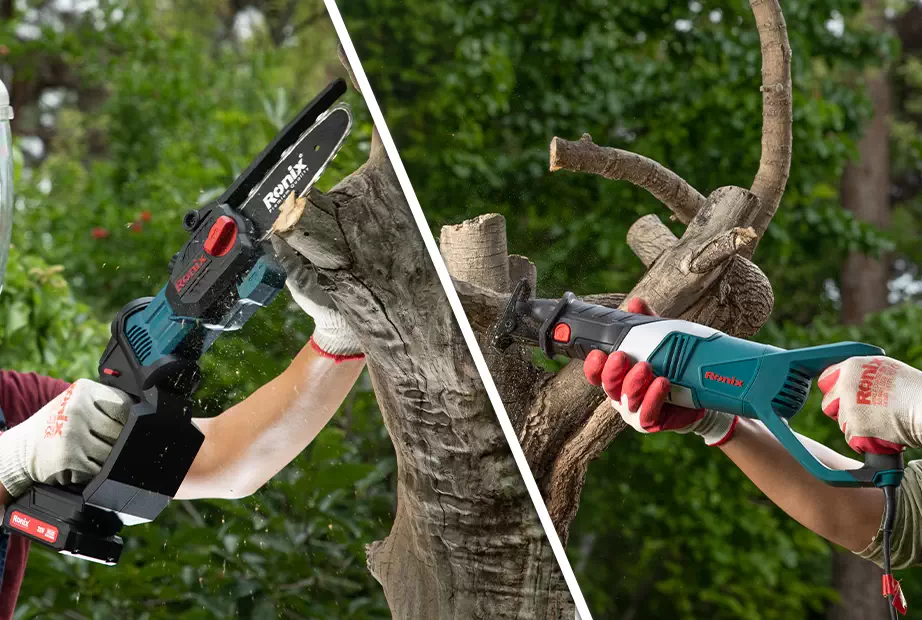 What Is the Best Electric Saw for Cutting Trees?
Cutting trees is a professional job that cannot be fulfilled without proper power tools that are specifically designed to do so. There are countless electric saws in the market for cutting different types of wood, but when it comes to trees, not all of them are applicable. Electric saws for trees should be handy, lightweight, but highly powerful ones. Regarding their unique functions of making lumbers or simply cutting logs different types of chain saws are the best picks. If you are keen to know what they should be like to be more helpful and how they can contribute, follow the sections below.
Chain Saws
Just imagine some huge trees being cut down. What is the first power tool that pops up in your mind? Probably a high-power chainsaw that can easily chop trunks and limbs, mill lumbers, and split logs. A hand-held saw that can be either gasoline, electric corded, or cordless. Among all the tree cutting electric saws, it is the one that makes the cleanest cuts. It operates through a chain that rotates around a bar. But for being the best electric saw for tree cutting, it needs more features, including: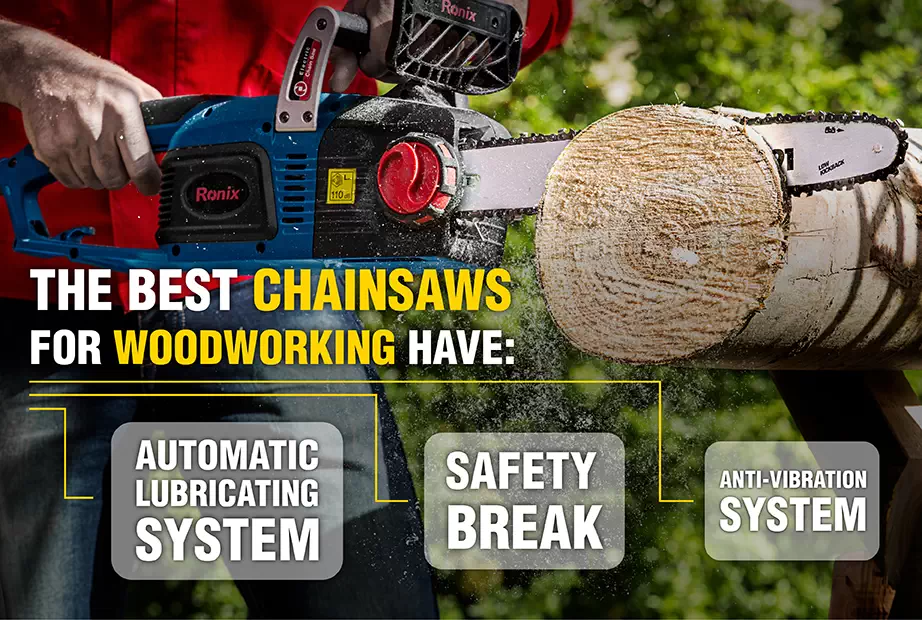 Automatic Lubricating System that makes cutting smoother and easier by reducing the friction between the bar and chains
Anti-Vibration System which makes the operation more comfortable specifically in long-term uses
Safety Break that reduces risks of cutting operations
With the features mentioned above, chainsaws will work more efficiently and bring better results. However, electric saws are not just for turning trees into wooden products, but for keeping them healthy. That's where electric saws hit the scene as professional tools for pruning and trimming.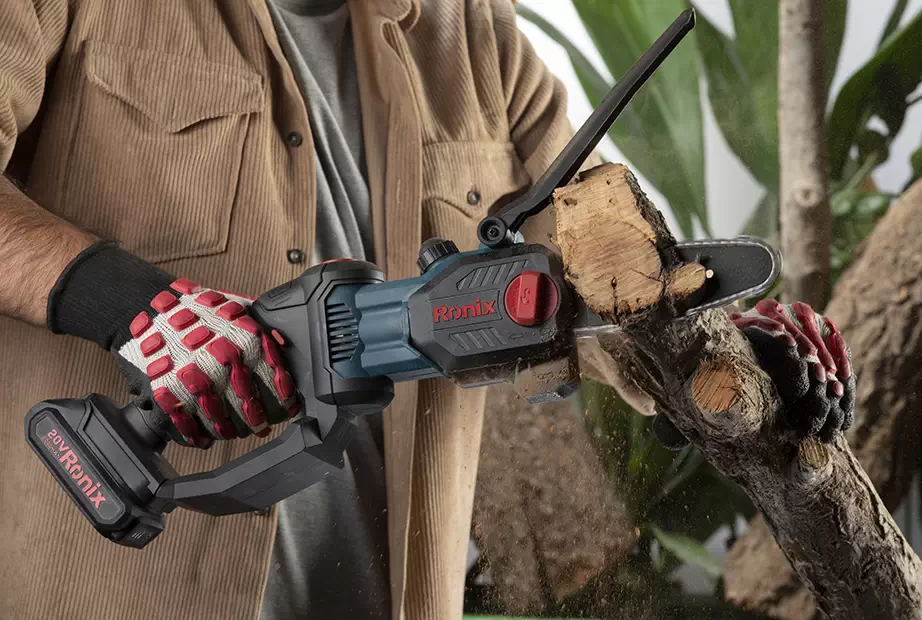 Find the Best Electric Saws to Cut Tree Branches
You can easily trim trees for optimum health and prune them to make your garden more scenic if you have proper electric saws to cut tree branches at hand.
Everything about electric saw for wood.
They bring specific qualities that are different from those of saws used for making big cuts in some cases. Because they need to make more delicate cuts and work with more fragile and smaller parts of trees.
Here are some of the best electric saws for cutting tree branches. Read them to find out what features they need to be the best picks.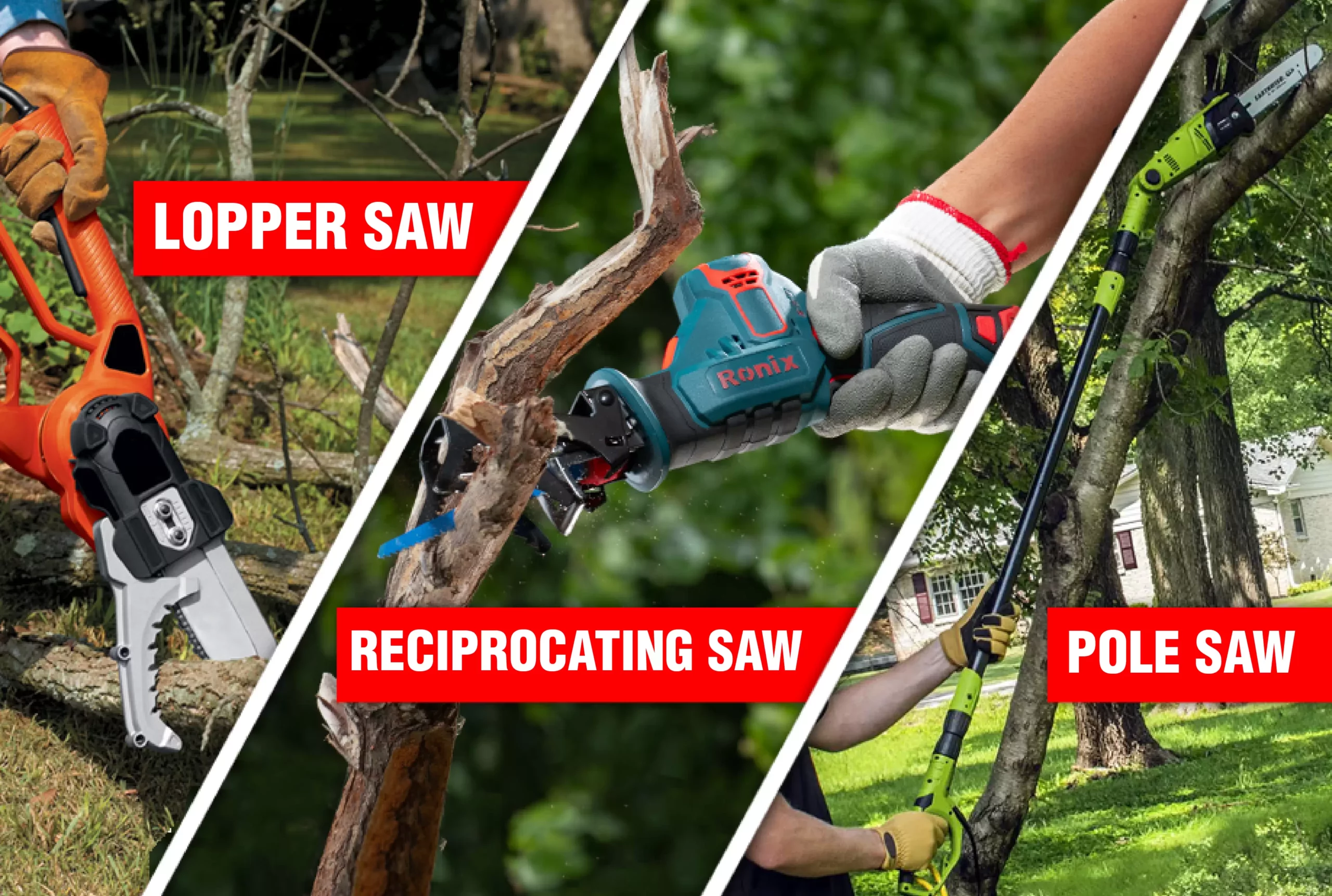 Reciprocating Saw
A Reciprocating Saw is a type of electric saw for trees that is versatile and used in different situations including pruning and trimming. It works via a backward and forward movement in a motor which leads the blade to move so, then it can make more precise cuts. Right, it delivers lower cutting capacity than chainsaws, which is acceptable because it can fully serve the purpose and cut the branches easily and in the best way.
In the tool market, it is offered in both forms: corded and cordless. Based on their power source, the best of them deliver specific features, while both versions of them bring common characteristics which include:
High ranges of RPM for cutting various material
Ergonomic, Lightweight design for reducing user fatigue
Adjustable cutting depth to enable different working applications
Tool-free blade change system
Tool-free pivoting front shoe adjustment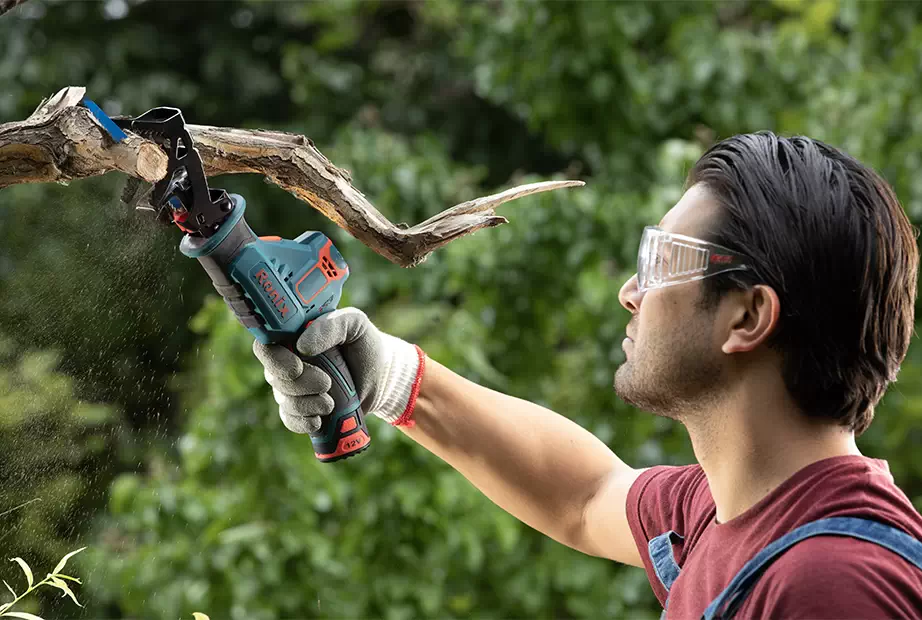 Lopper Saw
Lopper saws are some kinds of electric saw for cutting tree branches. They are scissor-type chainsaws, with clamping jaws. They are perfect for cutting medium-sized branches. Then to fulfill their function, they should have specific attributes that include:
Compact, ergonomic body
Safe design with blades fixed into jaw guards
Rear trigger to avoid harm to the user's hand while working
Auto-tension mechanism to increase efficiency and reduce hand fatigue
Pole Saw
Pole saw, also known as a power pruner, is a type of electric saw for trees that are attached to a pole or stick to make it easier for gardeners to remove dead branches. By then, you don't need to use a ladder to reach the high branches. Due to their shape and facilities to reach inaccessible parts, they are highly functional and popular among gardening enthusiasts. But to be an ideal electric saw for tree branches, they should deliver features such as:
Quick cutting Power
Adjustable pole length
Packable, lightweight, easy to handle body
Equipped with safety gear
With blades made of high-resistant material such as carbon steel
Go for the Trends; Cordless Saw for Cutting Trees
Chainsaw or reciprocating, loppers or pole saws, no matter their cutting tool, their cordless versions are usually so functional and popular. Cordless technology is a growing trend these days. It is making jobs easier and more efficient and tree-cutting tasks are not an exception. As their power source differs from the electric ones, their characteristics also differ. Here are some specific tips that you should consider when seeking the best cordless saws for cutting trees.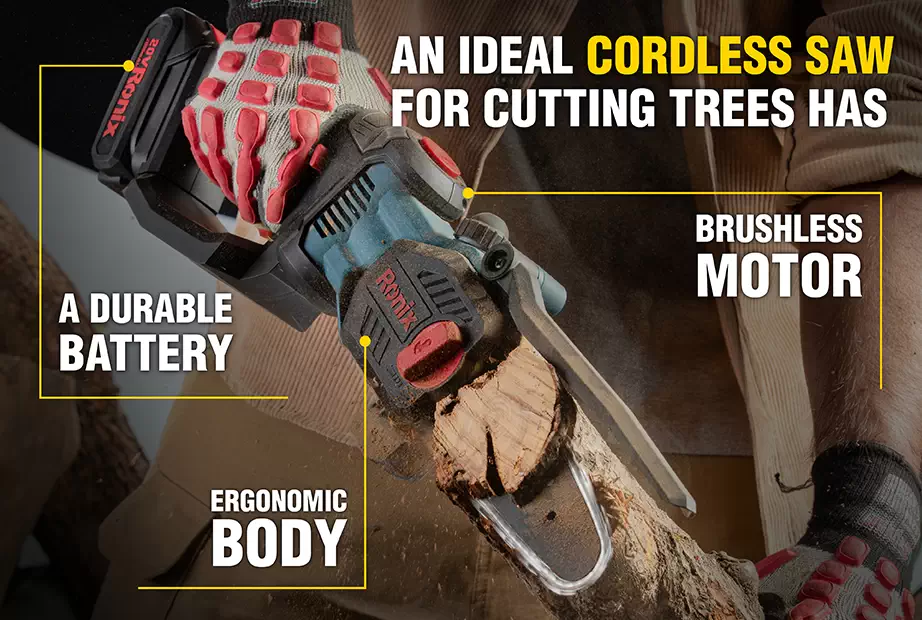 Check the Power Source
Batteries are the first elements that you should consider when choosing a cordless power saw for your trees-related job. They should be durable enough to handle long-term outdoor cutting tasks. Among all the batteries available in the market, Ion-lithium ones are ideal versions that provide a long-lasting power source, usually 10 times sturdier than other types. They also don't need so much maintenance, which reduces the expenses effectively.
Go for The Cutting-Edge Motors
Brushless motors are increasingly catching the world of tools. They deliver this innovative technology that removes brushes and provides a more efficient and sustainable mechanism.
The cordless power saws which come with brushless motors are definitely the best ones. Because they are more lightweight, work more effectively, and produce less noise. So, if you are seeking the best cordless saw for cutting trees, don't forget this leading factor.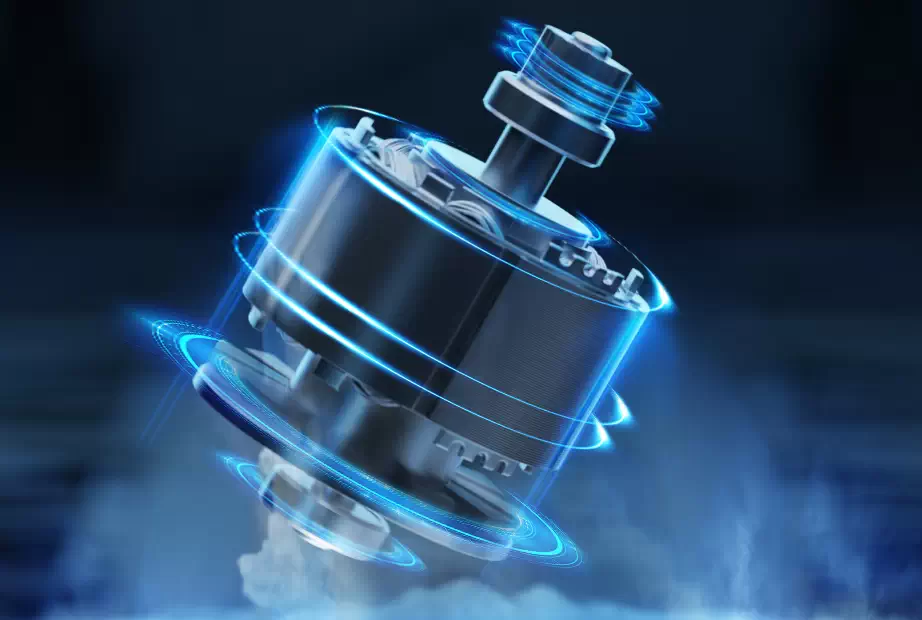 Ensure the Ease of Use
Cordless saws are meant to be easy-to-use assistants. So, the ones that serve the purpose are the ideal. To be so, they should deliver such qualities:
High Portability
Ergonomic Design
Low Vibration
Illuminating light for dark and tight places
Best Electric Saw for Cutting Trees: Buying Guide
You read about the specific features of the best electric saws for trees, before. Considering them, you can find out which one is the best for your job. But for buying you should be equipped with more information. Here are some tips that will help you in the purchase process.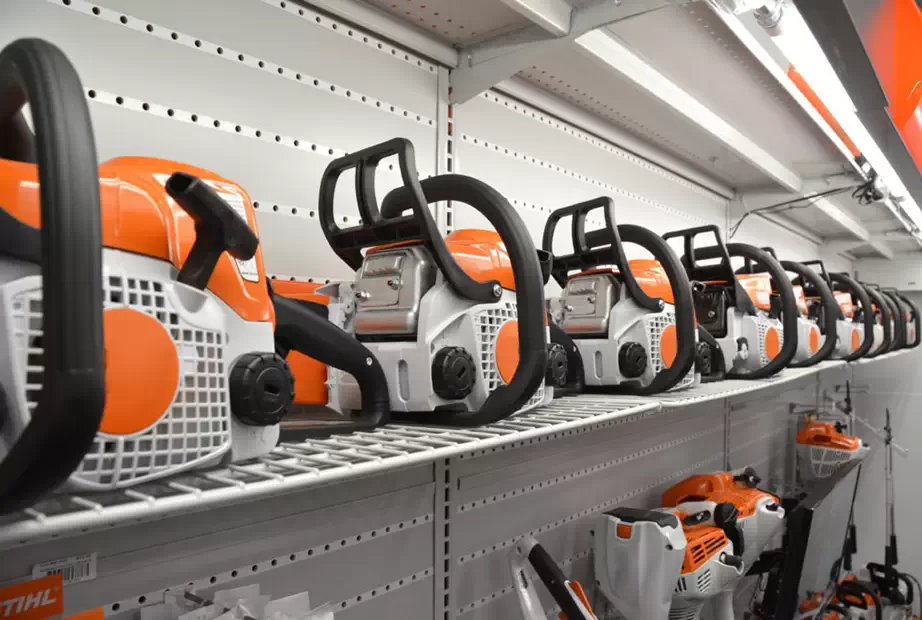 Consider Raw Material
What are they made of? It is a question that every smart user will ask. Why? Because this data can lead you to many facts; resistance and durability, weight, and being anti-rust, or waterproof are the factors that depend on the tools' material. So, choosing cutting tools with the proper materials is what you should consider.
Look over the Mechanism
We talked about the features of the best electric saws for cutting trees before. No doubt that for buying a functional one, you need to take care of all technical characteristics. This ensures long-lasting use and an enjoyable experience of work. So, when buying one, make sure that:
The electric saws are ergonomic and compact enough
Have high-power motors or engines
Are consistent with your needs and type of task
Are provided with proper safety equipment
Check Prices
Who rejects a high-quality product at a reasonable price? No one. you may think you can hardly find something like this in the market. Yes, that's rare, but not impossible. There are different brands in the market offering a wide range of cutting equipment at different levels of quality. While finding a balance between superiority and price is not what you can find easily. But among the premium brands, Ronix is the one that claims to offer such a privilege!
Conclusion
The world of electric saws is so vast and endless, but your choices should be more specific when it comes to cutting trees and their branches. Chainsaws, reciprocating ones, pole saws, and loppers are among the most used ones. However, not all of them can be the ideal ones, but when they deliver unique features. Ergonomic, anti-vibration bodies, high-quality materials, and high-speed and wide ranges of RPM are some of them.
Along with all the technical features, affordability, premium customer service, and reliable guarantees are some more factors that one should consider when seeking the best electric saw for cutting trees.
There are many brands in the market, offering first-rate cutting tools for those working with trees. Bosch, Milwaukee, DeWalt, and Black & Decker are some of them.
In addition, Ronix, as a producer ofpremiumelectric saws contributes to the market to provide you with a collection of top-notch but affordable cutting tools. We are here to bring quality, practicality, and affordability at once. You can find many electric saw you need for your job, on the Ronix website in no time and get the whole data you need with no trouble!
FAQ
What are the key safety precautions one should take when using an electric saw for cutting trees?
To stay safe, use safety equipment such as safety glasses, a face shield, a proper mask to avoid dust, and hearing protectors to stay away from loud noises.
What factors should be considered when selecting an electric saw for tree cutting?
You should notice that your electric saw's blade size, motor power, and speed should be consistent with your needs. But no matter what your need is, your electric saw should be equipped with high-tech safety facilities.