Sanding is an essential final touch for most woodworking or metalworking projects. From shaping metal surfaces, carving wood, and cabinetry to removing old paint from the wall, woodworkers, metal workers, and DIYers all depend on different types of sanders to do away with rough edges or other uneven parts and have a smooth surface with a mirror-like fine finish.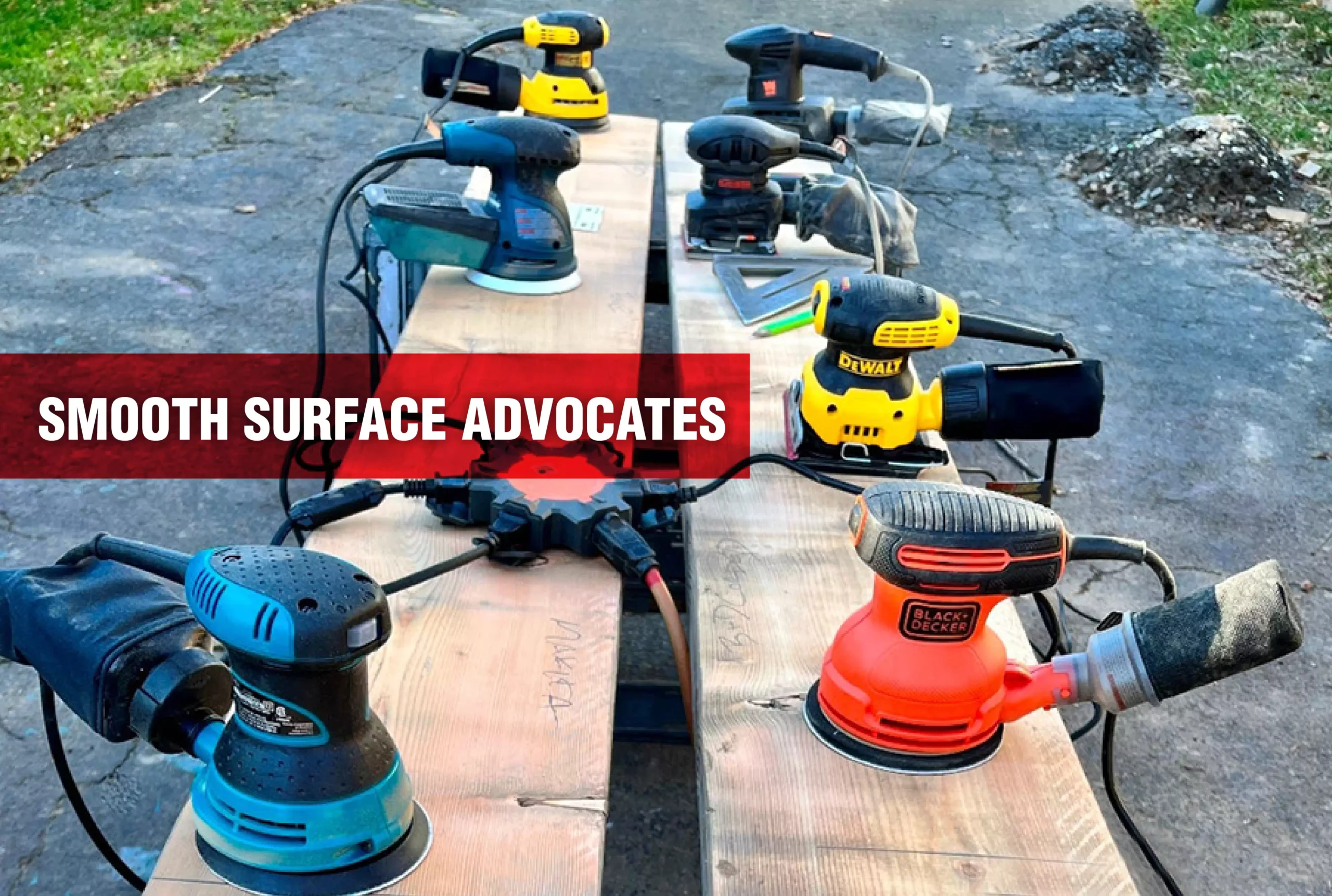 There are various sander types available on the market. These efficient and versatile tools come in a variety of manual and electric models with multiple subcategories, each a better choice for a certain application.
Don't get confused though, because in this article we help you choose the best sander based on the magnitude of your sanding project, the workpiece's material, and the control and sanding motion it needs.
Different Types of Sanders: A Buying Guide
Different types of sanders may differ in their source of power, capacity, mission, and applications.
Based on the source they run on, these tools fall into four categories:
Manual
Electric (Corded)
Cordless
Pneumatic
Manual or Power Sander, that is the question!
Manual models are the most affordable choice among the various types of sanders available. They offer greater control and can be your best assistance in sanding a workpiece's corners and edges. These tools are conveniently lightweight and portable but have a major drawback: They have limited power and cannot take care of sanding large areas. That is where power sanding machines come into the picture!
As the most popular types of sanders, power sanders are powerful and fast enough to take care of large sanding projects in no time. They are efficient machines that promise a fine finish with minimum physical effort.
Here's your buying guide! Pick:
Hand sanders: For small projects where precision is a priority
Power sanders: When you want to Get more done in less time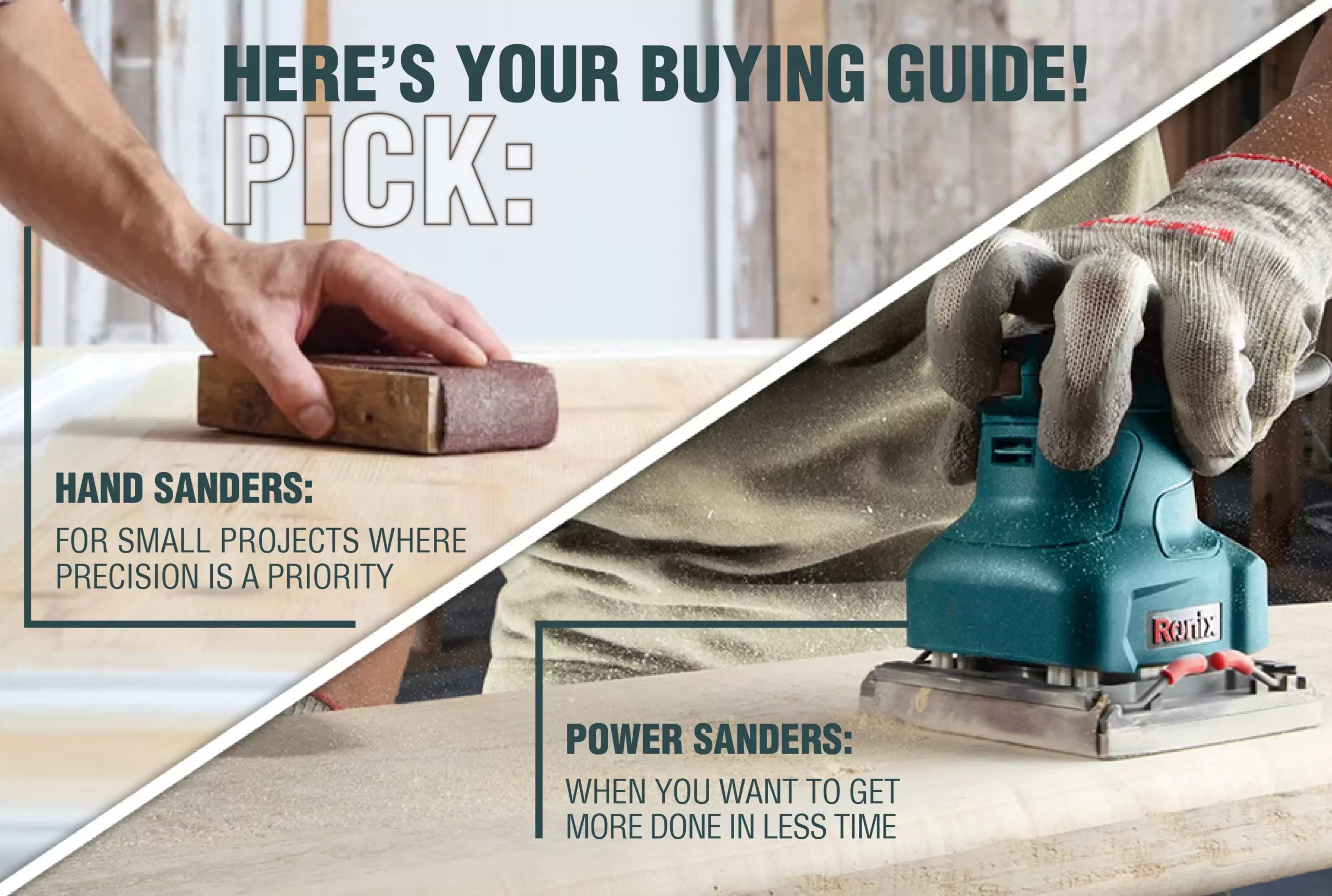 If you believe manual models are not cut out for the task at hand then the solution can be found among different types of power sanders including:
Belt sanders
Random orbit sanders
Palm sanders
Orbital sanders
Drum sanders
Which Power Sander to Go For?
The versatility and variety of power sanding machines are no secret to anyone. Each of these models has its own mission and applications. But before getting to that, you should first make up your mind about whether you want to deal with cable cords, batteries, or air compressors!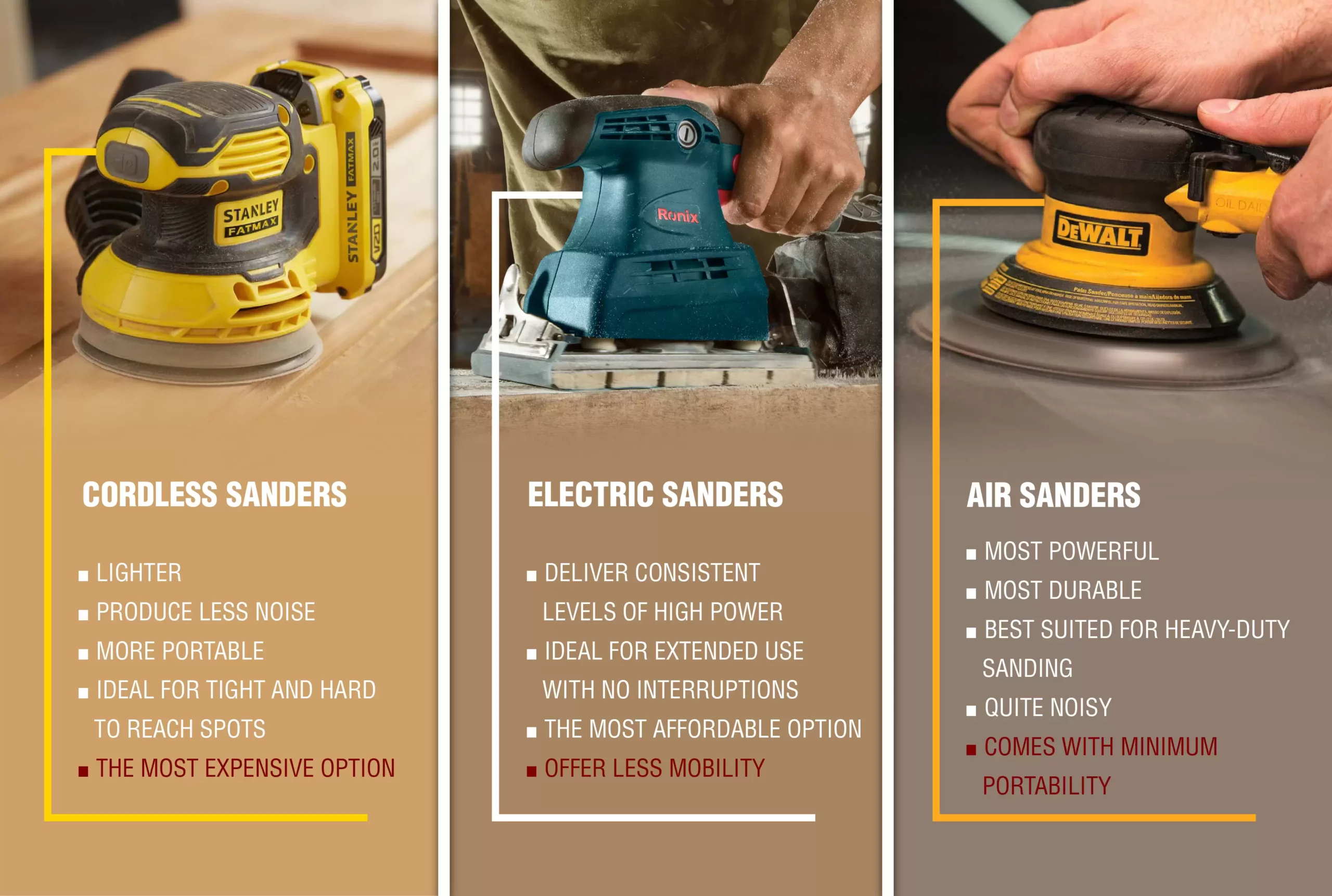 Some users go for different types of electric (corded) sanders because they bring consistent levels of high power to the table that is ideal for heavy-duty tasks. Furthermore, they are not dependent on batteries and don't need to be recharged, therefore they can be used for extended periods of time.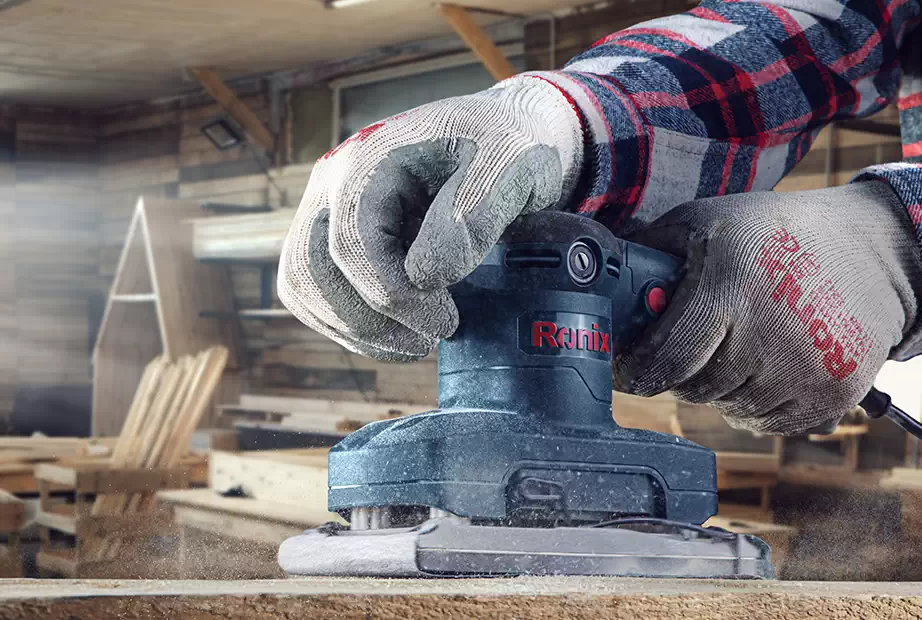 But if you don't have access to electricity at your job site or want something much lighter, cordless models would be your best bet. They are a bit more expensive than their corded counterparts but are more mobile, produce less noise, and are easier to use in tight spaces.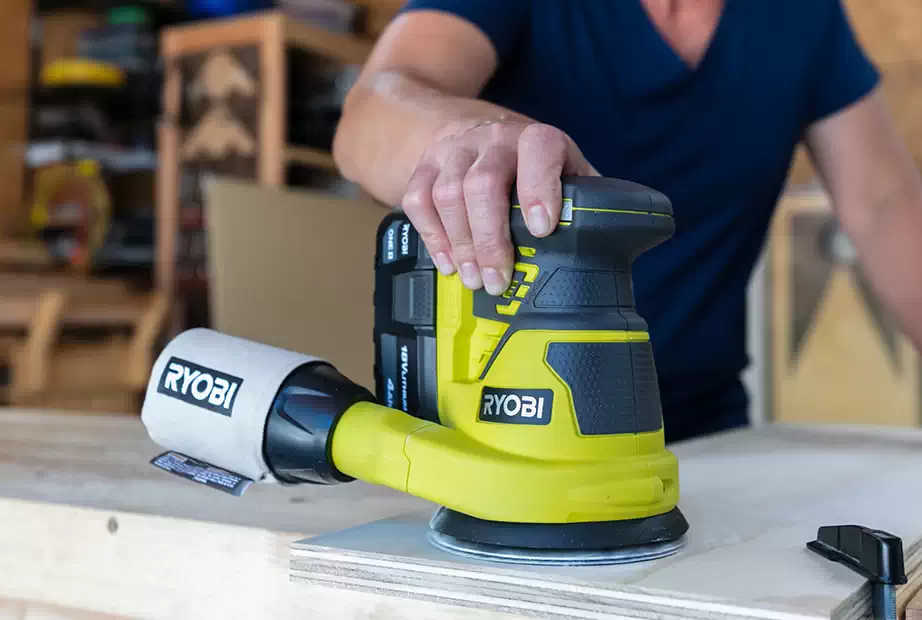 Some types of power sanders work with compressed air. They are the most powerful and durable in their class and are best suited for heavy-duty sanding tasks. But be aware that pneumatic sanding machines have limited mobility restricted by the length of their air hose and can be quite noisy which can be a disappointment to some.
After deciding on the power source of your preference, it's time to go through the various types of electric sanders and their battery-operated and pneumatic counterpart to choose the one with features and applications that best fit your needs.
How To Use Different Types of Sanders?
The first step to achieving the best results in polishing, deburring, or removing rust and old paint from different materials, is to know everything about different types of sanders and their uses:
Belt Sanders
A Belt sander depends on a loop of sandpaper to take care of heavy-duty sanding tasks.
It is a powerful and versatile power tool that professionals usually choose for removing rust and old paint from metal or shaping and polishing wooden surfaces.
If you need a five-star belt sander to upgrade your tool arsenal with, don't hesitate to try Ronix 9103. It has a 1050W powerful motor and a 150-380m/min belt speed perfect for any professional wood/metalworker or perfectionist DIYer.
9103 is equipped with an easily adjustable belt system to keep the belt centered during the operation and enjoy an efficient dust collection bag to keep your workplace clean.
Random Orbit Sanders
Random orbit sanding machines are one of the most popular types of sanders for wood. Compared to a belt sander, they are easier to use and less likely to damage the wood.
These models are also a good choice for finishing work and preparing a surface for paint.
Palm Sanders
As the name suggests, palm sanders are small power tools designed to be held in the palm of a hand.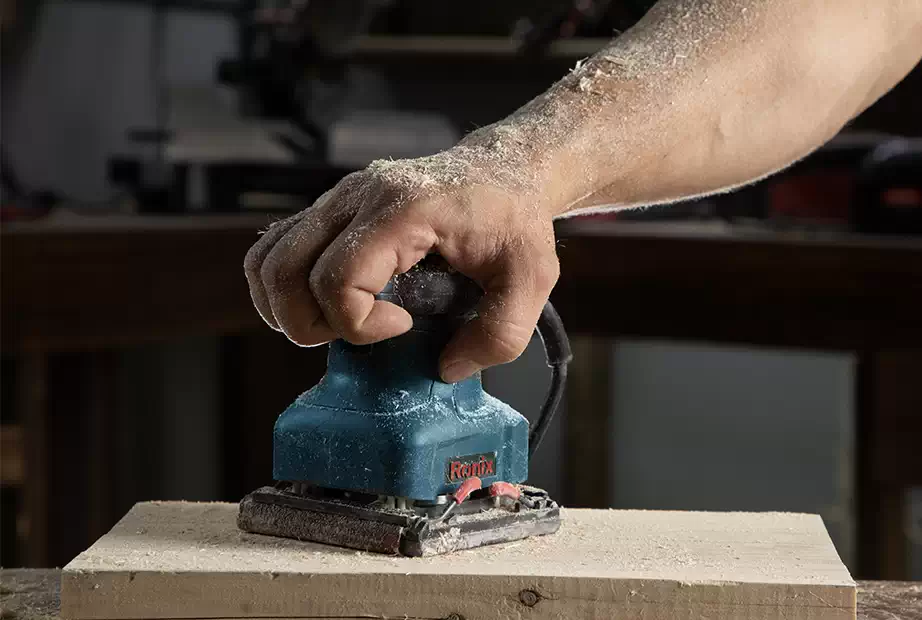 As one of the best types of power sanders for small and medium surfaces, they are particularly easy to use and therefore the best choice for beginners.
These models have a less powerful motor and smaller sanding pads so If you have a delicate and thin surface to work on, palm sanders would be your best bet.
Orbital Sanders
Orbital Sanders machines are the best choice for sanding flat surfaces.
Keep in mind that these power tools move in circular motions and can leave swirl marks on the target surface. To avoid this:
Remove dust and dirt from the surface
Go from coarse to fine grit sandpaper while sanding
Avoid putting too much pressure on the device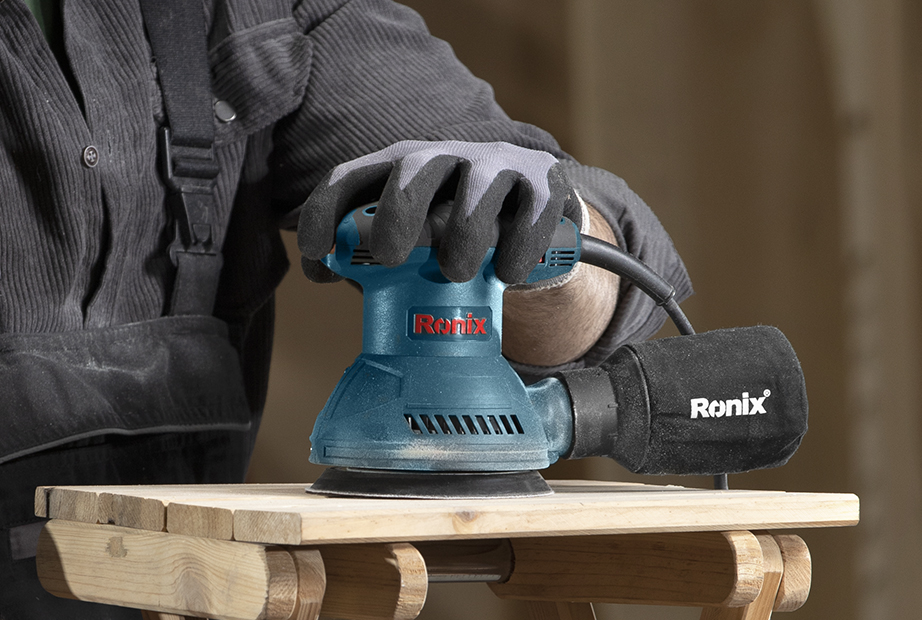 If you are looking for an efficient and high-quality orbital sander, Ronix 6406 will be the best bang for your buck. This sander's powerful 320W motor ensures a smooth performance in various applications. It is incredibly lightweight and ergonomic for a fatigue-free one-handed operation and has a 6-step variable speed control to meet different needs in a wide range of operations.
Drum Sanders
Drum sanding machines will come in handy whenever you need to sand a large flat surface like countertops and wall panels.
These models consist of a drum wrapped in sandpaper and are best fit for sanding down large surfaces in a short amount of time.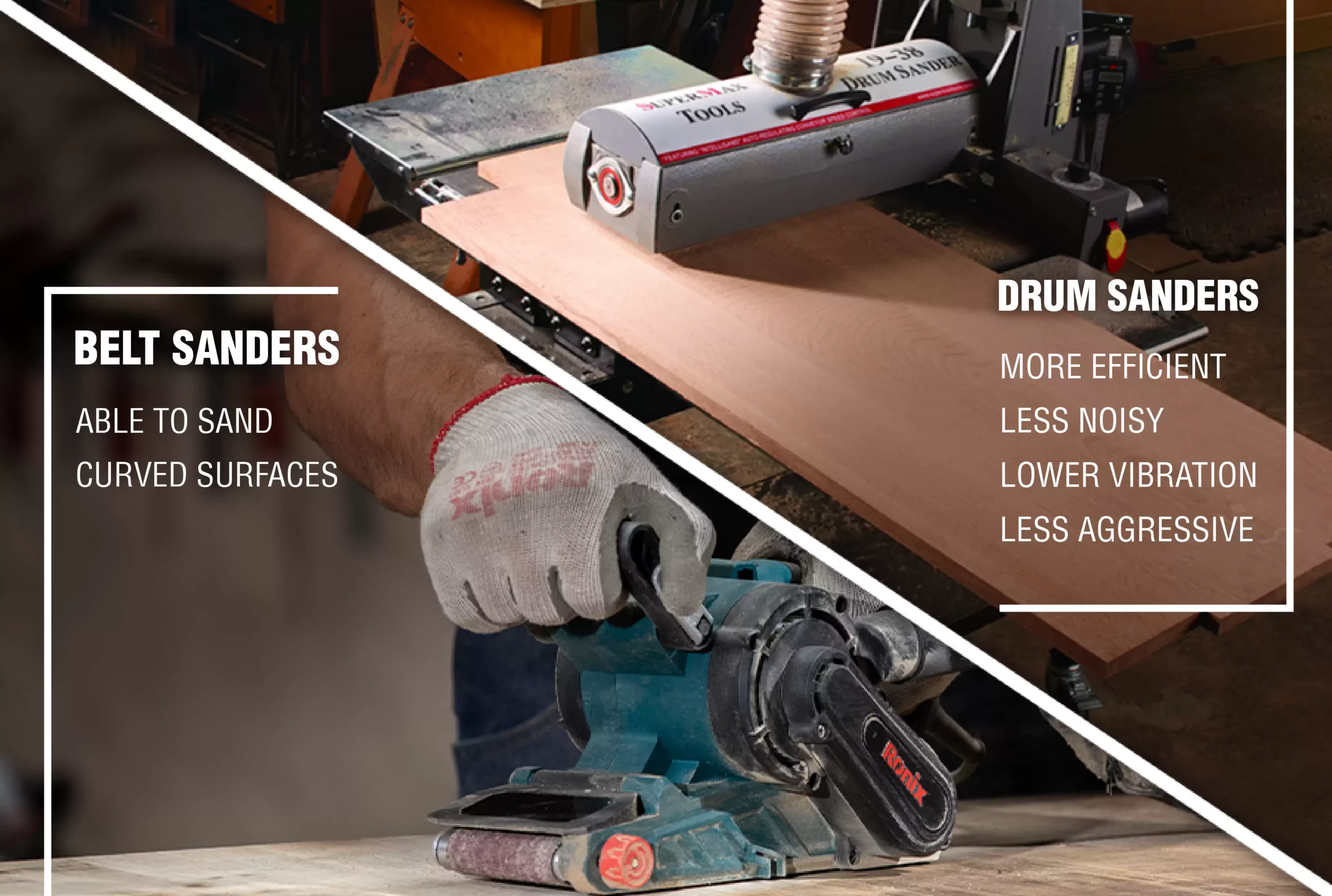 Compared to a belt sander, they are more efficient, produce less dust and vibration, and are less aggressive but are not as versatile and cannot be used to sand curved surfaces.
Different types of sanders are designed to let you achieve flawless results. All you need to do is to choose the right one for the right task!
FAQ❓
What are different types of sanders for?
Different types of sanders can be used for Polishing, smoothing, and shaping wood or deburring and removing rust and old paint from metal.
What type of sander is most useful?
Belt sanders are most useful for removing rust and paint from metal or shaping/polishing curved or flat wood and Drum sanders are the best choice for sanding large flat surfaces.