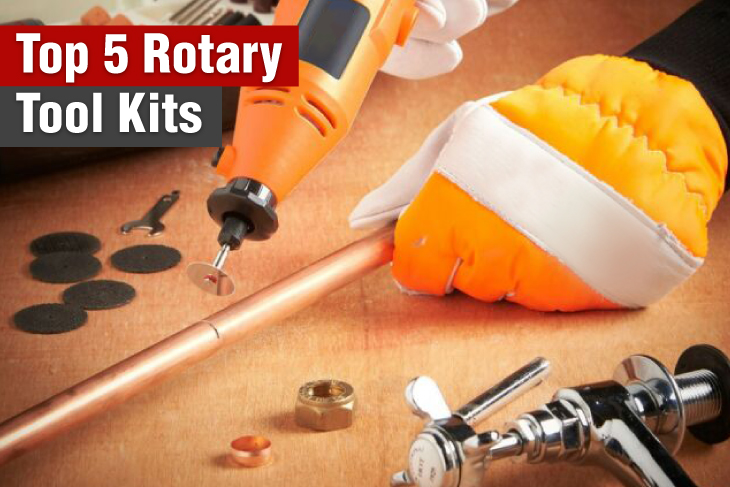 Here, I want to talk about one of my favorites: Rotary tool kits. Equipped with a multitude of interchangeable tips, a good rotary tool kit allows you to complete a large number of projects at home. Absolutely one of the major considerations is the price; You'll save the expense of buying lots of tools provided that have a variable speed rotary tool kit. I spent 26 hours comparing 45 rotary tools, 73 specialty sites, and 832 user reviews to help you choose the right digital rotary tool kit for your needs and budget. If you just want to know the best rotary tool kits, you will find this comparison really helpful. On the other hand, if you want to get more detailed information about rotary tool kits and accessories before making a decision, you will find all the information you need in this article, to make a good choice.
1. DREMEL 4200
Dremel 4200 is one of the great rotary tool kits I've ever used. The technology of the inventor of this rotary tool kit has proven its higher quality for years. By the way, the extensive range of accessories and the robust construction of the body, make this handy tool a great choice for those who need a multi-functional rotary tool. The Dremel can grind, polish, cut, drill and much more – it's a real all-round tool. For precise jobs in almost tight angles, a variable speed rotary tool kit with its multitude of multi-functional accessories is the first choice. Due to the size and the enormous versatility with its great attachments, such a rotary tool kit is particularly suitable for filigree work, but less so for large-scale projects.
The technical principle is so simple: a Dremel rotary tool is simply an electric motor in a handy ergonomic housing, and is equipped with a variable speed switch. The motor drives a spindle, which in turn can be equipped with a wide variety of tools: for drilling, milling, grinding, polishing and engraving.
The protection attachment, which is installed as default, is only a protection for the fingers and can remain installed for many tasks. Otherwise, it can simply be unscrewed by hand and exchanged to change with one of the other four included attachments.
In a tough project, you can see the real versatility of Dremel 4200. To see how could be its performance in a multitask project, I used the Dremel 4200 rotary tool kit for repairing a bicycle frame. To do this, I completely dismantled the bicycle. Since the bearing shells were conventionally pressed on and it was sometimes no longer possible to loosen them, I used a cutting disc for metal. The right quick-release axle was quickly found in the accessory box, and the right cutting disc attached, everything works intuitively and without tools.
2. DEWALT DW660
If you want to do small jobs like engraving, then the Dewalt DW660 rotary tool kit might be the right one for you. It does not have the power of the Dremel and is therefore not equipped with attachments for more difficult work. On the other hand, it is more delicate and can carry out even more fiddly works than the Dremel.
Dewalt DW660 rotary tool kit is an incredible variable speed rotary tool kit, specifically for model making and engraving. This is also a handy machine with a rotating spindle that can be used with a variety of oscillating tool attachments.
This beautiful corded tool is equipped with a turn on/bump off switch that makes it so easy to shut down the tool. The most important advantage of this rotary tool is its drywall cutout accessories, making it ideal for electricians and drywallers.
3. EINHELL TH-MG 135
If you have no problem with less power and mediocre workmanship, the TH-MG 135 E set from Einhell is an inexpensive alternative to our test winner. Simple to mediocre tasks can also be mastered with the Einhell without any problem.
The Einhell TH-MG 135 E also comes with a telescopic tripod and a flexible shaft, so it can be used both mobile and stationary. The Einhell set costs significantly less than Dremel and Dewalt. In return, the Einhell rotary tool also has less power, despite the fact that it is a corded rotary tool.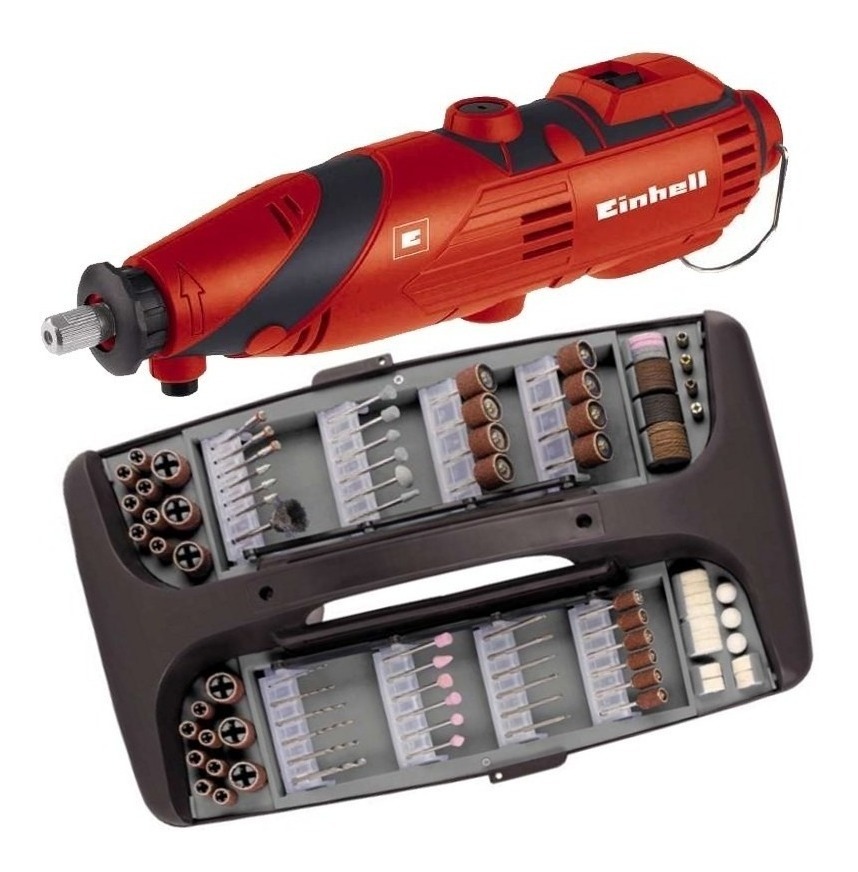 Despite the soft grip coating, the housing does not leave a high-quality impression as you can find especially in Ronix 3041 rotary tool kit. The Einhell set is therefore an alternative for the tight budget and manageable tasks.
4. RONIX 3401
Thanks to its lightweight and compact motor, the Ronix 3401 rotary tool is even easier to handle than the Dremel. As I said before, I have one of these extraordinary Ronix rotary tools in my workshop. Literally, it's great for doing any task you want; this is one of those rare rotary tools that can offer high speeds up to 35000 RPM. By the way, this handy tool is equipped with a digital LCD display to make it more convenient for users to adjust the speed level. Using 126 accessories of this rotary tool, you can get the best.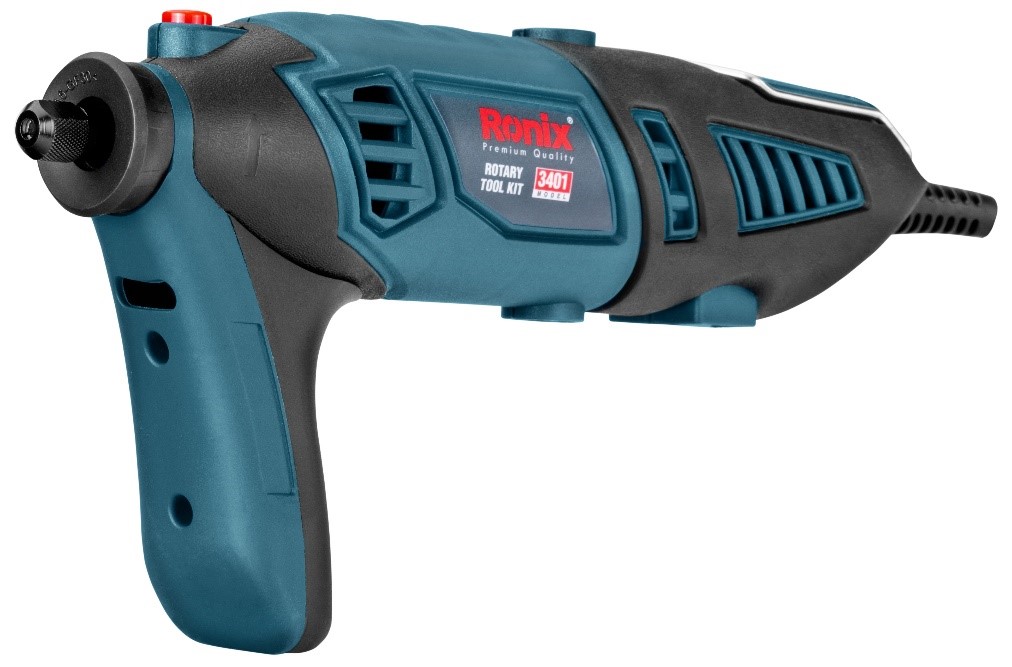 I usually use it for woodworking projects, so one of the great advantages of using this tool to me is being anti-dust. I've used Ronix 3401 rotary tool kit for a variety of projects from making handicrafts to glass working. Also, another useful attachment that makes Ronix rotary tool unique, is its auxiliary handle. Without this side handle, it's not possible to work on fine and delicate workpieces. So, if you want a rotary tool for a wide range of applications, especially precise projects, Ronix 3401 rotary tool kit is the best choice. Besides, you can hand this tool by its holder during work and is as powerful as the Dremel. On the other hand, it is a lot cheaper. You cannot expect the robustness of the test winner, but it's a great choice for those who need a multi-functional rotary tool.
5. RYOBI EHT150V
The Ryobi EHT 150V is well suited for handy objects, for example for model making. That being said, you cannot use this tool for heavy duties which are usually done by cutting discs and other heavy equipment. However, this rotary tool is not portable.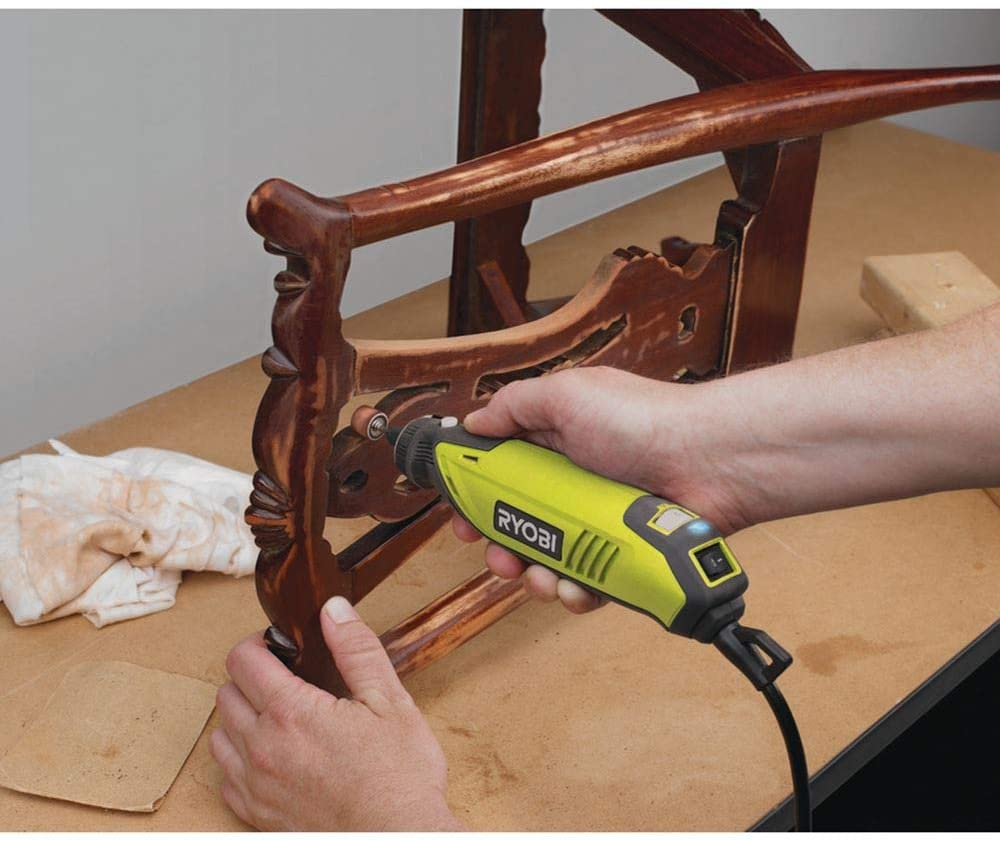 The Ryobi EHT150V is actually a stationary device, the machine is hung in a stand that is included in the delivery box. A flexible shaft is located on the motor spindle and different accessories can be clamped to this shaft at the end of the tool. The Ryobi EHT150V rotary tool kit is ideal for machining manageable, mobile workpieces. Thanks to its drive, the Ryobi is as powerful as the Dremel but significantly cheaper.
However, the Ryobi is less robust and not really suitable for heavier work – but it is a good, inexpensive choice for model builders.
I love multi-functional rotary tool so much and I'm sure this versatile great tool has so many fans all around the world. You have no idea how a rotary tool with its wide range of accessories and attachments can be used for so many different applications. You can use a rotary tool for various tasks such as grinding, cutting, carving, glass working, drilling, sanding, or even polishing and cleaning. It's unbelievable that such a small tool has capability to deliver very high speeds; some rotary tools even spin up to 35000 RPM! Wow, isn't that great? I have a Ronix 3041 rotary tool kit. Absolutely, Ronix 3401 is one of the best rotary tool kits, but it is important to remember that there's no just one good tool for everybody and it mainly depends on your needs and the fact that what you want to use your tool for.