A beautiful garden is a place where we can enjoy it with family and spend time with friends after a tough working week. Before you enjoy your garden, you have to cultivate it and that requires the right tools for the job. Whether you are new to gardening or a professional gardener, you need specific tools for having a unique and beautiful garden. It can sometimes be difficult to figure out exactly which tools you really need to keep your garden looking fresh and trim. In other words, there are so many gardening tools, gadgets, and accessories and it can be overwhelming to choose which is best for your outdoor projects. Nevertheless, there are certain tools almost everyone uses regularly in the lawn and garden. Apart from that, every gardener has a favorite gardening tool that always keeps within arm's reach, uses over and over again, or stashes near the door on the way out. Anyway, there are some must-have gardening tools that make planting, weeding, pruning, and harvesting better for the back and more soothing for the soul. In this article we look at top 10 essential gardening tools any gardener should have. In the following parts you can find out more about these tools.
One of the most essential tools for a garden is pruning shears which are used for pruning shrubs, flowers, vegetables, fruit trees, and more. Pruning shears which are designed for cutting live woods deliver smooth and clean cuts. In this context, Ronix RH-3108 Pruning Shears is a great example of these kinds of gardening tools for having a tidier and more beautiful garden. Pruning can be very repetitive, so try to choose pruning shears that fit your hands comfortably. Also, a high-quality pruning shear should maintain a sharp edge longer. RONIX Pruning Shears have steel handles, high corrosion resistant stainless-steel blade, high grade hardness, high carbon steel blade and precise ground edge.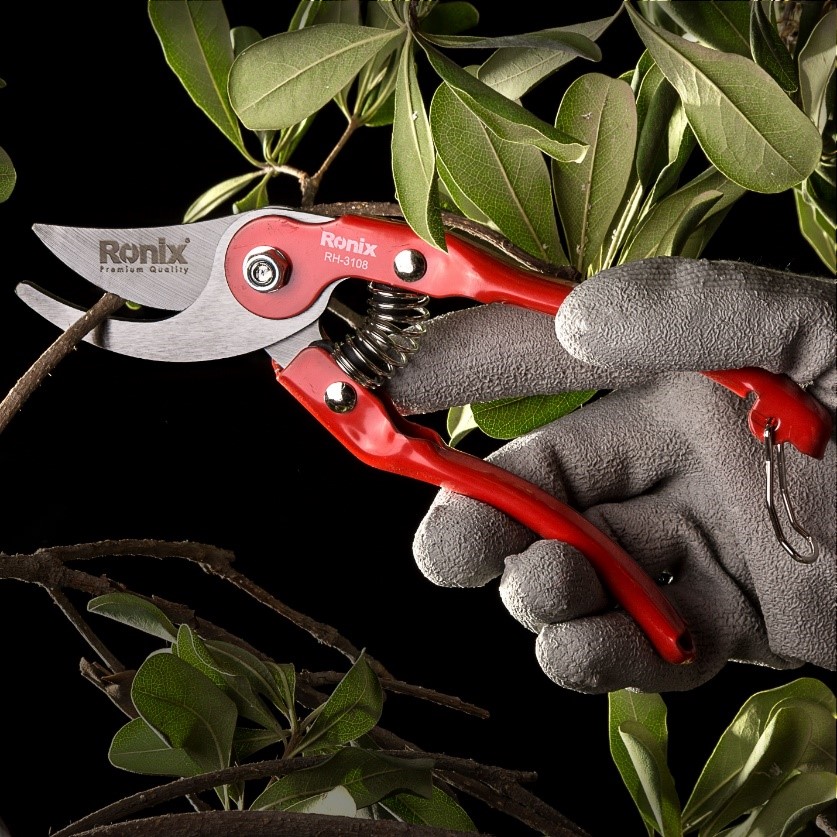 You would normally associate a SAW with cutting wood for various woodworking projects, but a good-quality hand pruning saw is a tool that every gardener should have. Pruning shears might be great for plants and small branches on trees, but larger branches require something with a little more cutting power. A pruning saw is perfect in this case, because it is designed to cut on the pull stroke, which gives you greater control while sawing branches. Actually, a pruning saw is ideal for those branches that are too big for pruning shears or loppers. Therefore, whether you are cutting branches or removing roots, a pruning saw is up for the challenge. A long-reach pruning saw also helps you safely get to those higher branches without having to climb a ladder. Ronix Pruning Saw RH-3602 is considered to be the best option for these gardening applications mentioned above, since it is the sharpest pruning saws you can buy and great care is advised while handling it.
Related Article : use of hand tools in gardening
Another gardening tool which is designed to handle larger branches is a lopper. They are normally used to trim hard to reach areas and cut thicker branches. The long handles provide the leverage it takes to cut through branches up to an inch or more in diameter. There are anvil and bypass types, just like pruners. Handles generally range from 16 to 36 inches. Loppers have a curved blade that uses a scissor action to catch and hold the branch whilst the cutting blade cuts it. They are perfect for pruning high trees with thick branches. This particular tool has been also designed by Ronix and is named Ronix RH-3120 Loppers. It is highly recommended to use this special tool for gardening because of its great design and quality.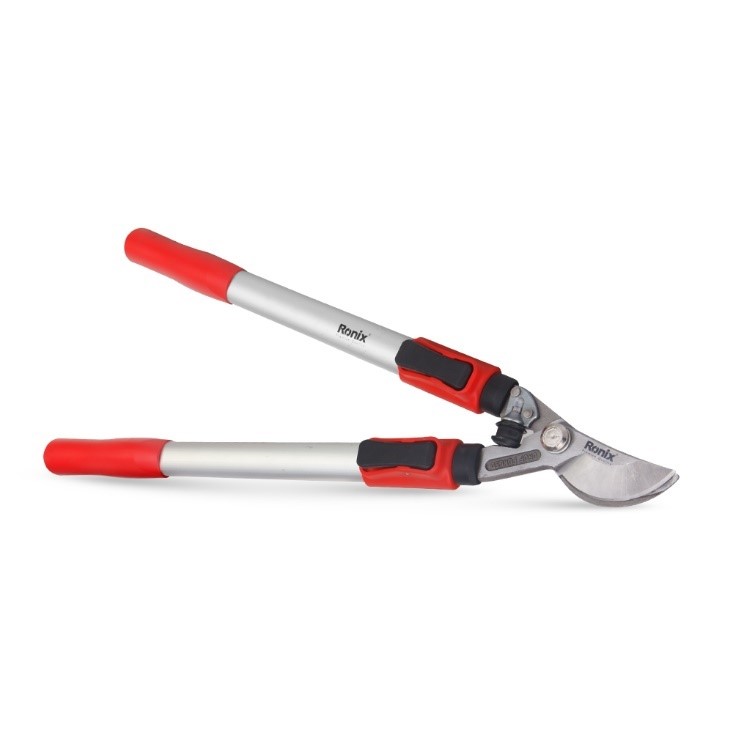 Manual Garden Sprayers
A garden sprayer is an essential gardening gear that helps you apply liquid treatments to your plants. In fact, if you want to grow healthy vegetables, you will probably have to spray them with fungicides and insecticides. In this case, the Ronix RH-6001 Hand Held Pressure Sprayer is the best option for these applications due to its high quality and professional design.
Grass Cutter If you want to cut the grass that grows in hard to reach areas, a grass cutter is the best choice! These are compact, lightweight and versatile tools mainly used to tidy up and create neat edges. Most grass cutters are easy to store away, either by hanging up from the roof or wall, with some featuring split or telescopic shafts to make it easier to pack away. Ronix 4552 Gasoline Grass Cutter with a powerful motor of 1500W is of the most optimum options that you should not miss, if you want to have a tidy and beautiful garden.
Chain Saw
An electric chainsaw is an incredibly handy tool to have around. It works for pruning and trimming when a lopper cannot handle the size. You can also buck logs and knock down small trees easily. In addition, it is considered to be a great tool to make easy work of all sorts of big gardening jobs. Ronix 4645Pro Gasoline Chain Saw with 40-45cm cutting capacity is the best choice for such applications. It can also restlessly work with maximum speed of 11000RPM. The Ronix 4645Pro is equipped with a powerful engine of 1800W and USA-made Oregon cutting attachments and the Japanese top brand Walbro high-quality carburetor.
Proper sprinklers not only save water and labor, but also give you a flourishing garden.
In most cases, you can pick up any sprinkler and connect it to a water source to water your garden neatly and uniformly. However, how do you choose an appropriate one? Which sprinkler can best fit the garden?
Actually, there are many types of sprinklers available on the market. There are also many lawn sprinkler manufacturers but not all will meet your needs in terms of economy and quality. Therefore, you would better choose this type of gardening tool according to its quality and your requirements.
If you want to enjoy the one of the best garden sprinklers with a reasonable price and a high efficiency, you can trust the Ronix RH-4014 Impulse Sprinkler which can meet your needs.
Imagine that you have moved to a new home that has just been built, or you want to begin a garden on virgin ground. You may encounter large tree roots, shrubs, and large logs to deal with, so you need to remove them before digging up. The best gardening tool in this case is an axe or a hatchet.
Cutting tools made of sturdy and durable materials to prevent them from breaking during work is the point that you should pay so much attention to. In this context, Ronix RH-4700 Ax can be a wise choice for such application due to its high quality and ergonomic handle design.
In other words, this axe is the perfect tool due to its size and all-round general-purpose abilities. It also offers a thin and wide blade for a clean cut on wood.
One of the most useful gardening tools for having a tidy and clean garden is a blower. These kinds of tools are specially designed to clear large amounts of debris such as leaves, dirt and sticks off footpaths and driveways. These handy tools are particularly useful in the Autumn months since et you have an ideal clean up tool to have a totally clean garden. Ronix 1205 Blower with a high quality and a powerful engine of 680W can offer a great level of efficiency for gardeners.
A tool bag is extremely convenient as it allows you carry all kinds of garden supplies and tools needed in an organized manner so that you can know where everything is and save time. There are several tool bags available to buy on the market but not all of them are valuable for money or have long lifespan which is why it is essential to do your research before you get one. In this case, Ronix RH-9114 Tool bag can be highly useful not only for gardening tools, but also for other kinds of necessary tools that you may need for gardening applications.