If you want to drill through hard brick, concrete, or metal, you would need the most powerful cordless drill that's out there, as you'll need more force than a standard home drill can deliver. These tools are useful: There's no cable trailing behind you or surrounding your feet, threatening to trip you up the ladder. They can be used practically anyplace, even if there isn't an electrical outlet nearby. They're almost necessary for some tasks. Because even the most powerful cordless drills have less power, the built-in clutch on most models may occasionally warn you to the cordless drill's limited power (the bit will stop rotating and the clutch will click). Newer versions offer more torque, but cordless drills aren't known for their sheer power. The most powerful cordless drills are widely accessible to buy from well-known tool companies, and the top 5 of them include portable powerful drills, lightweight drills, impact, hammer, and driver drills for domestic or professional usage.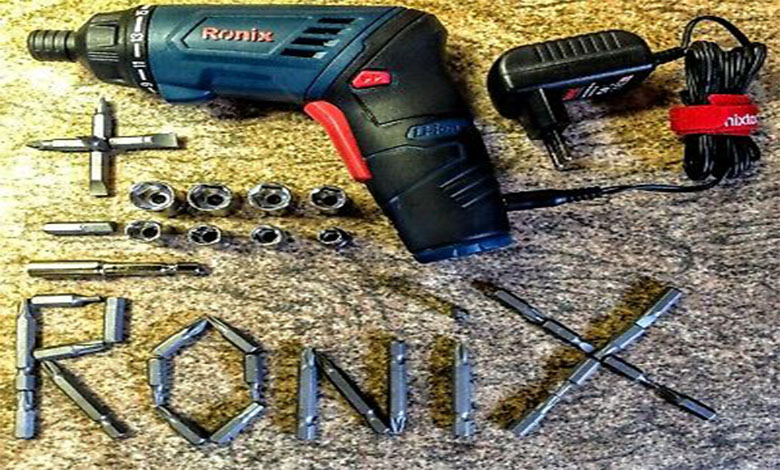 How Do You Pick the Most Powerful Cordless Drill?
Power drills can make just about any operation considerably simpler, from fine carpentry to heavy-duty construction, this is enough reason to go and search for the most powerful cordless drill in the market. The fact that they can be adapted to most jobs (using bits) adds to their versatility, which has only become better with the introduction of the cordless drill. These are, without a doubt, an absolute must-have for every toolkit. Because these tools come in so many different forms, it's critical to know what to look for while reading reviews.
Clutch
This device, often called as a torque selector, reduces the chances of overdriving or breaking screws. The clutch, in further detail, is what disengages the driving shaft when a particular amount of resistance is reached. While most cordless drills feature a clutch that can be adjusted, the amount of settings accessible varies by type. Choose a gadget with a wide range so you can fine-tune the drill's functioning, according to experts. According to popular belief, a good gadget- adequate to be called the most powerful cordless drill- should have at least 24 clutch settings. Although you won't require such a wide range for most operations, it will make it easier to match the drill to the material(s) you'll be using.
What Is Torque in a Drill?
The torque of a drill refers to the amount of force it can exert. The higher the torque, the simpler it will be to do even the most difficult tasks. Inch-pounds is the most used unit of measurement for this force. The most powerful cordless drills can measure up to 1,000 times their own weight, which is a great amount of force. It's important to realize that the amount of torque cannot be used to determine which drill is better. If the rest of the requirements are superior, a low-torque drill may be quicker or perform better than a high-torque drill. Having stated that, it's important to comprehend the torque's impact.
How Much Torque Does a Cordless Drill Have?
You might wonder that even the most powerful cordless drills, have lower torque levels than corded drills. In the past, it was common to hear that cordless drills lacked the power needed for certain jobs. Thankfully, technological advancements have made the majority of competent cordless drills capable of handling most jobs. While corded drills offer higher torque, the gap between them is no longer as great as it previously was. So, unless you're going to be performing exceptionally difficult jobs, you shouldn't have to be concerned about a lack of torque.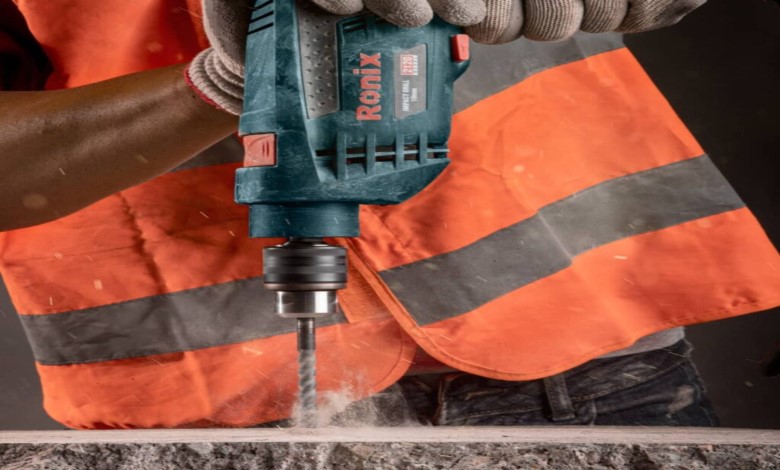 Chuck
The revolving bit is held in position by this portion of the gadget. A decent chuck should keep the bit in place without wobbling, but it's also crucial to check the size before buying. Look for a 13mm chuck that can accommodate bigger bits unless you'll largely be drilling little holes. This is especially important if you plan to work on heavy-duty projects in the future.
Also, look at keyless chucks, which contain metal prongs that allow users to loosen and tighten them without the need of keys. They're also great for general-purpose drilling because they can handle most bits. The hex chuck is another feature that makes changing bits simpler. Hex chucks are well-suited for drilling hard materials and are less prone to slide, despite the fact that they only function with hexagonal bits.
Battery
The battery life of a cordless tool is limited. To put it another way, the dependability of your power supply might be the difference between a productive day and having your drill die when you need it most. As a result, it's critical to invest in a battery that can maintain a charge for an extended period of time while also providing power efficiently, as if not even the most powerful cordless drill won't worth the investment.
Drills using such batteries will always be more expensive, but they will weigh less and run for longer periods of time on a single charge than drills that use older power sources. Most old-school chargers can take up to 5 hours to completely charge a battery, whereas their modern 'smart' equivalents require little more than an hour. You'll also want a battery gauge on your drill so you know how much power you have left while you work.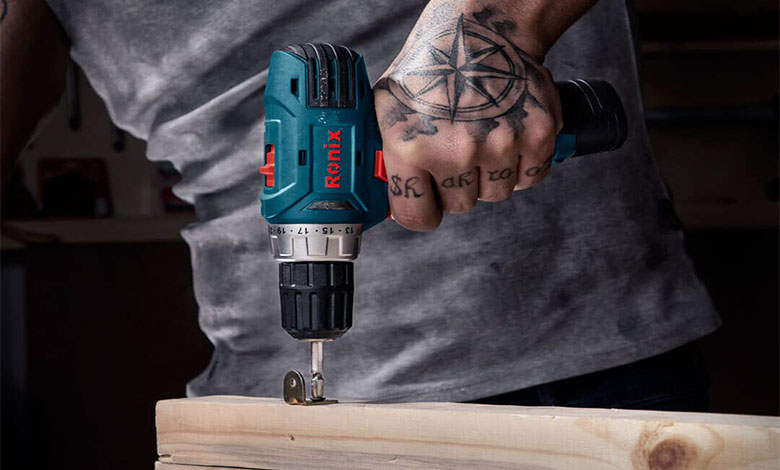 Which Drill Voltage is for me? 12V, 18V, 20V, 36V?
In general, the higher the voltage of a power tool, the greater the torque it generates and, as a result, the higher the price. While most power tools have voltages ranging from 3 to 48 volts, cordless drills have a voltage range of 12-36 volts. The voltage is usually denoted by a value written on the side of the battery on most models.
The voltage you choose will ultimately be determined by the initiatives you undertake. Consider purchasing a low-voltage variant, such as the 12V in this case, for modest work. If you'll be doing some heavy-duty work, go for an 18- or 20-volt drill, or even a 36-volt drill if you need to drill large holes rapidly or drive large screws. It's also worth mentioning that voltage has an impact on weight, thus high-voltage instruments will be heavier.
Most Powerful Cordless Drill: Top 5 Picks
Now that you have a general idea of what you should look for when choosing the most powerful cordless drill according to your needs and to make the purchase process even easier for you, we've produced a list of five top-rated cordless drills.
Hitachi DB3DL2 3.6 V Dual-Position Cordless Screwdriver Kit
The Hitachi cordless screwdriver has a dual-position handle that can be switched from straight to pistol to optimize the tool's flexibility. It has lithium-ion batteries that last three times as long as a typical cordless screwdriver battery. The quarter-inch hex chuck allows for fast bit changes. It's a small and light design, measuring less than 11 inches long and weighing less than a pound. Your work area is illuminated by a built-in LED light. A lifetime tool guarantee and a two-year battery warranty are included with the Hitachi cordless screwdriver.
The DeWALT cordless hammer drill has a brushless motor that runs quietly. It has a 57 percent longer operating time than a regular engine. It has a two-speed high-speed gearbox with three separate driving modes. A 1/2-inch ratcheting, keyless chuck is included. It features an ergonomic handle that provides a better grip and a balanced feel – it's incredibly light and easy to use. Two XR Li-Ion batteries, a charger, and a carrying bag are included in the set.
Ronix 8018 Cordless Drill Driver, Mega Series, 18V
Finding a power outlet or always carrying an extension cable are just some of the problems that handymen face on a regular basis at their job sites. Having total freedom on a construction site or a workshop is something that many workers dream of. You can feel free and break the limits with the Ronix 8018 18V Cordless Impact Drill Driver. With its powerful, high performance motor, this cordless tool can easily handle all of your drilling, hammer drilling and screwing projects. The 18V battery provides enough energy to drill, screw or unscrew various workpieces for continuous hours. With its industrially made gearbox, this cordless drill can function in 2 modes, high-speed mode and high-power mode.
A brushless motor is used in this tiny cordless impact driver. For fastening control, it's a four-speed motor with a Quick Shift mode. The Makita's inbuilt modes, which ensure appropriate attachment, are another unique feature. To prevent breakage, stripping, and damage to your working material, the Assist Mode and Tightening Mode manage the motor's speed and torque. It's a strong impact driver that can take on even the most difficult lag bots.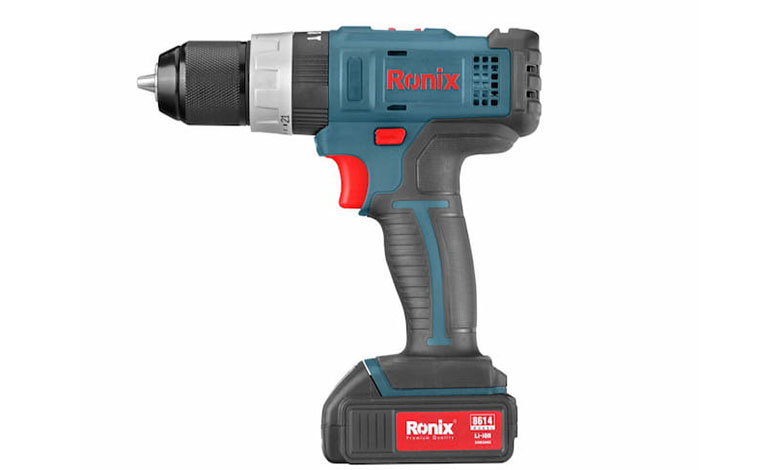 Ronix 8618 Cordless Drill, 18V, Li-ion
Have you ever had to look for an electricity outlet for an hour just to plug your corded drill and start making holes in the wall? Well, the struggle is real and almost everyone who has ever had an electric drill is familiar with it. The Ronix 8618 Cordless Impact Drill Driver is a great cordless tool for those who are constantly moving from one spot to the other on a construction site and don't want to be limited by the length of their tools' cords! This cordless drill is designed to be compact and handy to assist you in numerous working situations. With its light-weight ergonomic body 18V battery, the Ronix 8618 is a really powerful cordless drill which is ready to take on drilling, screwing and hammer drilling projects.
FAQ:
How powerful should a cordless drill be?
Volts are used to measure the power of cordless drills, with the most powerful ones reaching up to 20 volts. Most home users will be satisfied with a drill that runs on 12-16 volts.
What is the highest torque cordless drill?
One of the most powerful cordless drills available today has 1,200 inch-pounds of torque, which is characteristic of high-torque impact drivers.
Is 50 Nm torque enough for a drill?
For all of those little screw driver activities around the house, 4 to 15Nm is great. The 15 to 35Nm torque range is ideal for drilling and driving medium-sized screws and hole drilling. All of the more significant projects will be tackled from 35Nm onwards.
Conclusion:
You won't need the most powerful cordless drill with a lot of power or torque to do most DIY chores around the house. Variable speed settings, a bright LED light, and a hammer drill function are included in the majority of high-quality cordless power drills from well-known brands. The flashy parameters that everyone wants to prioritize when choosing the finest cordless drill are power, speed, and torque. The truth is that the most powerful cordless drill isn't necessarily the most appropriate instrument for your needs. Invest in the instrument that is best for you, not the one that is statistically the greatest. Also, keep in mind that the cordless drill will only operate for as long as the battery is charged. Professionals keep a backup battery on hand since the charge lasts a long time (several days, assuming just infrequent use). The majority of models recharge in about one hour.